Holly Smith once made a documentary exploring the reappropriation of live coding for a classical format. If that's not enough, she's also a wonderful live performer. We asked her to introduce herself ahead of her performance at Attack Live on Sept 29th.
Who are you?
I'm Holly Smith – live electronic performer, DJ, radio presenter and producer, occasional music event organiser, and dancefloor frequenter.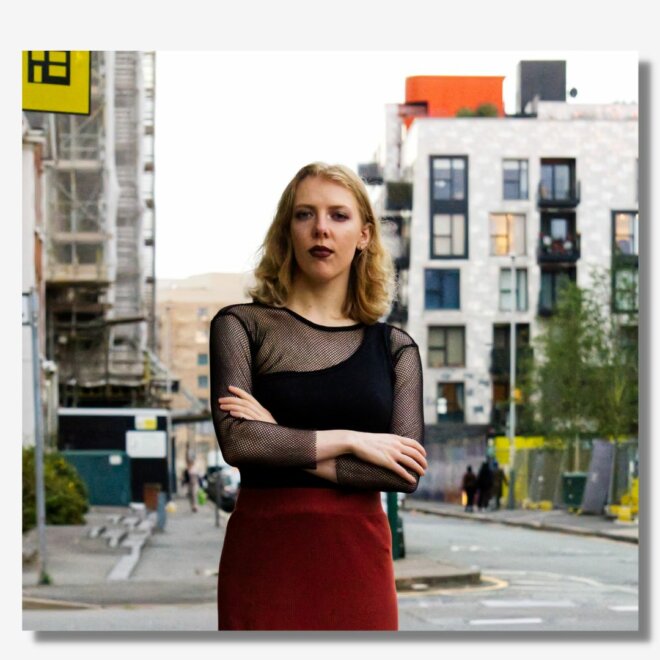 Where are you from?
Originally from Gloucestershire, home of intrepid humans hurling themselves down hills after wheels of cheese (it's a strange tradition, I know), I'm now a Londoner of eight years. Rent may be as steep as those cheese-rolling hills, but to me its creativity, vibrancy and diversity is priceless.
What do you sound like?
I'm still figuring this out to be honest, but a current summary: a smorgasbord of styles, from eff-off bangers to poignant downtempo soundbeds, and occasionally a cat crashing through a pan shop, except a bit more quantised.
Why should we follow what you're doing?
I've predominantly been live-jamming, but I'll be bringing some new work to pilot on the crowd at the first Attack Live. Come along and you'll find out.
What have you got coming out in the near future?
An EP coming out this autumn. Time to finalise the abundance of live noodlings and sketches into something more concrete.
What or who is your biggest influence and why?
Although a dancefloor enthusiast, I'm also a huge fan of Nils Frahm for his emotive compositions and injection of contemporary classical into electronic music. I've always had a natural inclination towards composing contemporary classical melodies and melding these with electronic sounds.
My late grandmother was an ardent listener and singer of classical music, and has also been an influence on me musically. Hilariously she seemed to enjoy my electronic bleeps and bloops and even four-to-the-floor musical explorations.
If you're a fan of classically-infused electronic music and/or live coding, you may be interested in a mini-documentary I produced on my exploration into reappropriating live coding for a classical format. Hope it inspires.
How did you get into DJing/producing to begin with?
Only relatively recently when studying Electronic Music Production/Music Technology a few years ago. I became fired up at any opportunity to deliver a live performance – nothing's changed! I started DJing at a similar time which has been a bunch of fun too.
What are three things on your studio shopping list?
A Keystep Pro; a larger mixer to experiment with some Mr G style live performance; and, diverging from electronic gear, a khaen – a large bamboo-piped mouth organ. Multi-instrumentalist Hal Walker plays some beautiful original pieces on one of these. I'd love to work that into an electronic track.
Who or what have you sacrificed for your art
Room space! I'm pretty sure my cable-for-every-occasion box is breeding – and giving time to that list of mundane adults things because it's way more fun doing all the musical stuff, right?
What's been your favourite place to play so far?
As part of the DHM collective, myself and fellow DJ/producers have organised and performed at a series of warehouse events in London. The community aspect of organising these nights, paired with the rawness and intimacy of DIY events is what I find magnetising.
We've played to a crowd of 30, we've played to a crowd of 300, and everywhere in between, and each time there's an infectious energy in the space that inspires us to host more.
I'm also super excited and honoured to be playing at the first Attack Live next week!
What one song would feature on the soundtrack to your life?
Leftfield – 'Swords'.
What motivates you?
Collaborative experiences. From previous collaborative projects and performances, I've learnt that the output has always been greater than the sum of our individual parts.
I directed and performed in an immersive, story-telling performance, Coded Dystopia, on the malign influence of artificial intelligence on modern civilisation, alongside a classical pianist, spoken word artist, and bassist. It was a really rewarding experience.
I've also always been motivated by live performances. That in-the-moment energy and live feedback loop as both an audience member and performer is exhilarating.
Tell us an interesting fact about yourself.
I host 'Public Records', an interview-centric radio series discussing music, injustice within the arts, and community and creative organisations on Voices Radio. Previous episodes include:
In discussion with the Night Time Industries Association on COVID-19's effect on nightlife
The threat of gentrification on music venues & warehouse communities.
Reach out if you'd like to feature on a future discussion, I'd love to have you on the show.
What's the best bit of advice you've received?
I had the pleasure of speaking with Sam Aaron, creator of music coding programme Sonic Pi on a previous radio show. He encourages the sharing of music/code, no matter how elementary or nonsensical you think it is. You never know how someone might be inspired by what you've created.
Where will you be in five years' time?
To quote psychologist Mihaly Csikszentmihalyi, 'an autotelic activity is one we do for its own sake because to experience it is the main goal.' I'm not sure what five years' time will look like, but one thing for certain is that I'll be doing more of the autotelic: music, performance, collaboration, radio and more.
Catch Holly Smith at Attack Live on September 29th. Find Holly Smith on Instagram.