The month's feature interview comes courtesy of Jas Shaw – one half of Simian Mobile Disco. Having been a mainstay on playlists for well over a decade we caught up with Jas to find out how his new solo record, a collection of 20 techno tracks released in waves through the course of the year, addresses his personal life.
When it comes to success, we'd often like to dismiss luck. We exalt our work ethic, personal growth, or other factors that seem within our control. But luck plays a crucial role in anyone's life — where we're born, how we're raised, the time in which we live, and whether or not we'll make it in a career like music, as Simian Mobile Disco's Jas Shaw eagerly admits.
"Oh my god. The success of Simian Mobile Disco was hugely down to luck," the UK artist says. "That's not to say we're shit at this. I think you need to be at least decent at stuff to even be in the game. But there's so many people I know who are so talented, but who are not getting any traction, and it's really frustrating to see. Anyone who pretends it's not luck is just kidding themselves. You've got to keep at it till the wind blows your way. That's luck, man."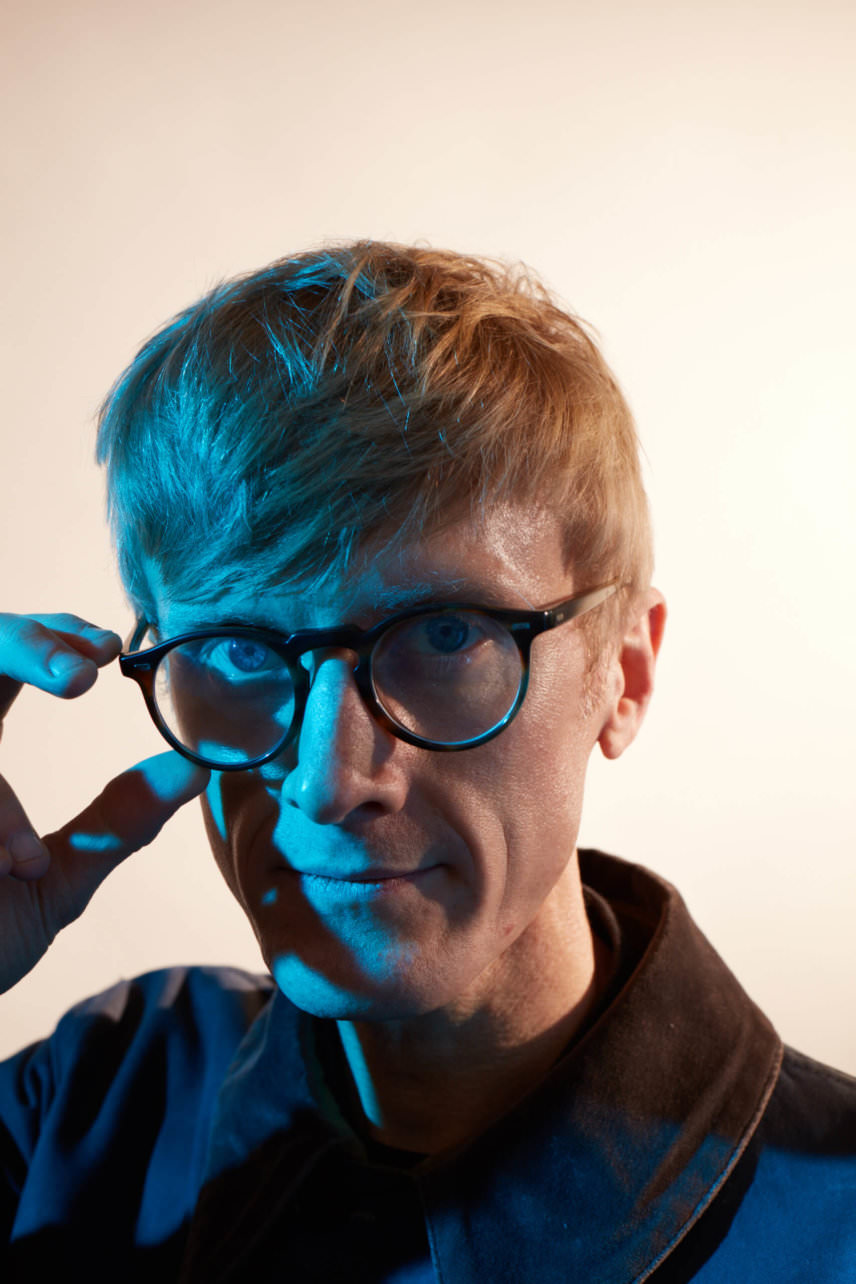 Shaw's luck and talents have taken him to incredible heights. He launched Simian Mobile Disco in 2003 with James Ford, releasing a string of albums that earned praise in the press, took the pair to the biggest festivals and best clubs around the world many times over, and even landed them in the charts. But Shaw's luck recently took a very wrong turn.
In early 2018, Shaw was diagnosed with AL amyloidosis, a highly rare disorder that damages bone marrow cells. Simian Mobile Disco cancelled their American tour, playing just one last show at London's Barbican on May 4 in celebration of Murmurations, the duo's 7th studio album. Then the chemo therapy began. For seven months, Shaw received one of the most arduous treatments in modern medicine. But luck played its part there, too.
"I hate needles, and they have to inject [the chemo drug] into you subcutaneously, which was frustrating. But they explained to me that they found the side effects are less extreme if they inject it subcutaneous instead of intravenous. Even little things like that — it was only discovered four or five years ago." As debate rages in America over universal health care, Shaw also acknowledges his luck at living in a country where this kind of treatment is fully covered. He was both shocked and grateful when he learned how much his painful chemo shots cost. Though the price and intensity could seem trivial when the time comes for stem cell therapy, which Shaw's doctors say is happening, potentially, in early 2020. "I'd be in isolation in hospital for a minimum of six weeks, then months and months of recovery," he says. "So it's a dangerous and daunting procedure."
Which is to say that despite how astronomically unlucky Shaw was to contract AL amyloidosis — his version of the illness is not genetic, and only 4,500 new cases are reported each year in America, a country of over 330 million people — he's also incredibly lucky to be where he is now. He's touring again, which he says has been "great," though he's limiting himself to approximately one show every two weeks. "It means I'm being really picky. I'm not doing any shows I'm not 100 percent [sure] about, because it doesn't make any sense." He's mainly playing smaller venues like Panorama Bar — "you're not gonna say no to that." But he's still not well, and needs to be extremely careful. "Generally, low-impact stuff means I get the buzz of playing out without the associated pressure that comes with bigger shows," he says.
It was a buzz he deeply missed. So much so, his body had an almost overwhelming response the first time he returned to Gatwick. "It sounds moronic, but I was walking through in the way that I'd done god-knows how many times, and it was an oddly emotional experience; in, frankly, not an emotional place. Because I didn't know if I'd ever get to do it again. I was sat at the gate with a bit of a lump in my throat, like, this is great. Slightly tearing up next to Costa." Touring had become a deeply ingrained part of Shaw's normal life. For years he was away every weekend, and in the space of two weeks, it was all over. "Which was really jarring," he says.
His musical life preserver came in the form of a podcast, which helped him reach out and touch the world of clubbing again, if only from a distance. "There was this one particular podcast I was listening to loads — a really amazing Japanese techno DJ called DJ Nobu. At the start [of chemo], I was taking these sedatives, and I would get in bed and disappear into this thing. And in a weird way, it was a vague toe back into normality. I was just like, I cannot listen to another fucking audiobook, or watch some mind-numbing Netflix series. It was just a little taste back in."
All the pain that had come with touring — the sleep deprivation, boredom, missed connections, time away from home — suddenly felt like a long-forgotten memory. The bliss of techno enveloping a sedated Shaw, he was suddenly walking back into a nightclub, hearing the rafters rattling. "It's just a little taste of it," he says. But it was enough to sustain him.
As his condition improved, Shaw's love affair with techno only deepened. Which is, at his age, something he seems genuinely surprised about. "I'm knocking on a bit. I sort of thought, maybe it's time for me not to be into this techno music anymore, make some proper music. But it's gone the other way. All I listen to is noisey techno and clangy drone stuff."
When someone uses an open 909 hat, it works on a primitive level, but it also brings all this baggage with it, which again, is not particularly musical. It's cultural baggage.
Shaw's illness is only part of the techno puzzle. He also built a proper studio just a few short steps from his home in Margate, a town on England's southeast coast about 50 miles from London. "Literally the middle of nowhere," as Shaw describes it. The new studio much larger than the room he and James Ford shared "for god knows how long," Shaw says, with "beefy monitors" and room treatment. "So there's a whole two extra octaves worth of low end, which if you've got an untreated room and not massive speakers, it's a general low-end grrrrrr," Shaw says. "It only really comes alive when the room's driven enough that it's a physical sensation as much as a listening sensation. You feel it almost more than you listen to it. And now that I've got that outside — literally walking distance from the house — you put one of those old, classic Carl Craig records on and it's like, pfffttt."
For a while, it was as close as Shaw was getting to the club experience. And when he wasn't listening to classics from Detroit, he was making the occasional drum loop or pad before switching everything off and going to bed. As his situation became more stable, he went back to those old sounds, made on different days sometimes weeks apart, with different feelings or intentions, and started stitching them together. "Almost all of these songs I made in two halfs," he says. It was very different to how he approached music before his illness. "Previous to this, I'd just set the studio up and make a track, record it and chop it into shape."
The results became The Exquisite Cops, an eight-track album released in September 2019 on Delicacies. That followed nine two-track EPs, released every fortnight, starting with the aptly named Science And Luck in April. The album's name is a mishearing of "exquisite corpse," a game of sorts in which a sentence or image is created collectively, often from disparate parts. A nose is drawn here, then another player adds to that drawing, and again until the final and often surreal picture is formed. It's created in parts, instead of all at once, much like Shaw's album.
Though this method led to a certain amount of chaos, Shaw played with his mistakes on The Exquisite Cops, something he's done since his earliest days with Simian. But this time it seemed to awaken something deeper in him. "In all kinds of art, people embrace the maxim that mistakes have charm," he says. "But electronic music in particular is a really rich forum for this, because it can support a pretty tenuous harmonic structure. A lot of the things that you remember in techno are just mad little noises. If you were to score it out, there's not really any meaningful notes in it. Or if it is, it's just a single drone note. But there's no question that some sound has this visceral effect, and other sounds don't.
"Then on top of the whole abstract way of looking at it, there's the language of techno," he continues. "When someone uses an open 909 hat, it works on a primitive level, but it also brings all this baggage with it, which again, is not particularly musical. It's cultural baggage. I keep expecting myself to lose interest in what I'm sure seems to outsiders as pretty stupid music, but it just seems endlessly interesting. I can spend a day or two on Bandcamp. There's so many people doing interesting things. It just seems great at the moment."
With his album finished, Shaw says he'll be busy tearing apart the machines he patched together to write the album's bulk, before reconfiguring and rearranging his gear until it produces something new and interesting for him to explore. And while he's still allowed, he'll also continue touring — now gifted with a new lease on the musical, as well as the mundane.

Jaw Shaw's Exquisite Cops is out now on Delicacies.
Chandler Shortlidge is a dance music journalist based in Berlin. Follow him on Twitter.