Having caught our attention with the recent Synth Heads NFT release, in partnership with Beatport, we caught up with Pixelynx CEO, Inder Phull, to discuss how the music industry is set to change.
When Pixelynx and Beatport announced their Synth Heads NFT series last month, the response, on Attack's Instagram, was broadly unsupportive. Given that music heavyweights Richie Hawtin, deadmau5 and Beatport are involved in creating Pixelynx, the general resistance was surprising.
We, therefore, decided to sit down with Pixelynx CEO, Inder Phull, to talk about the opportunities being presented and how the significant changes online will positively impact musicians, alongside the industry as a whole.

Attack: Let's start at the top. Can you explain what Pixelynx is?
Inder Phull: Pixelynx is a new venture that blurs the lines between music, blockchain, and gaming. Our first product is a gaming platform that changes the way fans experience music and immerse themselves in their favourite artist's vision.
There is a mobile application that's launching built with Niantic ARDK and we have a desktop game that is built on Unreal Engine 5. We view gaming as a new canvas for artists to express themselves and the vision is to launch new interactive formats that will push music experiences into the future.
Would the following therefore be true? An artist, for example, Richie Hawtin could say, "join me here today in my personal metaverse on Pixelynx where I'm going to do a live private performance and at the same time you can buy merch, NFTs and play games together?
Yes, that is part of the experience. We combine music and games to unlock new experiences through playable modes. Crucially, we are not trying to replicate a physical experience in a virtual world. We see a huge opportunity to look at gaming as a new canvas for artistry to thrive.
Virtual concerts are an important part of Pixelynx and we're hoping to develop the concept much further than watching an avatar perform. We think there is an opportunity to transport fans into unique virtual environments that take the music to a new dimension.
How would you condense a "music metaverse" for someone who's not sure?
There are multiple ways to describe it, as the definitions are broad. The metaverse in principle is a new ecosystem and in our view, built on a few key pillars.
One is the virtual world aspect. For us, this revolves around the idea that an artist can launch their own virtual environment and build new experiences in these spaces. Imagine an interactive music video on steroid.
The second part of the metaverse is around ownership. This concept is that fans can have a level of ownership over what they purchased inside these environments. This is super interesting and important for Pixelynx and our artists.
To enact all of this, the metaverse uses things such as game engines and blockchain to reimagine what their art form looks like.
How do you see NFTs changing the music industry?
There are so many different ways to look at it. Right now, when people think about NFTs, they tend to look at them as an overinflated JPEG.
But dig further and you'll learn that an NFT is basically just the smart contract and that is actually the exciting part.
This is a piece of code that can do multiple things. This contract proves ownership which helps build transparency.
For example, I could own 50% of a song and the other 50% is owned by a songwriter. Using the smart contract, every single time a transaction happens, the money can go out immediately to the relevant owners. This can dramatically improve royalty systems and give artists a new way to build a long-term career.
Read this next: "I Removed My Music From Spotify"- Why Artists Are Stepping Away
To take that example further, the rapper NAS recently released a single through the NFT platform Royal. He "fractionalized" it meaning you could buy a portion of the NFT and you would earn royalties from this single as a fan.
What this means is that all of a sudden, fans have the ability to not just support artists, but also benefit from an investment in them.
This opens the potential to disrupt the traditional fundraising relationship between artists and labels. It puts the power back in the community.
People frequently ask – "will I need goggles or do I need a headset?" Is that true for Pixelynx?
Not in our version of what we're building. We have our vision and VR (virtual reality) is not a part of that for now. Ours is more accessible using mobiles and laptops.
However, certainly, there are others where you do. That's the beauty of all these changes in that there are so many various and different experiences.
One of the most fascinating aspects of the metaverse is the idea that different designers are manufacturing different worlds. With different worlds come different rules. In essence, the creators are "playing God" which will raise numerous governance debates...
"Playing God" is something that has been previously referenced in this ongoing discussion. People are creating worlds and concepts of worlds. It does raise huge issues that need to be addressed but it's still early days. No one has yet figured out the best path forward.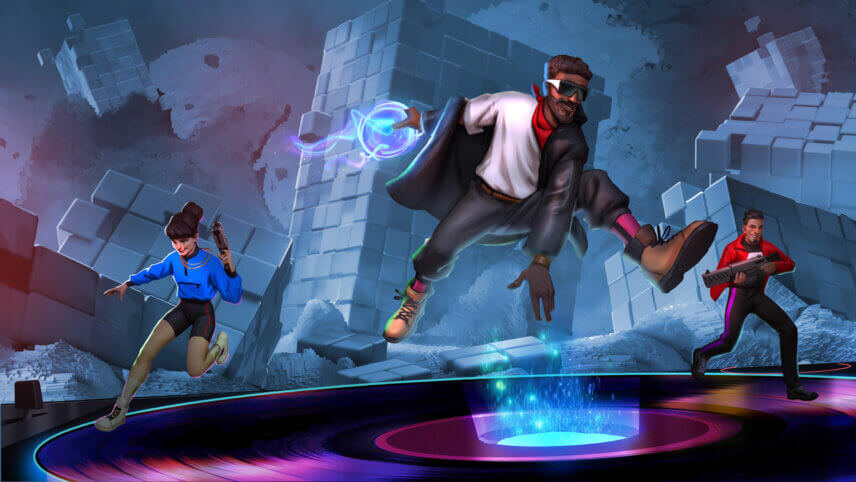 Some people are having a really hard time wrapping their heads around this. What do you say to them?
I'll give you the best explanation we reference internally.
Think about the jump from radio to MTV. That jump was so fundamental because all of a sudden video became this new format. To many, this was such a significant change that trying to explain it would fall flat. Many wouldn't have even understood what you were talking about because the format just didn't exist.
As we move into this next era where game engines are becoming democratized, people can create content in 3D spaces without the need for huge budgets. Today is similar in that this next paradigm shift to the virtual world will imitate the format change and subsequent upheaval we saw from radio to video.
Another reference might be MySpace. It dramatically and quickly changed artists' relationships with fans…
It's a good reference. MySpace made it far easier for artists to have a profile online and engage with fans. It got usurped by Instagram, Facebook etc but in its day, it really revolutionised the relationship.
Some believe that new platforms (virtual worlds like Roblox) are doing the same and they will leave behind Instagram and Facebook. In these spaces, artists will be able to communicate more meaningfully and experiment with different ways of engaging with fans.
Right now there is a lot of trial and error. Thinking out loud, there could be amazing opportunities to produce incredible virtual and immersive experiences for concept albums.
Does the Pixelynx team have a background in music? I think one of the fears for musicians is that the people who run this kind of platform are just in it for the money and don't understand the concerns of music makers and fans.
Yes, for sure. The five founders include deadmau5 and Richie Hawtin, two visionaries who many times over reinvented the music industry. Both deeply care about technology and how it will shape the future of music.
Our other partners also have a huge musical legacy. Ben Turner owns International Music Summit (IMS). He founded AFEM (The Association For Electronic Music), which is there to protect the interests of the electronic music community. He also manages Richie Hawtin.