Imagine remote-controlling analogue audio gear in a studio on the other side of the world. It may sound like the future but this future is now.
It used to be that if you wanted access to high-quality analogue gear, you had to rent time in an expensive professional studio – or layout the cash and buy it yourself. Either way, you'd be dropping a lot of money on your music. These days we have emulations of classic hardware in our DAWs but even with all the advancements in processing power, it's not perfect yet. So we're back to square one: book some time in a studio or take out a second mortgage for some pricey gear.
Now that we're living in the future, however, there's a third option: remote mixing. Thanks to fast internet, high-quality streaming, and some pretty ingenious proprietary technology, you're now able to send audio to a studio somewhere else in the world and remote control your chosen hardware from your computer. Two companies, Mix:Analog and Access Analog, both offer this service. While there are some similarities, there are fundamental differences in the way they go about it. We tried them both. Here is what we found.
Mix:Analog – European Saturation
Based out of Ljubljana, Slovenia, Mix:Analog is a website-based remote-mixing service. Before we go any further, we should talk about what kinds of equipment are on offer from both Mix:Analog and Access Analog. While the usual mixing process includes things like delays and reverbs, these two companies focus their attention on mostly EQ, dynamics and saturation. Think high-quality equalizers, compressors and limiters, and tape, the latter being something of a speciality of Mix:Analog. Basically, gear that will colour your audio and give it that much-coveted analogue mojo.


Mix:Analog's service is based around the company's website. Once you've registered and all that usual stuff, you start by uploading the audio you want to process. This could be a single instrument stem, bus bounce, or full track. You then choose the gear that you want to use. The company offers single units and pre-selected mix chains. As these are not plugins but actual pieces of hardware you have to reserve a time to use the gear. Time slots are in 15-minute increments. When we logged on there was no waiting time, but we're located in Japan so most of the world was asleep while we were using it.
Once it's your turn, you're taken to the gear's web page, with metering in both RMS and LUFS. Tweak the dials, listen to the changes made to the audio, and once you're happy with the results, hit the Bounce button. Your audio is saved on the site and you can then further process it in different gear or download it for use in your DAW.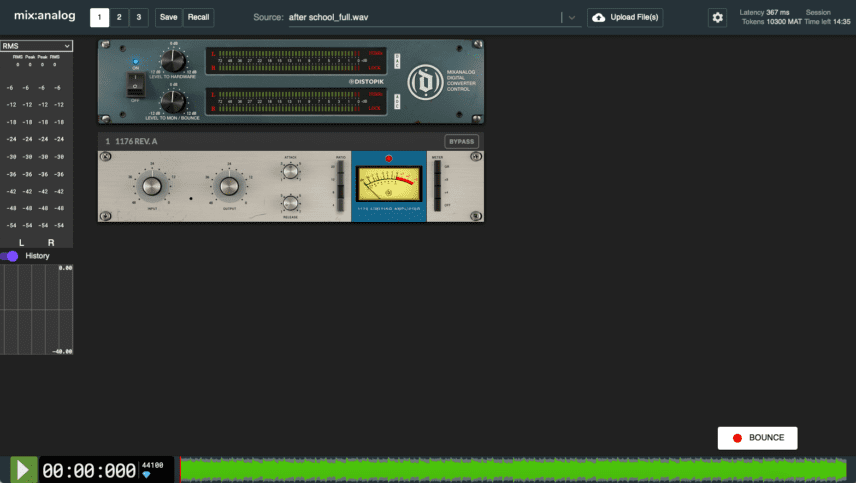 Let's talk about the technology behind the service. The company starts by augmenting the gear with new dials "that work like a super high-quality rotary switch", explained the company's Austin Summers. "The position of this combined switch is controlled with electronic signals instead of mechanics, but otherwise, the wiring and the principles are precisely the same. This brings in additional benefits associated with mastering grade switches, like more precise stereo tracking and more exact steps on potentiometers. These devices are connected to an audio processing server that receives commands from our users on the internet, like requests for reservations, file uploads, renders, and the like. It also routes commands for analogue devices and streams audio".
In practice, we found that it worked without a hitch. Despite the worry of relying on streaming for such a complicated process, it was seamless and very fun. However, we did run into a few issues, though this was entirely due to our own inexperience. When working with the free Distopik 1176 Blue Stripe compressor, we were only getting audio out of the left channel. After freaking out for a few minutes we realized that this was because it was a mono device and could only output on one channel. (The 1176 has since been updated to handle stereo signals.)


One of the benefits of hiring a studio is the presence of a house engineer who knows the gear. With remote mixing, you're left to your own devices (even though you're using their devices). We asked Mix:Analog about how they help newbies work through any hiccups. "We have a list of great presets for each piece of gear that we're slowly but surely updating to ensure a very easy starting point for people to process their audio", they explained. "We also have some great tutorial videos on our YouTube channel. We're making a strong point of ensuring our tutorials are extremely easy to understand as we move into the Mix: Analog 3.0 complete re-design and re-vamp".
Yes, presets. One thing about using augmented hardware is you can save presets. Each device has slots for user presets so you can return to them each time you use the gear.
Mix:Analog offers two types of payment: tokens for a per-use basis as well as subscription plans. Per-use prices vary depending on the unit, with bundles being slightly more expensive.
Access Analog – We Are The Robots
Access Analog are a remote-mixing service located in Longmont, Colorado. Much like Mix:Analog, Access Analog is an internet-based hardware mixing service provider, but instead of working from a website, it's done through a plugin (although reservations are done on the site).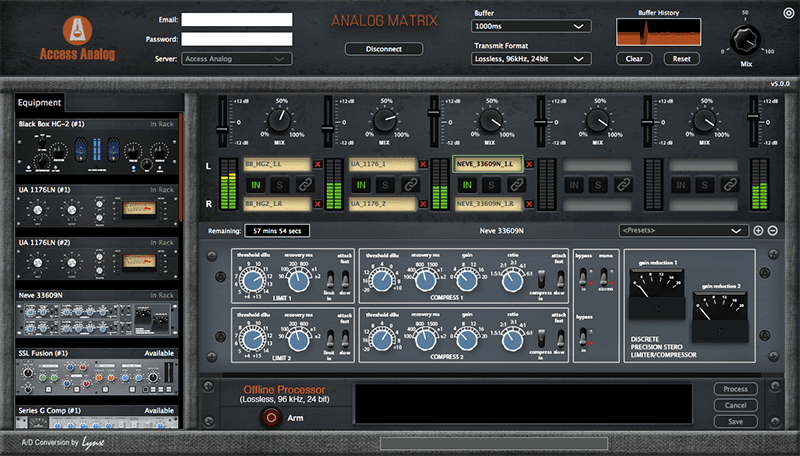 "We have a plugin that routes the audio to the gear and back in real-time", said the company's Chris Barrett. "You can control the front panel using the controls in the plugin, which in turn control our custom robotics at the server. For the first time ever, you can have full recall, presets, and automation on real analogue gear".
Called Analog Matrix, the plugin loads in your DAW. When your reservation time arrives, you access the hardware through a graphic representation of the gear much like using a plugin emulation. As they mentioned, you can save presets and even use automation within your DAW. This is all accomplished not via internal augmentation, like Mix:Analog, but through external robotics.


"The technology starts with a variety of robotic devices that are used to turn knobs, flip switches, and push buttons", he explained. "All equipment meters are tracked with computer vision software so that the meter representation in the plugin is precisely what is occurring on the front of the equipment. (It also) allows us to link the left and right controls of a stereo piece of equipment (e.g. Manley Variable Mu) for easier stereo processing. Finally, we use a variety of technologies to get audio from the plugin, across the world, through an independently clocked A/D converter to the equipment, and then back over the internet to the plugin in real-time. This is done with sample-accurate timing so that the DAW can properly compensate for the delay".
Audio processing can be done live at up to 24-bit/48kHz or offline if your streaming can't handle it. Live recording requires an extremely stable and speedy internet connection – after all, any pops in the stream will be captured when recording in real-time. There are a number of different settings, as well as tutorial videos to help you get set up.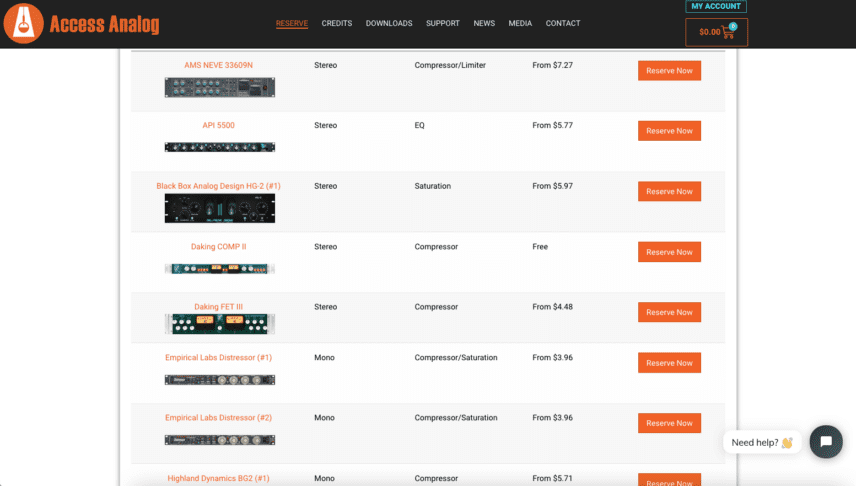 As with Mix:Analog, there's a small learning curve to get up and running. Along with free gear to practice on, Access Analog also offers links to equipment manuals on their webpage as well as a real-time chat service to answer user questions – so it's almost like having an engineer on hand.
Along with the Colorado studio, Acces Analog recently added a second location, Reid Shippen's Robot Lemon. "We have just finished building a new rack of gear with Grammy award-winning mix engineer Reid Shippen. Units from his vintage library of equipment (including Neve, Chandler Limited, and Altec) are now available and accessible with our plugin".
In terms of fees, Access Analog offers packages of credits and also takes cash. If you opt for credits, you can use available gear on-demand and immediately drag it into the Analog Matrix plugin. Reservations are in 30-minute blocks.
Remote Control
For our test, we decided to do a little master bus processing on a finished track. To keep things equal, we used offline processing for both services. We experienced no undue issues using either one.
For Mix:Analog, we couldn't help but try out the Telefunken M15 reel-to-reel tape unit. We're real suckers (reel suckers?) for tape saturation. We were not disappointed. The Telefunken added a nice bit of analogue colour and smoothed out the lower frequencies. It's a subtle effect but one that we will definitely be using again.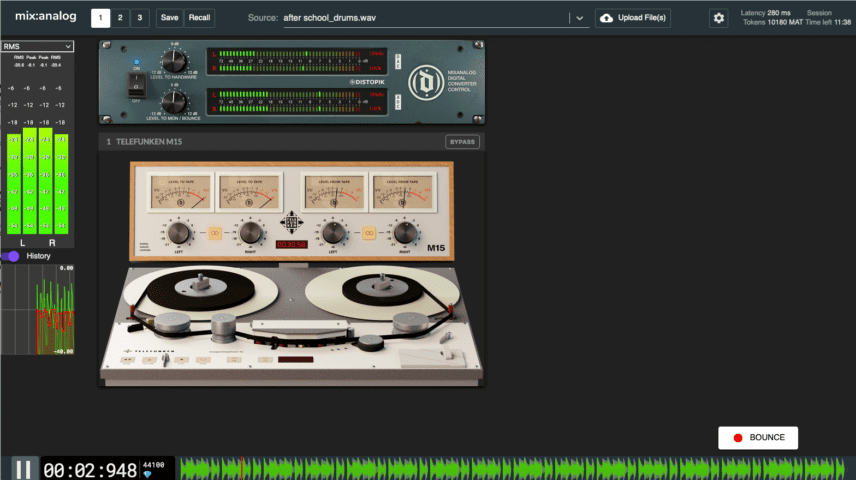 Next, with Access Analog we took advantage of the Manley Variable Mu Compressor, one of our dream pieces of kit. It really filled out the sound, especially in the low end.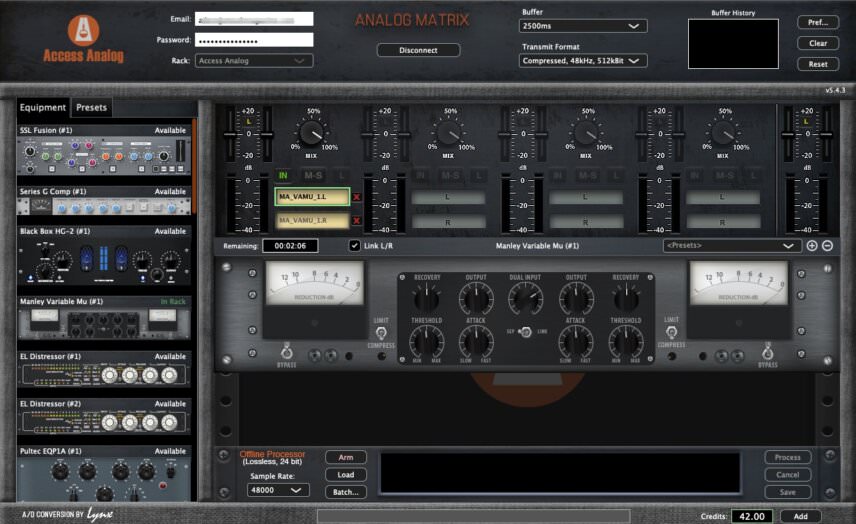 Both services were very easy to use. If you've used mixing plugins before (and if you're reading this, that's a given) then everything will look very familiar. You may have some teething issues at first, particularly with streaming and latency, so take advantage of the free gear and use it to familiarize yourself with the systems.
While there are some differences between the way the two services go about processing and delivering the audio, from a user point of view the main issue is: which service has the gear I want to use? For us, it was pretty evenly split between the two. Mix:Analog has the tape units and Fairchild compressor (cue sound of Homer drooling) while Access Analog has the Manley, a ton of Neves, and Empirical Labs Distressors (two of them!). In the same way that you have a variety of EQ and compressor plugins in your computer and call up the right one for the moment, you're going to want to use the piece of gear that best suits the situation.
The Future Of Mixing?
Both companies are busy making improvements to their services, with Access Analog looking to employ "full mastering chains built and designed by award-winning mastering engineers", while Mix:Analog is planning to add a summing mixer to its lineup, as well as open up the environment to third-party manufacturers. "In addition, in Mix:Analog 3.0 due in late 2021, we will add support for backing tracks, looping, making renders in the idle time between bookings, and a slew of other quality of life improvements".
As internet connection speeds continue to improve, and more gear becomes available to use, we can see this becoming an even more attractive service. "We believe analogue equipment will always have a place in music and post-production", said Access Analog. "It currently seems to be gaining popularity". For producers without easy access to this kind of gear (and that's most of us, to be honest), remote mixing offers a convenient way to inject some analogue vibes into a production. "We think this technology and all products in the space are still looking for that elusive fit with a perfect customer", expanded Mix:Analog. "I sincerely believe this exists and that the trend you see now will grow as more people reevaluate the performance of their tools and how they invest their capital into a mix of learning, gear, and software".
To find out more, contact Mix:Analog via their website and Access Analog on theirs.