Getting Dirty
So far, this all assumes we're using a medium that has a broadly similar performance across quiet and loud sound sources. In fact, most analogue recording gear has a much smaller 'linear' range when compared to modern 24-bit DAWs.
Tape in particular exhibits frequency-dependent compression, which becomes more and more significant at higher signal levels. This delivers the much-loved sound of tape saturation, and a progressive form of audio 'squashing' that is associated with 'warmth'.
A good way to see this in hear this in action is by taking a bass sound…
…and comparing it with two different tape versions…
The first is a 'normal' recording, while the second is recorded 'hot' (i.e. with the signal pushed to higher levels on the input), and therefore creating enhanced saturation.
The frequency response chart clearly shows a more complex curve for the hot tape version (orange) in the 400-1000 Hz range when compared to the original (red):

However, this doesn't provide the full picture. Comparing the two in a waveform editor shows that the waveform undergoes quite a bit of transformation in the process:

Capturing The Moment
Pushing the incoming signal level is most definitely where much of the excitement lies, but there is a possible downside to saturation. Squashing a signal dynamically can mean losing some transient detail.
This is especially important when it comes to drum sounds.
Here we have a layered snare and clap hit. Comparing the attack portion of the waveform of each helps us see what is going on. The original is shown by the black wave on a tan background, while the tape version is the blue line on grey background: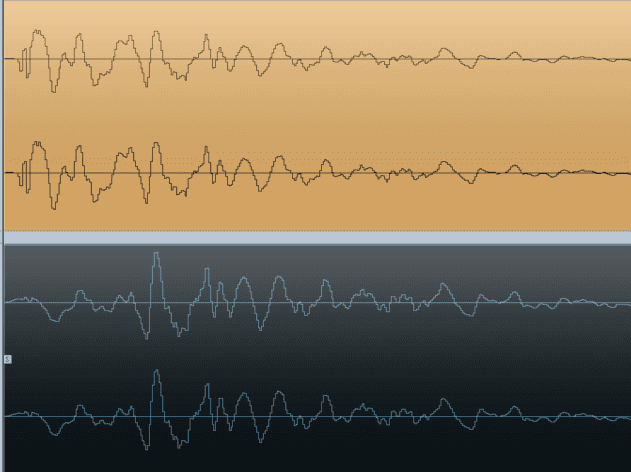 Whilst some transient detail can be lost, here (and especially in parts of an analogue signal chain utilising valves or transformers) harmonically pleasing distortions may make for a more favourable, if less 'accurate', overall sound.
We looked at harnessing some of these techniques in software in the Adding Analogue and Creative Distortion walkthroughs.