In this Beat Dissected we program a nu-disco groove inspired by the infectious style of Purple Disco Machine, Never Dull or Hurlee.
There's just something about disco and its various sub-genres that make you want to dance. The driving beat and basslines jammed alongside timeless sounds such as vintage disco strings live percussion all combine seamlessly. The formula just works!
Artists like Purple Disco Machine and Never Dull are some of the many producers today creatively emulating the classic sound but with punchier modern sounds, samples and one-shots.
In this article, we do the same by programming a nu-disco beat using Loopcloud samples and loops. Loopcloud is a cloud sampling service brought to you by Loopmasters. There are various highly appealing features for Loopcloud such as:
AI search technology – search for samples using tone, stereo width, length, swing, rhythmic density, and more.

Find Harmonic Matches – Loopcloud will search through its own library as well as your collection to find samples and loops that will work seamlessly with your source sound.

Find Similar Sounds – broadly similar to Find Harmonic Matches, Loopcloud will present a few further alternatives in a similar vein from its library. You can search your own sample libraries also.

Added effects to try before you buy – a whole host of effects can be applied witing Loopcloud meaning you can 'try before you buy'.

Subscription model – much easier than buying a full pack. Buy what you need not what you don't.
Want to follow along? Download the midi files!
As we go through the steps, we'll apply classic disco production tricks like layering claps, adding groove using sidechain compression, reference familiar sounds and create a live ambience with panning and room reverb. Let's hit the dancefloor!
You can now also follow the Beat Dissected series on YouTube. Make sure to like and subscribe so we can keep bringing you great content!
Here's the beat we're building today. We have added a bassline for context:
Step 1
Let's start with the kick. Nu-disco kicks are generally very subby, leaving room for electric basslines in the low-mid frequency register. Alternatively, they are punchy and emphasize the high frequencies.
We'll go with option two and use SFSD_Kick_05 from the Singomakers' French Space Disco pack. This is a very punchy sample with a bright metallic texture that will definitely help it cut through.
One key fact about disco kicks is that they are not quantized precisely to the grid because this would sound too robotic. Be sure to make it a habit to play your kicks in live with a MIDI controller or even your computer keyboard and then find short loops that work! This will help you achieve a unique groove. If you click on the image to enlarge it below, you'll see our kick is not on the grid.
To curb that metallic texture and to add a hi-hat sound we can layer the kick with an open hi-hat sample. We used LCD2_OpenHH_45 from the Loopcloud Drum Intro II.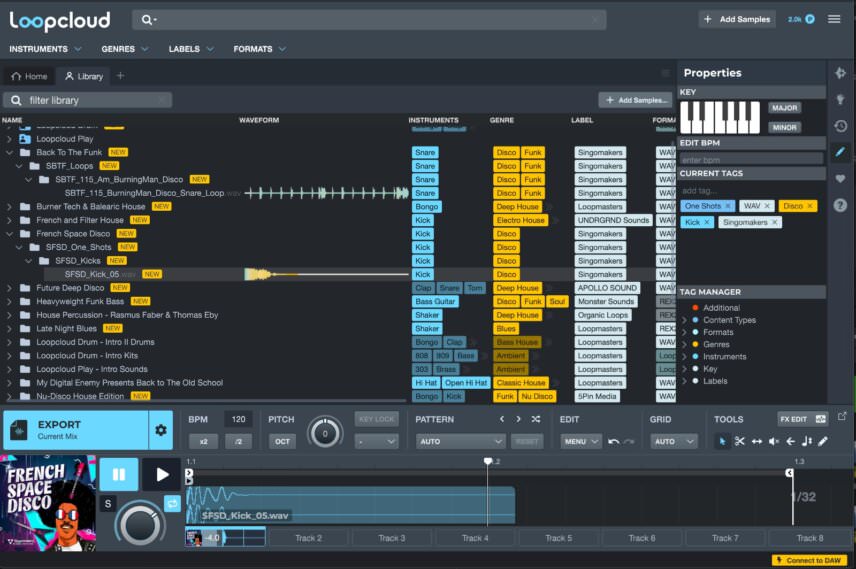 Step 2
Now for the snare/clap! One of the key elements of disco grooves is flammed snares and claps. This means when there are multiple snares and claps hitting within milliseconds of each other, instead of at the same time. To start, drag in a flammed clap sample – we used CAS_UFH_Clap_10 from Class A Samples' Universal Future House pack.
Next, layer this clap hit with a fat snare sample to make it sound more full. For this layer, we used FDD_Snare_clap_3 from Apollo Sound's Future Deep Disco pack.
Here's the clap in solo followed by the clap layered with the snare:
As you can see in the zoomed MIDI above, we have the snare playing almost simultaneously with the kick and the clap is programmed to play a fraction of a second after. As the clap sample is also formed of a fast flammed double-hit, we now have three clap/snare hits occurring at different times around the kick, giving us that sense of "drag and swing".
Step 3
Shaker loops can be a secret weapon for groove, especially when used with sidechain compression. Insert a four-bar shaker loop into the drum rack and program it to start on the first note and play for all four bars.
We used EBY_140_Shaker_2 from the House Percussion Pack by Rasmus Faber and Thomas Eby.
Drag a compressor onto the shaker's drum pad and sidechain it to the kick. Set the Attack to its lowest value so it responds to the kick immediately and reduces the Threshold until the shaker starts to duck when the kick hits. The key parameter is Release and the value you set here will change the entire groove of your beat so take the time to experiment! We left it at around 230 ms.
Here's how the shaker sounds in solo with the kick. The first two bars are without the sidechain compression and then two bars with the sidechain compression active:
Top Tip! You'll get an even better rhythm if the shaker loop you use already has some internal swing and isn't quantized!
Here's our progress so far:
Step 4
In this step we're going to add four percussive elements; two bongos, a woodblock and a disco string hit.
These are all sounds that were used even in the earliest days of disco, so referencing them will add a sense of familiarity or nostalgia that listeners always pick up on. Their function in the beat is to play repeated syncopated patterns that contrast the straight rhythms of the kick and clap.
Let's start with the bongos – two differently pitched hits are more than enough! The first one we'll use is ND_Bongo_Hit_12 from 5PN Media's Nu-Disco House edition pack and the second is ABT_Bongo_15 from the Burner Tech and Balearic House pack.
Panning plays a key role to make the parts sound live so we panned one 25L and the other 25R so they form a stereo call and response relationship.
The woodblock we used is WCP_Block_01 from Organic Loops' World Percussion Carnival pack. To bring it into the 21st century and to dash it with some sparkle, add some chorus to via Live's Chorus-Ensemble. Pan it slightly to the left to make it sound like someone standing in a room playing it.
Here's how these three percussion samples sound in solo with the shaker:
Next up, add a classic disco string hit on the very first downbeat. This is the sound that will most clearly say to the listener that they can expect a swinging disco beat to come!
We used discostr_E_shortpulldown(hi) from Organic Loops' Real Strings Vol. 7 Disco pack. Apply reverb to whatever sample you use so that the sound creates a spreading ambience. A decay time of close to two seconds should be more than enough.
Step 5
You can't have disco without some massive tom fills!
Use any tom samples you would like but we recommend either acoustic drum-sounding samples or very cheesy 80's drum machine samples.
Insert three differently tuned tom samples into the drum rack – sets of tom samples usually come like this by default. We used two tom samples, FDD_Tom_14 and FDD_Tom_11 from Apollo Sound's Future Deep Disco pack. For the third tom, we duplicated the second sample and pitched it down -3 semitones in Simpler.
Pan all of the toms separately so that the fill moves across the stereo spectrum. We panned them 20L, 0, 21R.
Program a fill in the fourth bar with the toms descending from the highest-pitched sample to the lowest. Here's how our fill sounds:
It sounds OK, but the secret with tom fills is adding bucketloads of sub! Sub-enhancer plug-ins are ideal for this task so we used Waves' Submarine to add sub-layers to the two lower toms. For the first higher tom, we used Live's Channel EQ with a high-frequency boost at 120 Hz.
Here are the toms in solo followed by the full beat:
Step 6
The final step is some room reverb to bring the beat to life. We'll add reverb using a return channel.
Insert your favourite room reverb on a return channel, set it to 100% wet and route -20 to -25 dB from the Drum Rack channel to the return. If you find that too much kick reverb is coming through the return, place an EQ on the return channel before the reverb to curb the lows before they hit the reverb.
Here's the end result in solo and then with a bassline for context. The basslines are both from Loopcloud's Heavyweight Funk Bass pack.