4 – Studio Electronics ATC-1
Years of production: 1996-2003
Spec: dual VCO analogue monosynth
Key features: cartridge-based filter system
Current second-hand price: from £350 (basic model with Moog filter) to £800 (mint condition with a full set of filter cartridges)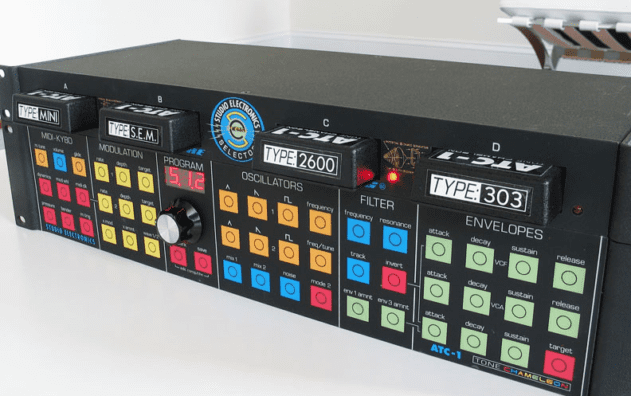 Studio Electronics could easily have appeared more than once on this list. The California company began life as a provider of MIDI upgrades for classic Moog, Oberheim and Sequential Circuits synths, but eventually branched out into making their own models. The Moog influence has always been clear in Studio Electronics synths and the company's products excel at full fat, all-American sounds.
The CODE and Omega 8 are seriously powerful synths which don't get the praise they deserve, but they're not exactly bargains. The original SE-1 is a Minimoog-inspired monster that's well worth a look if you can find one for under £500, but the real bargain is the ATC-1 Tone Chameleon, a rack-mount analogue monosynth with a unique cartridge-based system which allowed the filter to be changed from the standard Moog-inspired sound to designs which copied the sounds of the Roland TB-303, ARP 2600 or Oberheim SEM filter circuits.
The ATC-1 is a proper Moog-inspired analogue monster which can be picked up for about the same price as the much more limited Slim Phatty. The looks might not be to everyone's taste (although we like the multi-coloured front panel), but the super heavy bass sounds the ATC can generate are universally popular.