The competition for sharing audio files securely has been heating up lately. We round up the best ones available today for musicians looking for a secure, easy-to-use service.
A quick show of hands. Does this naming and annotation format look familiar?


But what if we told you there's a much easier way to track, annotate and securely send audio? In addition to Google Drive, if you don't already know, there are a host of other excellent companies that are designed for musicians. So if you are sending your music to labels, distributors, publishers, magazines, mixing engineers, mastering houses and the endless list of places that need your 'history' then it's worth having everything in one place.
With the list of companies, growing, we show you the best audio-sharing services available today.
Highnote
Over the last few months, the team at Attack Magazine has been using Highnote. Released with a public beta today, Highnote enters a growing industry, following Adobe's acquisitions of creative workflow tools Figma and Frame.IO.
For our purposes at Attack, we found annotating audio, and sharing audio files securely, with real-time collaboration, incredibly useful for our content streamlining. We distribute audio files every day to our contributors and Highnote has been invaluable with real-time commenting.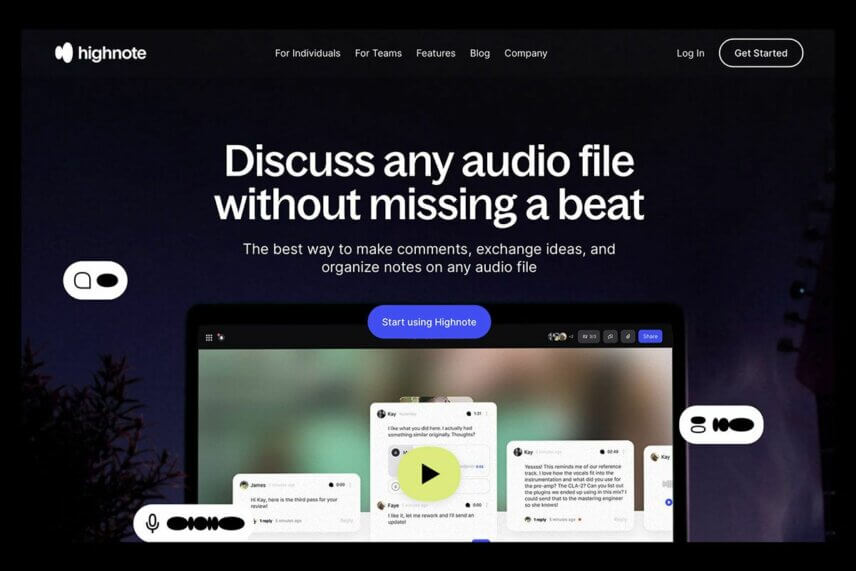 Highnote has well-established competition in particular WeTransfer, Dropbox and SoundCloud. However, with the exception of SoundCloud, none of these are designed for musicians by musicians. Their team of founders have backgrounds with Splice, Squarespace, and Songtrust. Between them, they have scaled consumer-focused tech companies. And the company has been backed, so it's not just the team that sees their value.
Until now, audio creators have largely relied on tools like email, SMS, and generic file-sharing services not optimized for audio content. Highnote wants to change that with some attractive features including polls, reactions, and real-time discussion in easy-to-manage workspaces called Spaces.
In addition to annotation tools, Highnote is building a workflow platform that actually works, as demonstrated by some of the additional features found throughout. With the attachments feature, you can attach Spotify, Dropbox, Google Drive, and Soundcloud links to reference playlists, stems, and even upload .zip files of stems, samples, or entire projects. This makes it easy to share references, assets, or links to other sites while working on a project.
With their versioning feature, you can upload new versions of a track as you progress. Revisit, review, and compare with real-time toggling between versions as well as comments and conversations that are tied directly to those versions.
It's currently free with paid tiers coming – such as Teams and also Pro Level 2 tiers. But, right now it's free and will be forever. As a cloud drive alone, it's totally worth it. There are some pressing cons, but any new platform takes time to iron out bugs. It's been years and Splice's desktop app remains lacking after all.
Pros
Record voice notes directly over a track
Create polls to gather group opinionAttach links, files, and more with attachments
Shared timestamped reactions
Toggle between multiple versions seamlessly
Real-time commenting
Free tier
Cons
It has a slow processing time
High res files need better sync management
No iOS or Android app currently
Some new design features would be helpful
---
BOUNCE BOSS
A direct competitor to Highnote is Bounce Boss. Originally founded in 2017, Bounce Boss is a secure collaboration platform for anyone that works with audio or music. It's designed to give you the necessary tools required to organize, listen and communicate better, so you can complete your audio projects, faster.


Bounce Boss was born in 2017 when co-founder, Tom Frampton, realized he was wasting precious time searching through audio files, emails, and texts. Sending and receiving audio files every day was turning his downloads folder into a mess. Producers – does this all sound familiar?
Bounce Boss was thus born and would appear to have significant traction with engineers in the studio world.
At £4 a month, it's not free but nothing worth having comes free.
Pros
Everything is securely in one place with version control.
Jump easily between level-matched audio and compare changes for any version of an audio file
Communication is clear and effective with clickable timestamps, loops and automated email notifications
Export your entire project and all its data easily into a single ZIP file for easy archiving
Cons
No iOS or Android app
No annotation types outside text
Can't do polls
Commenting is not real-time
---
BYTA
Byta, pronounced "Bee-tah", also made the cut in last year's round-up of secure audio file sharing services. At the time of publishing, last year Byta didn't offer comments-based feedback. As of 20222, they still don't but not withstanding that, the service is still an attractive proposition.
Their standout features are to be found in their impressive tagging and secure sharing features. In particular, their approach to stopping leaks is attractive. If you are a label looking to send music around secure, Byta is well worth a look. It's powerful for pre-releases, works in progress or sending files to mastering and mixing houses.
Their new additions in the past 12 months include an embeddable player and "smart attachments". The former, available for Creatore, Freelancer and Teams Plans, allows you to add audio to your website using Byta's Embeddable player. You can limit to stream only or share downloads in lossless file formats and track stats. No need to send your listeners to other platforms.
Their other recent addition is Smart Attachments. You can attach Spotify, Dropbox, Google Drive and Soundcloud links to the music you share and strengthen that first impression by including links to Spotify Artist Profiles, Soundcloud links, or Dropbox or Google Drive folders. This can help artists and their teams include relevant assets, streaming platform profiles and previous releases to music shares.
Marc Brown, CEO, once mentioned that audio file sharing had become so bad that going back to CDs "might be an improvement". However, with Highnote and Byta competing against one another, there's no need to buy that CD tower anytime soon.
Pro's
It's free
Very easy to use
Connects with email databases such as Mailchimp. Great for sending to your newsletter for example
Con's
No time-based feedback (was due 2021 but not yet unveiled)
Very good for delivery, less for community
---
Dropbox
Dropbox remains popular and makes the cut again this year. We're aware it might send a shudder down the spine of all those who've tried to use it (there's a reason the companies above were able to get traction) but with Dropbox being so massive it's here to stay.

Music is not their primary focus. It still works well as a rival to Google Drive and is an excellent storage facility. It has commenting features and can share audio securely. However, it's clunky and often users get fed up with broken links, slow services or requests for permission not being set correctly.
It's a monster as it nearly single-handedly created this space and thus many people continue with Dropbox when sharing audio files securely. It remains hugely valuable, (we use it to distribute our sounds for our books) but for music sharing, you're better off with Highnote or Byta.
To share a link privately, the end-user must have the Dropbox link and if you want time-based feedback you'll need the paid plan. With plans starting at £16.58 a month, it's not pocket money. Throw in the question of the compression on the audio file and while it's still widely used, many producers have looked elsewhere.
Dropbox had a first mover advantage in this space but as a company, musicians are not their core market.
Pro's
It's ubiquitous and trusted
Overall it is 'fairly' easy to use if you sign up
It does have time-based feedback (useful for highlighting specific elements in a track)
Easy-to-use track navigation
Con's
Time-based feedback is not free
Audio previews are compressed
No annotation types outside text
Plans are expensive if used for music sharing only
---
SoundCloud
Not a year goes by where SoundCloud doesn't seem to have a financial problem. They appeared to be on the right track with their fan-powered royalties, putting them in great contrast to Spotify. But they are not just in competition with Spotify, many do also use SoundCloud to share and distribute music privately. It makes their value proposition somewhat inconsistent. You can't be all things to all people.


How does that fare? Well, not great given the wealth of new competition. A bit like Dropbox there's a sense people are using it as 'everyone else does. However, major labels and distributors, working in professional capacities, will soon tire of the lack of features and find a better home with Highnote or Byta.
SoundCloud should focus its energy on being the best music community with streaming. Spotify offers nearly no community and SoundCloud has it in spades. If we were running the company, and we're open to negotiation, that's where we would focus.
In short, we wouldn't recommend the Swedish behemoth for securely sharing large amounts of audio files for collaboration, annotating and more.
That being said, we're delighted to see SoundCloud lead the change in paying artists correctly for their music. Alongside, Bandcamp and Mixcloud, these three companies have successfully changed the narrative about treating musicians fairly. With SoundCloud also offering a private, secure sharing platform, it remains a formidable option.
Pro's
It's free
Very easy to use
Great sounding widget
Trusted by many musicians who already have an account
Con's
GUI could be improved still
No annotation types outside public text
Not made for audio production, mostly for sharing final tracks
App still needs some work but has been improved greatly in recent years
Recipients need an account
Comments remain if you intend to release on SoundCloud afterwards
---
*Attack Magazine is supported by its audience. When you purchase through links on our site, we may earn an affiliate commission. Learn more.