With the exception of the SE-02 synth, a collaboration with Studio Electronics, Roland has stubbornly doubled down on the digital technologies behind its Boutique and AIRA series instruments. With the MC-101, a tiny but powerful groovebox, its sounds make it a very convincing creative machine.
Over the last few decades, as old and new electronic instruments makers alike returned to analogue technology, Roland hardly blinked. Firmly committed to exploring the frontiers of digital technology, Roland CEO Jun-ichi Miki, who also happens to be an engineer, best encapsulated the company's vision in a 2019 interview on the occasion of the JUPITER-X and JUPITER-Xm release.
"We are very aware of the very strong passion that synth fans have for the JUPITER-8, and some continue to wait for us to introduce a true analog version. This is something we do not plan to do," said Miki. "Our founder Mr. Kakehashi always said, 'Never chase a ghost,' and I really understand his meaning. 'Chasing the ghost' of the original JUPITER-8 or TR-808 does not make sense as we will never catch them, and this effort would not align with our vision for the future."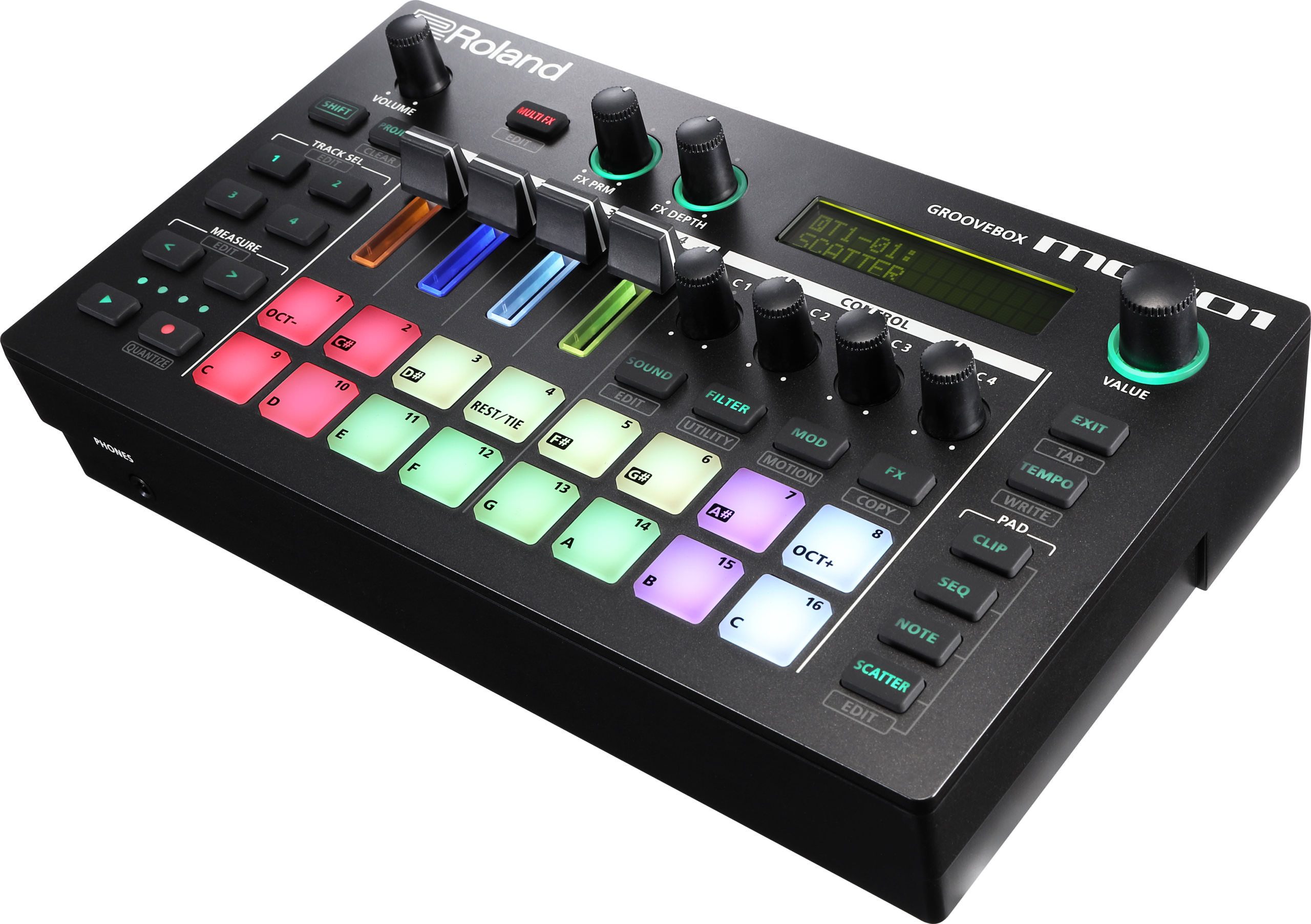 Though Roland isn't chasing ghosts by resurrecting its past analogue systems, the company is most assuredly putting the sounds of those ghosts inside its machines. The MC-101 and its big brother, the MC-707, serve as Roland's re-entry into a groovebox category that has more recently been dominated by the likes of Elektron, Novation, Teenage Engineering, and Korg. Inside the box, the MC-101 features the faithful sounds of a number of Roland classics such as the TR-808, 606, and 909 (and others in that series), as well as the Juno-106 and SH-101.
While small, very plastic, and somewhat limited in its sound-sculpting capabilities, the MC-101 is an inspiring piece of kit. Its small form factor and somewhat tedious menu-diving will likely prevent the MC-101 from becoming the "brain" of an electronic musician's studio setup or live rig, but its sounds, sequencing capabilities, and DAW compatibility will make it a very useful creative tool.
Roland's Groovebox Resurrected
The MC-707 is Roland's new flagship groovebox, but that doesn't mean anyone should sleep on the MC-101. At half the price and much more portable, the MC-101 definitely has its delights.
First of all, the MC-101 features Roland's new Zen-Core technology. A sibling of sorts to ACB, Zen-Core is the sound generator engine behind the company's new line of grooveboxes. As Kakehashi noted in the 2019 interview, Roland designed a new "system-on-a-chip" called BMC (Behavior Modeling Core), an array of DSP and CPU core blocks plus hardware logic that essentially combines PCM (sample-based) and Virtual Analog synthesis with a number of other features like effects and sequencing.
Out of the box, the MC-101 and 707 offer drum and synth sounds alongside multitrack real- and step-sequencing, effects processing, and audio recording. The MC-101 comes with 3,500 preset sounds and 128 voices, a number that will vary depending on which sound generator is loaded, and it can also handle user samples (more on that below). As the MC-101 is essentially a mini-MC-707, it doesn't feature its big brother's connectivity. The back panel has a power switch, two five-pin MIDI ports, an SD card slot, and two ¼-inch outputs, as well as a 3.5mm headphone jack on the front.
Much like the Novation Circuit, the MC-101's interface is comprised of 16 color-coded pads for programming beats and synth sounds. Given the MC-101's overall size, the pads are quite small. This isn't a problem on a bus or train, or in the studio, but triggering the pads live might be tough for the less dexterous musicians among us.
The MC-101's four-channel faders (one for each of the groovebox's four instrument tracks) are surprisingly useful. Its four rotary knobs and the corresponding buttons, on the other hand, are more frustrating. To assign different effects, users must press one of four buttons below the rotary knobs, then turn the knob to access said effects. Users then have to release the button to tweak the effects parameters, which are quite limited compared to something like the Elektron Digitakt. The Master Effects section, accessed by a button on the top of the MC-101 is where users access the full palette of effects and fine-tune the parameters.
Building Songs on the MC-101
As noted above, the MC-101 features four instrument tracks. This might be a deal-breaker for some musicians, especially those who love to obsessively multi-track their songs. But, this sort of limitation can become a creative tool, allowing musicians to focus more on the basic structure of the song instead of minutiae.
Sound-wise, the MC-101 is packed to the gills with 3,500 drum and synth tones. Once acclimated to the groovebox's workflow, it's easy to find preferred sounds, especially in the drum section; although the synth section takes a bit more digging to really dial in the sounds one might want. There are numerous categories for drums, bass, and lead synths, and myriad other subcategories for sounds such as flute or strings.
Each of the MC-101's four tracks functions as a 128-step sequencer, which users can dial into their preferred step length; or, users can play and record notes chromatically. Each track also contains 16 clips, which allow users to evolve their songs in various ways and work in a song mode much like the Digitakt. Clips can also be copied and pasted, which is a useful feature for song creation and live improvisation.
The Sound Source feature allows users to change a track's sound source from clip to clip. For instance, an SH-101 lead sound in one clip could give way to spacey strings on another, before mutating into perhaps a sample loaded by the user (via SD card). The downside is that this involves some menu diving; but when applied to something like the drum group, a great deal of variability and complexity can be added to a composition.

Another great feature is that each drum instrument features 16 dedicated tracks, which have their own settings for pitch, filter, EQ, and other parameters. So, users can independently sequence kick, snare, hi-hat, and so on up to 128 steps; although the drum track fader controls the entire drum group. When in Mute mode, users can mute individual drum tracks—a helpful tool for both song creation and live performance. In Sequencer mode, users can introduce some variability in each step of each drum sound, as well as randomness by setting the probability of when the machine will trigger a drum sound.
Each track on the MC-101 has five effects—reverb, chorus/delay, compressor, EQ, and an additional multi-effect of the user's choice, which can include effects like phaser, flanger, and a number of others. These and other parameters can be assigned to the Control Section, which includes four knobs for each track (Sound, Mod, Filter, and FX), so that users can tweak the filter cutoff or reverb depth, and so on.
The MC-101 also has functions for Time-Stretching, Looping, Sample Edit, and Scatter, which is a performance mode that allows users to mangle and warp effects in real-time. In Scatter mode, each pad has an effect, like reverse, pitch-shifting, chopping, and so on. The Scatter effects are set to factory presets, but each of the 16 can be customized by users, allowing them to create strange Aphex Twin-like effects, or transitions between clips or, indeed, between songs.
The MC-101's sound-design and sequencing capabilities are deep, and anyone who buys this groovebox will want to dive into the user manual, as well as Roland's own tutorials for the above features and many others.
Expanding the MC-101's Sonic Palette
Roland designed the MC-101 to sonically evolve. To that end, the company allows users to expand the groovebox's palette with what they call a "curated collection of built-in beats, phrases, and sounds".
These sounds can be found on the MC-101 page of the AIRA Sound Library, which covers multiple genres, from techno to EDM, drum & bass, and hip-hop. The library is currently rather small, but it should expand over the coming months and years as more curators add their sounds to it.
For those who don't want to wait to add new sounds to the MC-101, again, the groovebox accepts users samples via SD cards. Samples can be trimmed and time-stretched, tweaked with the MC-101's sound engine and sequencer, and even looped.
DAW Connectivity
The MC-101 connects directly to a musician's DAW of choice via a USB port, making it an audio interface through which users can record entire mixes or all four parts to individual tracks within their DAW. Users can also sample sounds from their DAW, whether it be backing tracks or a software synth plugin.
One less piece of gear to carry—an audio interface—is certainly an upside, especially for novice or professional electronic musicians who are travelling with a minimal music setup.
Final Verdict
At first glance, the MC-101 is unassuming. It's plastic and lightweight and has none of the beauty that we've come to expect from Elektron or Novation grooveboxes. But, what it lacks in aesthetics and build quality, the MC-101 more than makes up for in the sound design and sequencing departments.
All of that power comes at a price, though, as the MC-101 requires a ton of menu diving. Granted, most electronic instruments require menu diving these days (see Elektron's Octatrack and Korg's Electribe for comparison), but the MC-101's true depth is only revealed by taking those dives across each of its four tracks, as well as any clips users end up creating.
It might not be the focus point in a studio or live setup, and that's okay. But, with patience and a zen-like acceptance of its limitations, the MC-101's preset sounds, sequencer, and Clip and Scatter functions make it an incredibly fun machine on which to make everything from electronic music to hip-hop.