Novation brings almost 30 years of MIDI controller experience to bear in the Launchkey 49 Mk3—but is it enough to make it a must-buy?
The British company Novation entered the market in 1992 with the MM10, a battery-powered controller meant to be paired with the Yamaha QY10. That's right, Novation started not as a synthesizer company (the Bass Station would arrive one year later) but as one that specialized in controllers. While the MM10 is largely forgotten, it wouldn't be an exaggeration to say that the company's subsequent controllers, particularly the Launchpad series, changed the way that we make music.
The Launchkey range, which started in 2013, has now been updated to mark three. Combining traditional piano-type keys with clip-launching pads inspired by the Launchpad, as well as an assortment of knobs, buttons, and sliders, the current USB-powered Launchkey range is available in four model sizes: 21-, 37-, 49-, and 61-key variants. They are largely the same, save for the addition of sliders (49 and 61 only), and of course the number of keys. We're going to be looking at the 49-key model.
Out Of The Box
MIDI can be a right pain in the neck. For all it's done for us musicians, it has also forced many of us to reach for the paracetamol. We were happy to see, then, that Novation had anticipated this and made the Launchkey setup process fairly pain-free. Plug your controller into your computer via an (included) USB cable, and you're greeted with a folder on your desktop to help you through the setup process. It takes you to a registration page where you can also download drivers and bundled software. There's also a video to take you through the whole process, should you need it.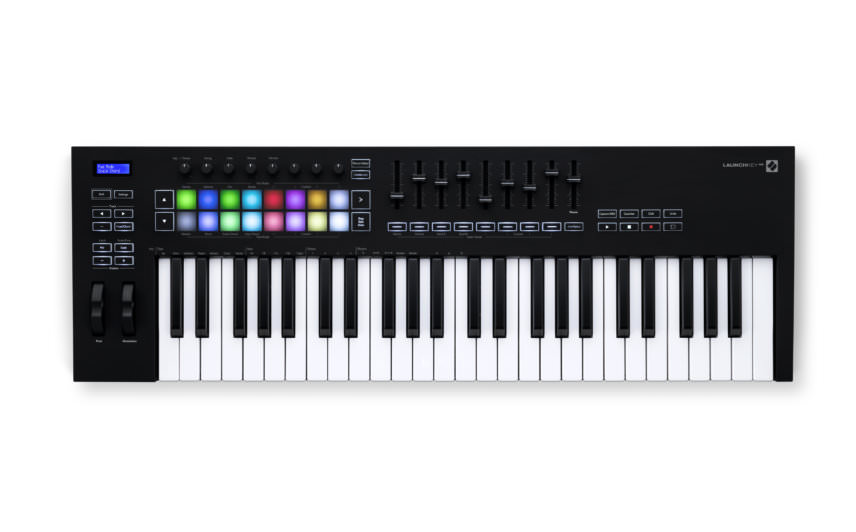 But—and this is the best part—we didn't need it. It just worked. Launchkey controllers are configured to work with Ableton Live right out of the box. We were up and running in literal minutes. (We're using a 2018 Mac Mini so no additional drivers were necessary. For those with Windows machines or plans to use Launchkey with Logic or other DAWs, the appropriate drivers are easily available.) The knobs and faders map automatically to parameters in Live. This ease of use continued throughout our time with the Launchkey. The programmers have really thought deeply about what musicians need from a controller.
The Lay Of The Launchkey
First of all, the Launchkey 49 is lovely to look at. It has the kind of sleek, low-profile form factor that is popular these days (see also recent products from Elektron and Polyend), and it looks very cool perched on our studio desk. The various buttons and pads have multicoloured LEDs underneath, which, like a screensaver, cycle through their vivid hues when not in use (and of course change colour in use depending on function). It's a thing of beauty.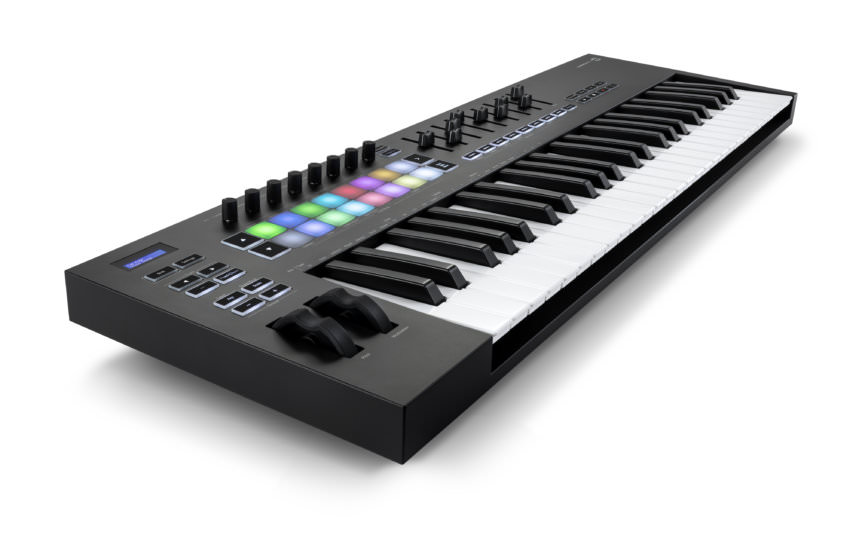 Everything is cleanly laid out and within easy reach. At the top left, we have a small LCD display. It's easy to read and visible from any angle, though it could be a bit bigger. To the right sit two rows of 20 pads for launching clips and triggering drums. The pads are suitably resistant and velocity-sensitive. We used them when working on a recent tutorial and found them to be firm and responsive. Directly above them is a row of eight potentiometer knobs. They're a little on the small side but are easy to grab, and there is no wobble at all. Next are nine sliders. We love the length of the throw—perfect for mixing. Lastly, we have the transport controls at the right.
As expected, below are the 49 keys. The Launchkey series is not a premium controller series. They are priced to be affordable, yet—and this is true across the board—they do not feel cheap at all. The keys are full-size, for one, and nicely springy. Juilliard-trained musos might be disappointed in their action but for the vast majority of us, they're perfectly acceptable. Pitch bend and modulation wheels complete the package.
Build quality, it should be said, is superb for the price. Our review model is lightweight yet firm, and everything about it says quality. With the 49-key model retailing for around £200, it's an absolute steal.
Arps, Chords, And Scales
While the Launchkey controllers are not intended to be all-in-one sequencer hubs like the Arturia Keystep Pro, and count on you to use them with a computer, they do feature some very useful (and fun!) MIDI note functionality. (That being said, they can function without a computer and so have MIDI out.)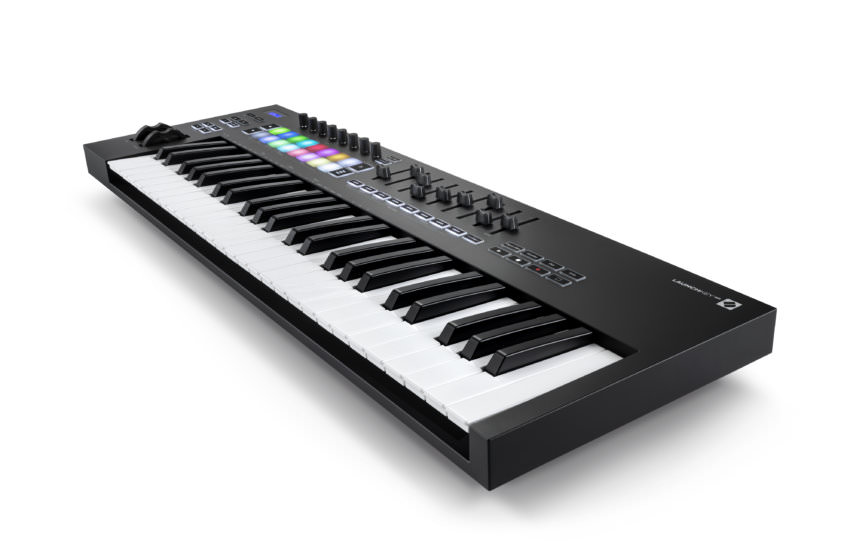 The arpeggiator section is surprisingly deep, with options that go beyond the typical up/down/random selections. We particularly liked the Rhythm function, which inserts rests into the sequence. Mutate is also a welcome parameter, useful for altering arpeggios on the fly. Most parameters can be altered via the knobs in real-time, allowing for exceptional tweakability.
One of the benefits of triggering MIDI with pads rather than keys is the freedom of harmonic expression it can give you. The Launchkey controllers have the best of both words in the Chord modes. You can trigger pre-selected chords from the pads, assign your own by playing them on the keys first, or create what Novation calls Fixed Chords. This last feature is similar to chord memory in some synthesizers: user-created chords can be sounded from single notes. Instant Detroit techno-style parallel chords!
Lastly, there's the Scale mode. Choose your preferred scale and only those notes will sound. The benefit is you can never hit a bum note. While useful, especially for beginners unfamiliar with scales, we would have preferred that the piano keys that fall outside the scale play blanks, rather than duplicates from the scale, if just to help learn the scales themselves. Perhaps we'll see this in a future firmware update.
The Verdict
There's plenty we haven't covered, like Custom modes for expanding control of plugins and, if you're a MIDI CC wizard, external gear. The Launchkey controllers can also quantise and capture MIDI with the touch of a dedicated button. Mixing is also a joy with the faders. There's more, but we think we've sung its praises enough.
How does it compare to similarly priced controllers? If you need to get away from the computer, Arturia's Keystep Pro is a good option but at around £350, quite a bit more expensive. M-Audio's Oxygen 49 Mk4 (around £110) is a good budget option but falls short in terms of extras. We find that the Launchkey models hit the sweet spot of budget, quality, and functionality.
In case you haven't guessed, we've absolutely fallen in love with our Launchkey 49 Mk3 (and frankly hope that we don't have to give it back). The operating system is intuitive and takes the headache out of working with MIDI. Kudos to Novation for that. We're also enamoured with the look and feel of the thing. You would never know it was a budget-priced keyboard controller. We wouldn't mind a little more connectivity, such as CV/gate. (The SL MkIII has it but it's a significant jump up in price.) But for the intended user—computer-based musicians—the Launchkey 49 Mk3 is practically perfect.
*Attack Magazine is supported by its audience. When you purchase through links on our site, we may earn an affiliate commission. Learn more.