Plugin maestros FabFilter are back with Saturn 2, an update to their excellent distortion plugin. Does Saturn still run rings around the competition?
When you think about distortion as an effect, maybe the first thing that comes to mind is a stompbox or an overdriven 303. There's a lot more to distortion, however, than obliteration (as cool as that is). When used correctly, distortion can add a spark of excitement and energy to a lifeless sound. It can bring warmth in the form of saturation to in-the-box mixes. It can also replicate analogue tone—perfect for when you want a vintage vibe but don't want to bother with the headache of hardware.
Originally released in 2012, FabFilter's distortion plugin Saturn soon became the go-to effect for adding saturation and harmonics to a signal. This was because one, it sounded great, and two, it was multiband, meaning that rather than apply the effect globally, you could laser-target frequencies and apply colour just where you needed it. Now eight years on, FabFilter have finally updated Saturn to version 2.
Does Saturn 2 offer enough new features to compete with the many strong distortion plugins on the market? Let's get in deep and find out.
The Overview
The layout of Saturn 2 is fairly simple. When you first load the plugin, you're greeted by the default, single-band setup. At the bottom of the screen are the band controls. As with most of FabFilter's plugins, this is where you do the work. At the center is the Drive knob. Arguably the most important control in the plugin, it's suitably oversized. With this knob, you can control the amount of drive as well as panning, which opens up a number of creative possibilities.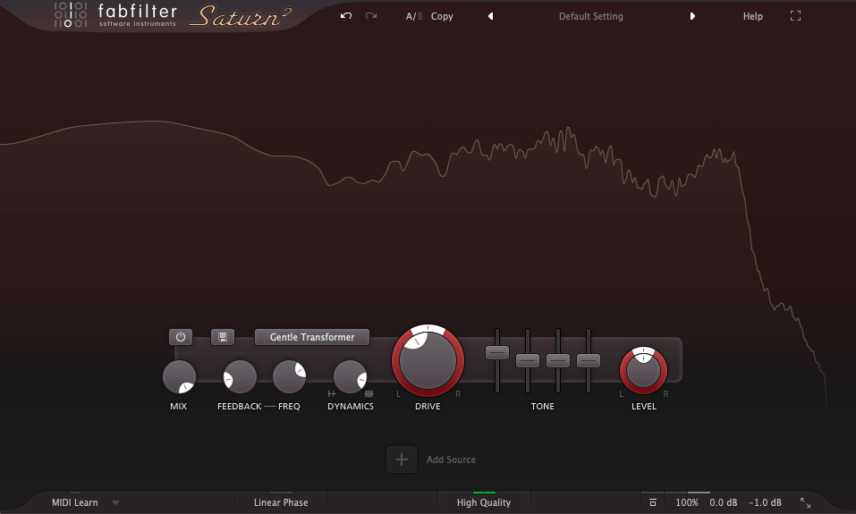 Heading to the far left of the control panel, we have the mix amount for adjusting the ratio of clean to affected signal. Next is Feedback, an interesting effect that feeds the signal into itself. This is paired with Freq for dialling in the frequency of ringing caused by the feedback. It's an interesting choice for a distortion plugin and is useful when the modulators come into play.
Moving to the right, next is Dynamics. Turn the dial to the right for compression. Extreme settings can yield pumping. Turn it to the left for gating and expansion effects. There are no deeper controls than this, which is a shame, but it's nice to have some dynamics control nonetheless.
Above the Dynamics dial is a dropdown menu for distortion types. These are uniformly excellent and also extremely useable. It's clear that this is going to make it into regular rotation on our mixes. There are many to choose from, from subtle to harsh, and include tube, tape, amp, saturation, transformer, and FX sections. The FX section is particularly fun, with some unusual, creative effects. We particularly like Breakdown, which adds heavy distortion and down pitching to a signal. It would be nice to be able to tab through these presets rather than having to select them one at a time from the dropdown menu, however.
To the right of the Drive knob is a four-band tone control and a general level knob (you can also adjust level by dragging up or down on the band level button in the frequency band section). Other functions include bypass and band preset save button.
As Saturn 2 is a multiband plugin, each new band gets its own Band control strip, which slides to the left or right as you click on frequency bands. It's slick and largely intuitive, as is creating new bands. Just hover over the empty centre section and click on the plus (+) symbol that appears. You can drag crossover points and also change their slopes, which is new to Saturn 2. Of course, each band can have its own distortion or saturation type, meaning you could add some tube to the low bass frequencies, warm saturation to the mids, and sizzling distortion to the highs if you wished.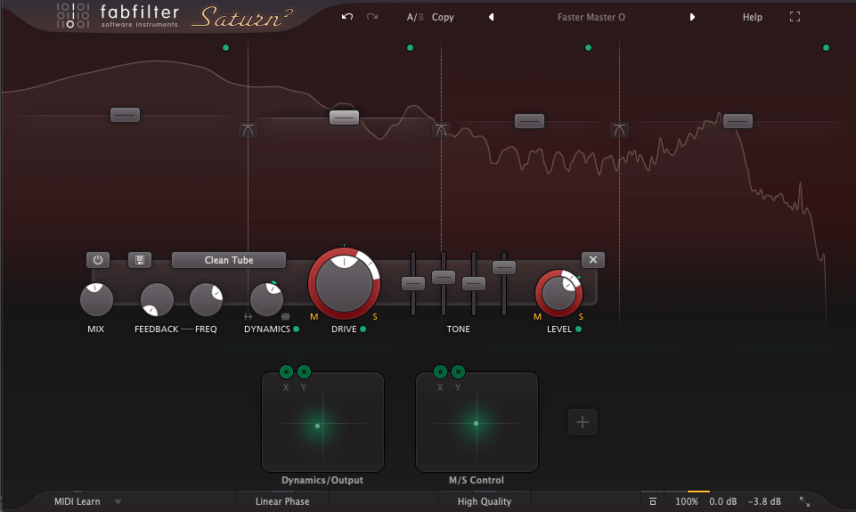 There are also overall output controls for volume and mix, as well as stereo and mid-side options, at the bottom of the plugin. They appear when you mouse over the Output button. With everything else so present and intuitive, it's a shame that these controls are hidden away.
Modulation
If Saturn 2 stopped here, it would already be a worthwhile plugin to add to your arsenal. But by including a rather extensive modulation section, FabFilter have allowed it to function as a creative tool as well. Modulation sources include the XLFO, an LFO that can also act as a 16-step sequencer with per-step glide, an ADSR-style envelope generator, an envelope follower for allowing transients to control the envelope, MIDI source, should you wish to trigger modulation with a MIDI controller, and XY and slide controllers. Assigning modulation is as easy as clicking and dragging, and setting up even involved routings is fairly effortless.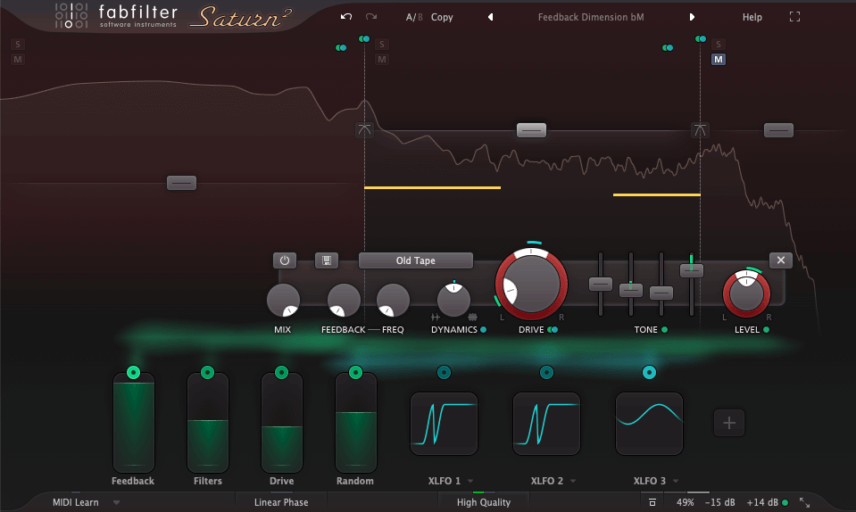 One of the improvements over the original Saturn is the way in which modulations are represented in the graphic interface. Target-level indicators display modulation information, as does the source flow area. The latter's diffuse graphic flow is particularly striking, like viewing LED lights through an aquarium full of water.
The Sound
The proof is in the pudding, so let's hear how Saturn 2 sounds in action. We tried it out on different signal types as well as an entire mix.
First, drums. We used a DMX kit in Ableton Live to make this electro-inspired beat. First, we treated it with the Gentle Transformer band preset across the entire drum buss.
Next, we pushed it through the Feedback Dimension bM preset, which splits the frequencies into three bands and uses tape saturation plus feedback and modulations to glitch things out.
To hear how it sounds on bass, we made a bassline using Roland's SH-101 Cloud plugin. We then added some multiband Warm Tube saturation to the signal. It really brought out the bass and gave it some warmth.
Next, we programmed a basic arpeggiated lead line in the Cloud Jupiter-8. The Lo-Fi Maker bM preset dirtied it up.
Lastly, we used it as a mastering tool, working with the preset Faster Master O to add tube saturation.
Final Verdict
FabFilter have delivered another winner in Saturn 2. It's plenty flexible, extremely easy to get your head around, and is just plain fun to use. The distortion types are fantastic and the modulation options turn it into a creative playground. There's really very little to complain about it. Even the price, at around £110, is reasonable.
How about the competition? For around £90 iZotope's Trash 2 is perhaps the best deal. Similarly multiband, it's also fairly deep. As the name might suggest, Trash 2 is perhaps better at wild distortion, but we think Saturn 2 has it beat for more subtle applications. Output's Thermal ($149) also looks promising, but we have yet to try it out.
If you're in the market for a multiband distortion plugin to help with mixing, we can't recommend Saturn 2 enough. It sounds gorgeous and the modulation section is a nice bonus. If you're already a Saturn owner, the new GUI, additional distortion types, and expanded modulation section are the main draw. We think there's enough new present to justify the upgrade price.
*Attack Magazine is supported by its audience. When you purchase through links on our site, we may earn an affiliate commission. Learn more.