We kick off our summer streaming program, in support of In Place Of War, starting with none other than A Guy Called Gerald.
Attack Magazine has teamed up with the fantastic charity In Place Of War which enable grassroots change-makers in music, theatre and across the arts to transform a culture of violence and suffering into hope, opportunity and freedom. Where a conflict exists, In Place Of War deploys music and theatre to help those affected.
Across the summer of 2022, we are streaming live sets recorded for Around The World In 80 Raves and asking people if they can find anything to help raise money for In Place Of War.
A Guy Called Gerald – July 28th
Mr Scruff – August 11th
Osun Lade – August 25th
Yamaho – September 8th
Faizau Mostrixx – September 25th
Paul Hartnoll – October 6th
Matisa – October 20th
Watch A Guy Called Gerald
About In Place Of War
In Place of War leads with the slogan, "creativity conquers conflict". There are millions facing conflict every day. Ruth Daniels and her team deploy music and the arts to reduce conflict worldwide.
Through In Place of War, freedom, hope and opportunity rapidly replace violence. The charity works in various areas including where gang wars remain rampant, previous warzones and regions that still are blighted by conflict.
Where people are considered to have become products of their own environments, Ruth Daniels applies an approach centred on self-improvement.
One way In Place Of War applies this is to build music studios in gang-infused communities. The idea is to allow for creativity-guided solutions to the significant issues people are facing. By teaching the skills and providing the tools, the charity hopes to empower change.
About Around The World In 80 Raves
Last year, In Place Of War organised Around The World In 80 Raves which ran the full month of October 2021. It was a collaborative fundraising challenge raising money for music development in two areas of conflict in Sao Paulo, Brazil & Lavender Hill, South Africa.
In Autumn 2021, In Place Of War engaged members of the public and the worldwide music industry in a collaborative fundraising challenge – to cover the 7,200 mile / 11,600km distance across some of the 26 countries where In Place of War has projects in Africa, Latin America and the Middle East.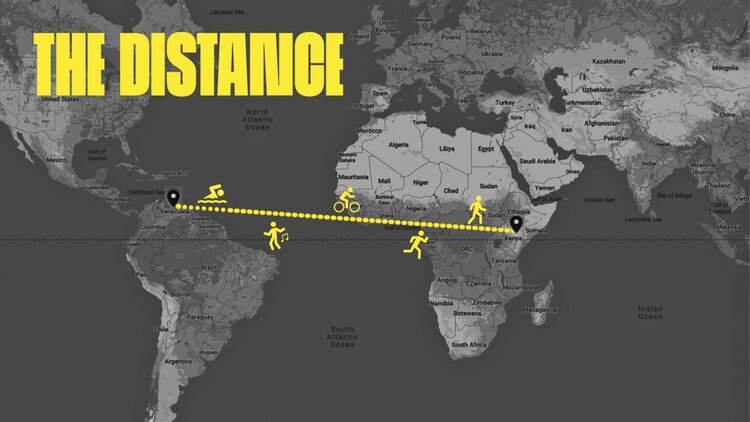 Participants chose their own goal to be completed at their own pace, to contribute to the overall distance. You could choose to dance, walk, run, cycle or swim your distance goal and seek sponsorship for your efforts. There was a chance for you and your team to win amazing prizes donated by some of the event's DJs, partners and entertainment industry networks.
Each weekend throughout October was soundtracked by streamed raves by DJs from all over the world, celebrating the efforts of all the fundraisers being sponsored to complete their distances. DJs included:
Adam Beyer / A Guy Called Gerald / Aerobica / Amateur Hour / Andrea Paz / APRO / AVIN / Bamba Pana x MC Makaveli / Ben Westbeech BICEP / Cici / Corey James Gray / Crazy P Soundsystem / Darper / David Wrench (audiobooks) / DengueDengueDengue DJ Chengz / DJ Dar / DJ Yoda / DONKONG / Dub Pistols (DJ set) / Eddie Stewart / Ellen Allien / Faizal / GFDF / Hausar / Ida Engberg Jason Blade / Jax Jones / Joe Goddard / Kid Simius / KrBear / Lex Wolf / Liliane Chlela / Manic State / Matisa / Matrix / Matt Black (Coldcut) MDNYT / Mewloud / Mexican Institute of Sound / Mixhell / Mr. Scruff / Nyra / Osunlade / Paranoid London / Patricktor4 Paul Hartnoll (Orbital) / Peter Hook / Phillipi / PHO / Sam Wise / Sama' Abdulhadi / Sasha / Slam / Sofi Tukker / Soul Clap The Orielles / Turkana / William Djoko / Yamaho
Listen To Ruth Daniel, CEO Of In Place Of War Speak With Clara Löffler For Attack Magazine's Podcast.