Pixelynx, the music metaverse™ platform founded by Joel Zimmerman aka deadmau5 and Richie Hawtin aka Plastikman has announced the nine artists featured in PIXELYNX's genesis NFT collection The Droplet.
The nine artists are Angelbaby, Domino, Junior Jr, M4SONIC, Maie, Portrait XO, Speaker Honey, Skullz, and Wobblebug. Made up of 10,000 free and unique music-reactive NFTs, The Droplet guarantees early access into ELYNXIR, extra in-game utility, and special opportunities for its holders.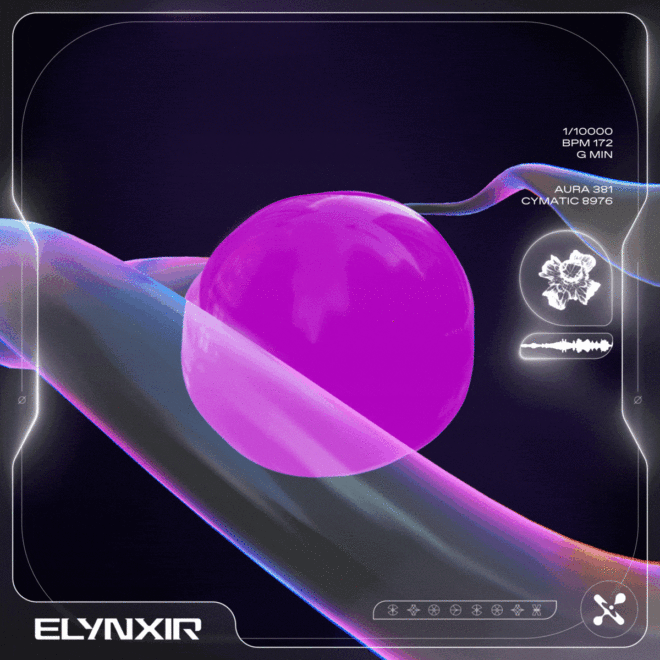 ELYNXIR is PIXELYNX's premiere mobile game which creates immersive, playable experiences that brings fans closer together to their favourite artists in the music metaverse. ELYNXIR is expected to launch later this year. Angelbaby, Domino, Junior Jr, M4SONIC, Maie, Portrait XO, Speaker Honey, Skullz, and Wobblebug will provide the soundtrack for The Droplet.
As a music-reactive NFT, The Droplet responds to sound waves and moves in relation to individual waveforms, crafting a 30-second experience that engages sight, touch, and sound.
Each artist NFT will include an 8-bar loop of audio from one of their songs. This is combined with a uniquely generated visual that reacts to key audio events in the music, giving all 10,000 Droplets a completely individual waveform pattern.
All Droplet holders will have early access to ELYNXIR, as well as valuable ongoing "first in" benefits upon the game's full launch. "Each of these artists were carefully selected to soundtrack The Droplet," said Inder Phull, CEO and Co-Founder of PIXELYNX.
"They all represent the future of the music industry and are >pushing boundaries by entering the metaverse in their own unique way. Our aim is to give artists a new canvas to express their vision and The Droplet is just the first glimpse into our evolving universe."
Pixelynx has also announced a tie-in with Laylo a CRM platform designed for drop notifications and fan engagement. The companies will work together to implement Laylo's full suite of audience management suite and bring its customizable creator messaging and drops platform to artists, creators and brands in ELYNXIR, the debut game from PIXELYNX set to launch later this year.
To learn more about ELYNXIR and The Droplet, and to register your interest for opportunities to get on this and future allowlists, visit: https://elynxir.game/nft/.