With 1500 presets and a wealth of new features, Infiltrator 2 from Devious Machines is out now. It's super popular with Peter Gabriel and Attack readers get in total just over 30% off. What more do you want?
There's been a recent surge of "difficult second plugins" lately. Last week, Eventide released Physion Mk II after six years of refining its patented structural technology. When something is good, it can take time to improve it, listen to the market and adjust your design accordingly.
Infiltrator is a cool piece of software. Brian Eno introduced me to it on a session for my next record. - Peter Gabriel
Devious Machines are in a somewhat similar position. How to improve on something that was very thorough and popular straight off the bat? Infiltrator is arguably Devious Machines' flagship product and the company has incredibly brought out the update in record time.
You can now combine up to 10 effects from the 54 modules. Furthermore more you're able to modulate key parameters using powerful multi-segment envelopes. Digging deeper, you can control the entire ensemble using the onboard sequencer and assignable macros. Lastly, as a sound designers dream you can build your own effect chains, or draw from the vast library of over 1500 presets.
Whether it's conventional effects or reality-bending sonic madness, Infiltrator puts it all at your fingertips.
At a glance, what's new in Infiltrator 2?
Time Manipulation Suite including REVERSE, VARISPEED, SLOW and granular STRETCH.
Spectral Effects includes fourteen new and unique FFT-based effects ranging from beautiful
to bonkers.
Improved Modulation: Each individual effect has a second, assignable envelope
which can modulate any of its parameters.
New Filters include DUAL filter, the new rich-sounding FORMANT filter and NOTCH filter.
New VOCODER added
Double the presets with over 1,500, newly catalogued and categorised for
maximum productivity
New reverbs such as the cavernous VOID model, and REFLECT module for diffuse echoes.
More tools including COMPRESSOR and GATE modules, MIDI CC output, more
consistent latency compensation, stereo width control…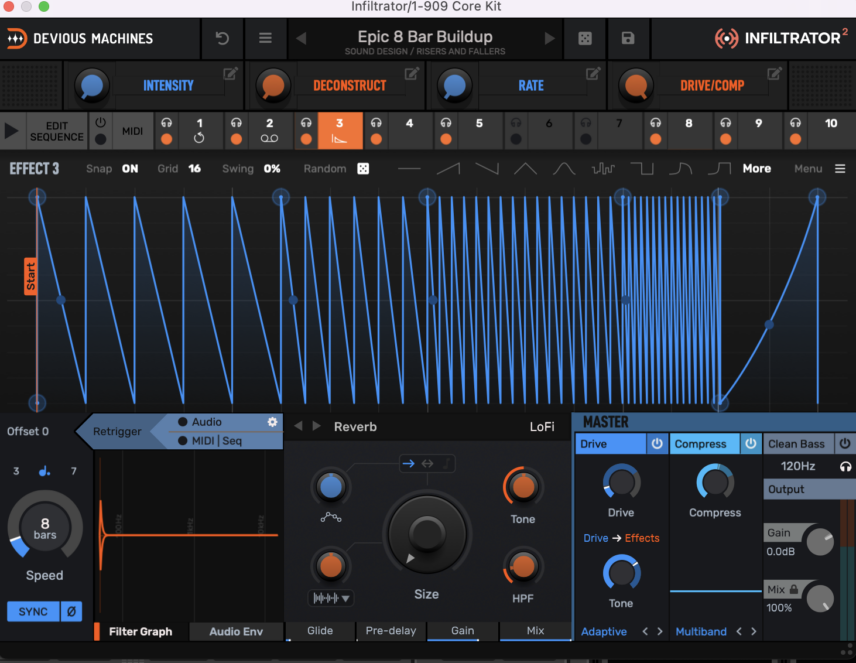 What Else?
INFILTRATOR 2 is a free drop-in upgrade for existing users.
Price: Devious Machines are offering a time-limited introductory sale, with 25% off. RRP £99 / $129. Attack readers get an extra discount on top of the sale taking the full sale price to just over 30% off! Use the discount code below!
Formats: It's available as VST 2, VST 3, Audio Unit and Pro-Tool AAX 64 bit.
Operating System: OSX 10.12 or later Windows 10 or later