PCloud has announced a whopping 75% US Independence Day Sale running until the 7th of July. Save up to 75% off and over $700 on their Lifetime plans. If you're a prexisiting account holder save up to $4000 on an upgrade.
Over the last few years, the Swiss cloud storage solution, pCloud, has risen through the rank to become one of the top 3 cloud services.
With over 16 million users, a core user base of musicians has been attracted to their simple business model. The one fee for 2TB storage is highly attractive and competitive with the likes of Dropbox. Which muso likes recurrring payments anyway?
This July 4th, for just $245, you can save more than $700 and get 2TB of storage for a LIFETIME account, without any recurring payments.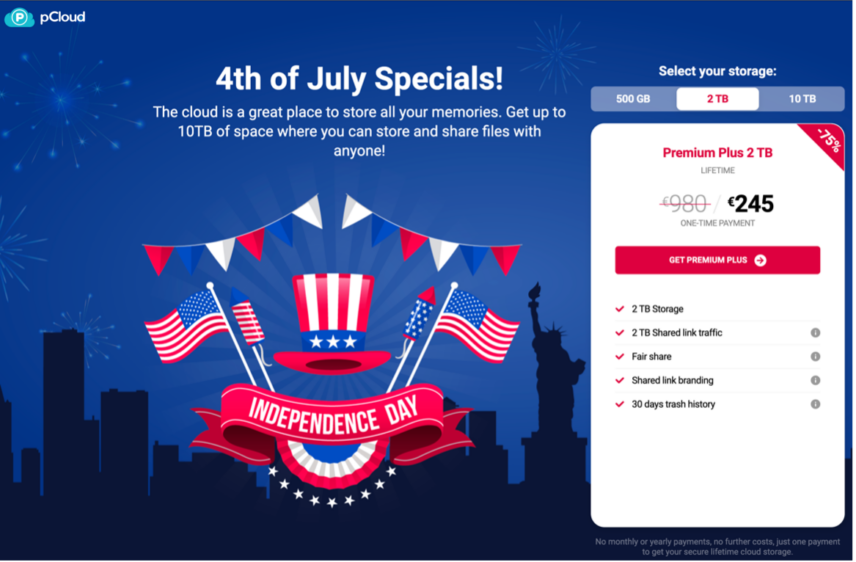 Furthermore, pCloud offers the highest level of privacy and unbreakable encryption. If you have a release you don't want to be leaked, pCloud is going to come into its own..! And while it may be locked tight you can securely can access and share your files anywhere you go, anytime.
Already have a LIFETIME account? pCloud are now offering the chance to upgrade from 2TB to 10TB for just 990$. In the process save $4,000!
Still on the fence or on the USB hardrve? You can always try pCloud for free with 500GB and consider upgrading in the future. If so, what are the features?
What are the standout pCloud features?
Desktop- Virtual drive
File sharing
Branded links
Unlimited speed– pCloud vs Dropbox comparison
LIFETIME ACCESS (pay only ONCE and get set for LIFE!)
Audio album sorting
Access across devices
Share link customization
Real-time backup update
Unbreakable encryption
Sync locally stored folders with the cloud
Use with your DAW and on every OS and device
Native audio player for demo sharing and listening
PCloud is passionate about musicians. With complete autonomy over data and privacy, artists can safely produce and share their music in the most convenient way possible. PCloud also enhances collaboration with other artists making it straigthfroeartd to share huge sample libraries.
*Attack Magazine is supported by its audience. When you purchase through links on our site, we may earn an affiliate commission. Learn more.