If you're looking for an alternative to Dropbox for sharing and storing your music files, pCloud is on sale for Black Friday. It also has huge Cyber Monday deals too.
Voted best cloud storage of 2021 by TechRadar in 2021, pCloud has positioned itself as a competitor to Dropbox. This Black Friday they are offering huge sales up to 75% off with a clear focus on musicians and producers.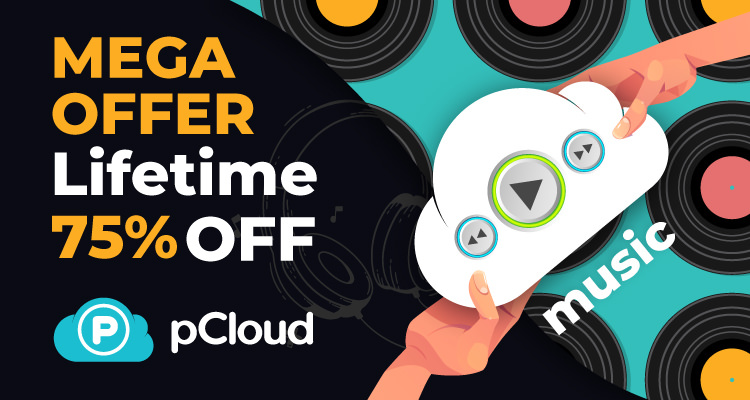 What is pCloud and what are the key features pCloud?
Lifetime Pricing Plan
A first for the cloud storage sector but pCloud offers a Lifetime Plan. In practice, this means paying once and using for a whole lifetime. There are currently no other cloud providers offering this. Prices start at £149 but remember there are huge Black Friday and Cyber Monday deals to take advantage of. More on that below!
Music Player
Possibly the most attractive for Attack readers is the greatly enhanced music player. Functionalities include shuffle, playback and many more. It can also detect metadata allowing you to arrange your playlists by artist or album for example. This is also ideal for your sample libraries.
Collaboration
pCloud makes it easier to collaborate with other users. It includes more workspace features than Dropbox providing an easier method to share and comment on tracks. Users can use share folders that work in one mutual space with their colleagues.
You are given significant control over the data also. For example, you can adjust expiration time, download/ preview privileges and password protection.

Using the pCloud Drive (the desktop app), the data sorted does not use any of your local storage space. You can sync your Ableton Live sessions and share them with your partner.
You are also provided with unlimited space and you can upgrade as you wish.
Safety first!
If you are worried about your precious single getting leaked ahead of release, you don't have to worry with pCloud!
The company has Zero-Knowledge encryption using the pCloud Crypto Folder. All files stored in the Crypto folder are secured with a 256-bit key to encrypt and decrypt data or files.
It is one of the most secure encryption methods and is used in most modern encryption algorithms, protocols and technologies including AES and SSL. The data is encrypted directly on your device before it is on pCloud servers.
This gives you zero-knowledge privacy which means that neither pCloud, as a service provider nor any authority or service, will ever have access to your files. Even if someone stole your computer or phone, without your Crypto pass, your encrypted files won't be even visible.
There is also server-side encryption in the whole account. So, you don't need to worry as your files outside the Crypto are completely safe. All of that data is protected by high-level bit-256 AES server-side encryption and a series of firewalls. During the transfers of your data from and to our servers, TLS/SSL encryption is being enabled as well.
---
What are the main differences with other cloud provders like Dropbox?
pCloud own all their servers. This makes them more secure. Particularly great for the music industry where leaks are a problem.
The firm is a product company that own their data centres. This greatly enhances security further. No 3rd party can access or request direct access to your files anyhow.
Files are stored on at least three servers. Should there be hardware issues, pCloud can still provide you with your data.
pCloud offers Rewind and Sync. This ensures you upload the files on your account, they cannot be removed by anyone but you. If there is any data corruption, you can always revert back to a previous point and always have access to the desired file version.
Branded links: Music requires authenticity. With pCloud's special branding links, you can stamp your files with your brand. Make your files stand out when you share and distribute them.
---
BLACK FRIDAY STARTS ON 19TH NOVEMBER

From 19th November, The LIFETIME PLAN is:
$980 > $245
That's a saving of 75% off! Over $700 saved!
The Product is called LIFETIME PLAN. You simply pay once only and you get set for a Lifetime. That's no further subscriptions and no payment renewal dates.
Even if you already have a Lifetime 2TB plan, you can "Stack" up the storage space and upgrade.
Choose this Black Friday promotion to increase their storage, if you alreay have the Crypto plan.
The offer ends on November 28th!
---
CYBER MONDAY

On Cyber Monday, 29th November, the 2TB Lifetime Storage Plan + Lifetime Crypto plan!
$1460 > $350
That's a saving of 76% off! Over $1000 saved!
Typically customers can get the Crypto Folder as a monthly or annual subscription. But on Cyber Monday it's available for LIFETIME 2TB PLAN!
The usual total price of the given deal (2TB Lifetime + Lifetime Crypto) is 1460$. The 76% OFF equates to 350$.
The Product once again is a Lifetime plan 2TB and a Lifetime Plan for our Crypto Folder (which is an add- on for your account).
The CM deal helps those who do not have Crypto get it in a package with the Lifetime plan
Choose the Cyber Monday CM deal if you do not have Crypto get it in a package with the Lifetime plan.
The offer ends on December 2nd!