Traktor Pro gets an update. Glastonbury goes green. Knowledge Magazine drops a 25th anniversary book.
Traktor Pro 3. Native Instruments have released Traktor Pro 3.2. The update features the Elastique 3.3 keylock algorithm, which will help users mix harmonically. The update is aimed at helping DJs make their sets more musical and to consider how the key signature of the following track can have an impact on the ebb and flow of your set. A new control dedicated to pitching up or down by semitones with an integrated display of the resulting key will further assist DJs in mixing an extended range of tracks that match harmonically. For the update, NI have teamed up with Chris Liebing, who demonstrates harmonic mixing in the video below. Head here for more or watch the video below.
Spotify changes. Spotify has announced an end to its direct-upload program, which allowed artists to upload tracks directly to the platform. The feature, which launched in beta last year, was designed to bypass third-party distribution companies like Tunecore and Distrokid. But Spotify stated it would be focusing its resources on "developing tools in areas where Spotify can uniquely benefit them—like Spotify for Artists… and our playlist submission tool." The blog post went on to say, "We're working with our distribution partners to help make this transition as simple as possible for the artists who uploaded music through the beta." The changes will take place at the end of the month.
Sample Friends. At long last the clever minds at Teenage Engineering have updated the os update for the OP-Z. The update includes a brand new sampling mode and you can directly sample from a mix, headset or usb. Throw in the usual bug and glitch fixes and all in all this will make a lot of people very happy. More here.
Green Glastonbury. This year, Glastonbury followed a Burning Man-like mantra of "leave no trace" in an effort to make the annual event more environmentally sustainable. And along with a reduction in plastic bottles via its single use plastic ban, event organizers said 99 percent of tents were taken home this year. "That is absolutely incredible… HUGE thanks to the record numbers who loved the farm and left no trace!" co-organiser Emily Eavis, daughter of Glastonbury's founder Michael Eavis, said, calling it a record. Along with a reduction in the number of tents left behind, zero plastic bottles were sold in 2019, compared to one million plastic drinks sold at the festival in 2017.
Glasto Prodigy tribute. For their Saturday night set at Glastonbury, The Chemical Brothers paid tribute to late The Prodigy frontman, Keith Flint. Along with playing some of their biggest hits, the duo ended with "Block Rocking Beats," backed by visuals that read "In memory of Keith Flint 1969-2019" with a picture of Flint, wide-eyed and grinning. "The Prodigy were always kind and supportive," The Chemical Brothers told NME. "They'd managed to make their band encapsulate that feeling that connected us to dance music — escape and abandonment. Keith embodied this spirit. What he represented was so indestructible and he was just this complete life force, but on the inside he was really hurting. His death was really shocking and I felt for the rest of the band and his friends and family." This was The Chemical Brothers' 12th Glastonbury performance.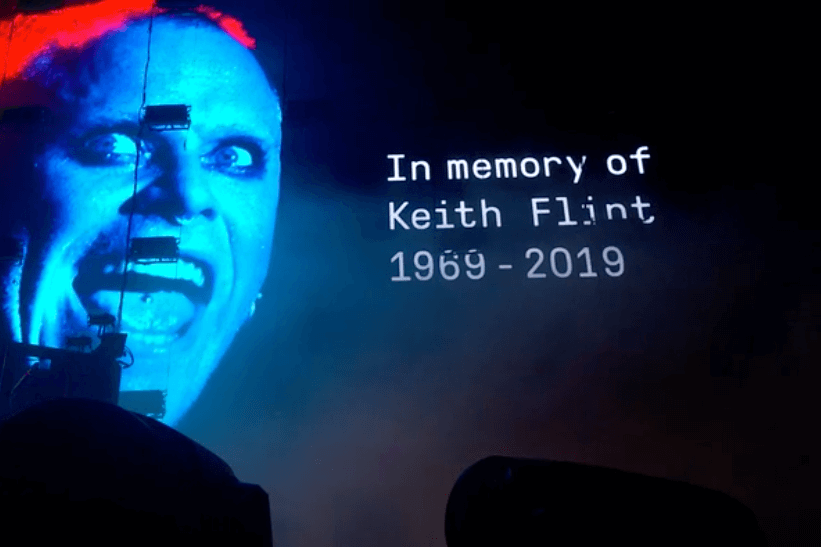 Beatport LINK beta. Beatport has introduced its LINK subscription service as a public beta in Pioneer DJ's rekordbox software. The service allows laptop DJs the ability to store 50 or 100 tracks offline when subscribed to either a LINK PRO ($39.99 a month) or LINK PRO+ ($59.99 a month) account, respectively. DJs can play the tracks offline, and according to Beatport, the streaming component will offer tracks at a "higher level than 320kbps MP3 files." LINK has been controversial, as many producers worry a subscription model will impact download sales, which, coupled with meager earnings from streaming, could further harm producer income. However, Beatport's Heiko Hoffmann believes LINK will act as an "additional revenue source for labels, artists and suppliers." Download LINK here.
MEETSSS conference. shesaid.so has launched a conference for "music industry professionals and artists of all genders." Called MEETSSS, the event will take place in Portimão, Portugal, from October 3rd through 6th, and feature a series of talks and music showcases focusing on issues like intersectionality, diversity and inclusion, starting and running your own business, and mental health and wellbeing. Speakers include Georgia Taglietti, Sónar Festival's head of communications, and shesaid.so founder Andreea Magdalina. There will also be music showcases, yoga, wine tasting and more. Learn more here.
BDS. Artists like Brian Eno, Ben UFO, The Black Madonna and LCD Soundsystem's Gavin Rayna Russom signed a letter criticising Düsseldorf festival Open Source for cancelling a performance from US rapper Talib Kweli over his support of the pro-Palestine BDS movement. They joined dozens of public figures from across politics and the arts to sign the letter, which you can read via The Guardian, including Peter Gabriel, philosopher Judith Butler, Sonic Youth's Thurston Moore and Pink Floyd cofounder Roger Waters. "Antisemitism is real," Brian Eno told Artists For Palestine UK. "But the term is diluted into meaninglessness if it is applied to anybody who criticises Israeli policy." BDS, or Boycott, Divestment and Sanctions Movement, is Palestinian-led organization that puts cultural, economic and political pressure on Israel. Learn more about BDS here.
Fire at SOUNDS. Berlin LGBTQ+ club SOUNDS were damaged by an electrical fire last weekend, and its owner said it's unlikely to reopen "in its current capacity" due to the extensive damage. No one was present when the fire broke out at the Neukölln venue, and no one was injured. The club's owner said that SOUNDS had been "subjected to unsafe conditions which have led us to our current situation" in a statement, which you can read in on Facebook.
Knowledge 25th anniversary book. Running from 1994 to 2014, drum & bass magazine Knowledge ̉— known as Kmag — was one of the first British dance music magazines to treat drum & bass with the reverence and respect it deserved, making it crucial for so many fans. Which is partly why Kmag co-founder Colin Steven is bringing it back one last time: "One of the things former readers say to me when they find out that I used to edit Knowledge is that they still have all of their copies and can't bring themselves to throw them away. So if people can't part with their magazines then surely they will appreciate a one-off book?" The Knowledge Magazine 25th Anniversary Book will be released in December with a hardback cloth cover featuring a debossed Knowledge logo. However you can pre-order now, and your name will wind up in the book's credits, and you'll be part of drum & bass history.