Minimal Audio's Cluster Delay allows you to shape delay sequences in time by ramping, spacing, and scattering up to eight processed delay taps.
Based out of Minneapolis, Minimal Audio create software and sample libraries for musicians, producers, and sound designers. As a company, its mission is to, "create powerful and easy-to-use products which unleash a new level of creativity."
Since its creation, Minimal Audio has released several highly-praised and award-winning plugins including Morph, an expressive EQ designer, and Rift, a deeply-creative hybrid distortion plugin.
Recently the team has turned their talents towards delay and have given us Cluster Delay, a brand new delay designer. The multi-tap delay market is probably due an upgrade and Cluster Delay is looking like a great contender to drag the market to a new future.
Cluster Delay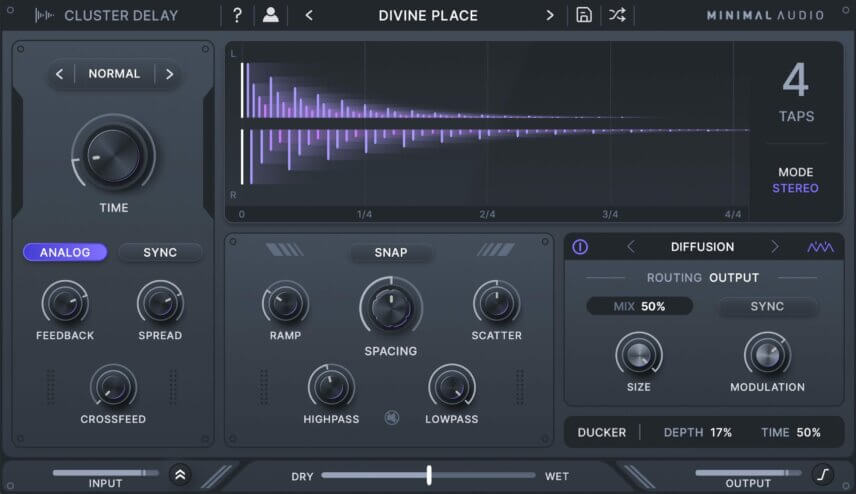 Unlike a more traditional delay, Cluster Delay allows you to shape delay sequences by ramping, spacing, and scattering up to eight processed delay taps. You can then create even more unique effects by routing the delay into any of the six integrated FX: Diffusion, Chorus, Wobble, Frequency Shifter, Phaser, and Flanger.
Integrated diffusion and modulation allow for the creation of reverb-type effects allowing you to turn dry sounds into expansive spaces. There are also handy tools for keeping your mix clean including a ducking control, filters, and mid-side control.
Minimal Audio also included Macro control for delay taps shape, timing, and stereo spread.
Cluster Delay comes equipped with over 100 presets as well as an 'Analog Mode' and an Input Send Mode. The 'Analog Mode' allows for analogue-inspired feedback and the Input Send Mode allows you to balance the delay lines gain without affecting the input signal gain.
Finally, there is a preset randomization option which helps with those happy accidents producers are always looking out for and 'Tooltips', which gives you real-time assistance when using the plugin.
Cluster Delay is available for purchase now for $49.00. To get the full specs and/or to purchase Cluster Delay visit Minimal Audio's Website.
Want to learn how to use Minimal Audio's Rift? Be sure to check out Attack's tutorial, 'Using Bi-Polar Distortion On A Bassline With Rift By Minimal Audio'.
While you're here, you may enjoy...
Follow Attack Magazine