Entrants are invited to create their own impulse response. Prizes will be awarded to the most creative and innovative uses of IRs.
GPU audio is a digital sound processing platform that is able to enhance the performance of its plugins by offloading processing from a computer's CPU to its GPU (Graphics Processing Unit). In doing so GPU Audio is able to virtually eliminate latency for all of its plugins.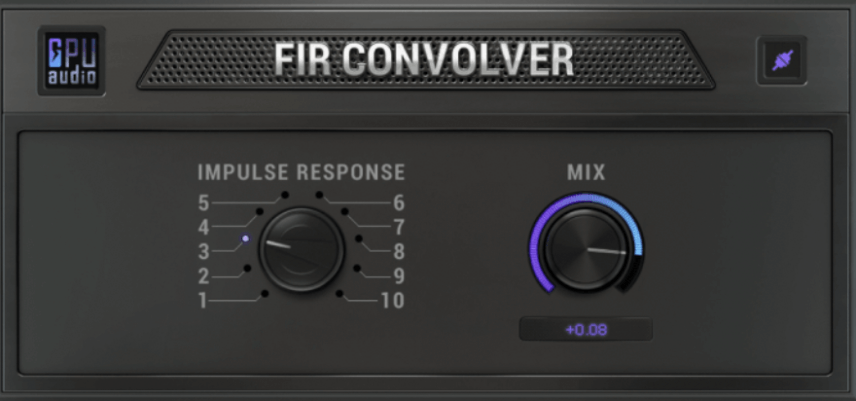 GPU recently launched an early access version of their new convolution reverb (FIR Convolver), which is powered by impulse responses. For this competition, GPU is inviting users to create their very own impulse response.
What Is An Impulse Response?
An impulse response is an audio file that contains all of the sonic characteristics of any given recording. The recording can be created using anything from an effects chain in a DAW to a vintage guitar amplifier to the acoustics of a space such as a church. All one needs to do is play a sine wave sweep through the frequency range from low to high while recording how the space or equipment responds to the various frequencies.
Once the impulse response is captured its sonic characteristics can then be added to any audio signal without having to recreate how the original recording was done.
In order to create your own impulse response you will most likely need third-party software. For Windows users, there is Voxengo Deconvolver and for Mac users, there is MLSTool from WaveArts. These are two good examples, but you can find plenty more if you search on Google.
About the GPU Audio Competition
To enter the competition follow the steps outlined below:
Step 1
Register an account with GPU audio.
Step 2
Create your own impulse response.
Step 3
Create a recording of your IR processing the sounds from the asset pack provided by GPU.
Step 4
Post the recording to YouTube, Instagram, or Soundcloud with the hashtag #GPUAudioIR.
Step 5 Make sure to send your IR, a description of how it was made, and a link to your recording of the processed sounds to the email provided by GPU.
What will I win?
Prizes for the competition include:
3XS Scan Performance 17″ Music Production Laptop
NVIDIA GeForce RTX 3080Ti or 3080 GPU
AMD Radeon™ PRO W6600
5 x Sonible smart:bundle
5 x Flame Sound Inferno SFX
Music by Lukas Planner Bundle
Track Mastered by Present Day Production
A collection of the best IRs submitted will also be made available for free once the competition has ended.
The closing date for submissions is the 23rd of February 2023.
To find all the details of the competition be sure to visit GPU Audio's website.
Want to learn more about GPU Audio? Be sure to check out Attack's in-depth article on the Swiss company.
While you're here, you may enjoy...
Follow Attack Magazine