After eight years, FabFilter has updated Saturn, the company's multiband distortion and saturation plugin. The result is Saturn 2, which features a redesign of the GUI, 12 new distortion types, an expanded modulation system, enhanced envelopes, and more.
Long-time users will immediately notice the new darker colour scheme, which FabFilter ensures will be easier to look at over lengthy sessions. It also features four size options including full-screen. Modulation visualization has been improved, with plenty of animations and other visual cues present on both source and destination parameters.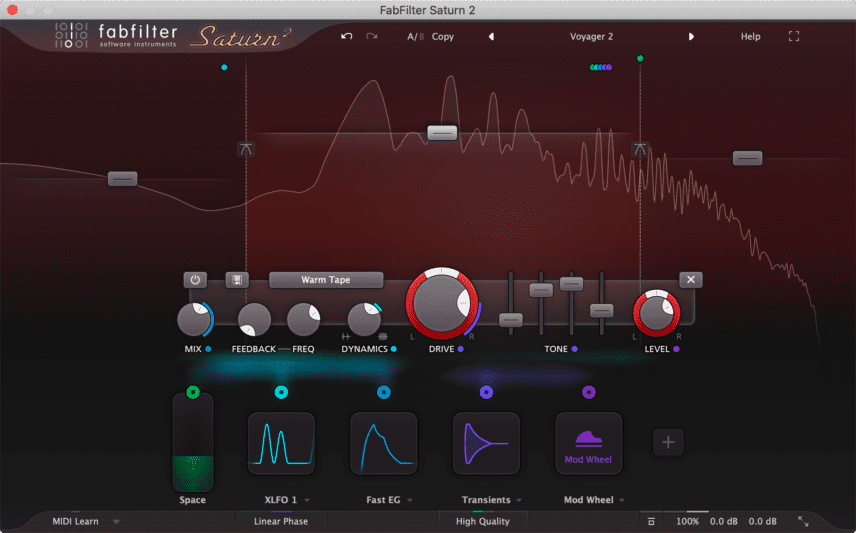 FabFilter has almost doubled the number of distortion and saturation styles from 16 to 28. These include subtle settings for tape, tube, and saturation as well as four new British and American amp styles, which model well-known guitar amplifiers. There are three transformer styles (from subtle to warm) for when you need to get abrasive, and Foldback and Breakdown FX settings, which are intended to reshape and change sounds beyond recognition. The Breakdown FX also features down-pitching alongside heavy distortion.
Saturn featured almost unlimited combinations of XLFOs, Envelope Generators, Envelope Followers, XY Controllers, and MIDI sources for each preset, and to this Saturn 2 adds curves to the Envelope Generator's attack, decay, and release stages for a smoother or more aggressive response depending on how they're used. There's also a Transient detection mode in the Envelope Follower to track drums and percussion. You can also route band inputs to both envelope sources as triggering signals. There are changes to the XY Controller, which can be operated in the vertical-only Slider mode, and the XLFO, which can now receive legato MIDI triggering and targeting of the Frequency Offset and Balance parameters for modulation.
FabFilter is hoping the new Subtle saturation types will make Saturn 2 a go-to tool for mastering engineers, "bringing enlivening presence and fizz to final mixes." Band crossovers now offer 6, 12, 24, 36, and 48dB/octave roll-off slopes, the new Superb High Quality mode switches the plug-in to 32x oversampling for almost total elimination of aliasing, and the Linear Phase option promises to ensure maximum coherence for the crossovers and High Quality modes.
FabFilter Saturn 2 is now available for €129, $154 or £114, for both Windows and macOS, in VST and VST 3, Audio Units, AAX, and AudioSuite plug-in formats. Upgrades are available for Saturn owners.