Eventide has announced their summer 'Pluginpalooza' sale. Save up to 70% off on select plug-ins and bundles, until August 31st.
You know it's going to be a good summer when the much-loved Eventide announces a sale. Their products have featured on numerous occasions in Attack and we even had a listening quiz covering some of their most popular sounds.
The 'Pluginpalooza' sale has started and there is a whole range of savings to be had. Read on to see which plugins and bundles Eventide has on sale, and how you can save this summer.
SplitEQ

SplitEQ offers a new approach to corrective and creative audio equalization. It repairs, rebalances, enhances and widens all musical sources or audio signals. SplitEQ is both a fixing and creative tool, as it opens up new musical possibilities. Read our SplitEQ review here.
The SplitEQ is currently available for $99.
H9 Series Bundle

The bundle of all bundles. Within you can reverberate, modulate, delay, crush, pitch shift, and saturate your audio. You got it all. Read our review of the H3000 here.
The H9 Series Bundle is currently available for $199, and are $29 separately, except Undulator which remains at $19.
Clockworks Bundle

The Clockworks Bundle is a collection of Eventide's classics, but reimagined for DAWs and includes 8 iconic plug-ins valued at over $1,000 if purchased separately.
The Clockworks bundle is currently available for $249. The Instant Phaser, Instant Flanger & Omnipressor are all $39 each and the H910, H949 and SP2016 are all $69 each.
Physion

Physion is the first plug-in to use Eventide's Structural Effects technology, which is a new method created for processing audio. Physion allows you to split a sound into its transient and tonal parts, independently manipulate them using Eventide's effects and then allowing you to fuse them back together for endless creative possibilities. Watch our YouTube video for a greater understanding of the technology:
Physion is currently available for $49.
H3000 Factory

The H3000 Factory is a re-imagination of several algorithms from the H3000 Ultra-Harmonizer effects processor. It provides a modular interface for combining up to 18 effects blocks together in a limitless number of configurations. It features pairs of sweepable delays, pitch shifters, filters, mixers, amplitude modulators (or VCAs), and an assortment of modulation sources including two low-frequency oscillators, envelope generators, and more. Custom effects can also be easily manipulated in real-time or synchronized to a session.
The H3000 Factory is currently available for $79.
UltraReverb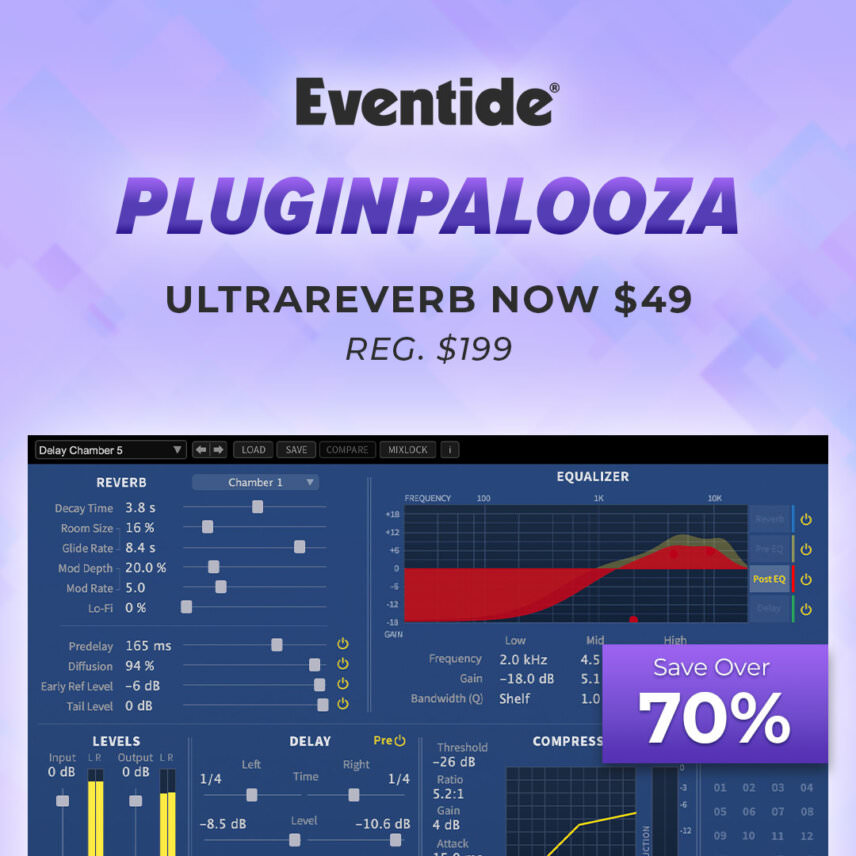 With the UltraReverb plugin, you get the best of Eventide's reverb effects from their hardware products and combines them with full multi-effect capabilities. It has 9 reverb algorithms including Plates, Halls, Chambers, Ambience, PreDelay, Decay, Room Size, Diffusion, and Pre/Post EQ.
The UltraReverb plugin is currently available for $49.
More From The 'Pluginpalooza' Sale





Don't miss out, Eventide's 'Pluginpalooza' summer sale ends on the 31st of August.
FOLLOW ATTACK MAGAZINE
While you're here you may enjoy our products