Producer extraordinaire Bushwacka! is dropping an album of classic and rare Bushwacka! cuts from his Plank archive on May 22nd. We got him to talk us through the tracks.
Matthew 'Bushwacka!' Benjamin is about to drop the first volume in a series of compilations of rarities, collaborations and remixes from the Bushwacka! production vault. 'Bushwacka! Listen Up Volume 1 (1995-2005)' is released on the 22nd May. Featuring productions from his legendary Plank label, collaborations with the likes of Layo and Asad Rizvi as well as one of the most under-rated tech house anthems of all time, 'Nightstalking' from The Usual Suspects. We got Bushwacka to talk us through the album which features many tracks produced in the late 90s heyday of UK tech house.
Harps
Harps came about at a time when I was experimenting with using classical instruments in conjunction with the electronic sound I was sculpting, and the breakbeats I was making. I loved the dynamic it created, building up from a warm, euphoric manipulated Rhodes piano and gated pads into a heavily programmed break, and then dropping into a harp, that doesn't really sound like a harp due to the effects I have applied to it. It's actually me singing over the harp too! This is something I would often do when making music back then, to inject myself into the music, fusing human, classical, and electronic to create the sound I wanted. The track turns quite ravey by the end too, its a journey.
Plus+
I can't believe how fast this track is. Sometimes I forget the tempo we used to play at many years ago. This piece came about at a time when our scene was very unique, and there were a series of parties going on around London, Wiggle, Whoop Whoop, Heart and Soul, and more. I distinctly remember creating this song with those parties in mind. My sound was often a mish-mash of styles, and, I guess inevitably, the breakbeats seeped into this one by the end too. I had a real thing about energy and warmth. I wanted to keep the energy to a maximum, full power, but still have the warmth and fuzziness incorporated. The track is called '+Plus' because it's full of positive energy.
Unestimated Growth
The reason I became Bushwacka! is when I was writing this track, I was also engineering for Paul Rip, who ran and was head of A and R at Plink Plonk Records. I worked as an assistant engineer in The Watershed, Mr. C's amazing studio in North London. I made cups of tea, wired plugs, read manuals, and watched and learned from the top engineers there for a couple of years before I started engineering full time. I got paid my train fares and a meal, and used to work up to 80 hours a week, from Mondays to Fridays. I was working for Paul one night in the studio, stoned, and was rolling another joint. He looked at me and said "You are the BUSHWACKA man!". That's how the name came about. This track was made at the time of me doing this intense, but rewarding training and work. 
Smashed
This production was all about the beats for me and the sounds of the drums. It was an auditory assault on the senses, and I spent a long time EQing the samples, tweaking them until they all felt like they fitted. I am a big fan of Depeche Mode, and I loved the way they used very industrial percussion sounds for a period in their recording history. It turned me on to using some of the more metallic percussive sounds in this track. It's a great track for mixing too, no melodies, very few musical sounds, just a really solid groove.
Asad Rizvi – Dual (Bushwacka! Remix)
Asad is an amazing producer and always has been. I used to call him the little professor. He asked me to remix this track, and I pretty much rewrote it, hence asking him if I could use it on this album. This was heavily influenced by the sounds from a Blunted Dummies track that Eddie Richards made ( I think), that had this organ sound that carried the track. The stabs in this remix are one of these mad sounds I used to make in my studio that I could never truly recreate later, due to the complex harmonics that were created from the subtle tweaks on the synths, that created chords of their own.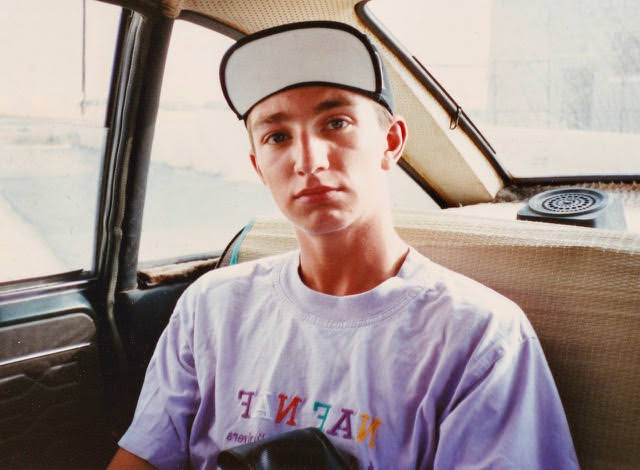 The Usual Suspects – Nightstalking
Layo and Bushwacka! before we became Layo and Bushwacka! This was and is one of my favourite tracks from us. The beginning of something special. We were massive fans of Green Velvet and wanted to do something that connected with The Stalker one of his incredible tracks. So we created a similar bass sound for the first part of the track. Then, inevitably, it turned into something completely different and became a breakbeat house fusion monster with a new bassline which became more of our sound. We soon realised that when we wrote our first album we didn't want it to be house at all… the only rule we made ourselves was no 4/4 beats!
Grief
One of my top tracks on Plank Records. This encompasses everything I love about funky music into a filthy dance floor track. It ticks all the boxes: phat beats, lush euphoric pads, twisted vocals, and then a bassline from hell. That baseline was a mad moment in the studio. I vividly remember going over to the keyboard, closing my eyes, and banging it out without even looking at the keys. It just happened. It shouldn't have worked. That is the magic of being in the zone, and those special moments send shivers up my spine. It spurred me on to write the jazz keys solo moments later, and wallop, the track was there. The rest of the time was spent trying to get the outro right – weirdly harder than writing the track itself.
The Vision
One of the things I loved the most about Plank Records was that it was a platform for me and my best mates to make music together and have fun. This track was the first I made with my mate Dez ( under the name Makesome Breaksome), one of my besties, and a seriously funky dude. Tall, cheeky, massive afro, and party animal, but most of all total breakbeat lover of the highest degree. Our studio sessions were always so much fun. We loved to make sounds that didn't go with each other, somehow go together. Things were out of key, out of tune, the wrong speed, but we manipulated them, twisted them, and made them work for us. 'The Vision' was the beginning of our journey together, in which we made loads of the craziest breaks tracks.
Bushwacka! Listen Up, Vol. 01 (1995 – 2005) will be available to stream and buy on May 22nd 2020.