After playing a big part in the UK dance music community over the past four decades, one might well imagine that Richard West (aka, Mr. C) would be inclined to rest, quite deservedly, on his laurels. But, if anything, the longtime DJ, producer, label head, and promoter seems intent on ramping up his creative output. We talk to him as he prepares to open the doors on his latest venture Next Step Forward.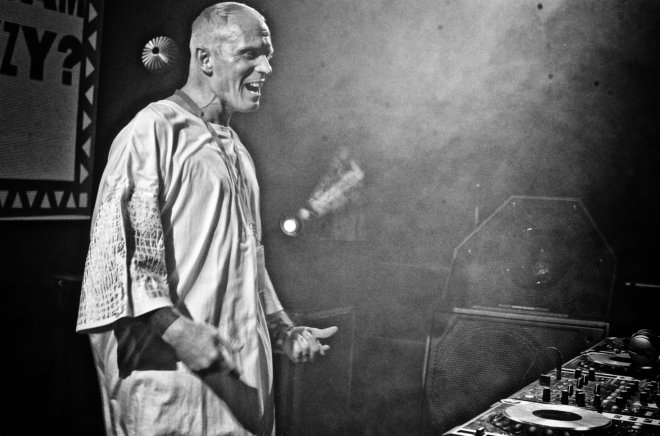 Starting as a DJ and rapper in the 1980s, West became well known as the frontman of the Scottish electronic music band The Shamen, a role he held throughout the 1990s. At the epicenter of the UK rave culture, West saw its birth and viral expansion, during which time he launched several record labels and founded The End an iconic London nightclub. More recently, West has been focusing on his Superfreq label, while promoting various dance music events.
This weekend in London sees the debut of his latest venture, Next Step Forward: a boutique celebration of all that is underground and all that is London. The festival has channeled West's many talents into giving London a cultural equivalent to festivals like Detroit's Movement, Mexico's BPM and Amsterdam's ADE. It may sound ambitious, maybe even slightly megalomaniacal, but West is putting faith in his dance music heritage to make it work. The premise is to celebrate 30 years of dance music culture while simultaneosly lay the seeds for the future. No small task.
In setting up our chat over Skype, West promised not to shout so as to ensure a clear recording. We told him "Do what thou wilt." To which he completed Aleister Crowley's well-known Thelema axiom: "…shall be the whole of the law..
Attack: This is the first music festival you've conceived and organized. What's the experience been like?
Mr C: It's been problem after problem. I'm just about at the end of finishing up the solutions.
What have been the obstacles?
Oh, my god… It's across two sites. It was originally meant to be a 30 hour festival, which it still will end up being, but the second venue is a new one called Fold in London, and some people have been throwing illegal underground parties right near the club and basically all the residents are up in arms.
There was one such party on Saturday past, and all the local residents contacted the noise pollution team for the council. They've revoked the 24 hour license while they're investigating the problem, however I've replaced that venue with another walking distance from site one so it's worked out even better. The after hours will go from 6am late into the night.
That's really unfortunate. I remember talking to Sascha Ring (Apparat, Moderat) several years ago, and I asked him what Berlin was like at the time (2014) versus when he first started making music in the city. The first thing he said was that it was a very open city and you could play music wherever and now people were moving in and complaining about the volume. The irony is that it's the music that makes the place desirable in the first place.
It's a global problem and it's been happening for a good 15 or 20 years.
The first time I remember hearing about it was a club in Washington D.C. called Buzz. An apartment building went up next to it and a year later Buzz lost its license. That was the first sign of gentrification of urban areas that had been made trendy by party organizations and clubs.
Clubs have been losing their licenses and are being forced out of central locations all over the world. It's a global problem.
Do you have a sense, given that you've organised and promoted club nights, of what the new strategies are for creating spaces for people to enjoy electronic music, dance, and raves?
Once these central city areas become gentrified, which is happening as it's all about pounds, shillings, and pence, we have to move a little bit further out and look to industrial zones to set up new event spaces. That's all we can do. There is no other choice for ravers.
You were around at the birth and early development of rave culture and have worn a lot of hats from being a DJ, music producer, organiser and so on. How would you compare contemporary club culture with that early creative ferment surrounding rave culture?
It's like night and day! [Laughs]
Back when we started putting on illegal parties in 1986 and 1987 around London, there were so many warehouse spaces and empty studio spaces where we could just go in, kick off the doors, set up a generator system and throw events. It was small and it was underground.
Now, people are dancing in festivals with thousands of thousands of people, like Movement, BPM, ADE, Time Warp…I could go on forever. We've gone from very small underground events, 200 to 400 people spaces, to huge festivals. It's gone from being inside, nighttime parties for like minded, innovative people to lowest common denominator crowds, 90 percent of whom have no clue about music. They're just going to huge festivals to dance and have fun. It couldn't be any more different.
So, would you describe the festival as striking a sort of happy medium between past and present, between small nighttime rave spaces and the modern dance music festival?
There's nothing happy medium about Next Step, it's completely cutting edge.
For the venue, I've got two clubs right next to each other in Tottenham Hale. One warehouse has three dancefloors, the other has one. I have seven showcases going into these four dancefloors. It's going to start at 2:00pm on Saturday and it's going to finish at 6:00am on Sunday and I've sorted after hours situation now. So, we'll do one after hours from 6:00am until we drop.
The capacity for the entire festival is only 1,000, so it's very boutique. The showcases are proper showcases. They consist of the Class of '88, my Superfreq brand has a showcase, Spilt Milk, Dirty Laundry, Dodo Club, The Breakfast Club and Misfit.
So, it's very, very cool and very, very London centric. These are all London collectives. It's about pulling all of these different collectives into this one group to do something special for London. As it's the inaugural event, I wanted to keep it small and real and that's why it's only for a thousand people across the four rooms.
Next year, I would like to add a Friday night at another venue and give each showcase their own dance floor. It would be like BPM Festival, but for London. Something very special and specialist, but very underground because London has never had a city festival like these other cities have. To be honest, I'm a little bit jealous of Detroit Movement festival, ADE, and BPM and that's why I'm setting up this festival for London.
It's quite interesting that the London hasn't had an electronic or dance music festival on equal footing to Movement or even Sonar.
Exactly. London hasn't had events like that. There are festivals here. There is South West Four, Lovebox Festival but they are daytime festivals. There are festivals around the outskirts of London, but there is nothing quite like what we've been discussing and London really needs it.
I don't know why people haven't done it. I'm guessing it's because London has always been a hive of activity when it comes to clubs, undergrounds, and alternative spaces within dance music culture. There are many scenes and events that have their own cliques as such, so we really haven't had a need up until now.
If you look to see what's going on in London this weekend, the list is as long as your arm. There are always things to do, but I felt that it's time to put London back on the map on an international level.
Were there a certain set of sounds you were after when assembling the collectives for the lineup?
Absolutely, yes. I've been in this scene from the very beginning. I made my first deep house track at the end of 1986 with Eddie Richards. It was after that release that I started to DJ, and I've always been into very good, high quality underground dance music.
In the 80s, I was into soul, r&b, funk, disco, old school electro; I was into robot dancing, pop locking and stuff like that. And then house music came along and I hopped on that immediately. New York house and garage, Chicago house and acid, Detroit House and Techno, Old school Electro and European Electro, Acid House that was coming out of Holland, England and Germany all became the backdrop for the birth of underground rave culture in London which went on to proliferate across the world.
My vision has always been the same: I like underground, cutting edge, forward thinking, innovative dance music. And that can be offbeat, it can be Deep House, New York Garage, House, Acid House, Tech House, Electro, breaks. It crosses the complete spectrum.
My taste is very broad, but it's still very narrow-minded. It has to be underground and innovative. I don't do cheese. I hate 'hands-in-the-air' major chords. I hate everything that is really commercial, it winds me up. I've never liked trance, I've never liked prog, and I don't like this new shamanic house.
I don't like anything that is commercial and I never have and I never will. The music emphasis for my festival is that it will be underground, cutting edge, electronic, adult, sophisticated, trippy as shit and hella fun.
I don't like anything that is commercial and I never have and I never will. The music emphasis for my festival is that it will be underground, cutting edge, electronic, adult, sophisticated, trippy as shit and hella fun..
You've spent time as a Buddhist meditation teacher. Do you think this practice intersects with the meditative states people can achieve when listening to dance music on the communal dance floor or in their headphones?
Absolutely. The whole reason that I love dancing is because it's meditative. Mindfulness meditation means to come into the moment and not think about the problems of yesterday and the solutions of tomorrow.  Concentrate on what is actually happening now in the moment. That's exactly what dance music is and that's why I believe that electronic music has done so well and become the world's most popular music over the last three decades.
When somebody is on a dancefloor, and they're enjoying the sound and dancing their ass off, they're enjoying what their five senses are giving to them. That is meditation.
There are many different types of meditation. Obviously, the most important way to meditate is to bring your body and mind to stillness and concentrate on nothingness. However, you can do a walking meditation, a running meditation and a fucking meditation. Anything that actually brings you into the moment is mindfulness and that is meditative. And that's why these hypnotic beats and rhythms have changed the way people have come out and danced these last three decades. It is very meditative and many people have been doing it without realizing it.
Departing from the present moment for a second and thinking of the future, what do you think the future of rave culture might look like? Some electronic music artists, for instance, are creating immersive live experiences, which hints at one possible future dance culture. But where do you think electronic music, dance music and club or rave culture might go?
Well, it's getting bigger and bigger and bigger. Over the last thirty years the evolution has been quite stunning as it has gone into the mainstream of culture and society. So, the people that are in the mainstream want to listen to electronic dance music and this has given the underground a new lease on life.
There are always going to be very specialist individuals who want to put on events that are for small parties (200 to 300 capacity) for people who are likeminded and want to listen to cutting edge, innovative dance music. So, it can only be good.
Granted, 90 percent of the people who go to these huge events are not specialists and they don't care about the music as they don't buy music; they listen to streams of podcasts by their favorite hyped DJs that are probably a little bit cheesy and obvious, which is fine. But there are some people out of that 90 percent who will get hooked. As Adonis said, "Too far gone, ain't no way back." Once you're hooked on high quality electronic dance music, you're going to want to find and listen to more.
90 percent of the people who go to these huge events are not specialists and they don't care about the music
I think that the future is fantastic and that there is space for everybody. There is space for the cheeseball EDM guys and the kids with the fluffy, furry boots. There's space for the, you know, let's all wave our hands around in the air shamanic house people that is commercial. There is space for underground techno and underground tech-house even though that term has been bastardized and has become big room house. There's space for underground deep house, even though that's another genre that's been bastardized.
There is always room for the underground. The bigger it gets on a commercial level, the more scope there is going to be for people with integrity to be able to put on good events. People in the bigger arenas are putting together visual stuff to go with their sets, and I think that can only be a good thing. These bigger DJs and events can put on audiovisual concepts and entertain people and get them into dance music in general. It's got to be better that people are listening and dancing to dance music than getting a bad attitude listening to hip-hop, or getting stuck in a time warp listening to rock and roll.
You mentioned that there is this space for staging smaller events that are more boutique. Do you anticipate that you will keep Next Step Forward in that smaller boutique range, but with some modest expansion?
London is a city of 10 million people, and the underground dance community is huge. I'm starting this off as a 1,000-person boutique festival. Next year, I would like to incorporate some bigger venues and help grow it. I've got seven collective showcases this year. I'd like to maybe double that to fourteen showcases next year. Also, it would be good to add more international names.
What I would like to do is get more London collectives out there putting on great events, and I would also like to involve slightly bigger DJs who have retained their integrity. So, each collective can have a big underground name like a Magda or a Dubfire or a Ricardo Villalobos, alongside a Bushwacka or a Jay Tripwire but then still make sure that the London underground DJs get a look in.
This is about creating something for London that will be very special for the community. There is no reason why over the next two, three or five years this can't be the most exciting city club festival in the world.
Right on. Thanks for your time and best of luck with the festival.
Thank you. And thanks for bringing up that "Do what thou wilt"—it made me giggle. It's one of my favorite quotes: "Do what thou wilt shall be the whole of the law." For me, that tells us that it really is our own illusion for us to be able to make with what we wilt.
The quote really came out of nowhere, I have to say.
Yeah, it must have made you laugh when I finished the quote. [Laughs]
It absolutely did.
Brilliant. [Laughs]
Mr C hosts the Next Step Forward Festival this weekend 15th September. Tickets avaialble here.