This channel is sponsored

Free Acoustic Advice and Buy Direct.
Visit GIK Acoustics
Florian Senfter gives us a guided tour of his Munich studio, showing off his favourite pieces of gear and explaining how he approached making his new album, RGB.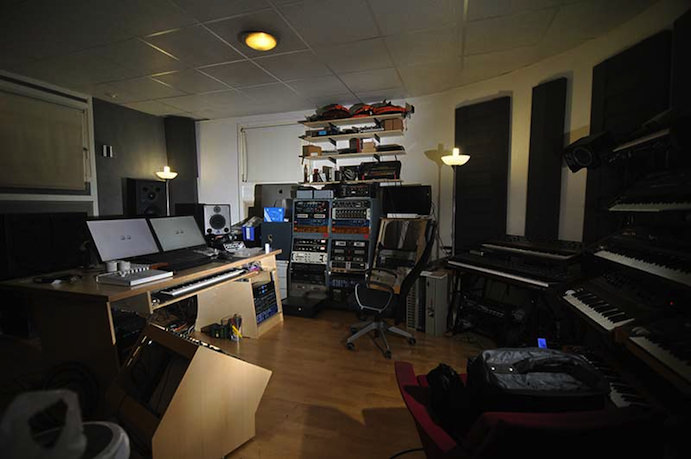 My Studio – Zombie Nation
This was my studio alone for four or five years but I just started sharing it with another artist. I wanted somebody to come in and fix it up a little bit for me because I don't have the patience to reconfigure it.
Also, I know a lot of stuff but sometimes you get to the limits of your knowledge and you just want to exchange ideas with somebody.
I was a bit hesitant to change my setup because sometimes stuff doesn't work or you have to get used to it, but now's the right time. It's right after the album and it's time to take the next step.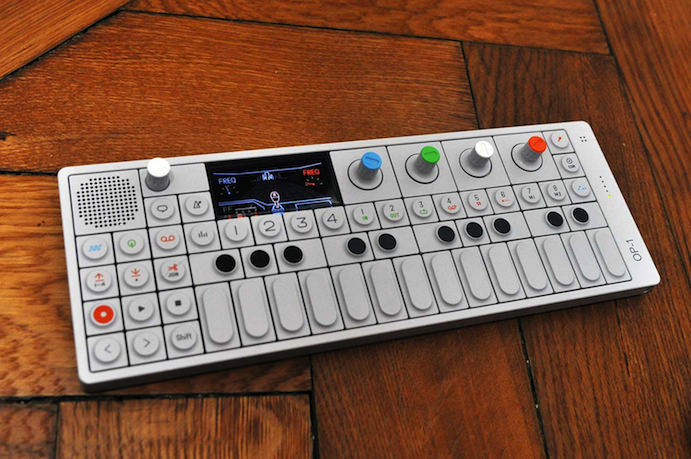 Teenage Engineering OP-1
A lot of people look at the OP-1 and say it's a toy, that it's too expensive or that it's the Swedish House Mafia synth because they had it in their video. You could say it's a toy but it's a useful and good toy. You can do serious stuff with it. It's not the kind of tool which you'd use to make an entire track, but if you use it for something like a synth line you come up with totally different ideas.
About half of the tracks on the new album started with small pieces of equipment. The OP-1 is the main sound on about four tracks. What I mostly do is sample the radio, then mash it up somehow. I recorded the sample for 'Momplays' when I was in a hotel in Scotland. The main bass is also from the OP-1.
For most of the tracks I'd start with the OP-1 or maybe the Octatrack at home or while travelling, then take it into the studio and make the rest of the track around it. A lot of tracks on the album were started on the road.  'Schoove', 'Brownsville' and 'Main Gain' on the album are all also based on sounds from the OP-1.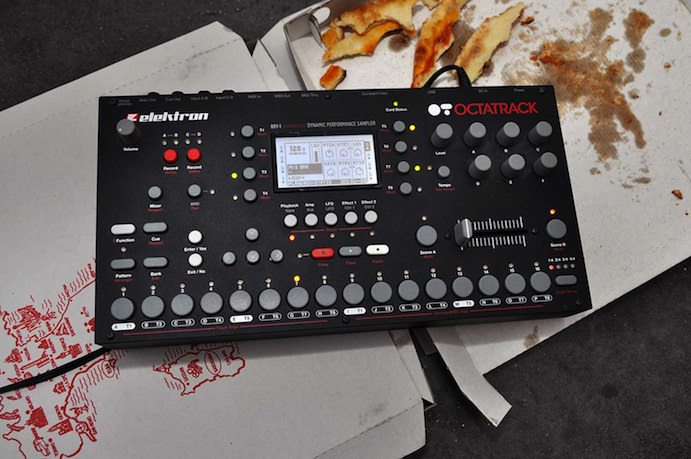 Elektron Octatrack
The second track on the album, 'Level', started off with the Octatrack. There are all these breaks which push up and up – I did it with the crossfader. It's a retriggered sound with different start and end points, controlled by the crossfader. I jammed around then cut out the best parts. 'Pony' I also did on the Octatrack.
It has a lot of potential. It's super genius. I don't know of any software where you can do this kind of stuff. I find it fascinating.
There are things about it I don't understand yet. I have this thing with Elektron products where I don't use them for two or three months, then I get afraid to touch them again. When I go back to them it's like, 'Why didn't I use this? It's magic! It's insane!'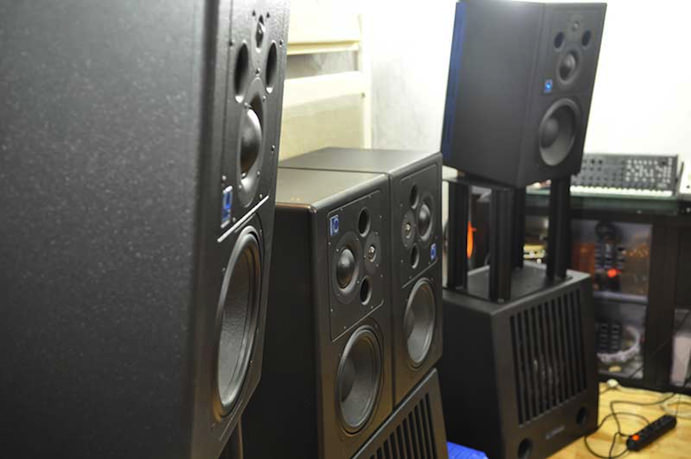 Quested V3110 and V2108
We have three sets of monitors but that's just because we both had the same system when we moved in. We don't have all of them plugged in. The 3110s are just excellent. The perfect speakers.
I always liked the 2108s but they weren't sufficient for me on the volume side. I was always killing the tweeters. Before those I had Dynaudio BM5As. I found them to be like a smaller version of the Questeds.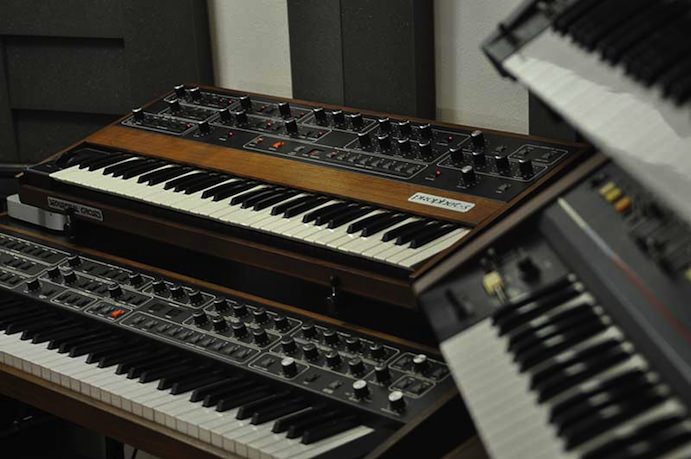 Sequential Circuits Prophet-5 and Prophet-T8
The Prophet-5 is mine. I've had it for a long time and I'd never ever sell it. It's so versatile. You can do a lot of stuff with it and it never disappoints.
The T8 belongs to my colleague and I'm yet to try it out. We just put all our stuff together, so the next phase for me is to try all of his equipment. That's one of the good parts of sharing the studio. I can just switch these things on and I don't need to buy them or have them fixed if they break. It's just right there.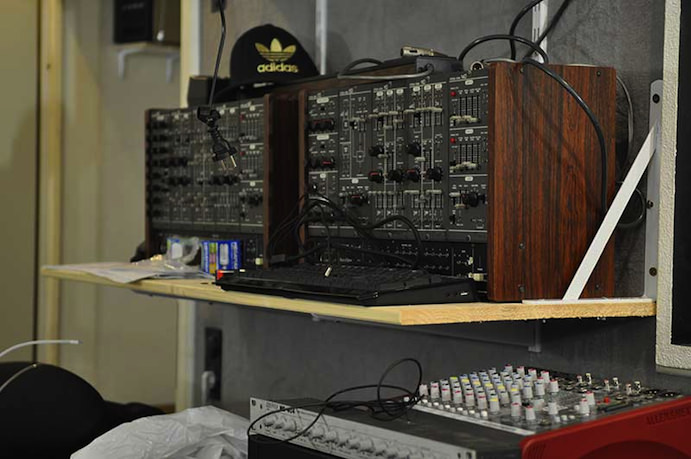 Roland System 100m
I've had this for around six years. It's pretty nice. I used it a lot with Tiga when we worked on the ZZT project. Because it's split into two units, we could both jam on it – one on the left side and one on the right.
We always record about 10 minutes with two people jamming, then see if there's something in it which makes sense for us to cut out and turn into a track.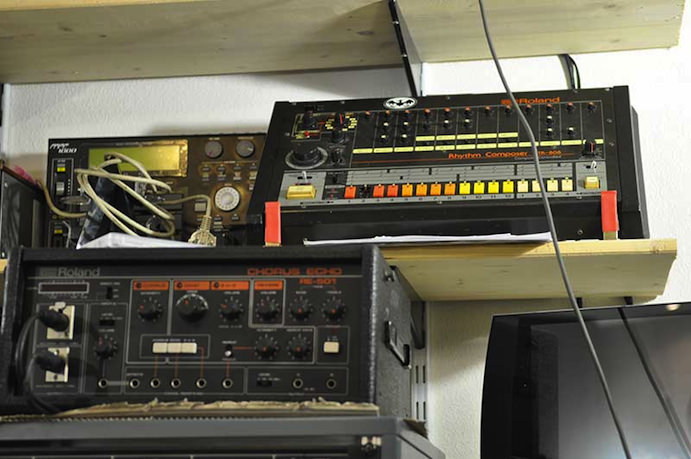 Akai MPC1000, Roland TR-808 and RE-501
I don't use the MPC as much as I did, but I still use it quite a lot. It's always a centrepiece of the studio for me because it just gets stuff done nicely. It's not nearly as flexible as the OP-1 or the Octatrack in terms of what you can do with samples but for making basic beats and patterns it's just way more fun than pushing around bars in a computer sequencer.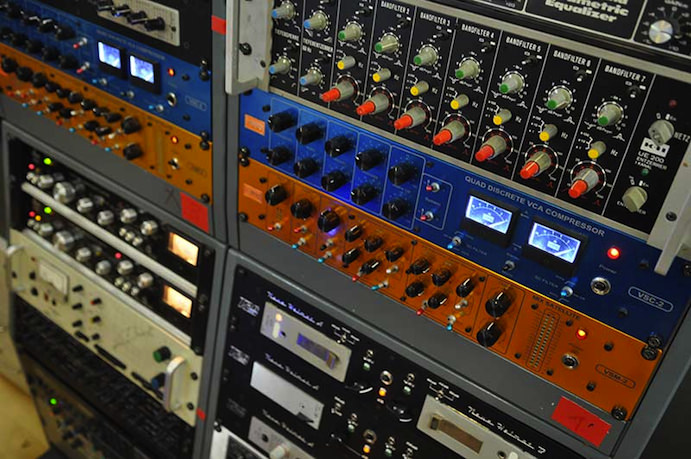 Vertigo Sound VSC-2 and VSM-2
This is actually how I got to know the guy I share the studio with. We're both kind of addicted to Vertigo products – two of these are his and two are mine. The blue unit is a compressor based on dBX VCAs. It's a really good compressor, really nicely built. I use it for everything.
The orange unit is a little more difficult to understand. It has two distortion channels which can be switched either to left and right channels or mid-side, then it has two inserts. I use it a lot but I could survive without it.
Vertigo Sound are based near Munich and they're like total nerds. I got to know them in the first place because they used to rack up vintage preamps and they built a rack of Telefunken stuff for me. I have eight preamps and eight EQs which I mix through.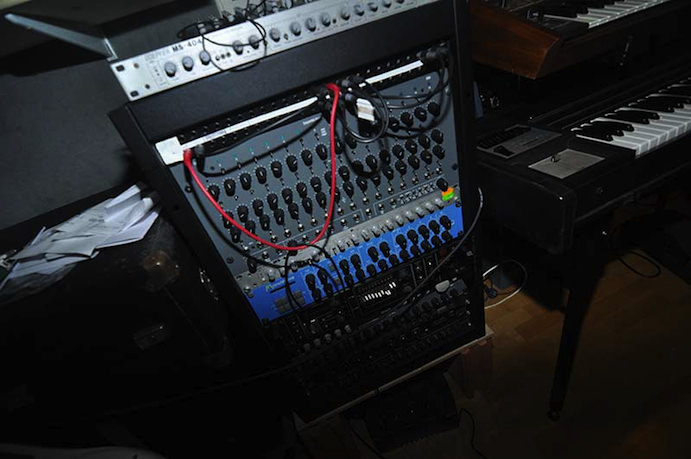 SND SAM-16
This is a MIDI and CV step sequencer. I mainly use it with the Roland System 100m. We discovered that this was the best way of working, to make a live jam triggered by the sequencer. Otherwise it gets too focused on theory.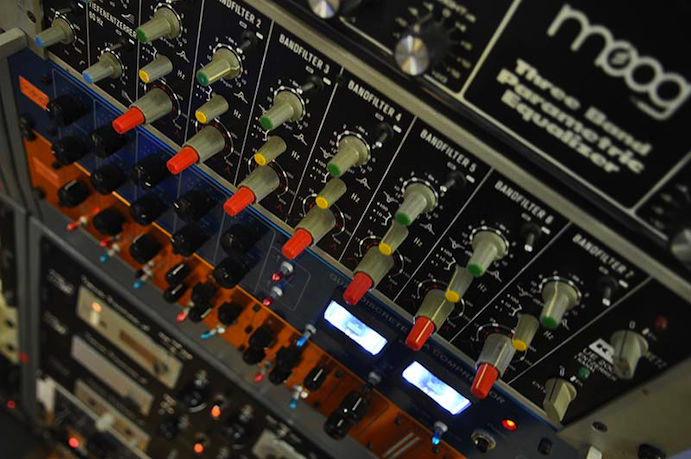 Moog Three Band EQ and Klein + Hummel UE200
The Klein + Hummel is a broadcast EQ. It's very refined. Not for the rough changes.
The EQs are connected to the inserts of the Vertigo Mix Satellite. I use it as a mid-side processor, so the mids go to the Moog and the sides to the Klein + Hummel. It's good because they're both mono units but with this setup I can use them on stereo material.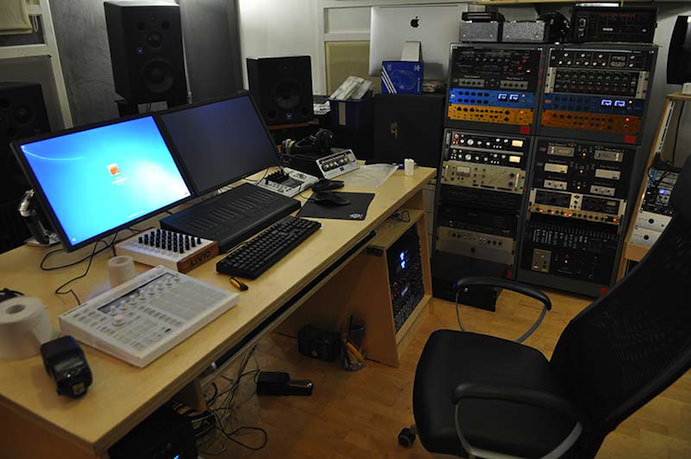 PC setup
I work in Cubase on Windows. I've had Macs in my office for a while but I switch back to PC in the studio because for me it's easier and more reliable – I don't care what people say!
I had a 36-channel, 16-bus Allen and Heath desk but I got rid of it. I wanted everything to be more accessible from the computer. When I had the desk I avoided using it the way it should be used because half of the patchbay didn't work any more, some channels didn't work… At some point you want to stop working around things like that.
'Meathead' is the first track in my life that I've made using only software from start to finish. All in the box, no MPC, no nothing. Just Cubase with plugins. FabFilter One for synth sounds and samples for the drums. It still sounds quite organic because I mixed it through amp simulations and stuff like that.
RGB is released on December 10th on Turbo Recordings. Find Zombie Nation on Facebook, SoundCloud and Twitter.
My Studio is sponsored by

Treating over 5,000 rooms worldwide annually with acoustic panels, bass traps, and diffusors from our locations in the U.S. and UK (Europe), it is clear that GIK Acoustics is the #1 choice for recording studios, listening rooms, home theatres, restaurants, churches, and live auditoriums.
GIK Acoustics not only provides the largest selection of high quality, patented, eco-friendly products at affordable prices, but provides clients with professional acoustic treatment design assistance and friendly support staff to help achieve the best acoustically sounding space possible.
Visit GIK Acoustics for more information.