This channel is sponsored

Free Acoustic Advice and Buy Direct.
Visit GIK Acoustics
Danny Wolfers, better known as Legowelt, gives us a guided tour of his amazing gear-packed studio.

My Studio – Legowelt
This is the fifth incarnation of my studio setup in my new house. When I moved into the house last year I sold a lot of stuff, like my giant 32-channel Tascam M3700 mixer (that thing just pissed me off), my Korg MS-20 and my Sequential Circuits Prophet 600. I also bought some new stuff like my Roland JD-800 and Crumar BIT99.
I have a lot of monitors set up. They each have their own character and after working with them for some time I know what I should listen for and how to make the mixdown better. What we've got is a bunch of Dynaudio BM5s, Alesis Monitor One MK2s, Yamaha HS50s, Bang & Olufsen hi-fi speakers from the 70s and a grotbox and monitor controller from Behringer so I can easily switch around them all.
There are around 30 synths and keyboards of all sorts laying around. Most  of them are shoved against the wall and whenever I want to use one I connect it to the mixer. Sequencing is done either by hardware sequencers like the Yamaha RM1X or QY series, my Roland MC500 mk2, Korg Electribes or with the computer. Computer-wise there's a Mac running Ableton 8 and Reason 6.5 and an Amiga 1200 running Octamed and Deluxe Paint so I can also do 90s-style video graphics.

Amiga 1200, Moog Minimoog, SCI Pro-One & TR-808
The Amiga computers are more important than any other computer in the electronic music evolution history in my opinion. This thing kick-started thousands and thousands of careers. Four channels of sampling with super-raw compressed sound and tight MIDI sequencing. With the Octamed tracker software (or any other tracker) it became a bad-ass sampling sequencer to almost rival something like the EMU SP-1200 (but then with tons more of sampling memory). I probably made 75% of all my records with this thing.
Because the Amiga only has a shitty low-pass filter, I run it through the filter on the Minimoog or Sequential Circuits Pro-One. Tracks like Polarius's 'Apollo Park' and old Bunker releases like 'Beyond The Congo' and the Klaus Kinski EP are mostly Amiga. It's also really cool to make animation and video clip graphics on. Really 90s cyberpunk video style!
Next to the Amiga, barely visible, is the Roland TR-808. I'm pretty sure everybody knows what that is. The little blue pedal next to it is a Boss CS-3 Compression Sustainer pedal. If you put the 808 through that you get the most steamy, smudgety, lo-fi, pumping, jacking beats!

Roland Juno 106, Alpha Juno 2 & Yamaha DX7
The Alpha Juno, standing on the right side, is the best Juno in my opinion. It's the fattest, creamiest- sounding in the whole range, responsible for thousands of techno and house classics in the 90s, and it can do so much more then the cliched Hoover and 'Dominator'-style rave sounds. Really smooth, deep G-funk solos; dark, evil basses; juicy, dripping acid sequences; haunting strings. You know Drexciya was all over this thing. I also love that it has chord memory and the portamento is so much better than on the 106.
The 106 is the crappest-sounding Juno, but I still love it. It's just a real workhorse and, even though the sound seems to be a bit bland by itself, in the mix it always sounds good for some reason. Sometimes it comes out of the closet of its pedestrian dullness and it just shines like a star. And it is so simple to use.
Standing on the other side of the fireplace is the Yamaha DX7. This one has a wooden top. I'm not sure why, but I haven't seen any others like that. Most people just use the boring pop presets like basses and pianos but if you take some time to program it you can enter a world that goes far beyond that.

Roland JD-800 & Korg Mono/Poly
I bought the JD-800 from a new age composer, a real cool guy with long hair and beard. He delivered it to my house in his hippie Volkswagen van. It still smells like incense, which is kinda cool. It's such an ambient deep space machine. I haven't really started to use it in productions but it's really easy to use. I noticed that the Hearts of Space preset from this machine is used as a notification sound in the ATM of a certain bank when you get some money out!
Above the JD-800 is the third Korg Mono/Poly that I've owned. This synthesiser is a beast. People slept on it for years and it was relatively cheap to get until recently. It's truly unique because it's both a polyphonic or monophonic synth with four VCOs that you can control independently, each with its own waveform and tuning. There's this superbadass arpeggiator that works with the chord memory too, and it's got a whole bunch of other exotic things not found on most other synths. You can check out some sounds I made for a free Mono/Poly sample kit here.

Yamaha DX100, Korg Microstation & Spiricom 7
The DX100 is one of the classic techno synths. It's the budget version of the big DX7, with a rawer, more up-front sound. I can program this thing from scratch and can make any sound I want on it from dreamy ambient pads to dark evil basses. It can make sounds that you can't get out of any standard analogue gear. Just freaked-out alien sounds. I used this all over the Paranormal Soul album.
The Korg Microstation is a sort of mini version of the big Korg workstations. You can make really cool sounds with it. A lot of people think it's a preset machine but you can edit it and get way more complex and advanced sounds out of it than with a standard analogue synth. Kids nowadays always think they need to get analogue gear, 'cause that's where it's at. That's such bullshit. A lot of classic techno and house tracks were made with digital synths which are so cheap now.
On the MacBook Pro you can see a Commodore 64 emulator running the Spiricom 7 software I programmed last year. It's a program that lets you talk with ghosts! Oh yeah, I got one of those Novation Ableton controllers too. I just love all those blocky lights.

Tape Machines
These reel-to-reel recorders aren't used that much any more because the tape is really expensive and you can only record like two or three tracks on one tape, but I set them up again because I'm going through a lot of old tapes to back them up on the computer and find some unreleased stuff I forgot about. It's kinda fun to do. Sometimes you come across a track you haven't heard for ten years and completely forgot about.
The Philips N4522 is one of the best quarter-inch decks ever made. When this tape hype began a few years ago everyone was into Revox so I got this Philips for next to nothing and sold my old Revox and TEAC four-tracks. The TEAC X1000 is one of the last reel tape decks built in the 1980s. I mainly use that for non-hi-speed master recording.
The mixer is an Inkel MX995. It's a really shitty old mixer from the 80s but it's got a built-in analogue delay and nice woolly warm EQ. I record a lot of tracks through it, tweaking the delay and EQ. 'Fantasy Island' came straight from the Tascam 414 recorder through the MX995.
I still use the Tascam 414 cassette four-track recorder (the little blue thing next to the mixer) because the cassettes are way cheaper than reel tape to get a 'tape sound' and I really love the EQ on the built-in mixer. I'll record on there and then replay it with the low EQ cranked up and a little bit of extra high EQ. It can change the sound and character of a track totally!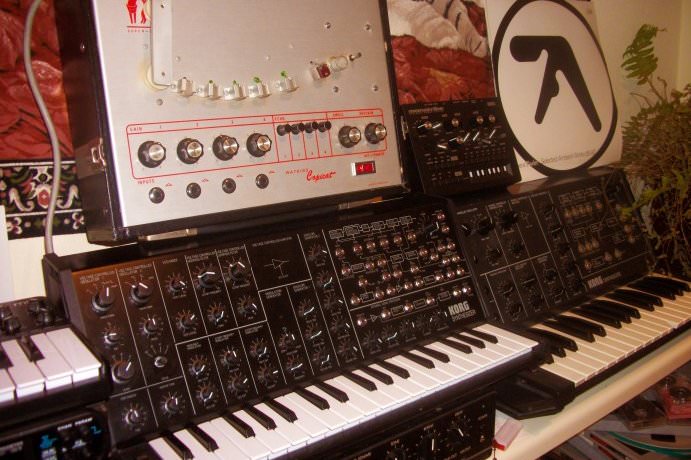 Korg MS-10, MS-20 Legacy & Watkins Copicat
I used to have two real Korg MS-20s but I sold them. As a kind of 'remembrance' I just had to get the mini MS-20 controller which Korg made a few years ago. It's really fun to use. Even the patch cables control the MS-20 plugin over USB.
The MS-10 was one of my first synthesisers and I still use it all the time to process filterless synths through, like my Yamaha DX100 or Kawai K1 ii.
The Watkins Copicat is a bad-ass tape delay from the 1960s. I've got two of them and they're really the dirtiest, most psychedelic, warmest tape delays you'll come across. You can do real freaky stuff when you hold your hand on the tape and change the gain of the four tape heads. Instant interdimensional time warbles. It almost becomes a musical instrument itself. It's totally different to something like a Roland Space Echo.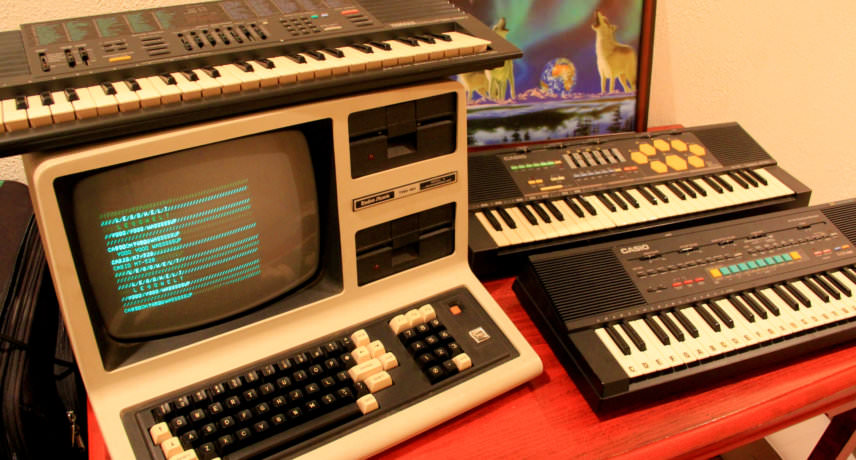 Cheap 80s Keyboards
These are a bunch of really cheap late 80s keyboards I got from thrift stores or online for 20 bucks or something.
The Casio MT-520 and MT-540 are pretty much the same. The only difference is that the MT-540 has a bunch of drum pads and sliders to change the drum patterns live and the MT-520 has some new age ambient-style loops on it. Things like seashore and forest sounds… very esoteric stuff. You can loop them to fall asleep or something! The Casios have some really cool sounds. I made the two Trackman Lafonte & BonQuiQui records together with Xosar using mainly these things. Tracks like 'Pacific House'.
On top of my old TRS-80 computer is the Yamaha PSS-380. It's a two-operator (!) FM synth that uses sliders to edit the sounds. You can't edit much, but it's really fun. It's full of raw, super lo-fi FM sounds. It doesn't have any MIDI but I think there are some others in the PSS series which do. My song 'PSS Galaxy Class' is 100% pure sounds of the PSS-380.
The TRS-80 has nothing to do with my studio – it's just a hobby of mine to program obscure old computers.

Roland Jupiter 4, Jupiter 8 and JX-3P
At the bottom we have Roland's first polyphonic synthesiser, the Jupiter 4 Compuphonic from 1978. This thing sounds so awesome. It's only got one oscillator like the Junos but it sounds so dripping fat and it can do much deeper basses then the Jupiter 8. It was Roland's competitor to the Sequential Circuits Prophet-5. It didn't do that well but I would take the Jupiter 4 over a Prophet-5 any time.
In the middle we have the Jupiter 8. Pretty much instant crystal clear hypnotic polished analogue enchantment. You can just turn on the arpeggiator and tweak the knobs and get entranced for hours. While the Jupiter 4 is raw and fat-sounding like chicken-fried steak or something, the Jupiter 8 is sophisticated and radiant, sparkling… uhm, not really comparable with any food!
On top we can see the Roland JX-3P, a bit of an odd duck in Roland's history but a pretty darn good two-oscillator analogue polysynth. The really cool thing is that it's got a polyphonic step sequencer that can be triggered with a trigger signal.
Legowelt's The Paranormal Soul LP is out now on Clone Records.
My Studio is sponsored by

Treating over 5,000 rooms worldwide annually with acoustic panels, bass traps, and diffusors from our locations in the U.S. and UK (Europe), it is clear that GIK Acoustics is the #1 choice for recording studios, listening rooms, home theatres, restaurants, churches, and live auditoriums.
GIK Acoustics not only provides the largest selection of high quality, patented, eco-friendly products at affordable prices, but provides clients with professional acoustic treatment design assistance and friendly support staff to help achieve the best acoustically sounding space possible.
Visit GIK Acoustics for more information.