Jason Amm shows us around the studio where he created the soundtrack for the excellent I Dream Of Wires modular synth documentary.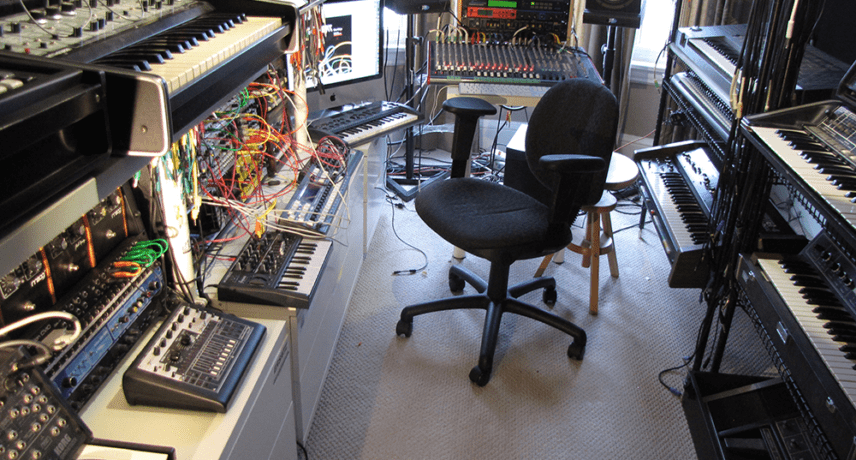 My Studio – Solvent
This has been my studio space for about five years, occupying the biggest bedroom in my family's house. I started collecting synths and drum machines in the early 90s, and I've had most of these vintage machines for 15 years or more. The biggest change in my studio in recent years has been the addition of (and addiction to) the Eurorack modular system, which I've already sold off some of my vintage stuff to finance.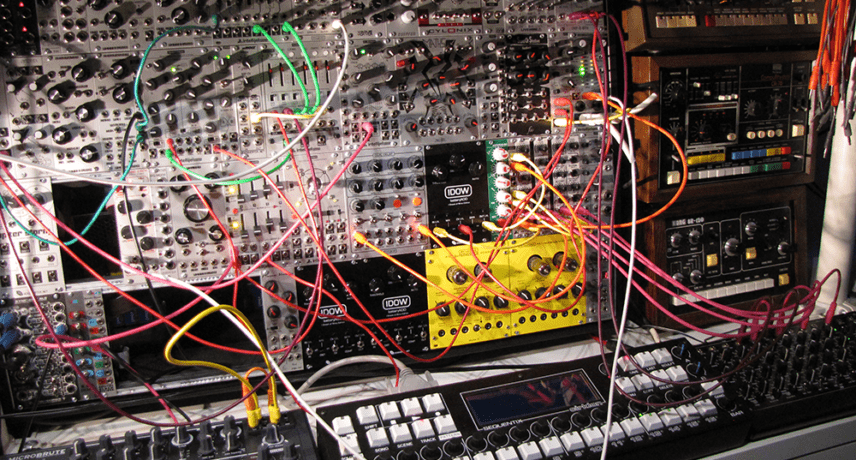 Eurorack Modular, Hardware Sequencers & CR-78
This modular setup is the first thing I gravitate towards whenever I'm in the studio now. First of all, it does a lot of things that I've never had access to in synths before, so it's definitely expanding my sound palette and making me think about synthesis with a new and fresh perspective. It's opened up my mind to some types of synthesis that I'd written off in the past, like digital FM synthesis for example, or even digital in general. Mainly what I love about it is that I can sit down in front of it and I've got enough options there that I can get a whole track going with it alone; everything's right in front of me at arm's length, and it's always taking me in unexpected directions. It's really been a complete game-changer for me, and I just love it.
I've got a couple of hardware sequencers here, which are very important to my music-making process. The Sequentix Cirklon is the most powerful hardware sequencer ever I'd say, and it's a joy to use, while the MFB Urzwerg is just very basic analogue sequencer which I love for its simplicity. I really value hardware analogue-style sequencers because they lead me to sequences that I would never think of with a keyboard interface. My music is very melodic, so I work out a lot of ideas on keyboards, but I also rely on analogue sequencing for strange, atonal and rhythmic sequences in the background, that make the music more interesting for me. Also in this shot is the super-rare Roland PB-300 drum machine and auto-accompaniment unit, Roland's last analogue drum machine which actually even has MIDI, as well as the famous Roland CR-78 which is my second-favorite drum machine of all time, and I've used it on loads of songs.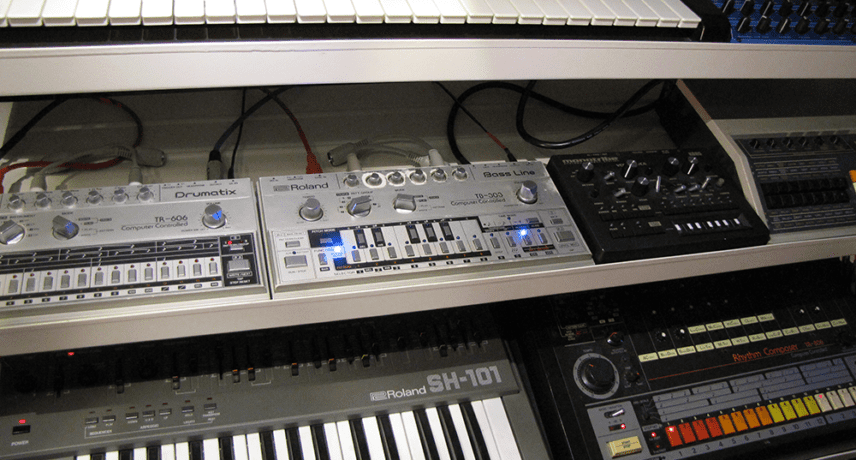 Roland SH-101, TB-303, TR-606 & TR-808
Here's my little section of the famous Roland techno machines. I've had this 808 since 1995 or so, and it's always indispensable to me and my favourite drum machine ever, no doubt. It's a sound that I never grow tired of, and I can always find a place for it in every song I'm working on. The SH-101 is a go-to synth for me – when I want a simple synth sound, this always gets me the results I want really quickly and the sound is so appealing. Actually, refraining from using the 808 and 101 was the most difficult challenge of my I Dream Of Wires soundtrack album, for which I committed to a modular-synth-only limitation.
The TB-303 is one of the few vintage pieces in my studio that I acquired in recent years, so no bargain mid-90s rate on this one! I came from a synthpop/industrial/experimental music background, and I was pretty anti-dance music, so I didn't appreciate the 303 for a long time. Nowadays acid-techno is some of my favourite music, and firing up the 303 always brings a smile to my face. I have a heavily-modified x0xb0x as well, a 303 clone which I got before the 303; I love that too, but there's something about a real 303 that's just not matched with the clones, and the limitations of the synthesis on a 303 is really the point of it, in my opinion. If someone offered to give this 303 a Devilfish mod for free, I'd turn it down. On the other hand, I've got the Social Entropy mods on both the 303 and 606, which expand the units' sequencer and memory operations, and make them both a lot more versatile and fun to use.
Another one of my favourite drum machines is also shown here: the Korg KR-55, which has the most killer, driving preset patterns and in my opinion the best snare drum sound of all time.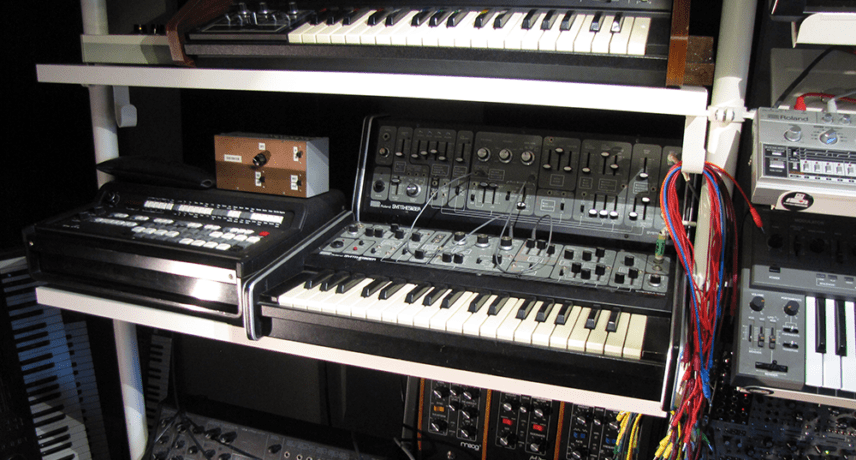 Roland System 100, Promars & Korg MS-20
Here I've got the 101-Synth and 102-Expander units of the Roland System 100 semi-modular system. Even though I use it less than the SH-101, I'd have to say that this is my favourite of all the vintage synths I own. It's just so raw and warm sounding, with a real 1970s vibe to it. I love the sound of the VCOs and it does the hard-sync-VCO sound better than any other synth in my opinion. I've used that feature on so many of my tracks. I originally got this synth because I was so inspired by how it sounds on the early Human League records, and that is exactly the sound it delivers. I should also mention that you really can't judge this synth by just the 101 or 102 on their own – you need the two pieces paired together to really get the magic out of it.
This Promars here is a pretty rare synth – it's basically a monophonic Jupiter-4. This is a very tight, sharp and versatile synth – I had a Sequential Pro-One for years, but to my ears this synth does early-80s Vince Clarke-type sounds better than a Pro-One, despite the fact that the Pro-One is what Vince was mainly using. Like the Jupiter-4, it has an LFO that goes into audio rate, which helps to make the synth a lot more versatile than you might expect. Great for FM bells and metallic clanks.
The MS-20 is another one of my favourite synths of all time, and I've had it for about 20 years. I only use this synth for very special, specific purposes, and it's a key part of my sound. I was worried when I found out that they were re-issuing it, that my special sounds would be all over the place, but as I'm reading more and more reviews and people talking about it online, I realise that I don't need to worry because everyone's just thinking of it like a regular synth. The only other artist that I know of that has definitely used it a lot in the same way as I do is Aphex Twin, because I can hear it all over his early records.
Also in this shot are my modified x0xb0x and a very weird, super-rare German digital drum machine by Dr Bohm, which kind of sounds like a crap Linn Drum. In a good way.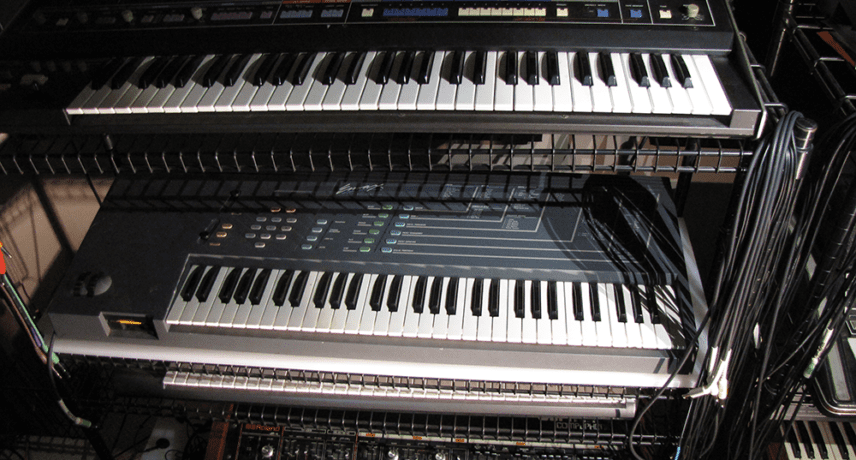 Roland Jupiter-6, Jupiter-4 & E-mu Emax
The Roland Jupiter-6 is the first analogue synth I ever got, around 1992, and has been the most prominent synth in my recordings. A lot of the songs on my first two albums were done almost entirely with multi-tracked Jupiter-6. It's a really deep synth which can be difficult to get a good sound out of sometimes, and then other times you hit a sweet spot and it's sublime in a way that few other synths can match. I'm glad that this is the first synth I owned because learning it inside out really made me into a deep and meticulous synth programmer. I'm a bit bored of the Jupiter-6 these days, but I know I'll come back to it again and it will surprise me all over again.
The Jupiter-4 is more of a go-to polysynth for me, in the same way as the SH-101 is as a monosynth; it always just sounds great with very little effort. It gives me quick access to the most gorgeous synth string sounds, especially with the onboard chorus effect. Whenever I listen to this synth I always think of Nick Rhodes. It's got a very 'new romantic' sound to it – crystal clear, shiny, heavenly.
The Emax is awesome for gritty drum samples, but I have to admit I rarely use it out of laziness.

The Wall Of Cheese
I call this the wall of cheese and it's a good reflection of my irrational/obsessive side when it comes to electronic instruments. I'm a slave to the sequencer, and because most of these things have no MIDI or any other form of sync/external interfacing, I rarely use any of them in my music. I love the look and sound of this stuff though, and a lot of it isn't really worth that much money, so I just like to keep it around to entertain myself. Like sometimes I'll just fire up one of the preset drum machines, play some chords, and that sounds better to me than listening to most records – I could listen to it all day.
There are Korg Lambda and PE-2000 string machines and a bunch of drum machines, mostly preset: Hammond Auto-Veri 64, ELI CR-7030, Panasonic Rhythm Machine, BOSS DR-110, DR-55, Roland TR-77, Korg KPR-77, and a few others you can't see.
The only really valuable thing here is the Polymoog 203A Synthesizer, which sounds just jaw-droppingly beautiful, and serves as a constant reminder that I really need to improve my keyboard playing skills, so I can use it more. My Polymoog is in approximately 90% working order, which is better than most of them out there.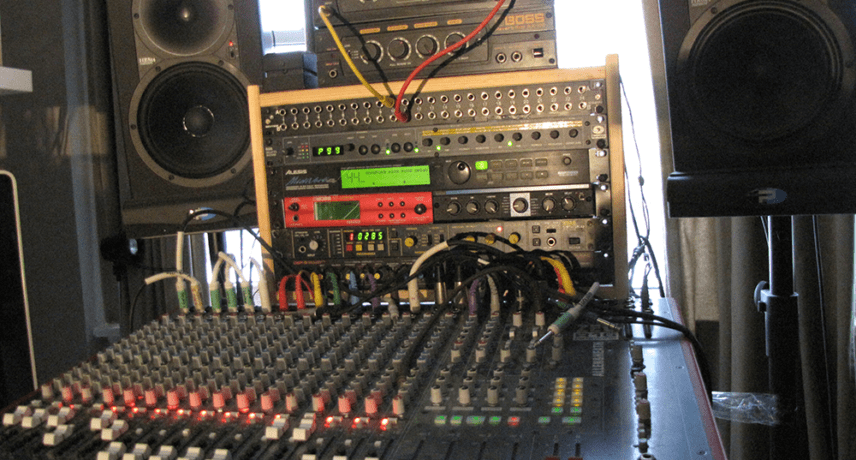 Allen & Heath Zed R16 Mixer & Outboard Effects
I'm a big believer in mixing outside of the box with hardware effects – for me it makes the mixes sound so much more alive and organic. This Allen & Heath Zed R16 serves as both my mixer and soundcard, and it's served me well. My favourite and most used of the effects is definitely the Korg SDD-3000, which is an early digital delay that's very sought-after for a good reason – it's the best sounding delay I've ever heard, and I use it on every single recording. I wish I had several more of these, but they're so expensive nowadays. I also really love the Boss VF-1 which is a really underrated multi-effect unit with really incredible-sounding distortion and amp modelling algorithms. I really love spring reverbs but my favourite one, the Korg GR-1, is in for repair so I've just got this OK-sounding Boss RX-100 at the moment. From the same series, the Boss DM-100 analogue delay above it sounds totally fantastic, and it can also be used as an analogue chorus unit. Above those, and not really visible, are two of my most recent additions, a Strymon Timeline delay and an Eventide Space reverb – loving the sound of both of these so far but I haven't used them a lot yet.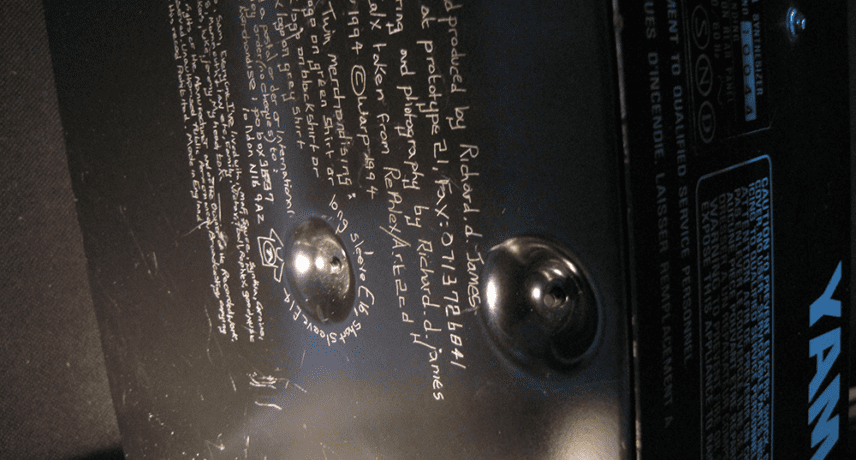 Aphex Twin's Old Yamaha CS-5
This doesn't belong to me, but I borrowed it a few years ago to make an EP with, and the owner doesn't seem to be in a rush to get it back, so I still have it. It's a Yamaha CS-5  which used to belong to Aphex Twin – he etched the liner notes to Selected Ambient Works Volume 2 into the bottom of it, and he took a photo of that which is the actual liner notes you see on the record. My friend got it from a Vemia auction for less than $2,000, which is a bargain in my opinion. In my books this is a piece of substantial historical significance in electronic music, so it's pretty crazy that it's just sitting here in my studio. I did end up using it to make a release, the RDJCS5 EP which came out a couple of years ago, and which I made with nothing more than this single synth, multi-tracked. I actually caught quite a bit of flack for that release, with some people saying it was some creepy marketing ploy. Fair enough, but for me it was just a simple homage to an artist who I respect immensely, and I also liked the idea of a historical instrument being used to create music instead of sitting behind glass in a museum.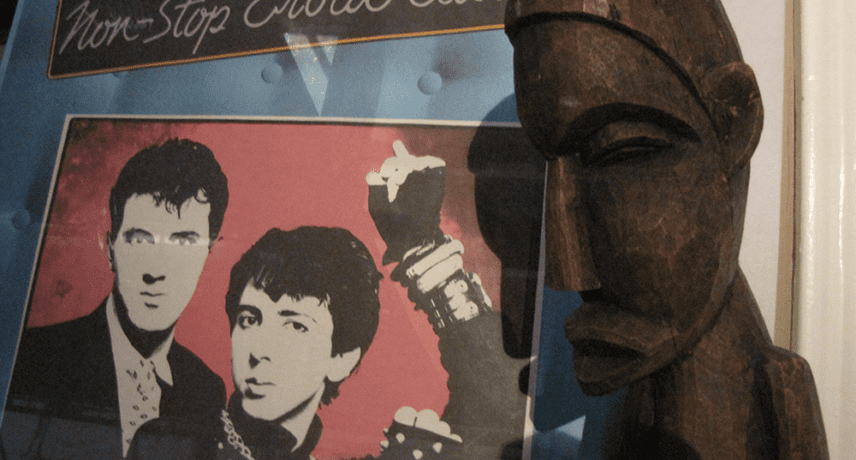 Tobo & Soft Cell Poster
I've had these two things in every studio I've ever worked in, and even though I don't really have space for them in my current studio, I still have them tucked away in here. Tobo is a statue from Zimbabwe, where I was born, and I used a photo of it as the front cover of my debut album in 1998.
Soft Cell is my favourite band of all time so this is just a cool piece of m-m-m-m-memorabilia that I love having around. Even though I'm not trying to make music that sounds like Soft Cell, I suppose it's always important to strive for the hope that I can create music that will have an emotional effect on people to a similar degree that Soft Cell's music has affected me. Marc Almond in the early 80s was so emotionally raw and sincere, and you can just feel it with this photo. I think that look of his is a great presence to have in the studio, and detached Dave is cool too!
Check out our review of I Dream Of Wires here. Solvent's New Ways: Music From The Documentary I Dream of Wires is out on February 11th on Suction Records. Find him on Facebook and SoundCloud.