Something a little bit different for My Studio as 'world minimal disco' artist Roscius shows us around his London space.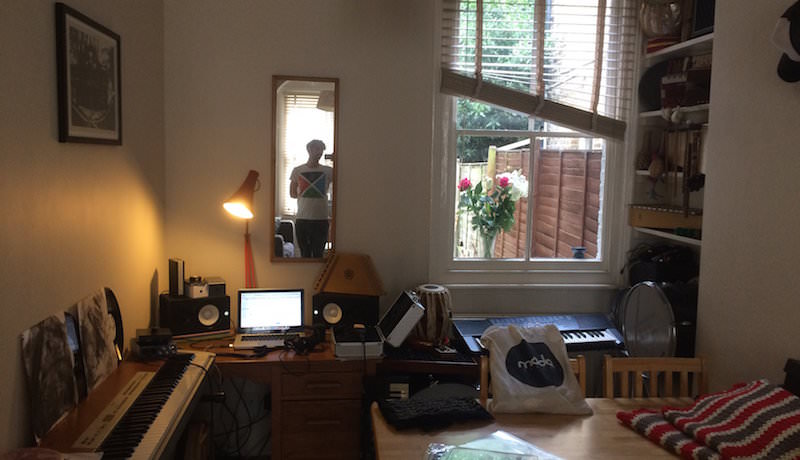 Roscius – My Studio
Here is my 'studio' in Hackney, London. It is also my living room, indeed.
As you can see there are no machines, as my music is made with organic/acoustic instruments.
I use Yamaha HS7 monitors and Logic to edit and mix what I record. Nothing else, really.

Keyboards
Here are the keyboards I use. An old Kawai MS510 (my favourite toy and live set lover), an old Casio CT400 and a Clavinova (Yamaha P120), which has an amazing sub vibraphone sound that you can hear on 'Gouttes' (from WMD#1) from 3,30min. Although, I record most of the piano parts on actual pianos (Pleyel, Yamaha, Steinway & Sons, etc), when I find them while travelling.

Beat Section
Here is the beat section. Three kick drums, toms, snares, hi-hats, cymbals, tablas and Asian bongos, all used in 'The Royal Albert Hall' from WMD#1.
No drum machine. Only a bit of tweaking during the mixing. Probably also the reason that my music sounds quite lo-fi.

Boss RC-300
The looper. My best friend. And also a great way to test different grooves or harmonies before recording anything.
The starting loop on 'Villa Paolo' from WMD#2 is actually purely extracted from this RC-300.

AKG C414
The only mic I really use: the C414 from AKG. I put it in different places in the room, depending on what I record and what I want to get from it. Sometimes I spend an hour looking for the right place to place it, and then I just hit a woodblock once, so I get the perfect/natural amount of echo or reverb – in the bathroom, for example.

Small Percussion
Some of my smallest percussion, from Bangkok to Marrakech via South America. From gifts to gadgets, but also including rare and expensive stuff. The best way to give a 'world-disco' touch to your tracks. And if I can't find the right sound in this collection, I just do it with my own voice (on the C414 again). You can hear most of these on most of my tracks.

Acoustic Instruments
Accordions that I found in second hand markets, as well as an old violin, a xylophone, a Vox 115 amp, guitars and so on… These help me to create melodies and riffs too. I try to use them as much as possible, and as weirdly as possible, to get any unexpected sounds out of them. I truly believe there are still plenty of sounds musicians haven't explored from real instruments. Sometimes, I even find sounds from acoustic bits and bobs that 'sound electronic', which then becomes the highlight of my day!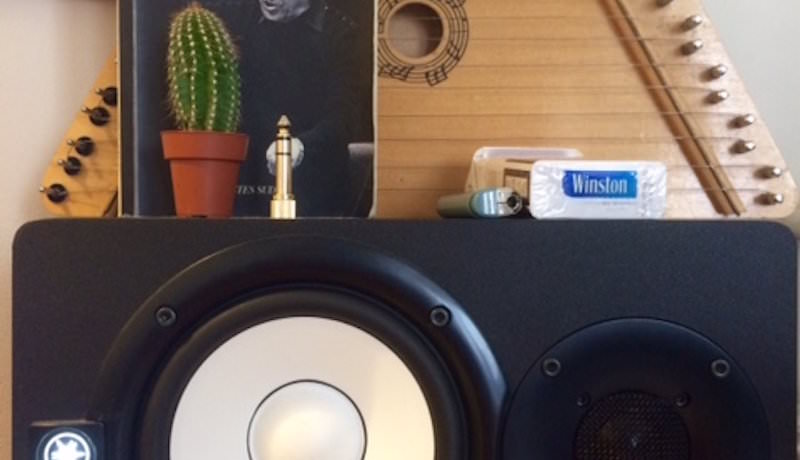 Studio Indispensables
My bible, La musique n'est rien (from the famous conductor Sergiu Celibidache), cigarettes, the mini jack adaptor that you always lose, and a cactus.
Roscius's WMD#2 EP is out now on Muta. Find him on Facebook, Twitter and SoundCloud.