Holed up in Iceland surrounded by hardware, acid maestro Chevron gives us a tour of his studio.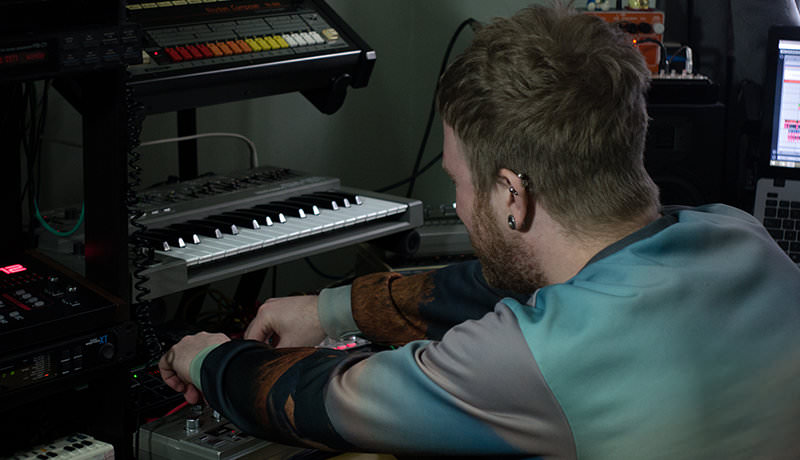 Chevron – My Studio
My studio is at home, in Reykjavík. It's a small box room with the equipment lining the walls, so I get a pretty good sound in there. My instruments all have ins and outs connected to patch bays. This way, I can patch everything into and out of my Antelope Zen Studio audio interface. This interface is great – it has twenty analogue inputs, and eight outputs, which are all connected to Ableton Live. I use Ableton as my mixer and to record everything.
The communication, i.e. MIDI etc., is all handled by a Roland SBX-1, Midiman 1×4, Touchprone Sync 24 and the MOTU MIDI Express XT, which has eight inputs and eight outputs. This enables me to mix up my work flow without having to rewire.
I monitor with Adam A7s or my Audio-Technica ATH-M50 headphones if the neighbours are in bed.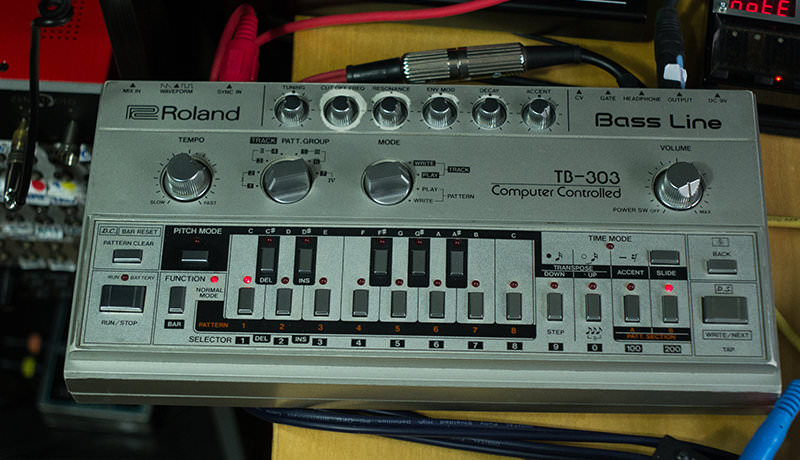 Roland TB-303
I've made a lot of music with the Roland TB-303 over the years. It's a grand machine for laying down instant soul or a quick dose of complete insanity. Being very portable, it is perfect for my live show.
My machine has had a sex change so it can receive and play MIDI. If you connect it to and from Ableton, you can use the 'note length' tool to give it more snap, whilst retaining the sequencer's unique flavour. However, I mainly like to use its sync-in to program my own patterns.
Another nice touch is the transpose feature, which provides me, a technically inept keyboardist, with a feeling of virtuosity. Listen to it here: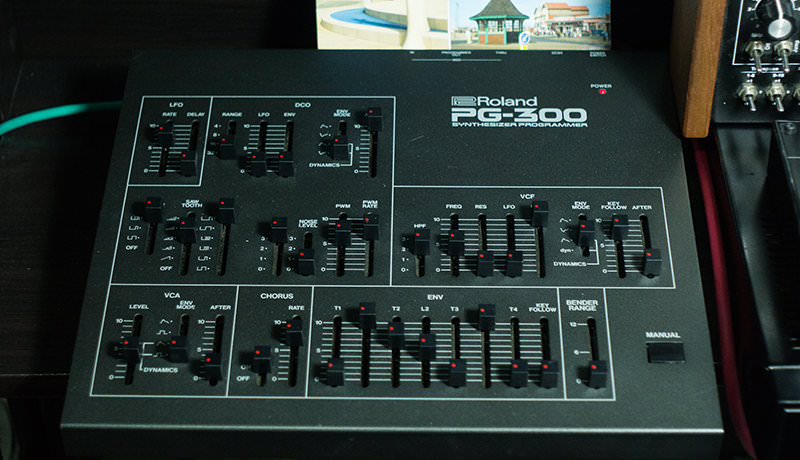 Roland MKS-50
It always seems to be snowing when I use this synth. A rackmount Alpha Juno that comes to life when used with its PG-300 controller.
My favourite feature has to be its chord memory. This allows you to play a chord, store it and then it play it across each key.
It features a great sounding chorus, a dedicated pulse-width rate control, a choice of aftertouch routing options and a noise level control for extra snowiness.
Here it is used alongside Uncle 303 and Aunty CR-8000 on the Wrong Music Japanese Tsunami Appeal Compilation: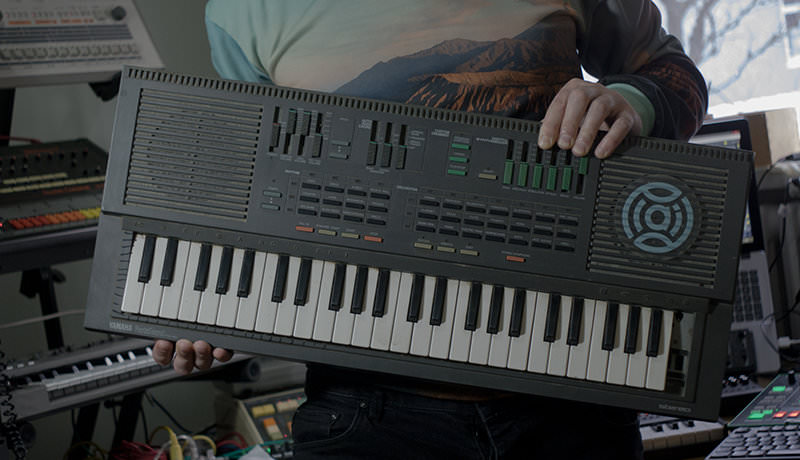 Yamaha PortaSound PSS-460
Way back when I worked in a restaurant, I put a sign up in the staff room advertising for free synths and someone gave me this Yamaha PortaSound PSS-460. It wasn't until one day, when Ed DMX popped by, that I realised its full potential. It features a programmable drum machine and FM synth, along with some backing chord and bassline accompaniment features. I particularly like the brassy sounds it makes, which I used recently on my remix of 'Peter and Mary' by Radioactive Man. Check that out here.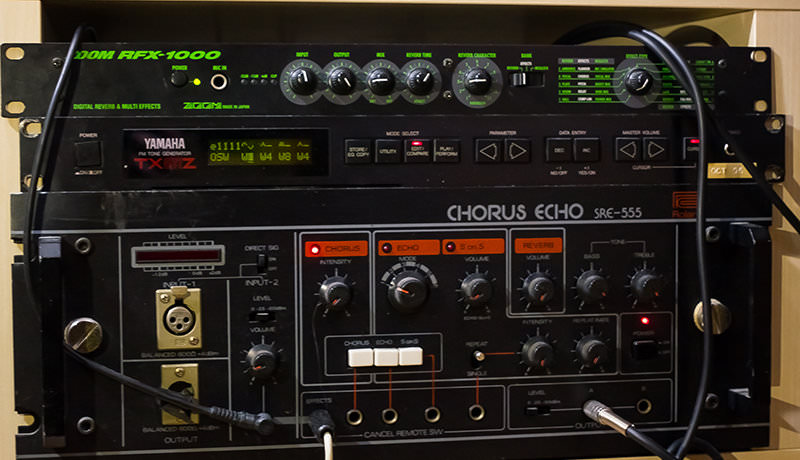 Roland SRE-555 Chorus Echo
This brilliant analogue tape echo has three heads that can be used either alone, for various delay lengths or, in combination, for slap-back delay sounds. The 'sound on sound' feature allows you to build up feedback to incredible levels.
Additionally, it features a wonderfully metallic spring reverb and a very warm analogue chorus that Roland do so well.
It is all wrapped up in a handy rack mount so you can change the tapes really easily. This is the absolute king of my effects arsenal and I use it on almost every track. Listen here.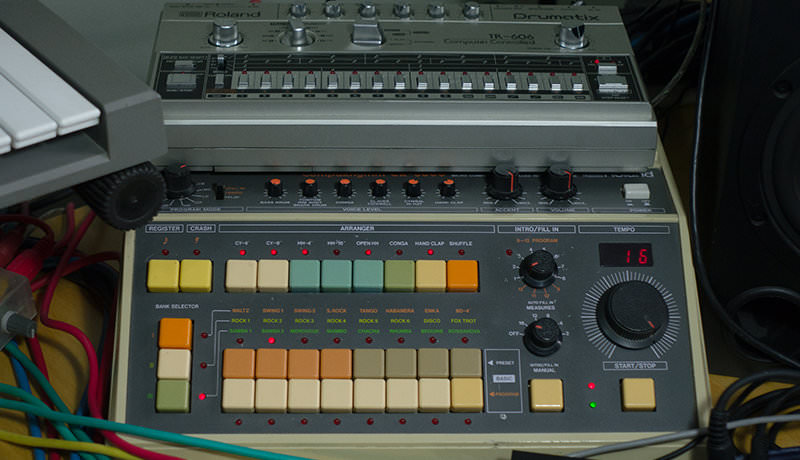 Roland CR-8000
The CR-8000 has my favourite clap on any drum machine. Its cowbell is very similar to the TR-808 and I love duelling them together as they have slightly different tunings.
There is a cool trick where you can mash up between two patterns by connecting the trigger out to the register in. I would love to know if it's possible to program the clave.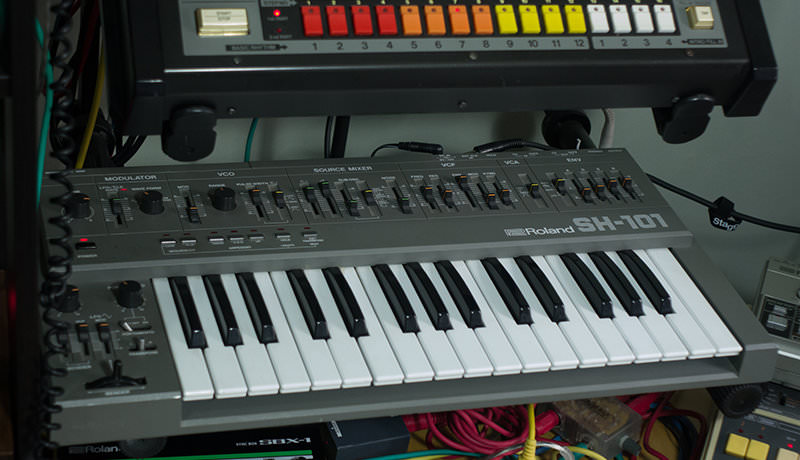 Roland SH-101
This synth is a great all-rounder so you can easily make whole tracks with it.
It's good for percussion; snares, kicks, hats, zappy sounds. Terrific for acid and for all kinds of basslines. Add some portamento, mess with the pulse width, it just gives you those uplifting rave moments from back in't day.
The best features for me are the transposable sequencer and arpeggiator, which turns you into Philip Glass in an instant.
Listen to it in action here: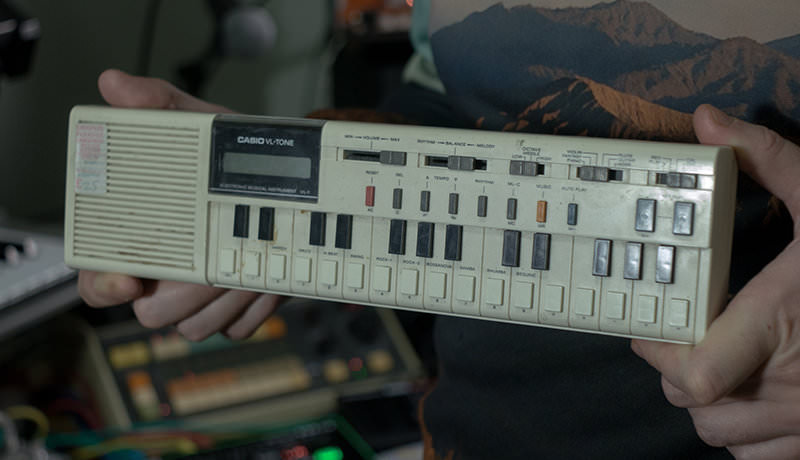 Casio VL-Tone VL1
I picked this up for £25 in Snoopers Paradise and it has always been a studio favourite.
Famously used by The Human League and German new-wave band Trio, this beauty features a sequencer, rhythm section and a synth, which is programmed by entering an eight-digit code. It doubles up as a calculator so you can work out your taxes on it.
I used it quite heavily on the track 'Guilt Without Reason' from my recent Planet Mu album Lifeshake, hear that here.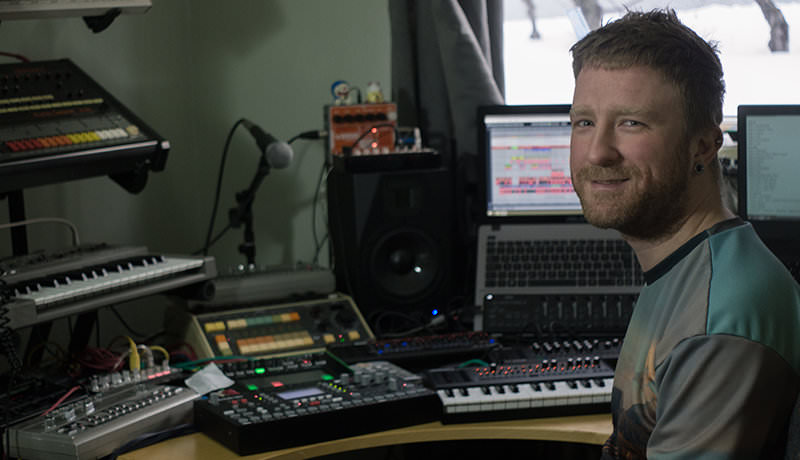 Chevron Live Show
When I play live I take quite a bit of gear with me. However, as stuff in recent years has gotten very portable, it is no real effort to carry a lot of stuff to a show.
My Roland TB-303 (with a Roland TR-606 input), Roland TB-3, Korg Volca and Roland Boutique (whichever ones I feel like using at the time) go into my Octatrack's inputs.
I use the Octatrack as a mixer, sampler, effects unit, beat rearranger and DJ tool.
The outputs are all fed into my TR-8 so I can use the scatter and sidechain on the whole mix. This way I can have live improvisation with basslines, drum machines, polysynths and breakbeats and if it all goes wrong, I can cue up, mix in and mash up a pre-recorded tune or two.
Here is a little jam I did like this: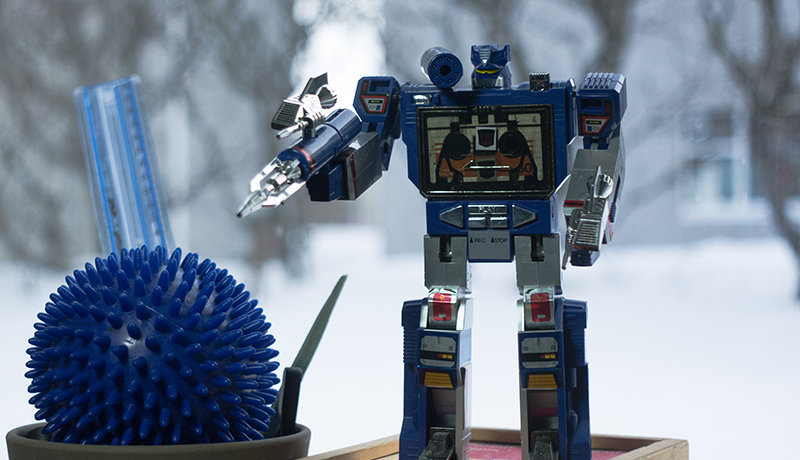 Hasbro Generation 1 Soundwave with Buzzsaw
I've always had a soft spot for this guy. This electrolarynxed alien tape machine soldier comes with an arsenal of anthropomorphic tape cassettes. Totally badass!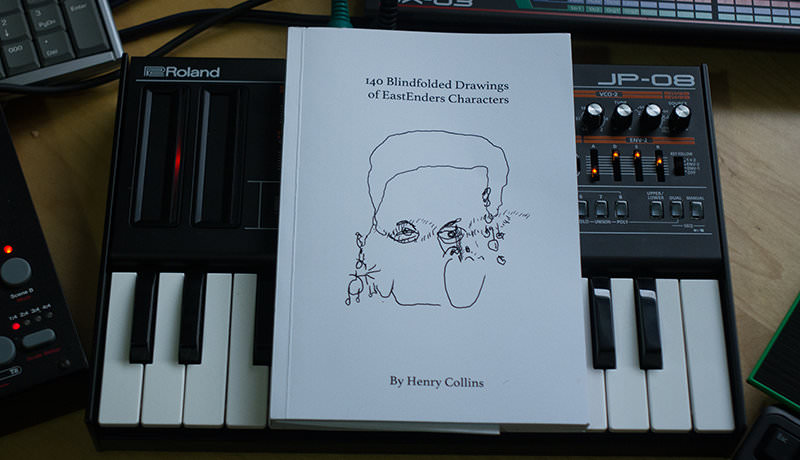 140 Blindfolded Drawings of EastEnders Characters
My mate Henry recently sent me this book. It is missing Samantha Mitchell, so there is space to draw her in the back.
Chevron's new album will be released by Balkan Recordings this spring, on a gold bar USB stick housed in a jewellery presentation box. Find him on Facebook, Twitter, Bandcamp and his personal website.