Italian producer Alexander Robotnick shows us his studio containing a few vintage gems.

Alexander Robotnick – My Studio
Here is my studio…only the decent parts 🙂

Rack
My outboard rack. At top you can see the Roland Space Echo and the Korg Stage Echo. At the bottom a 16 channels summing box, built by Ludus Pinsky.

Wasp and TB-303
The Wasp and the TB-303 are my friends for a life. I used them for the first time in 1982, and I'm still using them today.

Oberheim Two voice
The Oberheim Two Voice. It's the princess of my setup. Very old (as are most of my synths) and still living. Kind of a miracle!

Vermona DRM1
The Vermona DRM1. Quite a rare drum machine. I love to play the hi-hat live, acting on decay and filter. I bring it with me when I play with The Analog Session, and the technicians always wonder "what the f..k is it?"
It's Russian…uhmm..very dangerous in the present time..

Motu 24 I/O
Two MOTU 24 I/O interfaces. One of them sends the signal to the Ludus Pinsky's summing box. It's a solid system with not many issues. Having many outputs allows me to control the CV-Gate of my analogue synthesizers. To do this I use Silent Way by Expert Sleepers. It runs on Cubase 8.5

My Bag
My bag and my present torment. I know it's not totally extraneous to my instruments when I have to go to play, but I feel it is the enemy of my studio.
Alexander Robotnick's 'Early Morning Raga' is released November 5th 2018 via Hot Elephant Music.
Find him on Facebook and SoundCloud.
While you're here you may enjoy these posters...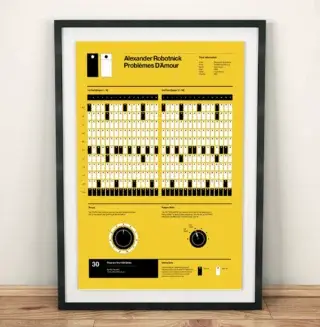 Alexander Robotonick: Problèmes d'Amour Poster
A criminally overlooked bonafide classic! Happy programming!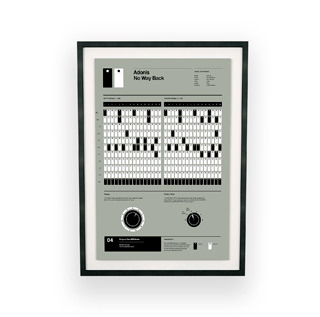 ADONIS – NO WAY BACK
From Chicago to the world, Adonis was just 19 years old when he crafted this huge Trax label hit "No Way Back" in. In this poster, artist Rob Ricketts has designed the famous pattern to "No Way Back" so you can now get the claps, clav and cowbell just right!