From Defected to Disclosure, the live-streaming site has stealthily become a viable platform for music, with artists and labels alike using it. How did this popular gaming platform change its tune?
COVID upended everything. We're still dealing with the ramifications of the virus but one thing that hasn't changed is the desire to consume music. However, due to access to public spaces being restricted, many are now getting their music online via live streaming platforms such as YouTube and Mixcloud.

One site that has become more popular for DJs and electronic music producers is Twitch. Since COVID it's emerged as a competitive live streaming platform, attracting both artists and labels. But isn't Twitch a gaming platform? What are Disclosure and Defected doing on a games site?
From Gaming…
Twitch launched in 2011 with an initial focus on video game streaming. "Twitch was 100% purely a live streaming games site when conceived," said Jonathan Simpson-Bint, Twitch's Chief Revenue Officer from founding until 2018. "Music was a long way from anyone's thoughts initially and Twitch only really became a broader site as time went on and as the community began to try out different streaming ideas on their own."
The incorporation of music, however, started from the bottom up, with some broadcasters playing music while streaming their game playing. "Over time, Twitch management became aware of this and so began doing some experiments and exploring whether music was a viable part of the platform."
…To Music
It clearly was. However, getting the music side of things up and running wasn't so simple. "Unfortunately, initially rights holders would not play ball at all with Twitch," explained Simpson-Bint, "and so the development of live music streaming on the site was held back for a long period of time – despite the clear interest of the huge community."
Now up and running with music, Twitch is also attractive to music-based broadcasters because it pays out. "One of the key reasons that musicians were keen to use Twitch was that Twitch paid broadcasters," said Simpson-Bint. "This was in stark difference to the core music sites like SoundCloud and Mixcloud who, at the time, had no viable path to revenue for uploaders." While this is changing, with competitors now paying as well, Twitch continues to be attractive because of this model.
A recent data breach on the site revealed just how much some music broadcasters were being paid by Twitch. The top earner, The8BitDrummer, who plays the drums over video game music, pulled in $845K from August 1, 2019 to October 1, 2021. House producers Disclosure, who are a little closer to our demographic, earned a respectable $26K during the same time period. These earnings come from channel subscriptions, ads and Twitch Bit donations, virtual tokens that broadcasters can exchange for cash. While the vast majority of broadcasters make under $1k a year, the potential is still there.
The recent COVID-19 pandemic has certainly helped. With so many people stuck at home but still wanting to engage with music and DJs, Twitch has provided a reliable environment to do just that.
Artists and Labels On Twitch
A strength of the platform is the openness of the formatting. While there are plenty of Boiler Room-style DJ streams, there are just as many that aren't your usual DJ booth cam. Some use a TV model, with variety show-style interviews in between the music. Others feel more like traditional chats, with DJs and artists sitting at a computer and responding to the chat stream. At times it feels a little like the Wild Wild West of broadcasting, with the broadcaster's personality on display as much as the music itself. Broadcasters have set schedules like TV programs, and you can count on them to go live at the same time every week.
Here are some artists and labels currently regularly broadcasting on Twitch.

Disclosure currently stream two shows a week. Their broadcasts largely focus on music production, with breakdowns of their own tracks, edits, remixes and other bits and bobs. It's a low-key affair and a great way for fans of the duo to learn more about their music, as well as to pick up some production tips.

Long-running label Defected Records recently launched a show, BACARDi Spiced x Defected Records Presents: D-Rum Sessions. Episodes are hosted by TV hose and DJ, Maya Jama and feature guests like Kitty Amor, Melvo Baptiste and Spiller, with interview sessions, cocktail mixing and of course plenty of house music.
The interesting angle for BACARDi and Defected is this run of shows is being presented as the 'ultimate party-starter". I.E join us on Twitch and see where the night takes you. With Facebook recently rebranding to META and attempting to unify the virtual and the real world, the idea the two can blend is not lost on brands and Twitch. The format is also worth noting. It's not just DJing and not just production. They're trying new things. The format is wide open and that's exciting. They can try new things.
Not to mention, where people flow brands tend to follow. BACARDi has been quick to harness the marketing potential. Whilst they might not be able to serve you a digital rum n coke, their association with Defected on Twitch reminds us of the good times associated with live music and its recent post-pandemic return. And what better location than Defected's new HQ capitalising on over 20 years of success in a difficult industry? Time to pop those BACARDi bottles in celebration.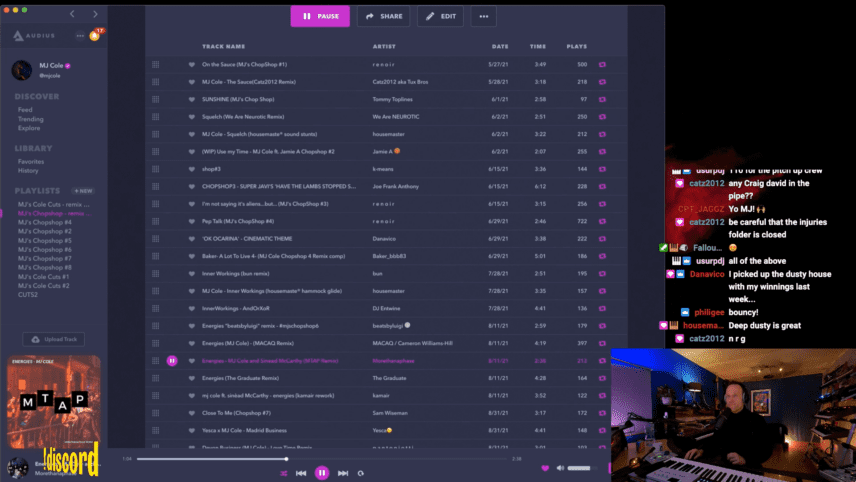 UK garage pioneer MJ Cole has a channel focusing on music production. Streaming once a week, Cole often creates music with no agenda, taking viewers along for the ride.

New York house legend Roger Sanchez streams regularly, usually from the DJ booth. He also does chats where he talks about the tracks in his Rekordbox. Some videos are available to subscribers only.

Claude VonStroke's leftfield label Dirtybird has an interesting mix of shows, from DJing in the booth to yoga (yes, yoga). Think old-school cable access shows with booty bass.
A Platform To Watch
The music side of Twitch is still evolving, and this is both a good and bad thing. It's exciting in that the format is wide open. You can get a traditional in-the-booth experience from Roger Sanchez, music production advice from Disclosure, and yoga from Dirty Bird. There's also lots of up-and-coming content worth watching, like HeyyRiggs, who plays trip-hop and lo-fi while talking about beer.
The main issue right now, however, is Twitch is still very much a gaming site. Despite some music streamers earning decent money, the top-earning gaming personalities are pulling in 10 times the music broadcasters. The focus is on games, even when it's a music channel (see The8BitDrummer, above). However, Twitch seems open and welcoming to music, so there's room here to grow.
Finally, it can be hard to find the types of broadcasters that you want. There are broad categories like music but there's seemingly no way to search by music genre like UK garage or techno. There are recommendations based on what viewers of a channel also watch, and this can be helpful, but finding new broadcasters can be like stumbling around in the dark. You have to know what you're looking for going in.
Despite these minor issues, Twitch is a platform to watch – literally and also going forward. According to the article, How much are artists really making on Twitch?, "In the context of Twitch, live streaming at its most productive is not just a stand-in for live shows, but rather an entirely new form of social media that requires nurturing for the long term." It's never going to be a replacement for clubs and live events, although it doesn't need to be. It's its own thing and there's clearly a place for it at the entertainment table.