To mark the instruments centenary, we spoke with theremin performer Carolina Eyck to hear how she developed her craft whilst collaborating with techno producer Eversines.
German-Sorbian musician Carolina Eyck has grown into one of the most respected theremin performers having performed in the most pretigious concert halls worldwide. As a global ambassador for the instrument, she has also developed a unique way of of tuning it. To mark its centenary, Carolina decided to move out of her traditional circle and teamed up with producer Remco Hazewinkel, a.k.a. Eversines, to create the record Waves. We spoke to both producers to find out how the theremin's eerie tones complimented the ambient techno of Eversines.
Carolina Eyck was six when her parents first bought her a theremin. "They wanted to use it for their band but it's quite a difficult instrument to play" she explains, "so they were wondering who would have the time to learn it. That's why they asked me to start so young."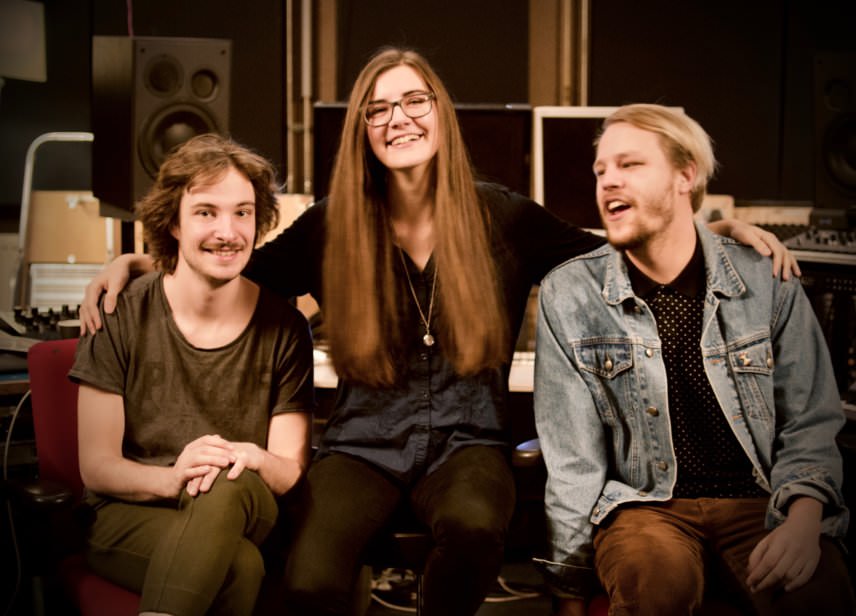 Growing up in East Germany, it wasn't always easy for Carolina's family to get their hands on synths for their band. "They would ask friends who were travelling to bring home mixers but they wouldn't understand what they meant, so they'd bring home a kitchen mixer."
The theremin isn't native to Western Europe. The world's only non tactile instrument finds its roots in Russia around the time of WW1. It was a student of physics called Lev Sergeyevich Termen (Western name: Léon Theremin) who was forced to work on transmitters and radio-technology by entering the Military Engineering School in 1916. Years of study followed, and what started as experiments on the influence of a human body on electrical circuits grew into the instrument we now know as the theremin. He patented the instrument in 1928.
After a century of synth building, the sound of the theremin is no longer unique. It can be imitated and its development has been steady. The instrument sparked Robert Moog's initial interest in playing around with electronics. In the introduction to Theremin: Ether Music and Espionage, Moog says: "Leon Theremin has been my hero and virtual mentor for most of my life. I became a designer of electronic musical instruments because of my fascination with the theremin. I first learned about the theremin over a half-century ago, from a do-it-yourself construction article in an electronics hobbyist magazine. Back then, it was easy to be an electronics hobbyist. A circuit for a typical project contained maybe a few dozen simple parts, which you could purchase at a radio parts store for a few cents to a few dollars each."
The days of the electronics hobbyist magazines are long gone but the DIY approach to creating electronic music hasn't faded. "Pieter (yeyeh label boss) reached out to me about making this record" Carolina tells me over the phone. "He wanted to celebrate the 100 year anniversary of the instrument, and I told him I'd love to work with an electronic producer who's creative and understands the process of the instrument. A while later he sent me Eversines' music and I loved it right away. I had never manipulated the theremin's sounds digitally before. Normally I would just sit down with my effect panels. It's a totally different world when using digital effects."
For Eversines it was the first time he encountered the instrument: "It was interesting to work with Carolina because I didn't know anything about the theremin. At its core it's a synthesizer. But because you have such an intuitive way of playing it, it can sound like a voice. Although working with the theremin wasn't like working with vocals at all, you can still really hear the human behind it." Quite literally, the human behind it and the entire environment of the instrument influence the way it's played. You can see from this video how Carolina tunes it. It's not just her body and positional relationship to the instrument, but the entire makeup of the room that impacts how its tuned.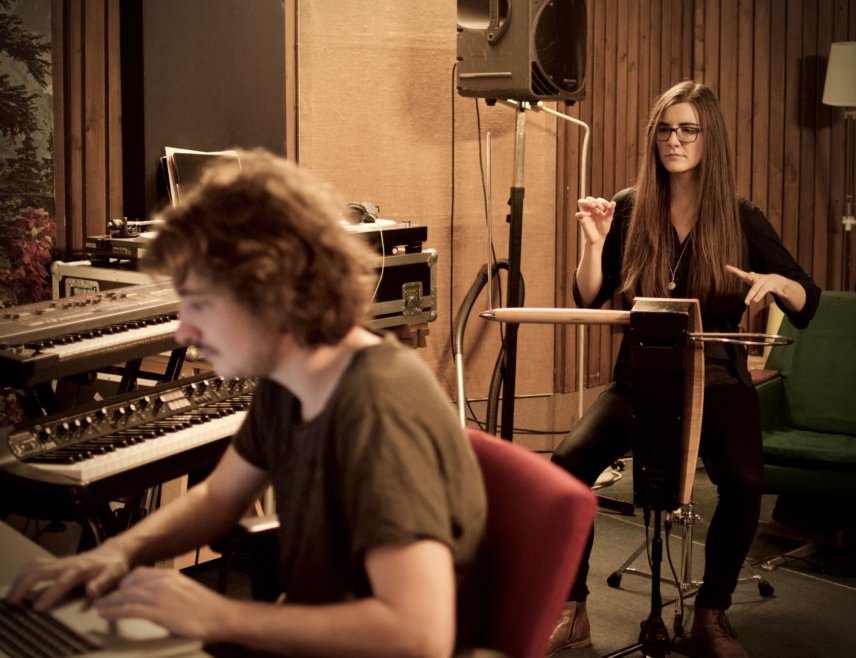 Eversines, who would normally work with synths like the Korg Arp Odyssey and Yamaha AN200 Sampler, now had to work just with Ableton. "When we started out I was afraid it would be hard to work with just the theremin and your voice and to not even secretly layer something underneath, because I'm so used to doing that in my own work", Eversines says. "But it wasn't allowed and it turned out that we didn't need any extra sounds to create depth in the song. Even for a bassline I asked Carolina to use a very low note and with added audio effects it worked."
Robert Moog: Leon Theremin has been my hero and virtual mentor for most of my life.
He continues: "Normally I don't work with a refrain/couplet structure though. I feel like when you do that in electronic music it becomes cheesy. But because we were limited to just Carolina's voice and the theremin for this project, it was a chance for me to work with those poppy aspects. Because Carolina comes from a very different background, having played in orchestras, we had to meet each other somewhere in the middle." On Waves this translated to tracks such as Reflections "I chose a pretty complicated bar number there which I wasn't really aware of" Carolina says. "It sounded natural to me. But then it took Remco and me a while to figure out how to put the bass line below it which we wanted to be pretty straight. It was only after we finished the piece that I wrote down the score and the bar I came up with was 3 measures of 7/16 and 1 measure of 4/8."
Another distinctive feature of this album is the combination of the theremin and Carolina's voice. Listening to a track such as Waves it's sometimes completely unclear which sounds are created by the theremin and which come from Carolina's vocals. "You can't really tell which is which on that song" Carolina says. "The idea is to give the theremin something human with the voice and give the voice something distant with the theremin. The theremin plays the role here as a background choir. We created chords with the sounds of the instrument." Blurring the boundaries between human and instrument, the approach is much like how the instrument itself is played: by finding a connection between the instrument and the body by moving closer and moving away.
The common description of the theremin as a 'distant' sound is interesting in this context. Well known for the eerie sounds that it can create, theremin music can sometimes sound like scary movie soundtracks. The critic Harold Schonberg described the sound of the theremin as "a cello lost in a dense fog, crying because it does not know how to get home." That sentiment also reflects the way it's played: through the whole body rather than by pushing a snare, drum or button with merely a finger. In an overwhelming world of synths, the basic features of the theremin might stimulate the mind to create a sound that comes from the body.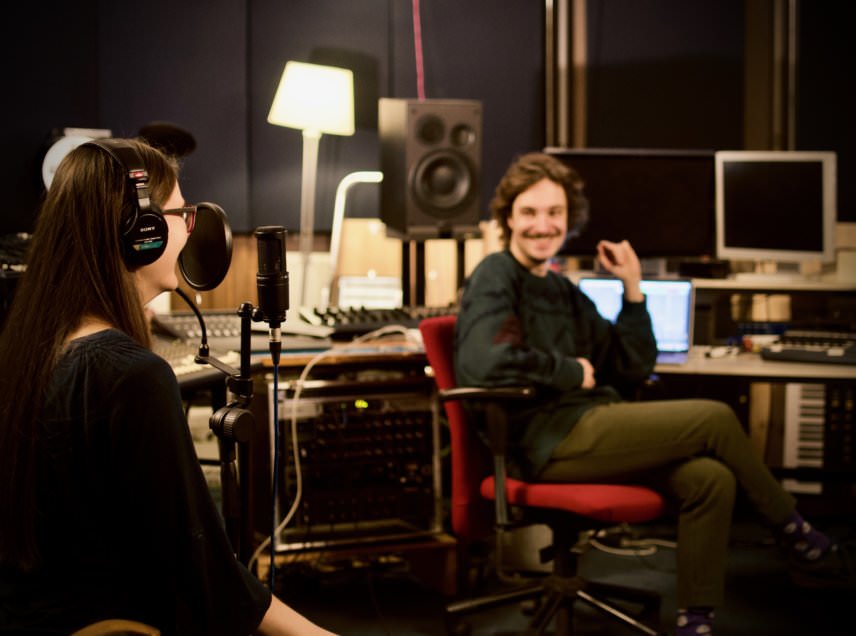 But Remco doesn't think the limiting factors of using just one instrument was what made their sessions with the theremin so interesting: "There was so much creativity going on. It's hard to tell exactly where it comes from. I'm happy we stayed with this limitation. It asks you to come up with solutions that you would otherwise just reach for something you know."
In recent years, seeing the instrument pop up in such places as Object Blue's instagram, or even as the curiously named label Lobster Theremin suggests it continues to inspire young producers and long may that continue. Perhaps, collaborative projects such as Waves will play its part in extending the longevity of the instrument whilst simultaneously inspire musicians to learn its craft.
Carlina Eyck's collaboration with Eversines is out on Pieter Jansen's label yeyeh. The album was produced and mixed in OT301 studios Amsterdam.
Photography by Roman Eyck.
Emma Van Meijeren is a journalist based in Holland. Follow her on Twitter.