Once described by Tony Wilson as having "all the energy of Joy Division but with better clothes", unsung heroes A Certain Ratio celebrate 40 years on the floor. Dave Simpson sits down with the band to relive their catalogue.
Manchester's A Certain Ratio are remembering the time they had a young Madonna as their support act at New York's Dancetaria club in December 1982.
"Madonna walked in and the first thing she did was tell us off," grins drummer Donald Johnson. "She said, 'All your gear will have to be moved.' It had taken us an hour and a half to set up. We were like, 'No way is this going anywhere.' It ended up in a massive argument." Another chuckle. "I've liked her ever since, because she stood up to all these guys."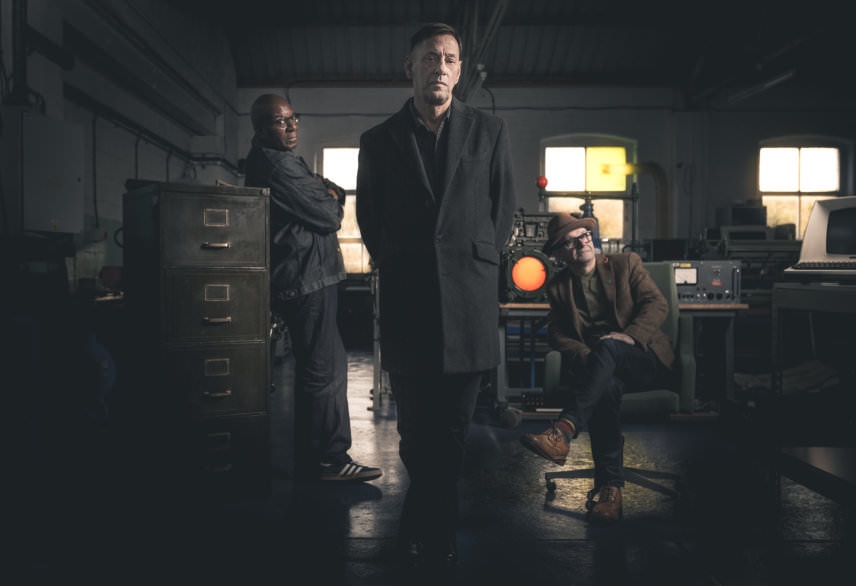 ACR have lots of stories like this, but few are as remarkable as their own. The Factory Records/Manchester dance music legends were portrayed in the film 24 Hour Party People and had a fan Joy Division's Ian Curtis was a fan. Their pioneering "punk funk" never gave them a hit (although a cover of Banberra's Shack Up made the US dance charts in 1981) but they have been highly influential. The trademark ACR punky-funky sound can be heard in bands from the Red Hot Chili Peppers to the Rapture; when James Murphy was recruiting musicians to form LCD Soundsystem, he told them to listen to Ratio's 1979 cut Do The Du for guidance.
This month, ACR celebrate their 40th anniversary with a box set and their biggest ever tour. After years of racing forward – often to their commercial detriment – they're taking a pause with us to look back over 40 years as the cult dance "Mancunian funk machine", who have outlasted many of their peers.
People would come expecting to hear our new album and instead we've played new songs we just wrote that week. It's been like that for 40 years.
"If we'd had a hit, I'm not sure we'd be still together and talking to you now," says guitarist/trumpeter Martin Moscrop, at the Salford studio where they are working on new material. "Record companies would have demanded more of the same, which is not what we're about." He chuckles. "People would come expecting to hear our new album and instead we've played new songs we just wrote that week. It's been like that for 40 years."
THE SOUND
In the beginning – because they'd been that bit too young for punk – the idea was to fuse post-punk group Wire's choppy guitar sound with Brian Eno ambient noise, and George Clinton/James Brown funk. The latter components were difficult without a drummer. The initial ACR line-up on Factory debut single All Night Party featured Moscrop and Peter Terrell on guitars, Jez Kerr on bass and Simon Topping on vocals and noise generator (essentially a synth with no keys, built for him by a mate). However, Granada TV/Factory man Tony Wilson (so affectionately spoofed by Coogan in 24 Hour Party People) had started managing the band and heard whispers about Johnson, who'd progressed from drumming with his mum's knitting needles on the sofa to being talked about as the "funkiest drummer in Manchester." Wilson made the introductions, and ACR had their groove.
"I was a big Tony Wilson fan from watching him on the telly," smiles Johnson. "He put on Iggy Pop and Debbie Harry in thigh length boots on at 6.30pm before the watershed. He came round to my house and sat in the kitchen telling me about ACR. When I went to their rehearsal room in Stockport, I hadn't heard a note of their music, but after hearing their rhythms, I played along. It just clicked organically from that point."
THE LOOK
ACR's distinctive chic has been almost as significant as their music. In the beginning, they favoured a 1940s, austere look – demob suits, white shirts, and motorcycle boots (for Topping, who had a trials bike).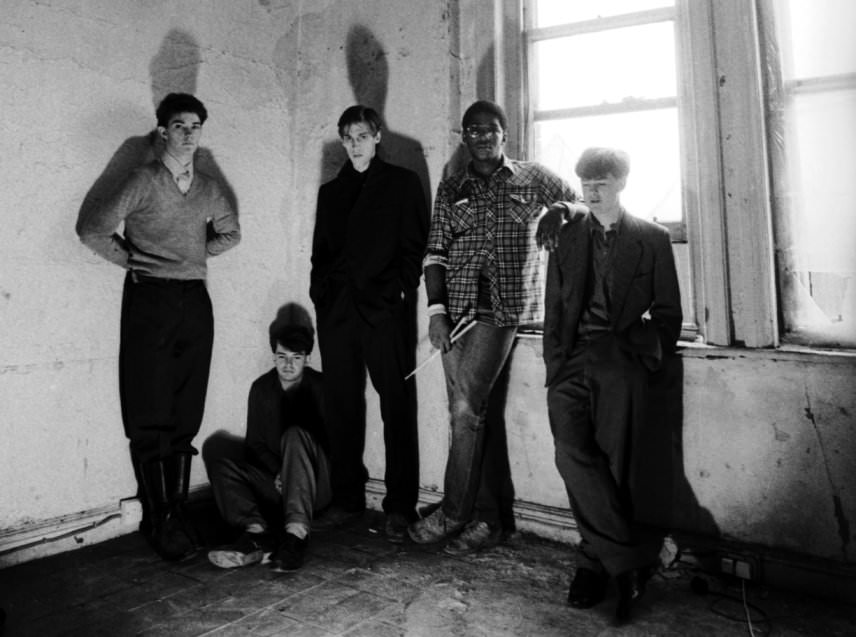 "There was a big warehouse in Manchester full of unwashed secondhand clothes," remembers Moscrop. "It stunk like anything, but there were all these suits issued to soldiers after the Second World War. In the late 70s, charity shops in Manchester were full of them." In the 80s, ACR adopted a more military look, inspired by Bristol peers The Pop Group – the so-called "desert rats" chic once sported by British WW2 troops under Field Marshall Montogomery. "Andy Weatherall [a longtime fan] calls it the 'Ain't Half Hot Mum look'," chuckles Moscrop. Fans have also copied the band's whistles – band and audience tooting along together to tracks such as Si Firmi O Grido is quite a spectacle. "There's an element of the fanbase that follow us around, the ACR Barmy Army. When we played in Liverpool recently I saw this guy that looked like Andy Weatherall, going nuts in the front row. I bumped into him a few months later and asked, 'Were you right at the front at our Liverpool gig?!" and he was!'"
THE CATALOGUE
ACR's ace Factory debut long player paired them with legendary Joy Division producer Martin Hannett, for this set of pioneering monochrome funk and the classic 1980 12", Flight. Does that distinctive circular drumbeat on To Each's track Winter Hill really resurface 10 years later on the Stone Roses' I Am The Resurrection?
"People tell me that all the time," smiles Johnson. I've never asked Reni [The Stone Roses' drummer]. I probably should."
"The Roses used to come and see us at the Hacienda," says Moscrop. "They were at the front."
What was working with Hannett like?
"You've got to remember that he was off his head a lot of the time. He used to smoke neat hash joints, take heroin and drink a lot, so studio sessions would be quite drug fuelled on his part. He'd give you these weird commands, 'Play it faster, but slower.' But in a way the confusion helped what he was doing. So we sound funky, but really weird!"
While recording To Each in New York, the band went to lots of Latin gigs, absorbed American black music and bought the percussion instruments behind another giant leap. With Kerr now becoming lead vocalist (Topping having followed his heart and a girl to NYC), Sextet's esoteric, dreamily erotic avant funk also features the hazy, heady vocals of Martha "Tilly" Tilson. Lucinda, Skipscada and fan favourite Knife Slits Water feature in setlists to this day, and the album was their second indie No. 1, even scraping the national chart (at 53).
Moscrop: "Sextet captured what was in our heads at the time. It was us trying to be jazzy, but with Tilly's angelic voice. She came to see us in New York, came back to Manchester to see Jez and ended up doing the vocals."
Johnson: "I still hear this sound all over the place. I'll hear something new and think, 'Is that us?'"
I'D LIKE TO SEE YOU AGAIN (1982)
With Sextet barely in the racks, ACR shapeshifted again: to minimal, slightly jazzy, precision-cast funk.
Moscrop: "If we came up with something in the rehearsal room we'd want to play it straight away. So in 1982 we were playing whole sets of unreleased stuff that ended up on the third album. We were anti-promotion and anti-entertainment, and never liked using our own clichés. If a song became popular, we wouldn't write another one like it."
Johnson: "We weren't thinking about being commercial. We were thinking about writing great songs."
We were anti-promotion and anti-entertainment, and never liked using our own clichés. If a song became popular, we wouldn't write another one like it.
Many a fans' favourite, including perennial club hits/live favourites Wild Party and Mickey Way (The Candy Bar). A change of equipment produced a perfect collision of ACR's experimental and pop sensibilities. Powered, as ever, by Johnson's killer grooves.
Moscrop: "In the early ACR stuff we used a clavinet and a Multimoog, and then we got a ETI Powertran kit vocoder. When Andy [Connell, keyboards] joined we got a Fender Rhodes and a Yamaha DX7, and had the Moog going through the vocoder. We ended up with three vocoders. Andy was really into [jazz funk fusion band] Weather Report, who used them, so he was like 'Wow.'"
Their dance-pop major label debut for A&M still divides fans – and the band!
Moscrop: "I hated Good Together – it's very smoothly produced – but I appreciate it more now. I think we thought we'd make a more commercial record, but it did the opposite [laughs]."
Johnson: "I love Good Together! It was us setting out to do something but ending up with something else, which is very ACR."
A mid-period classic: at the height of Madchester and acid house, ACR embrace electronica.
Moscrop: "When we signed to A&M we invested the money into a studio, Sound Station. ACR:MCR was a reaction to all the money spent on Good Together. We had 808s, 303s, 101s, all the acid stuff, which came out strongly on that album because the studio didn't have a live room and a control room, so it was really hard to record live drums. It cost virtually nothing: we used our own studio and charged A&M for the studio time to record it [laughter]."
UP IN DOWNSVILLE (1992) / CHANGE THE STATION (1997)
ACR go indie again, courtesy of New Order manager Rob Gretton's prosaically named Rob's Records. The Jon Dasilva-remixed 27 Forever was another dancefloor smash.
Johnson: "Rob was always there for us from 1979. Whenever the bailiffs came round he'd send them away. When he started his label he said, 'You can't be a record company if you haven't lost money on ACR [laughter]".
Moscrop: "Our first album for Rob's was actually the demos for the next A&M album. They came to hear what we were doing and we played them Manik, really loud, showing the uncommercial side of ACR. We wanted to see their faces. I think that track made them drop us [laughter]. It was a relief, really. After Rob died [who died in 1999, aged 46], we spent several years not really doing anything and then Soul Jazz asked us to do a compilation [Early, 2002] and play a gig at Electrowerkz in London. We started practising the old tunes, and thought, 'They're really good, aren't they?!"
ACR's last studio album was Mind Made Up in 2008, but now, old meets new as an exhaustive box set brings together classics, demos and unreleased gems. Their inimitable cover of Talking Heads' Houses In Motion is already gaining radio and clubland traction. In 1979, both bands toured together – and probably influenced each other.
Johnson: "[Talking Heads' singer] David Byrne stood at the side of the stage watching us every night. And lo and behold then they did [the much more funk-based] Remain In Light."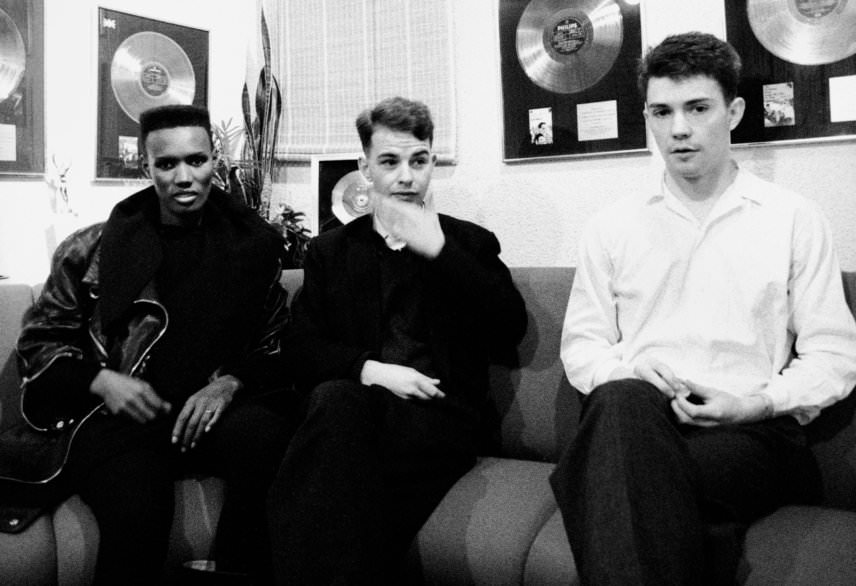 Moscrop: "But they influenced us as well. You can't help but be influenced by bands you play with, like we were by The Pop Group. Talking Heads were really nice to us: gave us full use of the PA, lights, even a tuner, which was a first for us [laughter]. Houses In Motion was something we originally did with Martin Hannett in 1979, but never finished. We were supposed to do it with Grace Jones and she came down to the studio but didn't sing a note. When [Jones' label] Island found out, it all kicked off. I don't think they wanted her working with Martin Hannett, and before we knew it the whole thing was off."
Johnson: "But then recently we found the original multitrack after 40 years, complete with Jez's guide original vocal. The tape was in a right state but just needed rescuing."
Ahead of their time, as ever: here's to another 40 years.
ACR:Box is out now on Mute. A Certain Ratio are on tour throughout the UK. More information here.
Dave Simpson is a music journalist, author of the book The Fallen (about The Fall) and very amateur drummer. Follow him on Twitter.