DJ, producer and DIY event organiser Furtive recently released their 'Tephra' EP on the label Mild Fantasy. We asked Furtive to introduce themself.
Who are you?
I'm a polychromatic musical conjurer, relentless creative tinkerer and rave world lifer. (Alternatively, in plain English: I'm a DJ, producer, occasional event organizer, multi-medium visual artist, and die-hard raver.)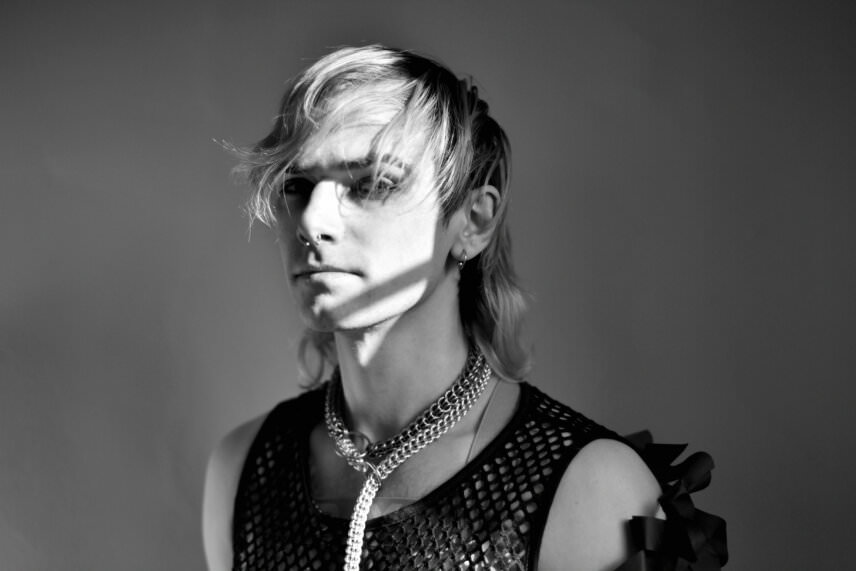 Where are you from?
I live in Philadelphia. I was born and raised in Southern California, eastwards of Los Angeles, toward the Inland Empire. My critical development as a raver, DJ, and producer took place primarily in Washington, DC.
What do you sound like?
My music is texturally dense and kinetic. I like to say that it has a surfactant quality – slippery and rippling, which is perfect for dissolving into. I focus primarily on techno production, but I work in a variety of genres because I find so many different forms of music and sound to be moving and energizing.
No matter what genre I am working in, I emphasize tension, release, energetic progression and just the right amount of melodrama.
Why should we follow what you're doing?
My overall approach to creativity – be it music production, creating visual art, DJing, or writing – is rooted in synthesis. I tend to draw on various disparate influences, textures, and concepts that have inspired me and then try to blend them into everything that I do and make.
Conceptually, it's a bit academic, but the experienced result is colourful, unique, unexpected, and hopefully moving. This approach means that I DJ almost any genre and add little accents and flourishes to my sets that (hopefully) make people move, feel, laugh, dream and cry (or roll their eyes) when they least expect it.
In brief: sincerity, slick energetic progression to pull you deeper into the wormhole, and slightly ostentatious plot twists that might tickle and delight you.
Which of your tracks sums you up? Why?
My track Tephra – the A1 of my EP on Mild Fantasy is a strong example of my intentions. The track is psychedelic and textural, but with a muscular low-end. It's evocative and dramatic and it focuses on building pressure up to an intense sensory peak – a pretty comprehensive summary of what I strive for in my production!
It's also a great example of my approach to bass/low-end sounds – I'm not terribly clever with writing basslines, so I tend to develop really kinetic grooves using kicks and intuitive patterns. The result is a tough-as-nails psychedelic heater that's surprisingly groovy for being such a weapon.
I've been playing versions of this track out for years, so it has been important to my energy management in many sets. I'm so excited to finally have the best, sharpest, richest version of this track come out on vinyl via Mild Fantasy!
What have you got coming out in the near future?
As mentioned above, coming right up is a knock-out vinyl EP on NYC queer and nonbinary label Mild Fantasy – it's been a long time coming and I'm delighted to have these tracks out.
Otherwise, I'm just looking forward to continuing my studio work and finally playing some gigs in the near future as winter-time pandemic anxieties thaw a bit. And keep your eyes peeled for another vinyl EP coming out soon.
What or who is your biggest influence and why?
Broadly speaking, the real-deal American underground has influenced and inspired me more than anything else as a producer and DJ. I am absolutely uplifted, inspired, and energized by the relentless hard work of my peers to both push the boundaries of techno-adjacent artistry and to establish, sustain, and nourish new projects, parties, spaces and ultimately communities.
What have you released so far? What else have you got coming out in the near future?
I have a decent catalogue of self-released material on Bandcamp, which spans a whole slew of genres from ambient and electro to techno and drum & bass.
I also have a raft of EPs and tracks on both US and international labels (including Warok Music, Metro Xpress, Format Recordings, ROOM, and a few more), plus a slew of tracks in VA compilations.
How did you get into DJing/ producing to begin with?
Since I was much younger, I've always been captivated by how little moments in songs could evoke incredible emotions and manifest intense energy. I suppose my interest in DJing comes from a desire to evoke magical moments for other people.
My production is a natural extension of that intention while also satisfying a much more primordial, creative desire to create and play with textures. Practically speaking? This involves tons of background research, trial and error, false starts, accidental successes, messing around, collaborating, and hard work.
What are three things on your studio shopping list?
About 98% of my production is "in the box" (meaning solely in the computer), so this might not be the most exciting list: a powerful new computer with heroic processing power, an upgraded monitoring setup – better and additional monitors for multiple, nice-sounding profiles, and definitely a sub (maybe something fancy by Focal or Adam Audio).
And one day, hopefully, a powerful, glitzy flagship poly-synth as I'm a huge fan of Arturia's Polybrute in terms of creative features, sound, and architecture – It's Definitely a wishlist item.
Who or what have you sacrificed for your art?
To give an unnecessarily vulnerable answer: I think my ambition and enthusiasm have sometimes been a double-edged sword. My occasionally clumsy, overzealous eagerness to try new things, explore new ground, make new connections, find special opportunities and build things in a "scene" has resulted in stepping on a few toes over the years.
While I'm incredibly proud of the work I have done, the connections I have made for myself and for others, my general willingness to collaborate, uplift and sweat for the local underground, plus my own dreams. I just wish it didn't entail a few burnt bridges along the way.
What's been your favourite place to play so far?
Honestly, I haven't played in many "proper" clubs. Underground, off-the-books spaces where DIY parties happen are the most exciting to me, but it's less about any particular space so much as it is about the energy and incredible crowds that are genuinely dedicated to the local scene and the music.
The warehouse spaces in Washington, DC where I helped organise raves had unbelievable energy like this, and recently I played a terrific Halloween party in a Philadelphia auto shop with a similar ready-for-anything vibe.
Where can we hear your music?
Bandcamp, Soundcloud, and soon enough, I might be heard on your turntable.
What one song would feature on the soundtrack to your life?
Bladee x Ecco2k – Obedient. This track has both full-tilt energy for dusky euphoria, bittersweet smiley wistfulness, belting lyrics with friends, and sunglasses-on-at-night edginess.
What motivates you?
Broadly speaking, I'm mostly motivated by the magic that happens on a dancefloor. The beautiful, transcendent, unhinged, tongue-out, wiggly moments where we lose and find ourselves in front of speaker stacks, under disco balls, in the fog.
I'm motivated by seeing strangers smiling with their eyes closed, feeling free and light. I say this as a raver, a DJ, a producer, an occasional promoter/DIY organizer. There's nothing like witnessing those magic moments in action.
Tell us an interesting fact about yourself
I have an extensive collection of thrifted Hawaiian shirts.
Complete this sentence: At heart I'm just…
An astronaut in a pool of mermaids.
What's the best bit of advice you've received?
It's hard to pin this one down because I've often failed to absorb advice until I've learned the lessons for myself, which is usually the hard way, many months or years later. I think the more important tips and reassurances have to do with patience, perseverance, and effort.
It simply takes a long time, a lot of work, a great deal of connecting and communicating, some luck and faith until a "success" happens. My advice is to not give up, stay true to yourself and (most importantly) keep working.
Where will you be in five years' time?
Alive and in love.
Follow Furtive on Instagram & Facebook.
Furtive's 'Tephra' is available to stream and buy on Bandcamp.
While You're Here…
If you like this article you might enjoy our book The Secrets of Dance Music Production. It is available from the Attack store!
New customer? Use code ATTACK10WELCOME at checkout for a 10% discount!

FOLLOW ATTACK MAGAZINE