Ahead of his performance in San Diego this weekend for DAY.MVS.XL, we caught up with Lukas Ruiz better known as Vintage Culture.
Your career had been ascending steadily and then the pandemic arrived. How does it feel to get back on the road and playing festivals again?
Being back on the road and meeting fans again is like coming home. A reunion.
On stage, I'm more comfortable than anywhere else in the world. Having the fans' immediate reaction to the music is irreplaceable.
To be honest, I made the most of the time during the lockdown. In many ways, it was a very creative time for me. I believe my writing and production skills improved as I was in the studio every day and released approximately 40 tracks in 2020 alone.
Finally seeing the fans' reaction to all of my music reminds me why I'm doing this in the first place.
Two days before your show at DAY.MVS.XL you're playing at Defected Croatia. Do you ever notice a difference between US and European crowds?
The response in Europe and North America has always been a positive one. Being a DJ for ten years, I've learned to trust my own instincts. Both places are very satisfying and I couldn't be happier with the response to my new tracks.
After your gig at DAY.MVS.XL you're back in Croatia the following day. You must be keen to get to San Diego if you're willing to jump continents like that. What does DAY.MVS.XL mean to you?
Well, San Diego is a true music city. I don't think people realize how loyal and supportive the fans are in San Diego! Coming back for a show in San Diego is always a highlight of my tour.

With all the travelling, how do you stay fresh and in the moment? It must be tiring? 
The flights, airports and taxis are tiring for anyone. But once I'm in front of the audience, nothing else matters. There is a rush of adrenaline as soon as the first track plays and the crowd is on their feet. That makes all the tiredness worth it!
Do you have a favourite festival moment or memory be it as a performer or attendee?
In general, 2022 will be a year I'll never forget. The warm welcome from the audiences at festivals and the response to the music have been nothing less than joyful. Each show holds a special memory for me from Ibiza to Las Vegas… and very soon San Diego.
Is your latest tune Adidas and Pearls inspired by Diamond and Pearls?! And why Adidas?
The lyrics to "Adidas & Pearls" were written by our friends in the band Lowes. The vocalist's name is Evie and she has a sensational voice.
These are among the best lyrics on any track I've released. She really tells a coming-of-age story within our 3-minutes. With Solardo I tried to build a track that would enhance the brilliant vocal performance by Elvie and her lyrics.
What's next for you after the festival season quietens down?
It's worth bearing in mind that as the summer ends in North America and Europe, it begins in Brazil, Australia and other major markets in the Southern Hemisphere. For me, 2022 will be an endless summer!
Does your dog travel the world with you?
Thank you for asking! At the moment Bentin is home with family who love him. He travels with me whenever possible. I miss him every day when we're not together!
Without choosing yourself, if you were making a festival, who would you ask to headline?
Since you asked, I am making a festival myself: 'So Track Boa' in Brazil. I also brought the festival to New York- it completely sold out.
In English, 'So Track Boa" translates to, 'Only Good Tracks'. I'll be personally curating the lineup in 2023.
It has become one of the biggest festivals in Brazil and I'm very proud of its growth. Keep an eye out for the upcoming line-up and you will see for yourself who I'd ask to headline..!
It's true there might be small changes in a set from playing a big party in Vegas to a venue in London at 2 am. But in general, I like to keep my sets full of surprises for the fans.
Do you change your set based on what you think the crowd will be like or based on what the crowd do?
I play music for the audience but also for myself. I certainly look for tracks that the fans will love. I like to surprise the fans and even play unreleased tracks that I haven't released yet. This is the perfect way to test a track before it is released.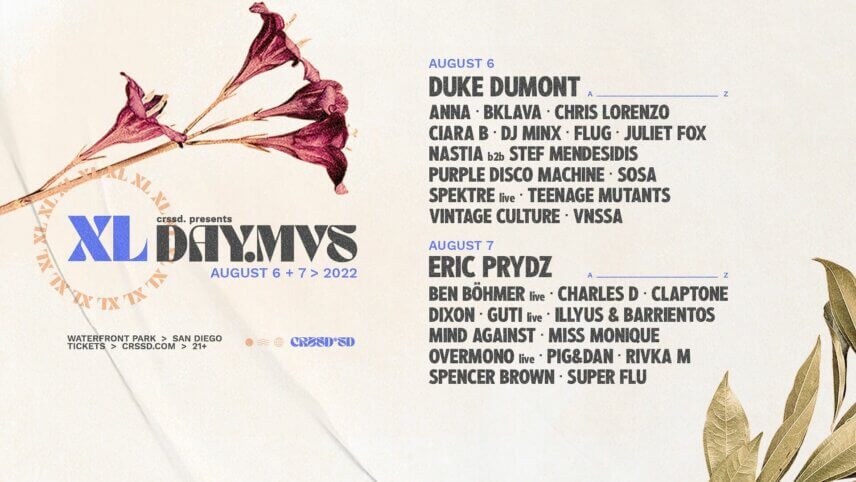 It's true there might be small changes in a set from playing a big party in Vegas to a venue in London at 2 am. But in general, I like to keep my sets full of surprises for the fans.
You mentioned recently you've never been to a cinema? When you change that, what film are you going to watch?!
That's true! These days the closest I get to a cinema is watching films on my flights. I tend to look for comedies. They help me relax after a long day.
If I ever do find myself finally going to the cinema, I hope it will be something funny. Who doesn't need a bit more laughter?
Who else are you looking forward to watching at DAY.MVS.XL?
The line-up is great this year. If I could, I'd watch every set. I've become friends with Claptone. His show will be a highlight for me. And I definitely appreciate Duke Dumont's work. Can't wait to see everyone in San Diego.
Other than football, what do people need to know about Brazil that they don't already?
People should know that Brazilian fans are among the best in the world. They are loyal and passionate about music. Once you win their hearts they are with you for a lifetime. There is nothing like the excitement of being in front of a Brazilian audience. I'm missing home just thinking about it now.
Vintage Culture plays at DAY.MVS XL this weekend. Ticket prices for a 2-day pass is $155. Express entry is an optional $25. Ticket prices for an individual day, Saturday or Sunday, are $75. Buy tickets here.
Follow DAY.MVS XL on Instagram. Follow Vintage Culture on Instagram.
FOLLOW ATTACK MAGAZINE
While you're here, you may enjoy...