Stephane Clavel is the founder of Virtual DJ, the DJ software company and joins us for the second of this month's The Business of Music features.
Virtual DJ founder and boss Stephane Clavel hasn't been idle during lockdown. In fact, he's relished the chance to delve deep into his current programming project, Virtual DJ 2021, the latest version of his DJ mixing programme which boasts real-time stem separation – of actual tracks, not of multi-tracks.
Clavel is a great storyteller, dispensing his tales of being at the heart of a cultural shift – the sudden blooming of the bedroom DJ – with enthusiasm and a high words-per-minute count. He talked us through the journey from starting his business, almost as an afterthought, to becoming one of the biggest players in the DJ software market, along with a few of the things he's learnt on the way.
Attack Magazine: First off, tell us about your role at the company:
Stephane Clavel: Despite our size and the number of users we have, Virtual DJ has stayed a start-up at heart, so we're a very small team compared to the size of the revenues we're generating. We've been COVID compliant since 1996 – meaning we're a pure 2.0 company, there's no physical office, everything's virtual and all our employees work from home and have always worked from home. So we still have the atmosphere of a start-up where everyone's doing a bit of everything; the designer helps with the website, the programmers help with tech support, everyone pitches in on business matters – and as far as I'm concerned I mostly supervise the business year.
Attack Magazine: So what's your job title?
We're a start-up, we don't have job titles!
Attack Magazine: So tell us about the beginnings and growth of Virtual DJ.
I was alone in the company in the beginning [in 1996]; at the start, I was still at university and it was more like a side project because like every successful project, I didn't do this because I had an idea, I did this because I had a need. 
So at the beginning, we had hundreds of users who were willing to help for free, just because they loved the product. And they were doing PR in their countries, translating, finding journalists, doing all the text reports, and they were doing it all for free and for the love of the product. I went quite a long way before I started telling people 'You've been working for me for free for years, now I can start paying you a salary".
We never had an HR process or produced job descriptions. We always recruited from the pool of our Facebook users who were superbly motivated and who knew and loved the project the best.
Attack Magazine: So what exactly was the 'need' that you identified?
I'd got a job working as a DJ in a holiday resort – but I didn't have records or equipment with me, I'd only done a few parties for my friends. So I arrived there and the owner asked me if I needed help to bring my records in and I was like "What records?" I had to pretend I was joking, but I had no records!
This was in 1996, the very beginning of this new Mp3 technology and I had my hard drive stuffed with Mp3s. I put my computer in the DJ booth and connected it and I found a single old Salsa record that had fallen behind the table and was covered in dust. I only had WinAmp on my computer and the night of the first party I was still connecting things when people were arriving. So I put on an Mp3 and then to switch tracks I would put on this Salsa music for a few seconds and transition, quickly change the Mp3 then transition back. Everyone in the club must have thought 'My God! this DJ's really into Salsa music, every other tune's Salsa!'
Attack Magazine: And this drove you to create your software?
Yes – instead of going to the beach the next day, I spent the next two days working day and night creating software that could mix two Mp3s together.
I didn't have it in mind to start a business; I was in the club that night and needed something to mix with so it was a real need. Then I went back to university. This was in 1996, the beginning of the dot.com era so with some friends I created a start-up. It was a virtual platform to sell virtual goods, a small start-up that was doomed to fail. So I put my software on sale, just because I had some friends and friends of friends asking for it.
Attack Magazine: And that was when it all took off?
Well; I went to Tunisia for the summer and was completely disconnected from the world, no internet, no cell phone, the nearest post office was 20 minutes away by bike – it was like a big festival for three months, lots of famous DJs, parties 24/7… And when I came back to France, I had a letter from the tax office telling me that according to French law when you start to earn this much money you're supposed to incorporate a company and start to pay taxes.
And I was like 'I'm a student, I don't make any money! Completely without me doing anything while I was partying at this festival in Tunisia for three months, people were buying Virtual DJ and recommending it to their friends; it was all automated and all the money was just pouring in. I was like, I guess this is my new job now.
Attack Magazine: So obviously the industry has gone through substantial changes since the 90s – what has had to change in the way you work to keep up?
The first ten years it was fun, it wasn't about money it was about making it as accessible as possible. And then we realised that we became too popular – there is such a thing. When we reached a hundred and fifty million users, we reached the point where everybody's little sister and grandmother was using Virtual DJ.
So real DJs were all saying "I'm never going to be seen using virtual DJ, it's the software that my little brother uses" – but we wanted to make technology for real DJs because we'd been improving the software every year… I wanted to bring this to all the top, professional DJs. So we had to become a little more professional and more focused on mobile DJs, club DJs, festival DJs and create all the features they need like being compatible with every single controller; you can prepare your USBs so you don't have to worry about Rekordbox – so we got all the small details that DJs need and that's been our focus for the last few years.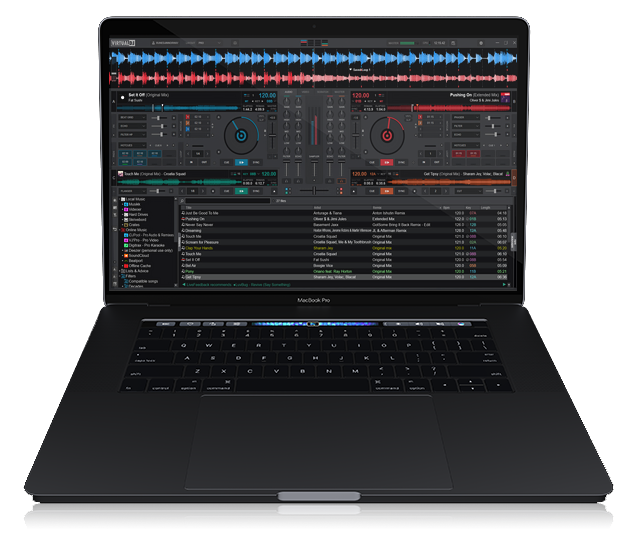 Attack Magazine: And what has the company been doing during the pandemic lockdown?
So for four months I went really deep, back to my roots of advanced mathematics and creating cool new technology. And we managed to make this new technology [Virtual DJ 2021] that in real-time, on any song streamed or on the hard drive, will perfectly separate the vocals, the instruments, the hi-hats and the bassline so that the DJ can remix. It's the holy grail of DJing what everybody has been waiting for for 40 years.
For beginners, we're trying to push it to replace EQ. EQ is the oldest technology that DJs use today, it comes from the sixties… but we're in 2020 and all the DJs are still basing most of their mixing on this old technology. So I wanted to replace it and use the power of modern computing.
I couldn't have done it ten years ago because the computers weren't powerful enough. I'm not talking about our research computers, I mean the laptops that your everyday DJs bought in Walmart for 400 bucks. In the past four years, the average laptop's power came to a point where it can be powerful enough to run this technology and separate the music like this. So it's the convergence of the power of the computer and the technology at the same time that makes 2020 the year when we could finally do this.
Stephane Clavel's Three Tips for Business Success:
1. Don't go into business because you want to go into business, go into business because you have an idea.
2. The best way to start a business is organically. Don't think 'I have an idea, now I need to find funds'. If you have an idea, start to make it work on ten customers, and from the money from these ten buy ads to get one hundred customers – and then from that invest and hire people to help you to get to a thousand customers. Grow organically. It gives more soul to the company and more coherence to the team.
3. When you start, it's good to work with people who are doing this with passion. We never recruit web designers or whatever based on their resume or what school they went to. My first question is what age did you start to code – and if the answer is like 13, 14 then OK let's keep talking, and if the answer is 'when I was in university' then I'm like 'bye-bye'! Surround yourself with people who are doing this because they are passionate about it.
More information about Virtual DJ is available on their website.
Main photo by Phil Morse.
Save 20% on your distribution with iMusician
Attack has partnered with iMusician to offer our readers a 20% discount across all iMusician services.
To redeem the discount use the code below when using iMusician. Learn more.
Supported by
Founded in 2007, iMusician Digital is a digital music distribution provider serving over 100,000 independent musicians and labels. From heavy hitters like Spotify, Apple Music, and Amazon, to genre-specific shops like Beatport and Traxsource, plus popular regional shops around the world, we make it easy for you to get big globally, no matter where you're from. With our flexible pricing, no annual renewal fees, and real human support by email and phone, we make it easier for you to become more financially sustainable, so that you can make more music. It's as simple as that…
About this content.
*Attack Magazine is supported by its audience. When you purchase through links on our site, we may earn an affiliate commission. Learn more.