Longtime Korg engineer Fumio Mieda has had a massive but largely unappreciated influence on dance music. We spoke to the 83-year-old about designing the classic MS-20, Jimi Hendrix's favorite effect, and more.
Quick, list off some synthesizer pioneers. Names like Bob Moog, Tom Oberheim and Chris Huggett probably come to mind. But what about Fumio Mieda, a longtime Korg engineer?
While American and British engineers tend to get known because they started their own companies, in Japan, many talented engineers go unknown because their work is done for a company like Korg or Roland. This is a shame, as Mieda-san is just as important to the evolution of synthesizers as these other names.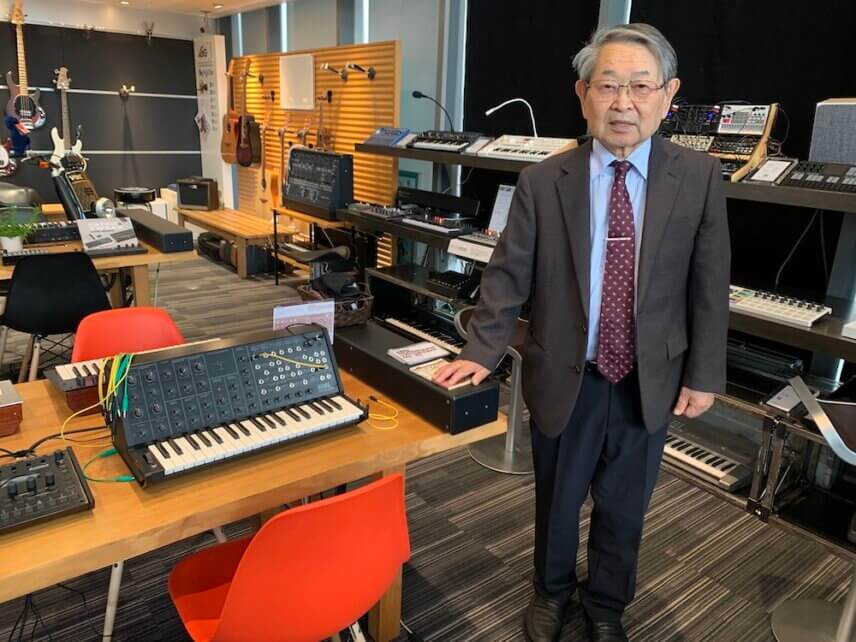 Just check this list of accomplishments: Mieda-san designed or worked on the Korg MiniKorg 700 (one of Japan's first synths), the Poly-800, the M1 (whose organ and piano sounds are still relevant today) and the MS-20, the latter of which has had an outsized influence on dance music. Daft Punk, Mr. Oizo, Aphex Twin, Portishead, Jean Michel-Jarre—the list of users is endless. He also spearheaded the development of the recreation, the MS-20 Mini, which is celebrating its 10th anniversary this year.
We sat down with Mieda-san at the Korg headquarters in Tokyo, Japan. Our interview stretched out to 90 minutes, with the always smiling and enthusiastic Mieda-san happy to talk about anything and everything synthesizer and effect-related. What follows is a condensed version of that interview translated into English.
Attack: How long have you worked at Korg now?
Fumio Mieda: I think it's around 55 years. In 1963, I joined Teisco, an electric guitar manufacturer, and later went independent, assisting in developing several musical instrument manufacturers from around 1965 or 1966. My relationship with Korg started around 1968. I think it was probably 1970 when I became an official employee.
Do you still come to the office every day?
Yes, my commute is about an hour and a half but I go there every day. I sometimes come up with ideas for instruments on the train, which is fun for me.
I'm sorry if this is a rude question, but do you plan to retire at some point?
I have many unfinished tasks and even now they're increasing, so if possible, I'd like to continue developing instruments as long as I have the strength and energy to do so, no matter what my position is.
effects are now classified into several categories, like distortion and modulation. But I want to create effects that can't be categorized.
You have developed many groundbreaking instruments and effects over the years. Is there one that you're particularly proud of?
There are many. Prototype 1 (a prototype organ/synthesizer instrument) was presented at the Science Museum in November 1970. I developed it to be a new kind of organ without knowing about synthesizers in other countries. The principle of operation is like a synthesizer but the presentation program described it as "a new ensemble electronic organ."
It was a dual-manual keyboard but it had a polyphonic sound source and two monophonic sound sources. It featured a variable bandpass filter with two sliders called Traveler but we also used a distortion-based tone synthesis method (now known as nonlinear synthesis) to create the sound. Of course, I didn't know the term "nonlinear synthesis" at the time but while experimenting with guitar effects, I realized that the degree of distortion could be varied over time to drastically change the timbre.
Do you have a favorite from among the instruments and effects you've made?
For effects, the Psychedelic Machine and Uni-Vibe, and for instruments the MiniKorg 700S, Polyphonic Ensemble 2000, MS-20, VC-10 Vocoder and recently the new Nutube tube.
The Shin-ei Psychedelic Machine was the first effects pedal of my own design. The Uni-Vibe was (a sequel to the Psychedelic Machine) with the fuzz function removed. I learned about Jimi Hendrix's use of the Uni-Vibe at Woodstock about 10 years later.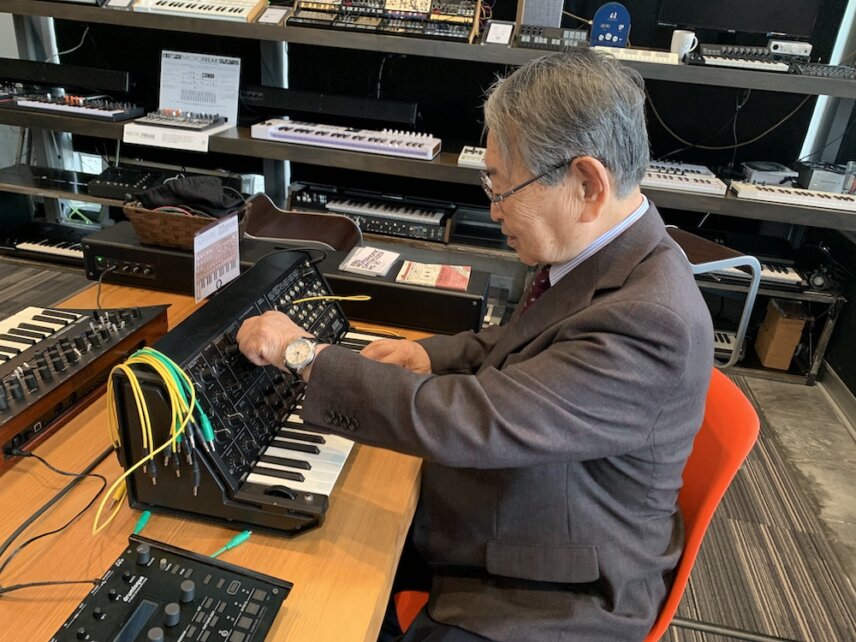 The MS-20 was designed in a very short period of time exactly as we wanted but it has survived to the present day by changing hands through software, miniaturization and other changes.
The VC-10 Vocoder was an idea that came out of nowhere during the development of the MS-20, and we thought it would be interesting to add a keyboard to a vocoder. It is probably the world's first vocoder with a keyboard.
You're known for both your synthesizers and effects. Do you feel closer to one than the other?
In my mind, effects pedals and synths are the same thing. Synths just happen to be an extension of effects.
For example, fuzz was created in the 1960s. I was surprised that distortion was allowed in music. I experimented with various kinds of distortion and found that if I changed the shape of distortion over time, it sounded like a trumpet, for example. This is what we now call nonlinear synthesis. This is why I created Prototype 1.
This year is the 10th anniversary of the MS-20 Mini. Congratulations. It's still selling too. Why do you think it's so popular?
I think it's because we were able to release it only six months after its conception and had no hesitation in determining the specifications. If there was any hesitation, even after the product was released we would have thought, "I should have done this" or "I should have done that." In that respect, I still think that the specifications of the MS-20 were correct.

At the start of the project, I declared that I would develop several synth models simultaneously within six months. I pushed myself hard. The VC-10 Vocoder and other peripherals were added later. There was no time at all for hesitation in planning, design and production.
The MS-20 Mini was one of the first modern recreations of a classic analog synthesizer. What was the biggest challenge in remaking it for the 21st century? Is it difficult to capture the spirit of an older instrument using modern components and surface-mount technology?
We were not sure if the MS-20, a product several decades old, with no memory and not even polyphonic, would really sell.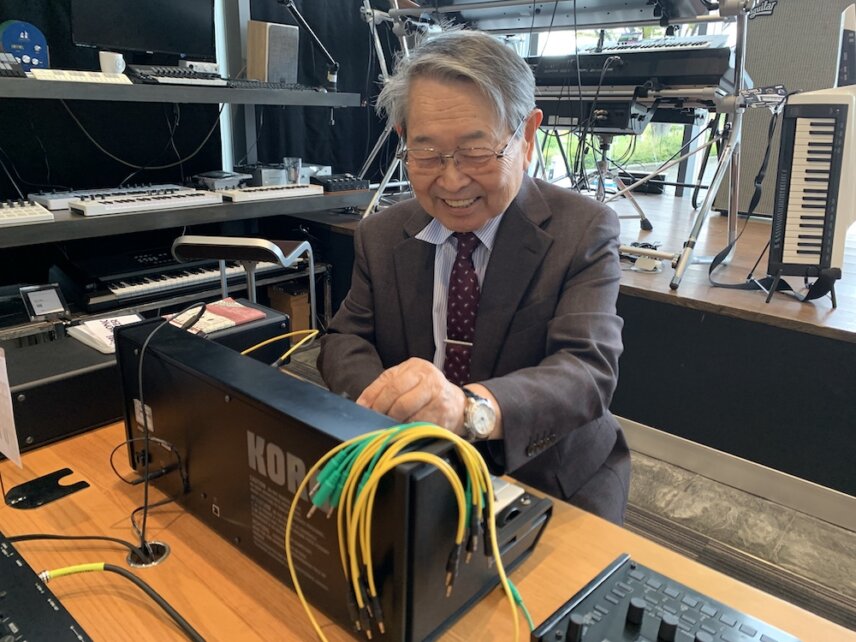 Technically, it's possible to reproduce almost anything with newer components. However, as materials and technology advance, it's difficult to know how much of the old circuit to use. For example, in the 1970s keyboards used switches with metal contacts but since all keyboard switches have since been converted to rubber, we can no longer use the same method.
In the case of the MiniKorg 700, for example, it was made almost entirely of transistors because op-amps were expensive at the time. Although the use of op-amps is cleaner in terms of circuitry, there are still subtle differences in the sound.
How do you feel about remaking older instruments in general? Is it challenging as an engineer?
The majority of electronic instruments are forgotten after 10 or 20 years but those that are remade have a good and clear reason for doing so. It's because they are still valid today. Or rather, it's because they have something that modern instruments can't do. It's not because of the abundance of specifications but because of something important. Remaking things can make you realize the value that you'd forgotten.
The Shin-ei Psychedelic Machine was the first effects pedal of my own design. The Uni-Vibe was (a sequel to the Psychedelic Machine) with the fuzz function removed?
My first synthesizer was the Poly-800 so I'd like to ask about that. How did you decide to use the MSM5232 chip for that? It's an unusual choice.
It's nice to meet a Poly-800 user. This chip was originally developed for television text multiplexing (teletext) broadcasting. It was an IC that inserted text information into the gaps in a TV signal and also allowed music to be inserted. Korg worked with Oki Electric and Nippon TV station to develop a sound source IC to be incorporated into TV sets. Korg has developed several products using this IC, including the SAS-20 Personal Keyboard and the Poly-800.
The Poly-800 had a volume envelope for each voice but only one filter. I heard that this is called paraphonic nowadays but I did not know the term at the time.
You have made so many wonderful products over the years. Are there still instruments or effects that you want to make?
There are many. For example, effects are now classified into several categories, like distortion and modulation. But I want to create effects that can't be categorized.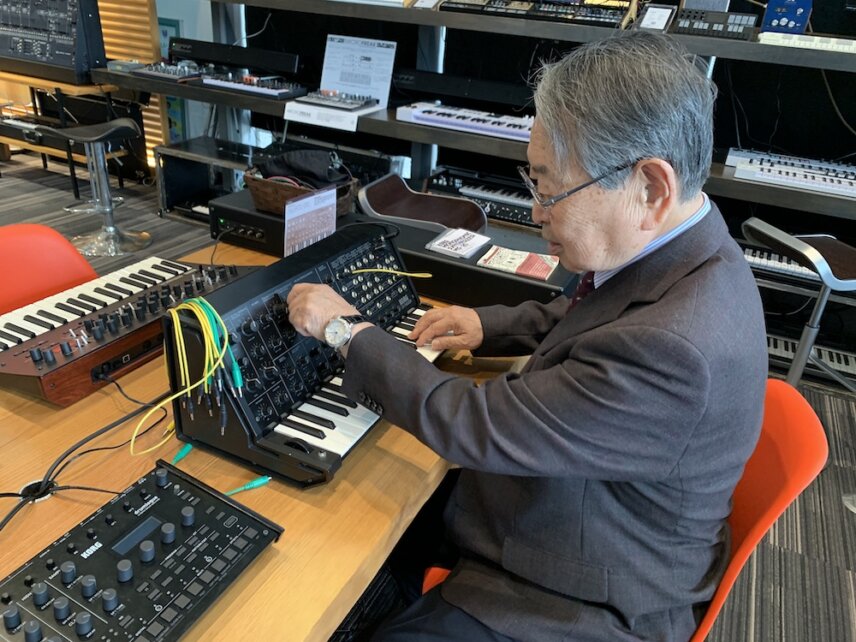 There are many things I would like to do regarding keyboards. I don't think that this is the time to appeal to people with a wealth of functions. I would like to create instruments that motivate musicians to use them even if they have only one function.
As for keyboards, various MPE keyboards are beginning to appear. Although there are high expectations, I have not heard any new musical expressions or compositions that are possible only with MPE. It can be said that it's still in its infancy but I believe that it's only when new musical expressions and songs are born that we can truly appreciate the value of a product.
The original MS-20 has been influential in dance music production. Are you aware of its importance in dance music? How do you feel about the way that it's been used?
I turned 83 this year. As I get older, I can't really get used to new music but for some reason, I can accept dance music without any resistance. Perhaps because it reminds me of my youth (1950s) when I was fascinated by electronic music. Perhaps it's because the simple sound of those days became rhythmic and we could enjoy them without difficult music theory. The repetition of very simple rhythms is intoxicating, isn't it?
Have you ever heard "Flat Beat" by Mr Oizo? It famously uses an MS-20. (We show him the video.)
This is just my impression after seeing this without any prior knowledge (but) the video is excellent. The sound is simple but amazing. It's obvious but this reconfirmed to me that it's all about how you use an instrument.
I have always thought that when you knead sounds together, you usually end up with a boring sound. I'm afraid that the more functions we add to synthesizers, the more that people will make boring and conventional music.
If the MS-20 has inspired the creator of this video in any way, it is my greatest pleasure as the designer of the MS-20.
Follow Attack Magazine
While you're here you may enjoy these posters...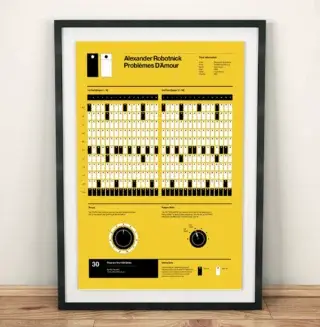 Alexander Robotonick: Problèmes d'Amour Poster
A criminally overlooked bonafide classic! Happy programming!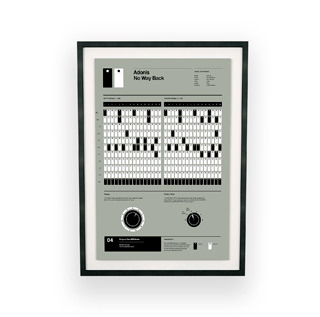 ADONIS – NO WAY BACK
From Chicago to the world, Adonis was just 19 years old when he crafted this huge Trax label hit "No Way Back" in. In this poster, artist Rob Ricketts has designed the famous pattern to "No Way Back" so you can now get the claps, clav and cowbell just right!