---
In partnership with iMusician, Attack is pleased to present – The Business of Music – a new series focusing on individuals carving a unique career across various aspects of dance music. For our opening feature we spoke with Cinthie, who's approach to managing various ventures including labels, record stores and studios has catapulted her career. The Berlin DJ and producer discusses learning on the job, business models and even taxes as we spotlight what it takes to make your pursuit a success.
4am on a Sunday morning deep in the heart of central London but away from the bright lights above, in the murky depths of Corsica Studios' main room, Cinthie pivots 180 degrees back to the decks and faces the appreciative crowd. A record proudly shimmers in her hands. Then, in the way only a vinyl veteran could, both cautiously and swiftly, it's placed on the mat.
The dancefloor, a jungle of hot bodies, moves in unison to the vibrations of smooth house oozing from the Funktion-One sound system. In her element, Cinthie expertly shifts from deck to deck, precisely adjusting continuously, a world away from the loose moving dancers in the dark.
But away from the chaos of the club, twelve hours later, she sits calmly, legs crossed, in the surroundings of her Bankside hotel. We're discussing record labels, of which she owns quite a few – Beste Modus, Unison Wax, Beste Freunde, We_R House and most recently 803 Crystal Grooves.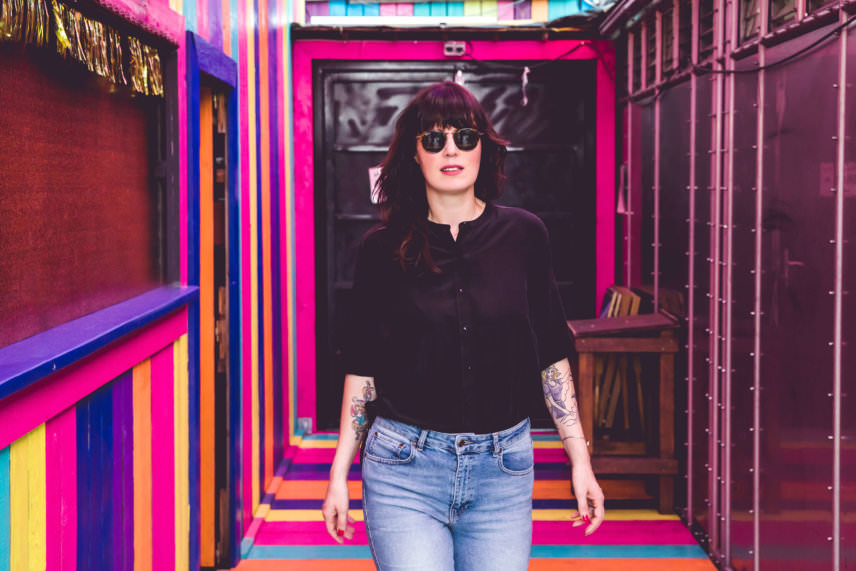 "It's a lot!" She laughs. "I never planned to have that many labels but it just happened naturally." Cinthie talks of how the move to release music from friends was a no brainer considering the quality of music she was surrounded by in her 'crew'.
"With Beste Modus we had the idea to release more music from friends. Then we had the Beste Fruende label, also Diego Krause was in my crew. He said, 'look, I have so many more tracks and for me it's not really fun to just have one track once a year on a VA,' so we started Unison Wax for him. With We_R House I wanted to have something a bit different and a bit more stripped back. Then I wanted something to have just for myself [803 Crystal Grooves]," she explains, proudly repping a Crystal Grooves t-shirt. "I can be independent and don't have to discuss everything with so many other people. That can be nice but it can also be quite time consuming to talk about different colours, artworks, trends and stuff".
You can actually get a distributor to pay for the records so they take over the financial part. They finance your record and you get a little bit of money from that.
With Beste Modus kicking off in 2012, Cinthie's confidence in setting up labels is impressive, and she talks of a 'tattoo-like addiction' to setting up label after label, giving new platforms to artists. Now, she's a revered figure in the scene, not only in her local city of Berlin, but across the globe. But she pulls an awkward face that says 'I've got some bad news.'
"I'm leaving the crew and we're going to shut Beste Modus down. Yeah, we're crazy! We're selling shitloads of records but as a crew we've kind of grown apart music-wise. It's stupid because we have such a good reputation and we're signing shitloads." But as a proud mother, Cinthie understands she must weigh up her priorities wisely. And now, with Crystal Grooves, which was formed just over a year ago in October 2018, she feels at ease to explore her own interests, including different ways of selling records.
"When we started Beste Modus we were super enthusiastic about it and I was always playing records. I didn't give a shit about digital stuff. But now I have so many fans in South America where they don't have the luxury of 20 record stores like we have in Berlin so I'm kind of growing my business model. Spotify is a really big thing at the moment. A year ago when I started my Crystal Grooves label I was like 'what else is there?' I'm super happy I work with Beatport, Spotify, it's extra money, y'know? Why should I waste this money? Why should I be like 'my music is only exclusive for a small amount of people who can afford records'? When I see the amount of people writing to me from South America, Asia, Australia…for them it is really expensive to buy records or they simply don't have the possibility to get them. It's really fun to explore new markets and also to have a bit of pocket money from the digital sales."
One might think running five labels, producing (she used be in the studio at 8.30am after the school run and made it her 'home') alongside global touring as a DJ – not to forget parenting – might be enough for the ever-operational Cinthie, but, with her Elevate Record store, located not far from her front door in central Berlin, she's kept on her toes at all times.
I never thought that much about the business side but you have to start thinking about it. You have to do your taxes, you don't want to do it for free.
"I found it [the store] by accident," she says. "I was just looking for storage room and my neighbour was like 'yeah, you could have this room in the back of my store.' After three years, she said 'look, I'm moving out, would you like to take the whole store?' It was so cheap I would have been stupid not to take it, just to save up a bit more money and because I didn't plan to open a store.
"We open once a week, the rest we do online. I rent out some spaces to some friends to have booking agencies and this is how we finance everything, so we are not under so much financial pressure. If we are not selling anything for a week or so, it's fine. I don't have to hustle too much. I think so far it's a good business model and I'm pretty free without having to pay too much money."
Handing out small supplements of the day's much needed 'hair of the dog' in the form of half pints and a wine, we move on to the business side of things – a huge part of Cinthie's life. I ask if she spent time learning the behind-the-scenes side of running record label.
"I mean, I honestly didn't think about that too much. I met the rest of my crew and they sent me tracks and I was like 'well, we need to release them, we never planned to run a label, but if it's not with them it's never going to happen,' so it was just the right time and the right people with the right music and I said 'I'm just going to do it.'
"You can actually get a distributor to pay for the records so they take over the financial part. They finance your record and you get a little bit of money from that."
"That reduces the risk?"
"Yes, but I like to play a bit of russian roulette." She giggles. "I never really wanted that. I wanted to be free and independent.
"I had some money saved up and I was like 'okay, what can I do with it? Maybe save it up for bad times', I was like 'yeah, maybe it's good to invest a bit in this label and see what will happen.'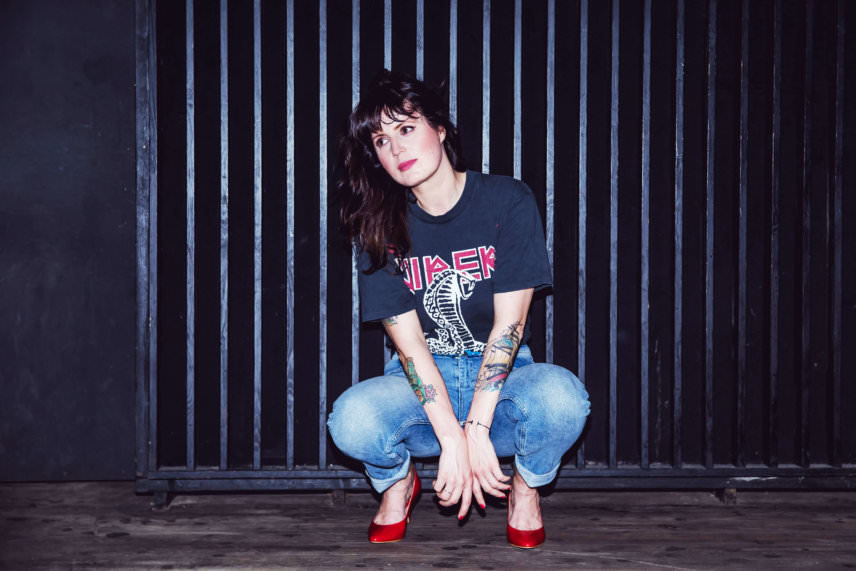 "Luckily we made the money back in the first pressing and then I was investing that immediately into the second one. I was consistently investing it into the next label and into merchandise. I never thought that much about the business side but you have to start thinking about it. You have to do your taxes, you don't want to do it for free. You can run a label as a hobby but when you do it full-time I think you bring much more energy into it. I did have to learn a few things."
The Berliner, who herself learnt the ins and outs through working in record stores and labels all her life, explains how diving into the deep end when it comes to establishing a brand in dance music is the best way to learn. "If you never try, you never know," she advises. "If you have the idea a lot of people overthink it and it never happens – which is a sad thing. If you have the idea you should just do it and the rest will come.
"But have a few coins saved up!" She laughs honestly. "And also when the money is coming back from the first pressing don't spend it on funny stuff like clothes! Put it on the side because you can have 10 records that are going really well but there will always be this one record not selling that well, so you have to subsidise this slightly. Spend your money wisely and be open for other markets. It's still quite vogue to say 'I run my own vinyl label' but other people want to listen to your music so you should be open to other forms of marketing."
As any label owner will understand, there are certain costs that need to be covered, and being wise with what money you have is key. For Cinthie, her spending priorities lie in mastering.
The production costs are quite cheap but I'd rather put more money into the mastering and have everything bang on.
"I want to have good quality masters so I'm trying to get the best I can get. We started with Dubplates & Mastering but now we go with Manmade Mastering. The production costs are quite cheap but I'd rather put more money into the mastering and have everything bang on. It's more important than… say… a front cover," she insists. "Usually when I play I lose the cover two nights after anyhow!"
Talking about rowdy vinyl-only DJ sets from Cinthie, who recently played New York, Colombia and the Netherlands, we briefly mention Berlin and how London differs to the all night antics of her hometown. It seems Cinthie's more akin to simply playing and being all-round a bit more sensible than her friends still hitting up Berghain for 20 hour sessions and the likes. The temptation is perhaps less prevalent?
"We don't have closing hours, which is good. Maybe. But…" Another infectious laugh, "for some people it's maybe not good, y'know? It's funny, I go and have a coffee Monday around 12 o'clock. I have lunch and I see some of my friends walking out of Berghain and I'm like 'guys, what's wrong with you?' They don't want to see us. They're off their tits, trying to hide it!" Drinking coffee and preparing plans for the future of Crystal Grooves, the future of her production career and family life comes first – obviously.
Concluding, I ask about the future. "I want to keep the ball rolling. What I didn't really like was that sometimes we only had one release per year and that's not enough. It's a drop of water on a hot stone. Now with Crystal Grooves I can sign whatever I want which is liberating when I'm trying to grow."
Get Distributed and Save With iMusician
Attack has partnered with iMusician to offer our readers a 20% discount across all iMusician services. To redeem the discount use code ATTACKMAG when using iMusician. Learn more.
Supported by

Founded in 2007, iMusician Digital is a

digital music distribution provider

serving over 100,000 independent musicians and labels. From heavy hitters like Spotify, Apple Music, and Amazon, to genre-specific shops like Beatport and Traxsource, plus popular regional shops around the world, we make it easy for you to get big globally, no matter where you're from. With our flexible pricing, no annual renewal fees, and real human support by email and phone, we make it easier for you to become more financially sustainable, so that you can make more music. It's as simple as that…

About this content.