When an artist struggled to cover their transport costs to their gig, what message did that send to the wider community? In part 1 of a two-part series, Maeve de Bordóns Álvarez, assesses what is changing in the clubs to make lineups more sustainable. And what is "underground" anyway?
What's the Issue?
I've been around parties and DJs since my mid-teens. As I evolved from partygoer to party organiser, and part-time booking agent, I've been exposed to different perspectives of the industry's ins and outs.
When a few people close to me recently expressed they were struggling to cover transport costs to a well-respected London party that they were playing at, it opened up a conversation I'd had one too many times.
Why should an artist play a gig they've been booked for and struggle to cover their transport costs? And more importantly, why is this an issue in the first place? 

When I do my job, I take home a salary at the end of the day. When I ask a graphic designer to create a poster for my next label release, I get an invoice that I pay. When I throw a party at a venue, I pay a deposit that covers the hire of the venue.
The promise is that the next free gig you take will be the one where you make it big
The music industry's decentralised nature means that there is a long chain from the art itself until the consumer. Arguably the most important part of the music industry is, well, the music, but without artists, there would be no music. And with no music every other job is pointless. So, why are musicians still struggling to secure the very basic compensation for the job they're booked to do?
If you have the means and power to put on a festival, with its many intricacies and planning responsibilities, then you should have the capability to plan accordingly to compensate for your creative talent.
It's easy to imagine that a career in the arts can spark feelings of non-belonging and competitiveness in even the calmest of minds. Pair this with the constant influx of social media; where fellow DJs are getting booked for the gigs you're missing out on, are always on the go and making it to the end-of-year lists on your favourite magazines and you're left with a very unreliable, unsteady environment in which to create.

This naturally creates a desire to not only be booked and busy, but to also post about your busy calendar – a tour around the UK, Europe or the world. The promise is that the next free gig you take will be the one where you make it big. The one that changes everything: All the previous unpaid work, nights playing to empty rooms, and hundreds (or more) of pounds spent on Bandcamp will all culminate in this next big shot opportunity.
While some festivals and promoters sometimes take advantage of this, others support artists and compensate them adequately, making sure they're paying them, treating them right, and paying for their transport, food and a fair fee.
What Is "Underground" Anyway?
When I started throwing parties in my university town, we were students without much money, so we made sure if the fee was low or someone had to play for free, that we in turn did everything we could to spotlight this artist. This was as easy as making sure that transport, accommodation, dinner and a lot of promotion, were all agreed upon beforehand. When it's a two-way agreement and the power doesn't just lie on one side, this can be a common model in smaller DIY parties.
Ultimately, a lot of smaller promoters don't make much profit, if any, and genuinely do it for the love of community building and music. This exchange finds common ground in the love of the culture and community, where both parties are starting out and gives each other space to learn, grow and mutually support each other, in ways that aren't necessarily financially motivated.
At what point is the title "underground" used as an excuse to request free labour from hard-working creators?
When the party exceeds the confines of the "small uni town party", when the marketing budget is big (in the 1000s), the rest of the lineup is making over 10K per act and there are a few hundred plus people coming to a party marketed as "underground"; then it takes us to a different tier. One where there's a budget to bring some of the biggest names in dance music, fly them in, stack the lineup up and sell it to people from all over the country, especially in the name of underground nightlife.
In a world where more visibility is being given to grassroots issues, and, ironically, by the very brands that are overlooking basic compensation for the people they build their image on, we need to make sure the people performing and attracting crowds are fairly compensated for their work. When does an underground party become exactly what it's been protesting against? At what point is the title "underground" used as an excuse to request free labour from hard-working creators?
While you're here you may enjoy these posters...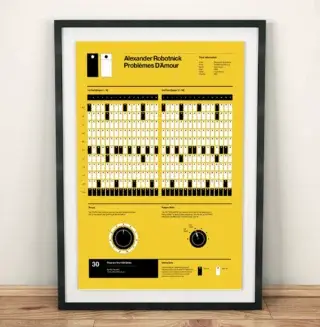 Alexander Robotonick: Problèmes d'Amour Poster
A criminally overlooked bonafide classic! Happy programming!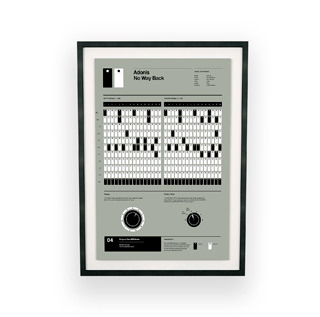 ADONIS – NO WAY BACK
From Chicago to the world, Adonis was just 19 years old when he crafted this huge Trax label hit "No Way Back" in. In this poster, artist Rob Ricketts has designed the famous pattern to "No Way Back" so you can now get the claps, clav and cowbell just right!
Follow Attack Magazine