Through the sadness of losing Mike Huckaby, we can take solace in the musical gifts he left for us.
Detroit producer, DJ and educator Mike Huckaby passed away last week from Covid-19 related complications following a stroke. He was 54.
Huckaby achieved equal renown as a DJ, producer, educator and taste-maker during his career. He devoted his life to music, beginning to collect records as a child, then buying studio gear and DJing as a teenager. For over a decade he was the dance music buyer for the Record Time record shop in Roseville, Michigan which became something of a hub for Detroit's electronic music scene. His encyclopaedic musical knowledge and his generosity with this knowledge made him an influential figure in disseminating house and techno. Huckaby was always community-focused, a fact clearly demonstrated in his work as a music educator, teaching young people at Detroit's Youthville to make electronic music.
He was of course also a well-respected DJ and producer, who created a potent back catalogue. He made pure deep house and techno: electronic music programmed on machines, arranged on computers, yet somehow richly infused with soul and feeling.
As the tributes continue to appear, those of us who never knew him are learning that he was truly loved and valued by those that did. A picture is emerging of a warm, generous and kind man. The kind of person you miss when they leave the room. In such times, we can take solace in what lives on after the tragedy of Mike Huckaby's early death – his musical legacy. It's his final gift to the world, from a career characterised by generosity: we'll always have Mike Huckaby jams.
Here's a few of our favourite Mike Huckaby originals and remixes.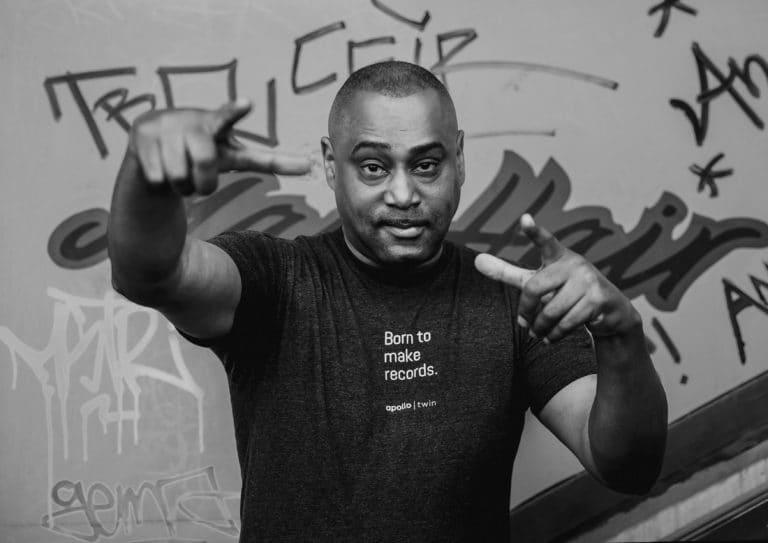 Mike Huckaby 'Melodies From The Jazz Republic'
The 2005 Still Music compilation 'In The Dark (The Soul of Detroit)' featured the smoky late-night groove of Huckaby's 'Melodies From The Jazz Republic'. It's a track which makes the link between jazz and deep house explicit as a Rhodes solos up and down the keys over a group of circling minor chords, all held in place by Huckaby's shuffling rattling beats. Huckaby's deeper cuts all somehow accessed the heartbeat of the drum machines and synths he used, producing rich and emotive tracks from minimal machine ingredients. Not a note is wasted and not an extraneous loop or lick to be heard anywhere in a Huckaby production. He's never tempted by the cheap shot of big breakdown or epic arrangement. Instead, his productions are an exercise in restraint and subtlety, of which 'Melodies…' is a perfect example.
Mike Huckaby 'Jupiter'
One of Huckaby's most well-loved tracks, 'Jupiter' was the B2 on the 'My Life With The Wave' EP which dropped on his S Y N T H label in 2007. Melancholy keys, a tight, ticking rhythm and three lonely chords with a languid synth meandering along the top, 'Jupiter' epitomises Huckaby's seemingly effortless understated approach to deep house.
Mike Huckaby 'Wavetable No. 9'
The A-side to the 'My Life With Waves' however, is a different matter entirely. 'Wavetable No. 9' is a pad-drenched, dreamy Detroit techno roller. Its hints of dub and expansive swathes of soft chords were all created from sounds from a Waldorf Wave synth.
Mike Huckaby 'Sandcastles' (Culture Box Re-edit)
From 2012, 'Sandcastles' is a record built of little more than a relentless over-driven kick drum, some razor-sharp shards of reverbed percussion, and a b-line. But ask anyone who has heard this record in context – ideally at 3 am in a dark warehouse under a strobe with friends and fiends, old and new – they'll tell you that there's powerful electronic voodoo contained within these grooves.
Dubby Man 'Message From The Dub' Mike Huckaby Remix
Huckaby turned his studio prowess to remixing plenty of artists during his career. He worked on music by Model 500, Jazzanova, Deep Chord, Norm Tally, Delano Smith and Loco Dice. His rework of Dubbyman's 'Message From The Dub' is a moody, funk-laden slice of soulful deep house. Its layers of congas and bongos underpin a bumpy Moog-ish bass and gentle pads and keys. 'Message…' softy unfurls over its near-six minutes and feels as though it almost starts to glow in the process.
Norm Talley 'Change' Mike Huckaby Remix
In a similar vein, 2003's 'Change' remix' is almost luminescent in its warmth. It's a shimmering confection, with pattering, sizzling percussion rolling alongside twinkling synth arpeggios. And it's all encased in a warm blanket of gentle chords. 'Change' is another of Huckaby's productions that establishes such a classy and mesmerising set of musical parts that it doesn't really need to 'do' very much and the arrangement here is minimal.
Mike Huckaby 'The Tresor Track'
In contrast, if this track were a city it would be Detlin or Bertroit. 'The Tresor Track' was designed for the Berlin club. Written for its 20th anniversary in 2011 it's a near-perfect melding of Detroit soul and European coldness. It's a classic Mike H. techno weapon, an artillery of single-note synth riffs and sparse, austere beats. Relentless.
Motor City Drum Ensemble 'Raw Cuts' Mike Huckaby Remix
Huckaby's 2014 re-rub of Motor City Ensemble's 'Raw Cut ' is one of his funkier remixes. Here Huckaby has carefully assembled all the musical elements to sonically interlock with the others to achieve maximum machine-funk. It's also another great example of his restrained approach to arrangement and of Huckaby's confidence in the power of his loops. In this case, an insistent four-note motif appears after an impeccable beats and bass intro build-up. It continues to float above the rock-solid rhythm section while a couple of other synth parts gradually reveal themselves. There's a sense of urgency to the repetition, that little key riff gnaws away at the listener, clamouring for attention from whatever part of the brain responds to elemental rhythms.
Sun Ra 'UFO' Mike Huckaby Reel to Reel Re-edit.
The original 'UFO' from jazz's cosmic traveller Sun Ra was an exotic eight and half minute funk-flecked jazz jam from 1979. One of Sun Ra's more approachable tracks, the Huckaby re-edit was released in 2011. Huckaby approached the re-edit in 'traditional' style, using only a pair of reel to reels and a mixer. He added no additional parts or production, merely rearranging the existing elements. It's a subtle reworking for the contemporary palette which resulted in an off-centre future-jazz jam which again made the connection between jazz and Detroit techno.
Mike Huckaby 'Musik For The Dancefloor'
From the 'Baseline 87' EP from 2011 'Muzik…' was a hugely efficient record from Huckaby. Consisting of a simple riff, gradually building percussion and then the introduction of those deliciously unexpected chords 'Muzik' is a low-fat record. Not one part is extraneous, every single musical element is doing work. Lean, striped down effective house music.
Main article photo by Tofa.