You can't have failed to notice that it's Amsterdam Dance Event this week. ADE is the electronic music industry's biggest annual get-together with around 400,000 dance music devotees descending on the Dutch capital to network, self-promote, party, or any combination of the three. We thought it would be nice to share some tips on the city – places to eat, to drink, to buy records and to discover a few hidden gems – and who better to ask than producers, DJs and Amsterdam residents Lars and Maarten from Detroit Swindle.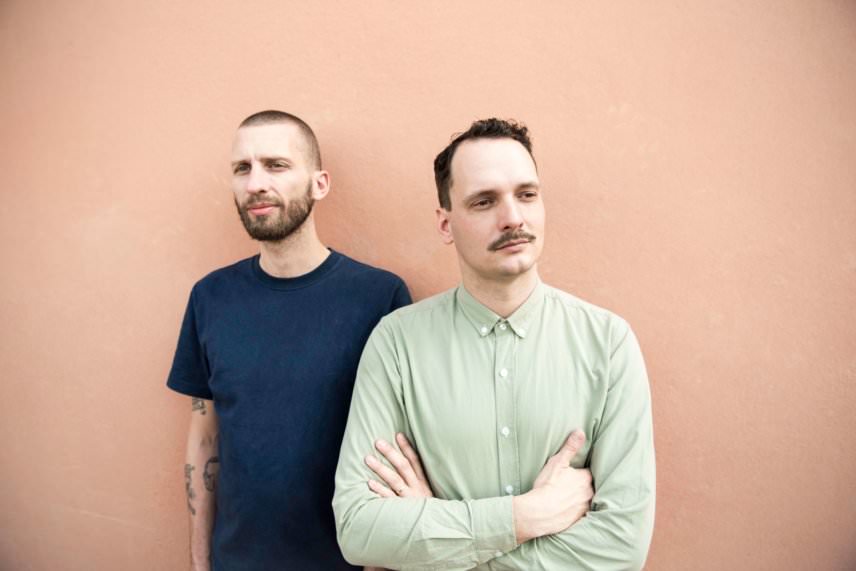 Eating In Amsterdam
Maarten: It's almost impossible to choose a favourite restaurant in the city, basically because there's too many. For an easy dinner after working in the studio, I love going to Spaghetteria, which is a spaghetti-only restaurant. No reservations, no fancy dining, just a good atmosphere, great pastas and all for a really decent price. For comfort food or a quick Asian bite, Ramen usually hits the spot and there's loads of great places. Umaimon has a great spicy veggie Ramen and Fou Fow on the van Woustraat is good as well. Cafe Restaurant Amsterdam is the place to go for a cool Amsterdam 'warehouse' feel and they serve amazing seafood platters. Akitsu is my favourite Japanese restaurant. Its interior is sober and classic, and so is the food. The quality is amazing and it's been a favourite spot for me and my wife ever since we met.
Lars: Maarten already mentioned my current favourite Umaimon. This is where I go for the amazing Black Garlic Ramen. Next to that one of my all-time favourites is Scheepskameel. It's a restaurant situated in a former navy building next to the water. They have an amazing menu of what they call 'classic European' dishes. To accompany these, they have an amazing wine selection. A must visit if you ask me. For a quick snack I regularly go to Seoul Food. You can get super fresh and quick Korean dishes here such as Bibimbap or Japchae. Their homemade lemonades are super sweet, so take care if you want to keep your pearly whites. The best brunch I've had so far was at Hotel V at the Nes. They have some of the best poached eggs I've had here in the city. Not cheap, but worth it.

Places To Go For A Drink
Maarten: I've spent countless hours in bars during my time as a student in the city, but since our non-stop touring and student life making way for family life, my choice of bars has changed to the more kid-friendly places. There's loads of spots with a cool view, open space, nice drinks in the north of Amsterdam. FC Hyenah is cool, so is Noorderlicht and De Tolhuistuin.
Lars: There are some hidden gems in the city like Bar Oldenhof; a (not so) hidden super-classic cocktail bar where they serve all the classics. But when it comes to my favourite hangout, one where you'll find me most days, that's Radio Radio in Westerpark. My buddy Venz from 22Tracks opened this last year and it has been the absolute highlight of my personal nocturnal activities. If you want a proper Amsterdam experience you could visit Cafe De Eland in the middle of the Jordaan.

Going Out Dancing
Maarten: Assuming I have time to dance in my time off and not just in the DJ booth, I'd say Paradiso has always been my favourite go-to concert/music/dancing spot. I've seen so many cool shows over the years and have danced like crazy on numerous occasions…
Lars: As mentioned, you will find me and my dancing shoes at Radio Radio. The programming can be a bit hit or miss (for my personal taste) but the vibe is absolutely incredible. I've had the best nights with only 20 people on the dance floor. A cool second is Garage Noord, a bit out of the way, but a supercool spot with some of the most cutting edge programming in the city.
Going Out DJing
Maarten: I'd say right now Shelter is one of my favourite spots. It's got that nice balance between being dark but not too dark and vibey but industrial. The sound is great, so is the staff and the room can hold quite some people but due to the room setup, there's a great vibe even when the club is only half full.
Lars: Claire has always been our home turf and to this day they are still re-inventing themselves with fresh new concepts. They always give you the feeling of coming home. Also, their backstage area is always packed with interesting characters (and drinks).
Record Shopping
Maarten: The obvious pick for electronic music, disco and afro would be Rush Hour. Their selection is great and they always have a cool stock of 2nd hand finds from Antal's travels and finds from the team over there.
Lars: I hardly go out record shopping but when I do, I go for the regular route: Red Lights Records, Bordello a Parigi, Mary Go Wild and Rush Hour. Between these you can find almost anything. It's helpful to keep an eye on their socials because they will announce record drops and if you snooze, you will definitely loose.

Museums And Galleries
Maarten: I'm a big photography fan and FOAM is a great gallery/museum with loads of high-end collections and exhibits passing by. It's been my go-to place for a long time, although you could also just go to Museumplein and visit one of the many world-class musea there.
Lars: Stedelijk Museum is the one place I will never get bored of. I'm a big fan of modern art and they have a lot of different exhibitions through the year. I have a Museumcard, so for me it's easy to just walk in and see what's new. A cool little gallery you should visit is the 'No Man's Art Gallery' in the west of the city. Curated by two amazing ladies with good taste and good coffee (or beer).
Resident Recommendations
Lars: One place that people from outside of Amsterdam will never (or hardly) find is Loetje. Loetje is a proper Amsterdam phenomenon and it's known for its steak on white bread (yes that sounds horrible but it's actually amazing). Maarten is a vegetarian and I'm cutting down on meat, but sometimes you just got to quench the craving. Order the steak on bread with some fries and a simple salad. Only downside can be the wait in line…
Maarten: Every time we do a set at Red Light Radio, we go for a coffee at Quartier Putain. They serve super-nice coffee and it's in the middle of the red light district so it's a beacon of joy in the middle of all the tourist traps.
Lars: People should wander out into the east of the city. I just moved there and there are so many cool places to check out. (The Artis Zoo, Royal Tropical Institute, Oosterpark, Rumbaba, De Kas, Javastreet, the Dapper market). People tend to stay in the centre or the west but the east has a lot to offer.
Maarten: The north of Amsterdam is just a short ferry ride away and there's so many cool spots either in the Eye museum area, or NDSM. Restaurants, bars, warehouses with cool pop up shops like the one Zipper has, or just a great view over the city, it's all there. And on this side of town, you actually feel like Amsterdam still has some space.
And What Should Every Amsterdam Visitor Try Once?
Maarten: The classic Amsterdam bar drink – and I mean classic classic – is a beer and a Jevener, also known as a 'Kopstoot' (Headbutt). It's a beer with a glass of Jenever on the side, or dropped in it if you've got the stomach.
Lars: Cured herring 'haring' from one of the stands in the city. It's the most Dutch thing you can eat. Eat it with onion and pickles. Not for everyone…
Aside from tucking into haring and Kopstoot, the pair will be participating in the event as well. From Wednesday till Sunday, Detroit Swindle and Baskèts streetwear company will be running a pop up store focusing on their limited edition collection designed by Amsterdam designer Studio Bas Koopmans, where you can also pick up Heist Recordings back catalog, listen to daily live DJ streams and there's a pre-release party on the Thursday for their new Heist single too, all just around the corner from the main ADE conference.
And then on the Friday night it's Heist x Eglo at Claire with Heist Recordings presenting their special guests Nu Guinea, Perdu and Volcov and J.Rocc, Eglo owner Alexander Nut and Kléo taking over the room 2.
ADE 2019 will be held 16-20 October. For a break down of seven of the best techno parties we're most looking forwarding to at ADE check out our feature here.