Grab a notepad to make a wish list and a rag to wipe up the drool because we're checking out 10 of the rarest rhythm machines currently on Reverb.
Drum machines are cool. There's no getting around that. Sure, other kinds of hardware like synths and rackmount effects can be extremely desirable but there's just something so goddamn sexy about a drum machine, especially the rarest drum machines. The row of buttons, the knobs, the hot colors. Getting excited? Drum machine collectors know the score, and there are currently some credit card-worthy rhythm boxes on the online instrument site, Reverb. Some of these you'll know, some you may be seeing for the first time, and at least one is so outrageous you may want to prepare yourself. Here then are the 10 rarest drum machines currently on Reverb arranged in order of ascending price.
Elektron Machinedrum SPS-1UW MKII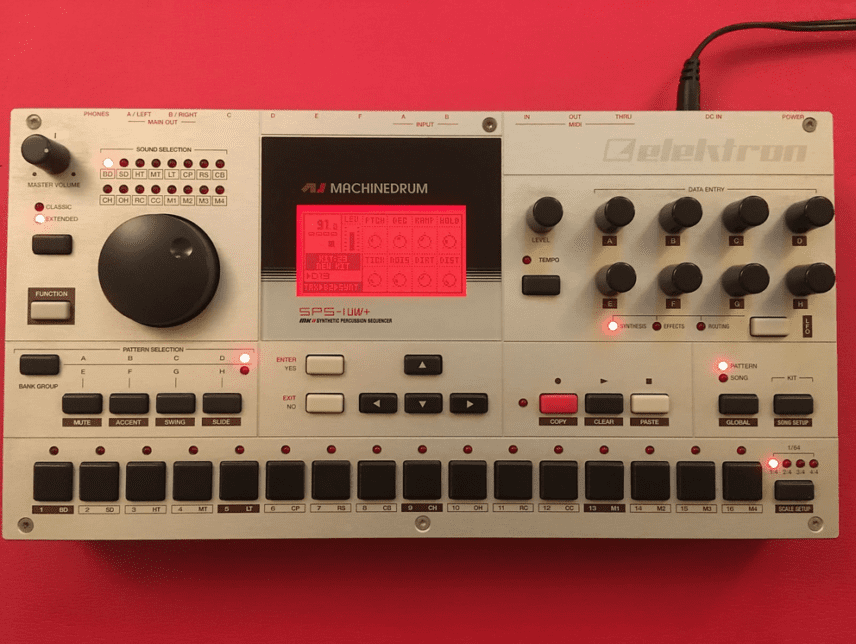 Elektron has built itself up to be a titan in the world of synthesizers and drum machines but back in 2001, it was still just an up-and-coming Swedish company with a single release under its belt. It soon followed up the SID Station with the Machinedrum SPS-1.
A powerful drum machine, it has five separate synthesis engines, including virtual analog, samples and physical modeling. On the editing side, there's amplitude modulation, an EQ, multimode resonant filter, distortion, sample bit rate reduction and delay and reverb. As for the sequencer, it offers two modes, Classic and Extended. Classic feels like Roland-style TR step sequencing while Extended gives you additional steps, real-time and step recording, and more. It was updated to the Machinedrum to MKII in 2007, and that's what we're looking at here.
This particular unit is in immaculate condition according to the seller. It has apparently lived its life in the owner's studio. It includes the original box, power supply, a printed manual and the TM-1 MIDI interface, which was an early proprietary Elektron device to get MIDI into your computer via USB. At $2999 the package isn't not cheap but then again nothing on this list is.
Roland CR-78 with CHD MIDI and Programmer

Before the TR-808, there was the CR-78. The missing link between Roland's preset-only rhythm boxes and the programmable powerhouse that was the 808, 1978's CR-78 allows users to write their own rhythm patterns thanks to an internal microprocessor, a first for a drum machine. While the sounds are still stuck in the '70s – they're pretty thin compared to what came next – the ability to program it makes it something pretty special. That is if you have the optional programmer.
A clean CR-78 with an original programmer is pretty hard to find. This one instead has the CHD MIDI kit installed and also includes the CHD programmer should you want to lay out your own beats from the machine rather than an external MIDI sequencer. Of course, the famous built-in preset rhythms are worth exploring too – Blondie didn't need a programmer when making "Heart Of Glass," they just pushed the Mambo and Beguine buttons in at the same time and let it run.
The CR-78 on offer was recently given the once over including a cleaning and recap. $3507.20 and it's yours.
Oberheim DX With Stretch and MIDI

Everyone knows the Linn LM-1 Drum Computer was the first digital drum machine but did you know that Oberheim's DMX was the second? Released in 1980, it had a massive impact on both hip-hop and dance music (it was the drum machine in "Blue Monday," after all). In 1983, Oberheim released the DX, a cheaper version of the DMX.
The DX has 18 sounds instead of the DMX's 24 along with six-voice polyphony. Like its big brother, it also has removable EPROMs, allowing users to swap out sounds – even better if you have one of Oberheim's Prommer EPROM burners.
The DX here is extra special because it has the optional Stretch expansion attachment, which added four additional voices plus buttons and sliders for each sound. Additionally, it has after-market MIDI, modern ZIF (zero insertion force) EPROM sockets to make changing chips easier, and a clutch of extra EPROMs. It even has real wood end cheeks replacing the plastic ones of the original. Hip-hop and dance music history heads with an extra $3500 on hand, take note.
Dynacord ADD-One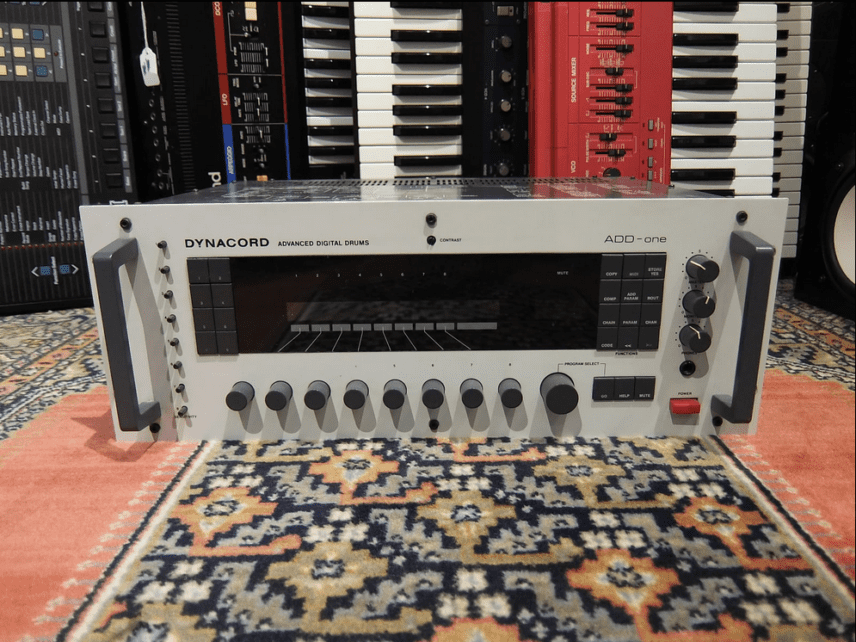 Here's a special one. In 1986, a German company called Dynachord released the ADD-One, a digital drum machine with analog envelopes and filters. At first glance, you'd be forgiven if you thought it was a piece of high-end, rackmount audio equipment. It is, in fact, a drum machine, and one designed by ex-Oberheim engineer Marcus Ryle at that.
It has eight voices, with any of its sounds assignable to the eight groups. Each group has its own analog filter (based on the CEM Curtis 3389 chip) capable of self-resonance. Along with a variety of drum sounds, the ADD-One even comes with single cycle waveforms and (with the optional drive unit) you can sample into the machine at 12-bit/50Hz.
The machine in the listing looks great, with recent pro service and even a warranty.
Its price ($3810.98) reflects its scarcity though. This is one for the hardcore drum machine collector only.
Metasonix D-1000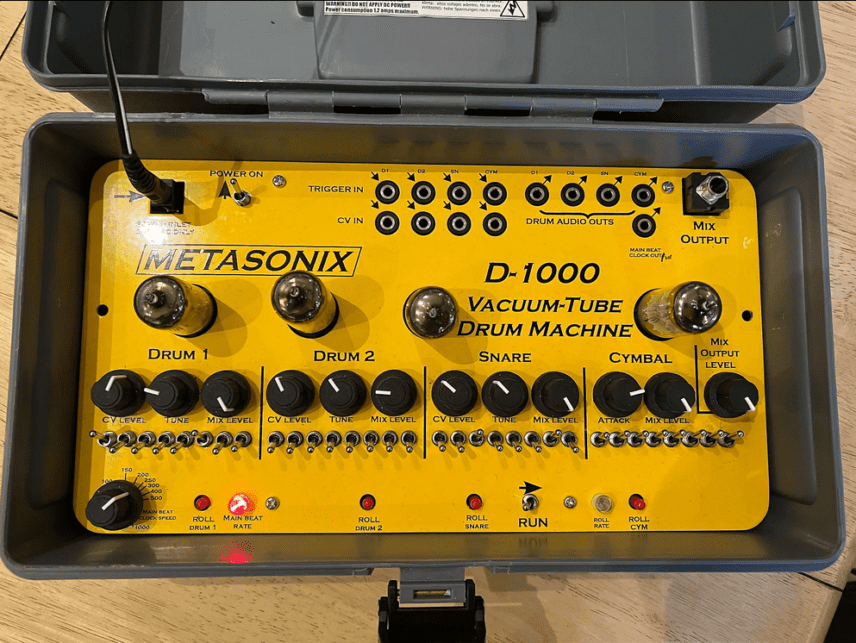 Many of the drum machines on this list are rare because they're old. The Metasonix D-1000 is rare because it's crazy. It's a vacuum-tube drum machine but these tubes aren't just warming up other sounds, they're the source of all the sounds. How bananas is that? There were also less than 200 made, which only adds to the mystique.
There are four sounds, Drum 1, Drum 2, Snare and Cymbal, with the first three using bandpass filters to generate sound and the fourth pushing out white noise. You can tune the sounds or control attack, depending on the sound, and it's all controllable with CV. Nuts.
This listing is in excellent condition and fully functioning, and the seller adds, "Those who know, know!" Unfortunately, they'll only sell in the UK. It's quite expensive ($5066.60) but if you've ever wanted a tube-based drum machine (and you live in the UK), today is your lucky day.
Chamberlin Rhythmate Model 40

From vacuum tubes to tape loops. The Rhythmate Model 40 is sometimes called the first drum machine. It was designed and built by Harry Chamberlin, who made a series of instruments based around loops of tape, including a keyboard instrument that was a precursor to the Mellotron.
Like the Mellotron, the Rhythmate Model 40 plays back pre-recorded loops of audio. It has 14 tape loops with three tracks each of a drummer playing different rhythms and styles. Move the lever to choose the loop you want to hear.
The unit here is one of only 10 made and is owned by Phil Elverum, a musician from the Pacific Northwest, who inherited it from his uncle. It's been used on a number of albums and songs recorded at Dub Narcotic, a well-known indie rock studio. The tape loops are all intact although the speaker was replaced many years ago and the spring reverb needs some attention. Give it a new home for $7500.
Linn Electronics LinnDrum LM-2 with Forat MIDI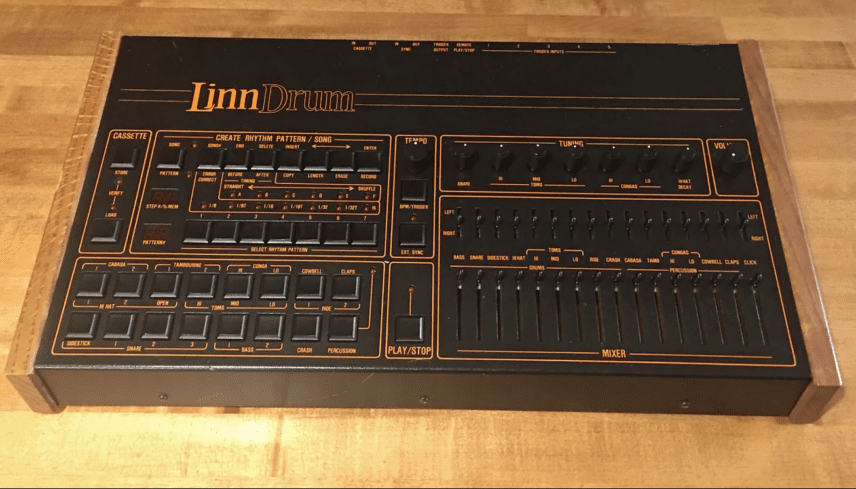 Before the Linn LM-1 came out in 1980, drum machines were all analog. Unless you could get your hands on an old Chamberlin Rhythmate (see above), you were stuck with analog approximations of drum sounds. Roger Linn changed all that by putting digital samples of acoustic drums into a machine with a sequencer. It was an instant hit, and the follow-up, 1982's LinnDrum LM-2, was a monster.
The LinnDrum has 12-voice polyphony and features 15 35kHz samples of the usual drum suspects: kick, snare, rimshot, hi-hat, toms, and other percussion. Additional sounds are available on EPROMs and can be swapped out. You can fine-tune and pan each sound and there's a volume slider to aid in mixing. The kick, snare and hats can be accented as well. Swing and quantization made their debut on this machine, something we should all be thanking Roger Linn for.
While the LinnDrum was incredibly popular, nothing lasts forever, and when Linn Electronics closed in 1986 the company's assets were purchased by Forat Electronics, who continue to offer service, sounds and modifications for the drum machine.
The machine here features restoration and touch-sensitive MIDI by Bruce Forat himself. It also includes six additional EPROMs. For $7800 you can relive the '80s glory days and songs like "Relax" by Frankie Goes To Hollywood and Madonna's "Lucky Star."
Roland TR-808 With Box

In 1980, Roland dropped a bomb called the TR-808. It was a drum machine but it was programmable, a far cry from the preset rhythm boxes of the previous generation. It was also crazy-sounding, with analog synthesis recreating typical drum percussion like kicks, snares, cowbells and hats. Unfortunately, what people wanted at the time was digital samples so everyone bought a LinnDrum. Fortunately, hip-hop producers soon realized they could use the 808 to make earth-shattering bass, and music changed practically overnight.
The 808 is just as popular now as it's ever been, with plenty of modern genres of music using 808 sounds. These days it's easier to get a sample pack or even just synthesize your own 808 booms but for the die-hard, only the real thing will do.
This 808 is cherry. No MIDI, no mods, just beautiful Japanese design and engineering through and through. This one is near mint and comes in the original box with packing material. It also includes the manuals as they fell out of the box the first day it was opened, a pattern sheet, and even a transparent overlay, making us think it's probably a Japanese import. It's been serviced and includes a warranty and service report. $9328.61 for the whole shebang.
Roland TR-909 With Gold Plating

Things that are often gold: rings. Things that are sometimes gold: teeth, toilets, and Homer Simpson. Things that are almost never gold: the Roland TR-909. Well, this one is. For the music producer who has everything, it's a gold-plated 909.
The Roland TR-909 Rhythm Composer debuted in 1983 and featured both analog synthesis and digital sampling. While this wasn't enough to convince the buying public in 1983, by the late '80s it was being snapped up second-hand by techno and house producers precisely because of its punchy and synthetic sounds. It also had MIDI, making it dead easy to incorporate into a hardware setup. It's since become such a classic that prices have reached Mt Everest-level heights. And that was even before gold plating.
The machine on the docket here is a 909 in every way except for the color. It's a Japanese 100V model and is serial number 370785. It's near mint and has some scratches but the seller asserts that it "has been tested by our professional technician and is working perfectly." But how about that gold plating? Unfortunately, the listing doesn't mention anything about the gold or how it got there. Maybe if you drop the $11,000 they're asking for the seller will tell you. We'd love to know too so if you do buy it, let us know in the comments.
E-mu SP-1200 Unused Collector Edition

In 1985, sampling specialists E-mu released the SP-12. It was the first commercially successful sampling drum machine. They followed it up with the SP-1200 in 1987 and the machine soon became a staple for hip-hop producers. Many attribute the sound of the golden age of hip-hop to the SP-1200's 12-bit resolution, 26.04kHz sampling rate, and SSM2044 filter chips.
While the main era for production was the late '80s, E-mu continued to reissue the SP-1200 throughout the '90s. The SP-1200 in this listing is from the Final Edition batch, one of the last 125 units that rolled off the assembly line in March 1998. The Final edition units have a badge on the front to prove it, and this one is numbered 41 of 125. The seller also claims it's unused and in a "museum state." It includes the original manuals and disks and sells for $11,984.14.
*Attack Magazine is supported by its audience. When you purchase through links on our site, we may earn an affiliate commission. Learn more.
FOLLOW ATTACK MAGAZINE