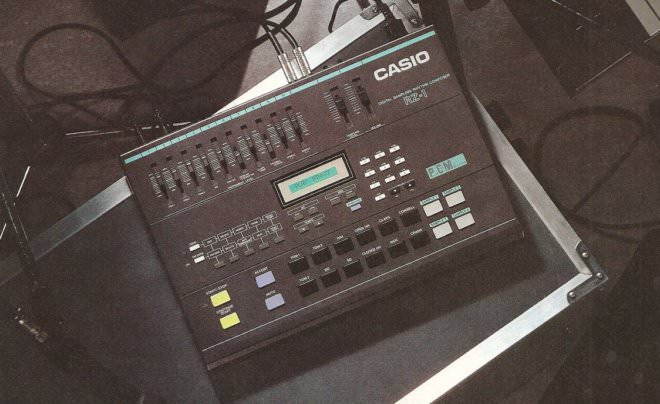 Pic: retrosynthads.blogspot.com
Casio RZ-1 (or similar leftfield choices)
Second-hand price: £50-150
Produced: 1986 – 1988
It's hard to find real vintage drum machine bargains these days but if you're willing to settle for a few compromises there are still good buys to be had even at the sub-£150 price point. There's no clear winner here, but there are plenty of good options to explore.
If you're looking for an analogue machine your options are quite limited but it's not too difficult to find a Boss DR-110 for anywhere between £50 and £100, which is a steal for a unit (very) loosely related to the early 80s Roland TR units. It's a seriously limited device in standard form, but it still sounds good and it gets even better when modded to open up its potential (individual outs, drum pitch and decay controls, filters…).
However, if we're being strict about the budget and ruling out modifications, the real value for money in this price range probably lies in sample-based units. Digital drum machines have a major disadvantage in the 21st century, which is the fact that affordable samplers and sampler plugins have made them all but obsolete over the last couple of decades.
You may well argue that they're entirely redundant given that you could probably find a set of samples for any given drum machine in just a few seconds on Google. And it's partly true. You're not going to get all the sonic benefits of an analogue unit, but the sound itself is only one of the many benefits of hardware drum machines. Hands-on sequencing, being forced to adopt a particular workflow, stretching the boundaries of a machine which can only operate within a clearly defined set of parameters – all these factors make up part of the hardware drum machine experience, and they apply just as much to sample-based machines.
There are plenty of bargains to be had once you restrict your search to digital units. You could get a Yamaha RX or a Roland R-8, flagship models of the late 80s and early 90s which plummeted in value as soon as computers rendered them all-but obsolete. You could go for a ghetto house classic like the Boss DR-660 (as eulogised beautifully by Legowelt here). But if you're going to go leftfield, why not go all out? If you forced us to pick just one seriously underrated vintage gem in this price range, we'd plump for the Casio RZ-1.
Casio isn't often taken very seriously as an instrument manufacturer (which is a shame since the CZ series of phase distortion synths is particularly capable). It's at the bottom end of the market where Casio had the biggest impact. Producers of a certain age will look back fondly at the unassuming SK-1 sampling keyboard, which bundled very basic sampling capabilities into a cheap home keyboard. The RZ-1 applied a similar idea to the drum machine: why shouldn't a budget model allow users to sample their own sounds?
Given that sampling was still very much in its infancy, the RZ-1's capabilities can politely be described as modest at best, and its sampling features won't win any awards for sound quality. There are four pads, each with up to 0.2 seconds sampling time at a fuzzy 20 kHz. Elsewhere, the RZ-1's built-in sounds have a certain lo-fi charm. The sequencer is reasonably capable and the basic built-in mixer allows patterns to be tweaked and manipulated in real time. The RZ-1 gained a cult following, notably among ghetto house producers, with the RZ's crunchy samples cropping up on a number of Dance Mania tracks.
The RZ-1 is a forgotten gem. It's not going to win many awards, but if you're looking for a new tool to push you different creative paths it's a great reminder that you don't need to splash out a fortune to pick up something inspiring.