Roland's Gaia 2 is a digital synth with wavetables and tons of synthesis options but does it deserve a place in the company's pantheon of godlike instruments?
They say you can't teach an old dog new tricks but the past few years have seen Roland – now 51 years old – attempting to break out of its comfort zone. While it has done very well acting as a kind of legacy company, revisiting its many past successes with modern versions, it has taken some steps towards firmly modern technologies. One is wavetable synthesis, which has made its way into the Fantom via an expansion model, last year's SH-4d, and now their latest, the 22-voice polyphonic Gaia 2. 
Wavetables may not be the most staggeringly up-to-date synth tech out there – they've been around since the late 1970s, after all – but it does play an important part in modern electronic music production. It's exciting to see Roland not only embracing it but placing it front and center in their new instruments, an all-digital affair that also includes virtual analog, a unique touch pad-based modulation source, and integration of effects.
How does it compare with their past successes? Let's find out.
The Look And Feel
The first thing you'll notice when looking at Gaia 2 is just how many knobs and sliders there are. While there is some menu diving involved, most parameters are accessible from the front panel, making this something of a synthesist's dream. The front panel is white anodized aluminum, which recalls a MacBook or the Korg Minilogue. Unlike with Korg's analog synth, though, the 37, velocity-sensitive keys here are full-size.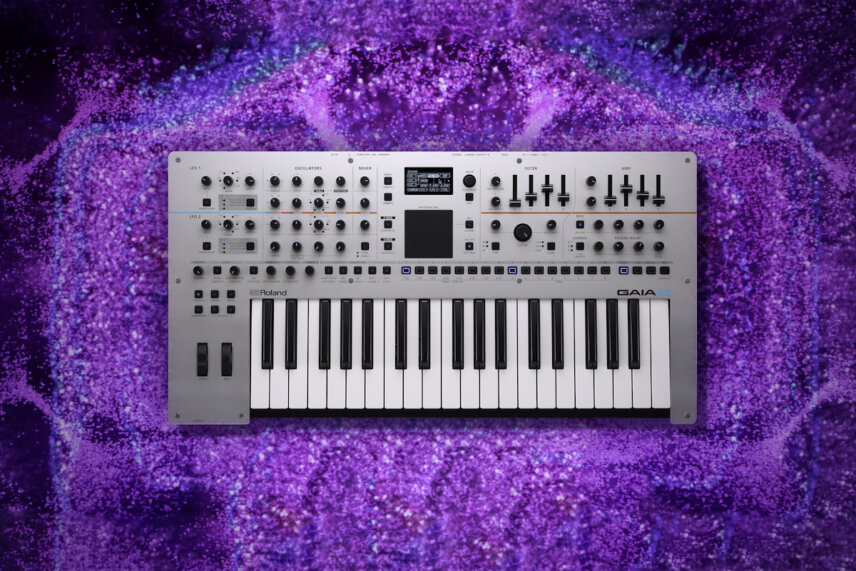 With its bright orange and blue highlights, we're not huge fans of the look of the Gaia 2 but everything is laid out clearly and thoughtfully, making use relatively intuitive. The OLED screen, while small, is wonderful to have, changing to display parameters as they are engaged. There's a little wiggle in the knobs and sliders, although to an acceptable amount, although we'd prefer that the indent be a little more pronounced on the oscillator octave knobs. It's quite easy to overshoot your target footage although this doesn't affect the sound, only the position of the knob.
Triple Threat Oscillators
As Gaia 2 is something of a traditional synthesizer in terms of synthesis, let's go through each section one by one.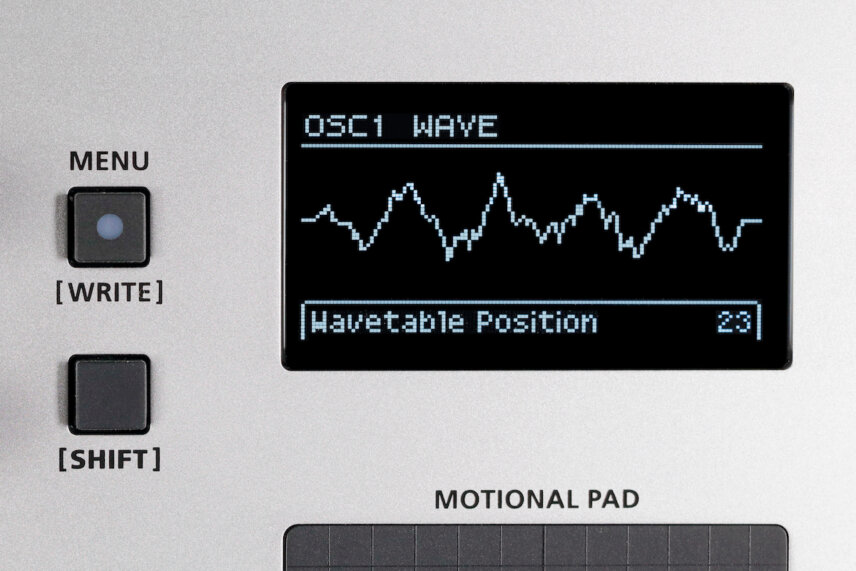 As with the first Gaia, number two is a three-oscillator synthesizer. However, unlike the all-VA original, Gaia 2 replaces the first virtual analog oscillator with a wavetable one. The 63 wavetables feature a variety of waveforms, from basic sines to noisy vocal vowels. You can adjust (and modulate) the wavetable position, and further tweak things out with the Phase and Shaping Modulation parameters.
The other two oscillators are more traditionally 'Roland', with sine, triangle, sawtooth, square, noise and supersaw waveforms present. Each VA oscillator also has a Shape knob for bending waveforms, such as pulse width for the square, Alpha Juno-style sawtooth modulation, and so on.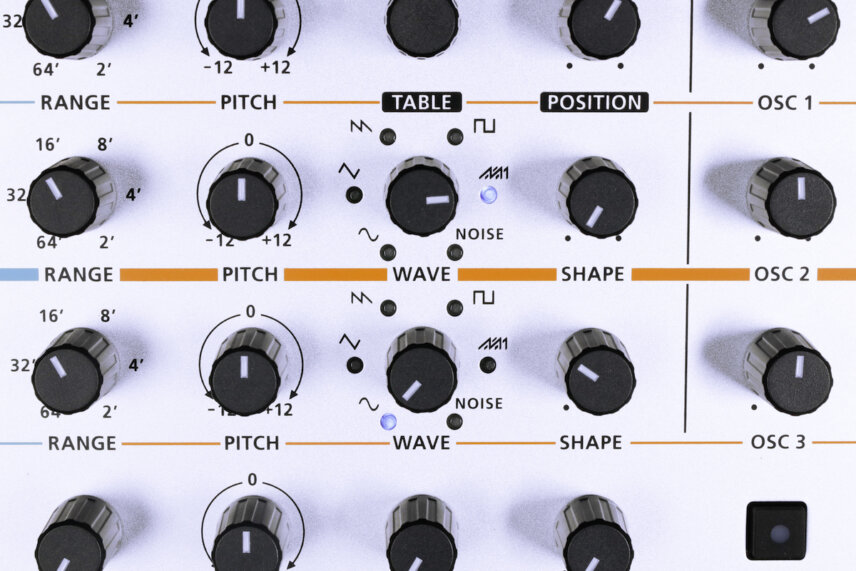 The oscillator section is rounded out with a complement of much-appreciated extras, like sync, clangorous ring modulation, and Roland's X-mod, or cross modulation, all of which significantly expand sound design options.
All That Filters Is Not Gold
Next is the filter. It's a multimode affair, with lowpass, bandpass and highpass circuits, each with 12, 18 and 24dB/octave variations. The cutoff knob is oversized and easy to grab, while the Resonance and Drive controls are spaced well enough away to avoid accidentally hitting the wrong knob in the heat of the moment.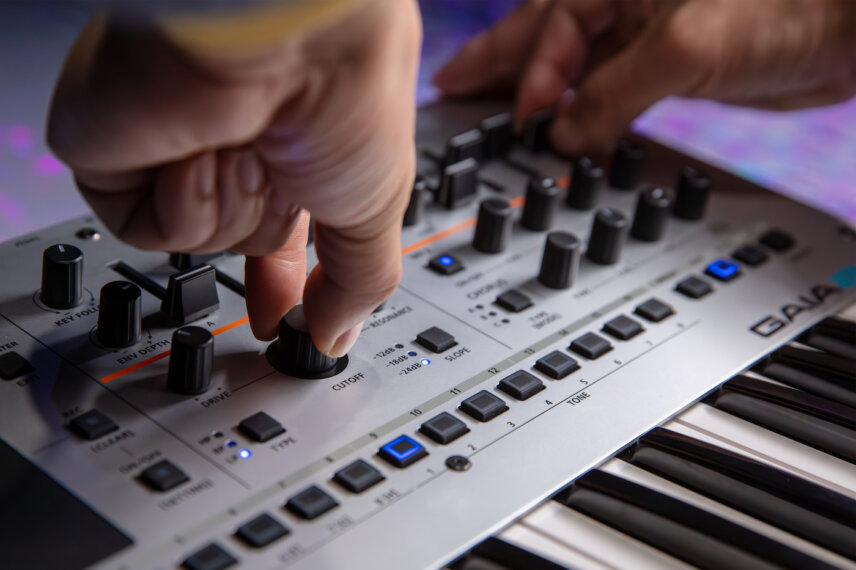 Roland is famous for its filters, which are generally rich and musical, with a satisfying squelch when pushed. The filter on the Gaia 2, however, left us feeling a little underwhelmed. There's a significant amount of bass loss when raising the resonance, while the overall tone of the filter seems on the dark side. The drive distortion is nice to have but it could be more musical in its interaction with the filter, particularly at higher amounts. The bandpass filter is also surprisingly quiet.
An Abundance Of Control
Moving on, the modulation options definitely impress. It's always nice to see multiple envelopes and LFOs on a synth, especially when you're used to more simple affairs like the Juno series. There are dedicated envelope sections for both the filter and amplifier, each with the usual additional controls like key tracking and level. The amplifier also boasts a Tone knob for hi-fi style frequency adjustments. Additionally, there's an AD envelope hard-wired to pitch, perfect for drum synthesis and hoover creation.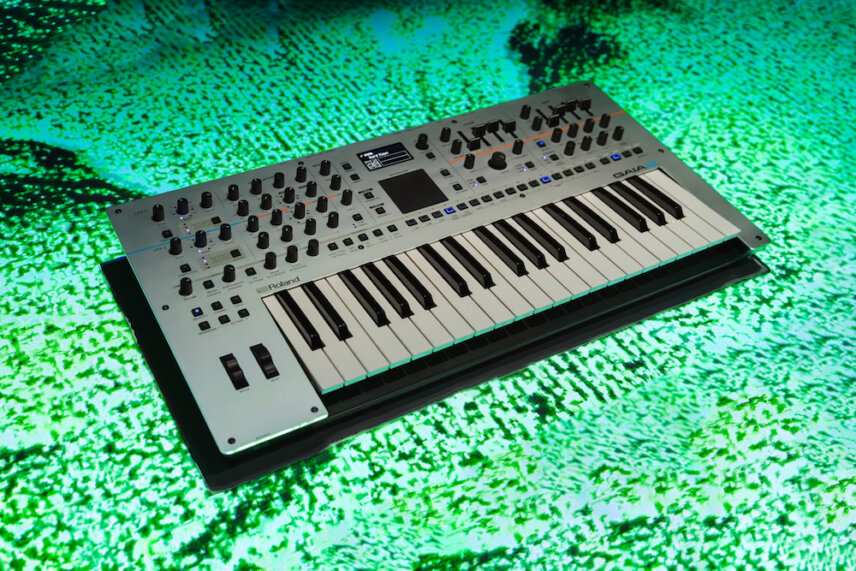 Gaia 2 has two LFOs, each assignable to up to four parameters. Assigning is as simple as pressing a button and turning the destination knob. This includes effects as well. All the usual LFO wave suspects are here, from sine to random, plus a drawable step LFO. This last one is done via the screen which, as nice as it is, is a little on the small side for a job like this. Hopefully, Roland will release an editor in the future, if just for this.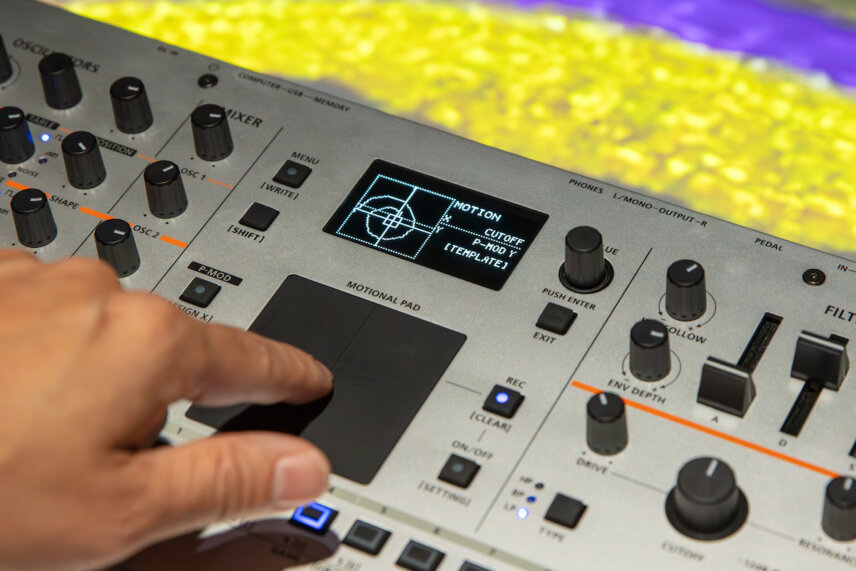 As if these weren't enough, Gaia 2 also has a Motional Pad, an X/Y pad for creating animated modulation sequences. You can freely assign destinations to the X and Y axes and either choose from the premade geometrical sequences or draw in and record your own. This is also where the wavetable Phase and Shaping Modulation parameters live.
With so many modulation possibilities, Gaia 2 absolutely excels at complicated patches with oodles of movement. Think pads (it's a real pad machine), wobbly basses and transitions.
Roland's Many Effects
Many think of Roland as just a synthesizer company but it has decades and decades of effects in its catalog as well. From famous chorus circuits to delays and reverbs and even distortion, Roland has made pretty much everything at one point. All of this means it has a deep well of effects to pull from when designing synthesizers, and they've pretty much all made their way into Gaia 2. These go a long way in transforming even basic sounds, making them an integral part of the synthesis process.
It wouldn't be a Roland without chorus, and Gaia 2 dutifully has a triple circuit. There is also a reverb/delay with a new shimmer chorus algorithm included. Add to this the much-loved MFX, or multi-effects section, with more than 50 different sound-shapers to choose from, and you won't run out of effects options any time soon.
Gaia 2 In Action
Here are some sounds straight from the Gaia 2 with no additional processing:
Gaia bass:
Gaia lead:
Gaia arpeggiator:
Gaia chord memory:
All The Extras You Need
Being a modern synthesizer, Gaia 2 comes fully loaded with the kinds of extras that you've come to expect a synth to have. This includes a basic but fun sequencer and arpeggiator, as well as a Chord mode for instant rave stabs and dub techno. There's even a massive unison mode.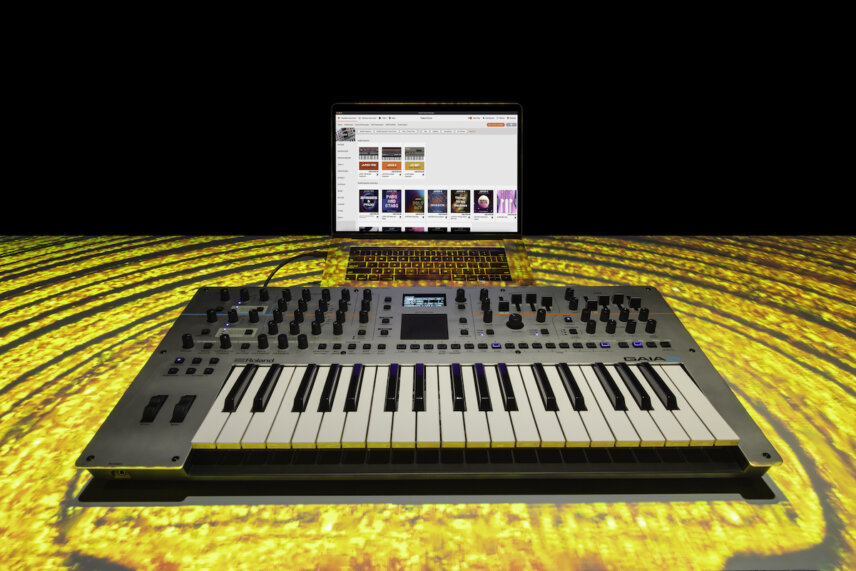 As Roland tends to do now, Gaia 2 can also host model expansions, digital versions of some of their other synths. It comes preloaded with the SH-101 (which sounds great) and others are available on Roland Cloud.
In terms of connectivity, Gaia 2 has five-pin MIDI in and out ports plus USB-C to interface with a computer (for both MIDI and audio) or iOS device. You can sync up Aira gear with Aira Link too. There is also a USB-A port for connecting an external MIDI controller. Yes, the Gaia 2 is class-compliant. You can even power it from a computer. Annoyingly, you still have to do updates and data exchange via a USB thumb drive.
Final Thoughts
At £789/$899, Gaia 2 is on the expensive side, especially when compared with some of the similarly digital instruments that Modal Electronics has on offer. However, Modal's next, the Carbon8, will reportedly be even more expensive than the Gaia 2 and with a lot fewer voices and no model expansions, although it does best the Gaia in other departments.
Gaia 2 is a blast to use though, intuitive yet deep with plenty of modulation sources to keep you working away in the lab for hours. With all its controls it could be a little intimidating for a first-time synthesizer but ultimately there's nothing too complicated here. Synth veterans will take to it readily, so much so that they may miss how helpful the screen can be – which is a shame because there are some functions that only be accessed via menus, such as velocity sensitivity.
While we still wish the filter had a little more sparkle, Gaia 2 is a solid synth with plenty going for it. This is doubly true if deep synthesis is your thing. Will Gaia 2 take its place in the pantheon alongside the other deity-named synths? Only time will tell.
While you're here, take our Roland Immersive Quiz to test your knowledge.
The Verdict
The Final Word
Synthesis is front and center in this wavetable/virtual analog hybrid synth.
Follow Attack Magazine