Pioneer DJ already dominate the DJ booth. However, with their Toraiz range they've set their sights on expanding into the studio and live performance. Will the Toraiz Squid (SeQUencer Inspirational Device), their latest creation, become the centrepiece of your studio? Bruce Aisher finds out.
Pioneer are clearly no strangers to the world of dance music and related electronic forms. With a a long-running, and well-respected, line of DJ-related kit they are worthy attendees at the top table of club tech. It is perhaps therefore no surprise that over recent years they have made forays into other performance related kit.
Under the Toraiz banner they have already introduced an analogue synth (the AS-1) and sampler (SP-16), and the latest addition is the oddly named Squid multitrack sequencer. Whilst both the SP and AS were geared to sound creation, and included technology borrowed from Dave Smith Instruments (the whole synth circuit design in the case of the AS-1), the Squid is completely soundless.
Looking somewhat like a cross between Akai's MPC Live and NI Maschine range, most of the clues to Squid's core intent can be found on it's rear panel.


Beside's the more obvious power and USB connectors, you will find three MIDI ports (IN, OUT1 and configurable THRU/OUT2), two sets of CV/GATE outputs, analogue Clock In/Out and two DIN SYNC ports (OUT1 and configurable IN/OUT2).
The big takeaway from this is Pioneer's acknowledgement of the ongoing rise of analogue gear. As any Attack reader will know, the lines between studio and live/DJ-oriented performance are getting increasingly blurred. Alongside the need to control MIDI gear, there is a requirement to incorporate classic gear such as the (DIN-equipped) Roland X0X boxes alongside Korg Volca's and the other numerous newer devices synced via analogue pulse-based clocks.
Deep Inside
Now that we have some sense of what type of gear Squid can be connected to, a look at the internal structure will give an idea of how the everything comes together.
The top level of any activity on the unit is the Project, which consists of 16 tracks. The unit can store 128 Projects. Each track is assigned to a particular sound source (bass, drums etc.), and can be used to create and host up to 64 patterns. A pattern is a set of performance information with a length of 1 to 64 steps.
The next question is how the front panel relates to all of this. There are three basic sections, with the top of the front panel overseeing much of what goes one. In this Global section you'll find a familiar set of transport controls alongside an encoder and buttons for accessing various menu-based functions via the two small displays. The only apparent oddity here is the so-called TIME WARP button. This is actually a rather neat feature, found in some DAWs, which allows you to recall and save previously played material into new (permanent) pattens – allowing you to drag lost ideas from a permanently running buffer. Perfect for attempting to recapture moments of mid-flow madness.
The Phrase Arrangement section, on the left side of the fascia, mainly consists of performance control and manipulation elements, with 5 rotary encoders, numerous buttons and the spring-loaded GROOVE BEND slider. As well as providing access to various automation, speed modulation, arpeggiation and and melodic scaling features, you will also find a bunch of buttons determining the direction, speed, probability and repetition of events being triggered.
Clearly Pioneer want to make the live interactive aspects of this box as easy to access as possible. Although you would expect any sequencer like this to have a SWING parameter, the GROOVE BEND slider goes much further. Essentially, it allows you to create your own grooves (by rushing or dragging the trigger timing) which can then be recorded as automation data (with a small LED indicator next to the slider to indicate that this is active). SPEED MODULATION is another way to adjust the groove, but this time under LFO control via 6 different wave shapes. The various speed and rhythmic control buttons can also be written as automation when in Record mode, though this does not appear to apply to the RUNNING DIRECTION section.
These groove manipulation elements are excellent and really lift the Squid into interesting territory. It's fair to say that you will see step-sequencing in a new light after getting stuck into this section.
Step To The Beat
Of course, this all assumes that you have some music data entered already, and this is where the Step Edit section come in.
Here you will notice buttons for entering the aforementioned TRACK and PATTERN modes as well as accessing and editing pitch, gate and velocity data. However, it is the 16 backlit pads that take centre-stage here, with their function (and colour) changing depending on what mode you are in. These include track selection and muting, pattern selection, editing of individual steps in a pattern (Trigger, CC and Tie modes) as well as the ability to play within pre-defined scales or chords and transposing existing patterns.
One interesting feature that goes beyond standard step sequencing is the ability to extend the length of individual steps by a COUNT multiplier or DIVIDE them, for multiple triggers per step (essential for those Techno-style ratcheting effects). For moments when inspiration is sparse, there is also a randomiser function, which can focus on one or a range of parameters.
Sucker MCs

The conundrum with any unit such as this, is who exactly it is aimed at. For a DJ who is merely looking to add some live electronics to their set, the cost could well be prohibitive – and that's before you add any sound-generating elements to the rig.
There are those producers who mainly work in-the-box, and who are interested in making a foray into the 'real' gear world. Again, initial cost might be high, though there is no doubting Squid's ability handle a growing setup. Finally, for existing producers who own a bunch of hardware gear, it would require replugging and rethinking the way they work – particularly if they are already using a DAW to control and record everything.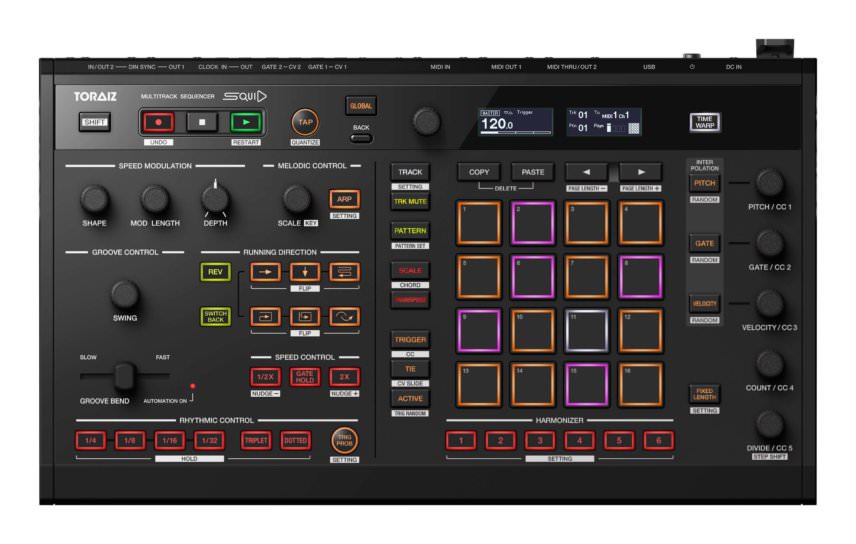 However, these all perhaps assume that Squid is merely a replacement for a DAW or Maschine/MPC-style sequencer. The reality is that Pioneer have gone to great lengths to make their Toraiz units creatively fruitful in a range of contexts. Plugging a bunch of my old analogue kit, a MIDI polysynth plus a modular sequencer into the Squid, whilst locked to an existing track in my DAW proved very fruitful – conjuring-up ideas that I would have been unable to create or consider in any other way. It's also worth mentioning that (free) Squid Manager Software makes backing-up projects and converting existing MIDI files to Squid Patterns (and vice versa) very easy over USB.

There are some interfacing options that I would liked to have seen included, and that would have made the argument for Toraiz gear being at the centre of both studio and live rigs even easier to justify. Analogue trigger outputs for modular drum and envelope use would have been great, as would the inclusion of one or two CV inputs.
On the digital side, a couple of USB host sockets for connecting MIDI-less gear or an external MIDI interface (to up the port count) would be a useful (though arguably open to non-compatibly issues).
As it is, there are plenty of options for for tweaking the analogue interfacing aspects of the Squid allowing it to interact with most gear, old and new. That said, I would also liked to have had ability to apply any swing to the external clock outputs. There are many small sequencing sound boxes lack any type of groove manipulation, and that would benefit from the ability to lock to an externally swung timebase – perhaps sometime for a future update?
Final Verdict

The final question is one of overall usability. This is a very physical device, though even then there is no immediately available way to see what some of the parameters are set to.
With this in mind, there is an argument to suggest that Pioneer might have been better employing a larger screen alongside a series of 'soft' encoders (as in their SP-16 Performance Sampler).
Unfortunately, this is a question that can only be answered by the individual user, so – if at all possible – it is worth spending some time with the unit before committing to buying one.
Sadly, and unlike Volcas and their ilk, this won't be a casual purchase item for most of us. Overall, I enjoyed the Squid, though it is certainly something that will reap increasing rewards with a bit of time and attention. Definitely one to try for anyone with anyone living or venturing out-of-the-box!
The Verdict
The Final Word
Great for those sequencing multiple units out-of-the-box