Up next on the test bench is iZotope's Ozone 9. Released just two years after Ozone 8, is it time to update the adage "we'll fix it in the mix" to "we'll fix it in the master?"
It's been a little over two years since Ozone 8 came to market and in that time iZotope has continued to develop other plugins in their roster, notably Nectar and Neutron. It's therefore of little surprise that they've now turned their attention to Ozone 9. It utilises a large chunk of technology that powers their other plugins and continues the company drive to be the market leader for all-in-one products.
Let's, however, address one major concern as there has been substantial discussion around the price. There will be many who are reading who balk at the idea of an expensive upgrade, especially as Ozone 8 was released just two years ago. It's true that Ozone 9 is a significant acquisition at $499, for the Advanced version, but you do get a lot for your investment – a whopping 15 modules. Comparatively, it's priced well to competitors such as the evergreen FabFilters Mastering bundle. Ozone 9 delivers 15 modules where FabFilter includes just four plugins and it's not simply a case of quantity over quality.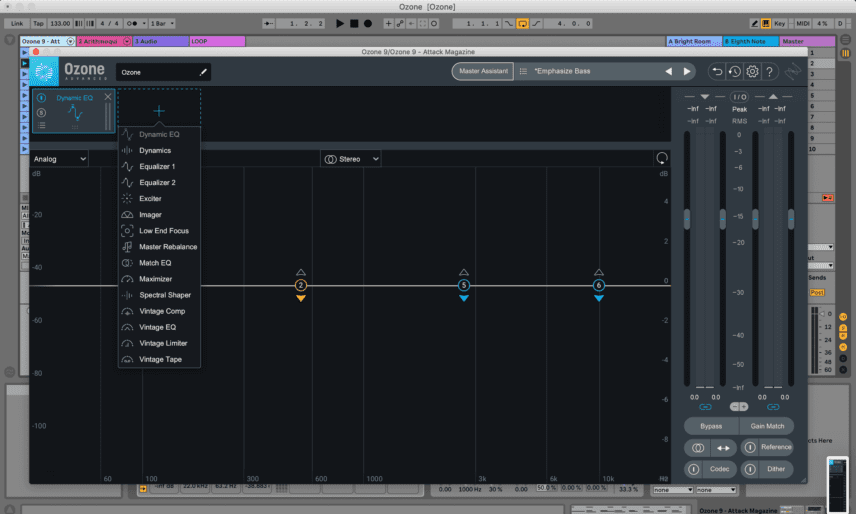 However, the impact on our wallet almost always affects consumer psychology. It's worth bearing in mind that there are recently available options such as Splice's rent-to-own model which helps make the jump that much smoother. This new model assists customers in navigating often confusing and expensive pricing strategies and has become a viable option for many these past few years.
With this update, all 17 years of iZotope's experience is on display and Ozone is ubiquitous in some genres. It's found a particularly febrile audience with trap producers who discovered that iZotope's interest in the low end matches their own big and boomy taste. However, it's unfair to pigeonhole this as solely for those of the 808 persuasions as Ozone 9 is surgical in ways that are almost hard to believe. Let's take a further look.
What's new?
With Ozone 8 already familiar to most Attack readers, we've chosen to focus on what's different this time around. The most tantalising new offerings are the excellent Master Balance and the Low End Focus modules. There is also the standalone version but we're reviewing it running inside Live 10.1.
Master Rebalance
The Master Balance module is one of the 15 modules that come with the advanced version of Ozone 9 and one of the most impressive. This new module allows you to get to grips with the final elements in a mix without the need for stems.

The three options are Vocals, Bass or Drums and by simply pushing the gain up or down you can affect the overall volume in the mix without using the stems or going back to the mix. It also works in realtime. In other words, if the vocals or guitar are too loud you can use the Master Rebalance to fix it and avoid rejigging the mix, sends, leveling and so on. Our sceptical selves were absorbed and can see this being a genuine time saver and possibly a game-changer.
Master Balance also plays its part in the arrangement. If you automate it's parameters, say the Vocals, then you can add punch to a chorus drop with a slight increase to the chorus vocals volume. You could also automate the bass and drop it out in a breakdown for example. Very simple yet effective.
It's worth pointing out that you can only work with either the Bass, Vocals or Drums separately and not at once. A workaround would be to load another unit of Ozone but either loading another unit, or asking iZotope to update the current options, is going to almost certainly spike the already overworked CPU.
Low End Focus
Not to be confused with a mid-week student club night, this new module is an indication that iZotope knows their audience and is really getting to the bottom of what they want…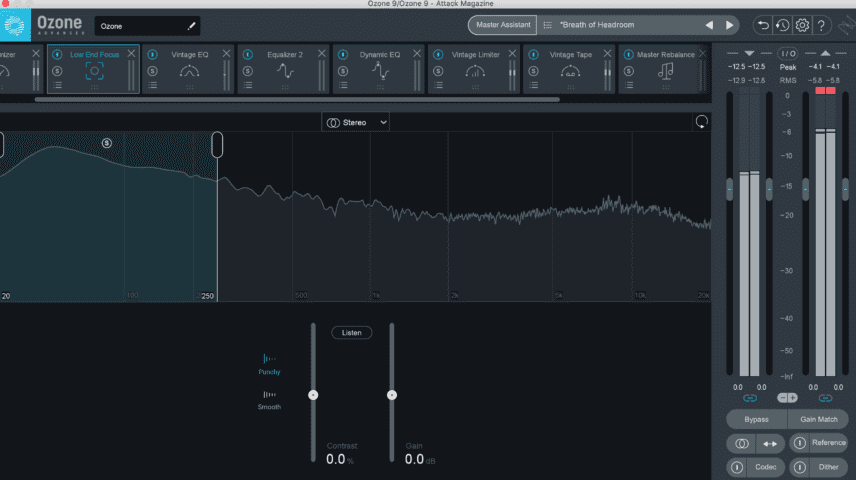 Designed to enhance bass it actively adds clarity. It has two modes Punchy and Smooth. The former has faster response times to emphasize transient peaks and the latter uses slower response time to enhance sustained material. We suspect Punchy will be the more popular setting for most users.
Like all the modules its easy and intuitive with a simple to use positive and negative contrast working alongside a Listen button. We couldn't find a way but it would be great to automate the Listen button as when active it's a great sounding filter.
spend the right time really learning how to master and then apply this knowledge to Ozone 9. You'll be pleased with the results.
Vintage AI
There's no escaping AI and algorithm mastering. For many, the jury is out and a recent interview with Lawrie Dunster, the brains behind Curve Pusher, suggests experienced mastering engineers are rightly skeptical.
But casting aside prejudice – what value does this have? In Ozone 8, iZotope created the Master Assistant which has been updated for 9 to include a Vintage option. The difference between the two is that the new Vintage mode offers more analogue mastering sounds by assessing the track and providing a chain that best provides a Vintage mastering solution.
Despite initial reservations, we found this helpful as a learning tool more than anything. Behind every algorithm is a human designing the algorithm and we're learning here iZotope's interpretation of how to master for a Vintage sound.
It might not be our preferred way to master our music but it's a plausible learning concept. How many people have wondered what goes on under the hood of Landr for example?
What else?
Regular Ozone users will be pleased with the new Stereoize Mode 2 in the Image module. The update sounds far more natural than Mode 1 and can work a treat on mid to high-range frequencies. Applied in tandem with the Match EQ, which is now its own module, there is a great deal of control at your fingertips which is highly suitable for engineers but also people looking to make surgical amendments to individual stems.
We're delighted also that you now have the ability to save EQ profiles. All of this new functionality still makes Ozone a bit heavy on the CPU but that's true of almost all plugins that are analogue recreations.
How else can I use it?
We enjoyed using it on the master track. It's the obvious location.
But, we also loaded up a drum rack and tried it on the kick drum, as well as on the full drum loop we'd programmed and the results were interesting.
Here is our kick without Ozone 9:
And here it is afterward. This is with some minor tweaks to the Big Beats preset:
It packs a punch on the drums as a whole. Here is a loop we programmed without Ozone 9:
And with (applied to the drums only):
A bit raw and a bit rough around the edges but sounds like a whole lot of fun. Ozone 9 doesn't have to just be surgical…it can be effective in other ways also.
Do I need this?
For the price and huge amount of options, this is arguably the most thorough all-in-one package currently on the market. The features are expansive, in particular for the Advanced version and you might find there is no further need for any upgrades any time soon. Let's review that statement in two years, shall we?
If you're looking to save time and cut corners then you might find this suits you. But, we'd never go as far as suggesting something solely on its time-saving merit. Mastering is an art form and it should never be rushed.
Can it help with certain laborious tasks? Sure. However, if you were to spend the time really learning to master and were then to apply this knowledge using Ozone 9, you're going to find the results are top drawer. Plus, as we mentioned, you might learn a huge amount in that process from the Master Assistant.
Lastly, we still miss the feature that was present in Ozone 4 where you could control the intensity of processing individually for each module. We'd love to see that feature returned with Ozone 10 but seeing as the window is now finally scalable we're happy to accept waiting a little longer…
At a glance
$499 Advanced, $249 Standard, $129 Elements
Standalone version
New Master Rebalance, Low End Focus, Master Assistant Vintage mode
New Stereoizer Mode 2 in Imager module
Match EQ now separate module