Akai Professional have released a free DAW based on the famous MPC workflow. Is it worth your time to learn another DAW?
There's no denying the pedigree of Akai Professional's MPC series. It began in 1988 with the Roger Linn-designed MPC60 and has continued to dominate the world of beat-making for more than three decades. Its instantly recognizable grid of 16 pads (and its ability to chromatically spread samples across them) created a new way to think about music production. Over the years, the series has become more technologically sophisticated, with Akai integrating more sampling time, touchscreens, and PC connectivity, but the core workflow has remained largely the same. If it ain't broke, don't fix it, right?
Now Akai Professional has made the MPC workflow available to the world in the form of a free DAW, MPC Beats. It may be based on the MPC software that runs in units like the MPC Live and MPC Touch but MPC Beats doesn't feel hobbled in any way. It has everything you might need to make tracks, including MIDI, audio, built-in plugins and VST and AU support, a mixer, and plenty of sounds to get started. While it only has up to eight tracks of MIDI and audio (compared to the original version's 128 tracks), each MIDI track can host an entire drum kit, meaning you're unlikely to hit walls any time soon. Remarkable that this is all free.
Making A Beat
Let's go through making a beat and see how it all works. Learning a new DAW is never easy, especially if you're already using another one. The new DAW will always be different and have you scratching your head how to get some things done. While this was our first time exploring the MPC workflow, getting up and running was quite easy. Of course, we did need to consult the manual occasionally and watch a few online tutorials, but overall it was a relatively painless once we had cottoned on to the general workflow.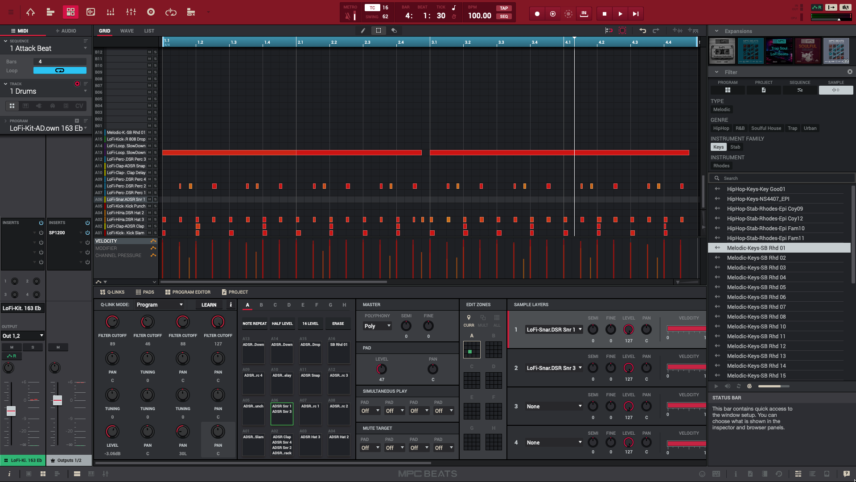 MPC Beats is organized hierarchically. At the top are sequences. Each sequence contains tracks, which can be MIDI data like drums, a keygroup for playing notes either via piano keys or chromatically on the pads, plugin instruments, etc. Each track has a program, which is a collection of sounds. Select your track type, choose some sounds from the browser to make a program, and start recording. Most of your beat-making will happen on a grid, oriented with the first pad at the bottom and then going up. You don't strictly need a controller—you can draw beats in with your mouse—but using MPC Beats without drum pads is missing half the fun. Akai Professional sent over the new MPK mini MK3 to use for this review and having the pads right there (not to mention the piano keys and rotary encoders) made for a very complete beat-making experience.
Bass And Chops
Back to our beat. We started with one of the included expansion packs (more are available for a fee) and laid down some patterns. Even without the famous MPC swing cranked up, MPC Beats imparts an undeniable groove onto the drums. Next, we created a bassline using one of the included instruments, TubeSynth from developer Air Music Technology. MPC Beats comes bundled with three instruments plus a ton of effects, and also supports VST and AU plugins if you already have your own.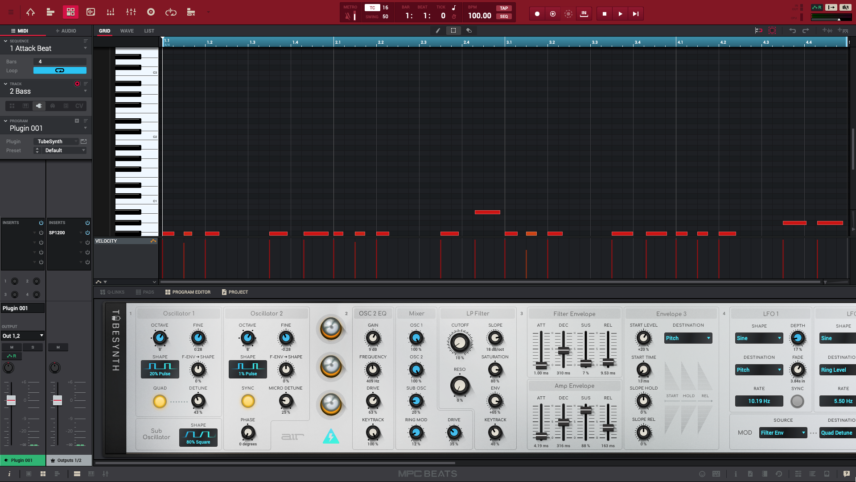 The MPC is also famous for chopping samples. For our next two tracks, we tried just this. It's surprisingly easy to do and tons of fun. Lastly, we used the 16 Level function to spread a single sample chromatically across the 16 pads. We finished our beat by adding effects to each sound individually via the included effects plugins, and lastly applied the SP1200 algorithm to the master buss for that vintage, 12-bit sound.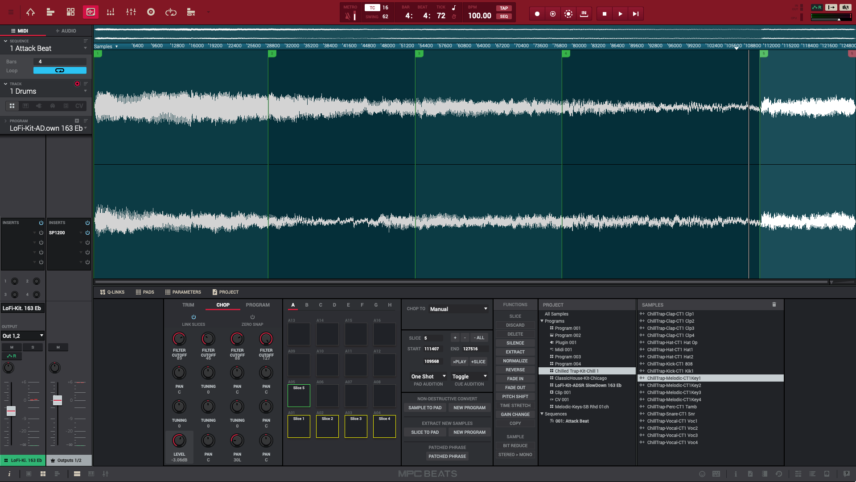 Sequences can then be copied, tracks and sound muted, and everything arranged into a song. It's a different way of working than Ableton Live or Logic Pro X, for sure, but that's the point. It's geared around making and organizing beats. Once you wrap your head around this the workflow becomes very fast.
Here's our finished loop:
Who Is It For?
MPC Beats is largely aimed at the novice producer just starting their beat-making journey. It's a brilliant move on Akai Professional's part. Until now, there's been a huge hurdle to entering the world of MPC: namely, the price of hardware. Now newbies can get hooked in without having to spend a penny. Now that we know how easy to is to make beats this way, we certainly wouldn't mind having an MPC unit to hand in the studio either. If you don't already own a DAW and are looking to get into music production, this is a fantastic way to get started.

The other possible target (and we imagine that's going to be most Attack readers) is the established producer who already has a DAW. MPC Beats also functions as a plugin itself, meaning you can work with it inside Live or Logic or whatever your DAW of choice. And, like Native Instruments Maschine, it allows you to drag audio and MIDI directly onto your DAW timeline. That lovely MPC swing and groove is right there for MIDI export.
The Verdict
When first announced, we were honestly a little sceptical about MPC Beats. How good could a free DAW be? We are happy to say that our scepticism was entirely unwarranted. Sure, there are a few things we'd like to see done differently (some of the buttons are rather small and fiddly, for example) but we could say the same thing about any other DAW. But in general, the positives far outweigh the negatives. MPC Beats extremely full-featured, packed to the rafters with great sample content, and that swing, oh man.
If you're at all interested in MPC-style beat-making then there's really no reason to not download MPC Beats. It's free. You can't beat that. Whether you're making beats for the first time or the millionth, there's likely something here for you. We do recommend using it with a controller like the MPK mini MK3, as it really does improve the experience.
*Attack Magazine is supported by its audience. When you purchase through links on our site, we may earn an affiliate commission. Learn more.