In anticipation of an upcoming Beat Dissected penned by the producer, Attack readers may wish to listen to Thavius Beck's Cosmic Noise that spans two decades of his life's work.
Originally from Minnesota but now based in NYC, Thavius Beck recently released his first album in ten years. Beck has been a prominent figure in the music industry for the past two decades but Attack readers would know him best for his production work.
His style incorporates various elements of cut and slice DJ Shadow style programming mixed with early Orbital. His new album Cosmic Noise LP is labelled as hip-hop / experimental beats / electronic but in reality, moves far beyond the confines of any one genre.
One of the standout tracks on the album is the clever production work on The Principle of Rhythm. The throwback sampler techniques indicate a producer at one with his skills combined with lo-fi analogue synth work. It was for this reason, we've invited Beck to write a guest Beat Dissected for Attack readers. Readers can expect lots more guest contributors in the weeks and months ahead.
The psychedelic and colourful artwork for Cosmic Noise was designed and hand-painted by Beck's partner Sfera Louis, an artist from NYC.
Thavius Beck has been an Ableton Certified Trainer since 2009 for has featured in tutorial videos for Ableton, Dubspot and Accusonus to name a few. His intricate live hip-hop beat construction earned him significant recognition among the electronic music community which eventually led to Live's sponsorship and Beck including instruction workshops in cities he was performing in while on tour.
In July it was announced on Beck's Instagram that another 50 copies of Cosmic noise will be released on August 20.
Stay tuned for Thavius Beck's Beat Dissected later this month.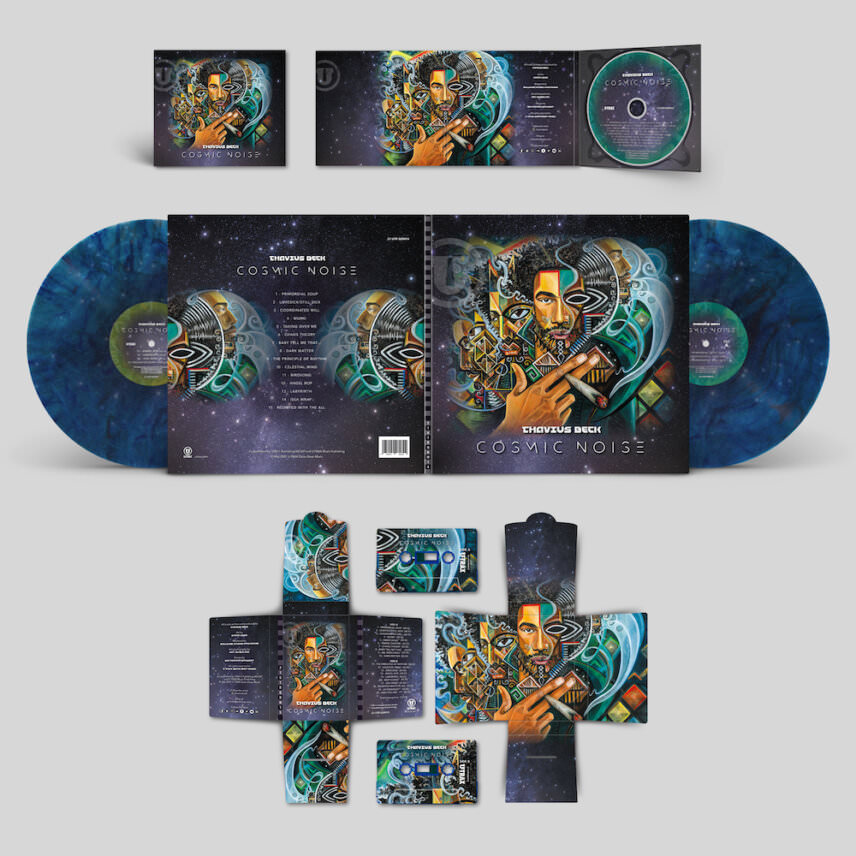 Follow Thavius Beck on Instagram.
Cosmic Noise is out now on U-TRAX and available on all formats (incl CD, cassette, vinyl, digital & streaming)
Read our Beat Dissected series.
Watch our Beat Dissected series YouTube.
Original photography by Monifa Skerritt.
Listen to Cosmic Noise on Spotify