Crystalline by Baby Audio is a next-generation reverb plugin that strives to be the most 'perfect algorithmic reverb' on the market.
Award-winning software company Baby Audio has announced Crystalline. The reverb plugin aims to harness the development of studio reverbs since their inception.
TLDR?
Crystalline's Key Features
BPM-synced start and end times
Sync your reverb's attack and decay to your music but if you prefer a traditional workflow, there is "Sync/MS" switch to set the pre-delay and decay times yourself.
Reflections Section
Within 'Reflections' you can play around with the room size, add Sparkle, set the width and emphasise those high frequencies.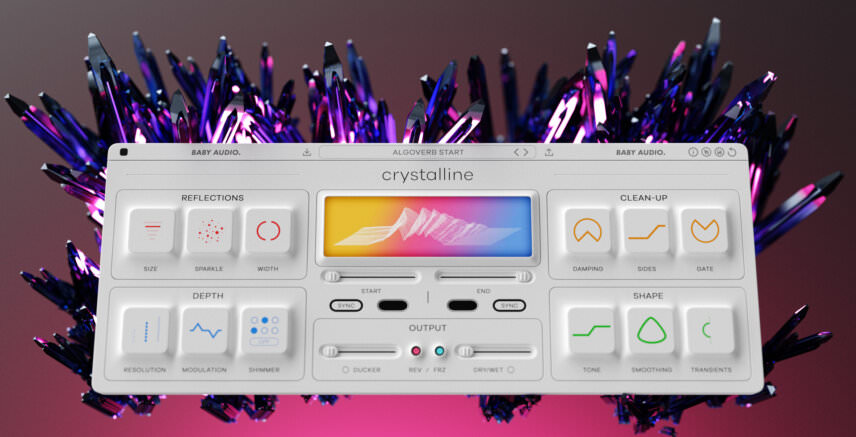 Depth Section
Adjust the complexity of the algorithm using the "Resolution" switch. Add pitch modulation and adjust the level of 'Shimmer' (this makes the high frequencies of the decay after your reverb "End Time").
Clean-Up Section
Remove high and low frequencies from reverb reflections using the "Damping" switch to avoid cluttered mixes. The option to remove stereo information from the low end of your reverb is also provided with a high-pass filter "Sides" switch. The "Gate" switch allows you to instantly recreate the 1980s classic gated reverb sound.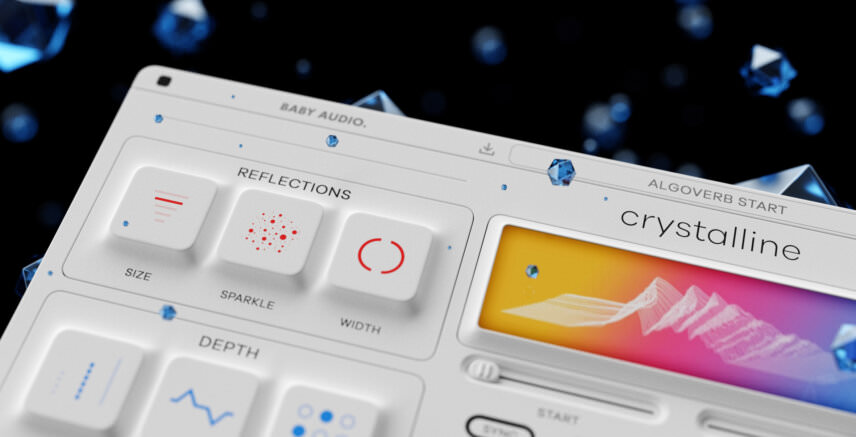 Shape Section
Shape your sound using "Tone" or "Smoothing" EQ for a lightweight reverb and "Transients" to shift the algorithm's emphasis to either the attack or sustain part of the incoming signal.
Output Section
The "Ducker" feature can be used to lower the reverb signal when the dry or incoming signal is playing, meaning that there will be no compromisation of the dry track. You can also create dynamic sounds using the "Reverse" switch which reverses the reverb playback, while "Freeze" will enable you to make interesting transitions in your mix.

If you don't like what you see you can switch between light and dark background while "Eco Mode" enables the plugin to run in a low-CPU mode; disabling the shimmer effect and setting the resolution to 'basic'.
Crystalline retails for $99 but is available today for $49. It's compatible with Mac M1 and is suitable with VST, VST3, AU, and AAX. A demo version is also available.
While You're Here…
If you like this article you might enjoy our book The Secrets of Dance Music Production. It is available from the Attack store!
New customer? Use code ATTACK10WELCOME at checkout for a 10% discount!

FOLLOW ATTACK MAGAZINE