House producer and DJ Andrew Emil aka Change Request dropped his Theoretical Certainty LP, so we thought we'd get him to talk us through it track by track.
As a house DJ/producer Andrew Emil has long been a respected fixture and familiar face as part of Chicago's 3rd wave of house music artists. While studying acoustical engineering and music composition, Emil began his recording career as an assistant engineer to Vince Lawrence at Chicago Trax Recording Studio. It was during this time that he ventured into production racking up 200+ production credits including a variety of remixes for artists from Kanye West to Jamie Principle and David Morales to Gene Farris, to name just a few.

But what happens when a house music artist reacquaints themselves with their classical roots as a percussionist in the Kanas City Symphony? That's what Emil has done with his latest release Theoretical Certainty LP on the Minneapolis record label, Abstrakt Xpressions.
Taking inspiration from the likes of Vangelis, Claude Debussy, Thelonius Monk and Morton Feldman, the record displays another side to an artist better known for swinging house music. From synths to strings and Tangerine Dream to John Cage, there's something for everyone in this musical melting pot designed to sonically reflect the city he lives in – Chicago. It's quite the creative leap and we wanted to find out how he did it.
Overall Concept & Title
"This album is the third in a series of four conceptual full-lengths that I set into motion for the Change Request project around 2019. The first being RiteOnRed for Dufflebag Recordings, and the second album coming out in four parts by the seasons, with Neural Nocturnes—Autumn, Summer, Winter, and Spring Vibes on Campo Alegre Productions—then, it's this one, and the final one, All We Have Is Time, dropping in early 2021 on JT Donaldson's New Math Records.
Each one of these albums were conceived with a particular concept in mind, and for this one, when I was exploring the idea around what I would want to present for an experimental effort based on abstraction, I wanted it to really represent the many shades of my musical influences throughout my life.

Concentrating around non-beat-driven music, for the most part, I looked to have these pieces represent different parts of my musical life as an eclectic musician and producer. From my academic avant-garde abstract contemporary works in undergrad and my love of incidental dramatic music to ambient soundscapes and my affinity for mid/down-tempo, I feel I was able to really spread out my sonic wings here.
I came up with the name of this album based on an idea I find very intriguing to ponder: the concept of a two-word conundrum, puzzle, or riddle. The idea of certainty being theoretical is just that, almost not possible, much like an illusion being tangible.
The story behind the Theoretical Certainty LP is this idea of something in which we are able to hear and feel, but it may not always be something that we can grasp. Through this collection of ambient sonic paintings, orchestral chamber pieces, and abstract song collaborations I believe I was able to create some false illusions. Musical mirages that might, at first, give the sense of one thing, but upon further listens, may also present something different to take away from the multiple experiences.
It's really a musical journey into sounds of the city I live in (Chicago), the sights, the places, the feelings, the experiences, the diversity of ethnicity, musicality, schools of thought, the songs, the stories, the things you never thought of and the things that reminded you of something else.

It was gratifying to be able to translate this musical abstraction with a visual counterpart through a friend in Los Angeles. I always loved the work of my friend Olivia Arthur and picked one of her mixed-media pieces to serve as the basis for the artwork. From there, I had Chris Nalbandian from Rudimental Design take the piece and make it into the layout that you see above.


Eye Of The Storm Feat. Anoush
Inspired by a thunderstorm one evening, I wrote a poem, "Eye Of The Storm", and had the featured guest, Tanya Anoush Mishigian, translate it en Française before we tracked her spoken word performance.
Intended to be a "Prelude", I recorded the rain and storm sounds with a portable DAT recorder in Lakeview at that time. The keyboard sound is a combination of my custom Suitcase 73 Rhodes and synth patches from the Roland JV-880 rack module and my Juno-106.
I sold my first Fender Rhodes Mark I Stage Piano for a great deal on this Suitcase 73 I found—thanks to Adam Pickrell from Analog Ranch Studio in Dallas—and had my good friends Max and Mike at The Chicago Electric Piano Co do this fully original custom job on it. It is the only one in the world like it and believe me when I say that it sounds and plays even better than it looks.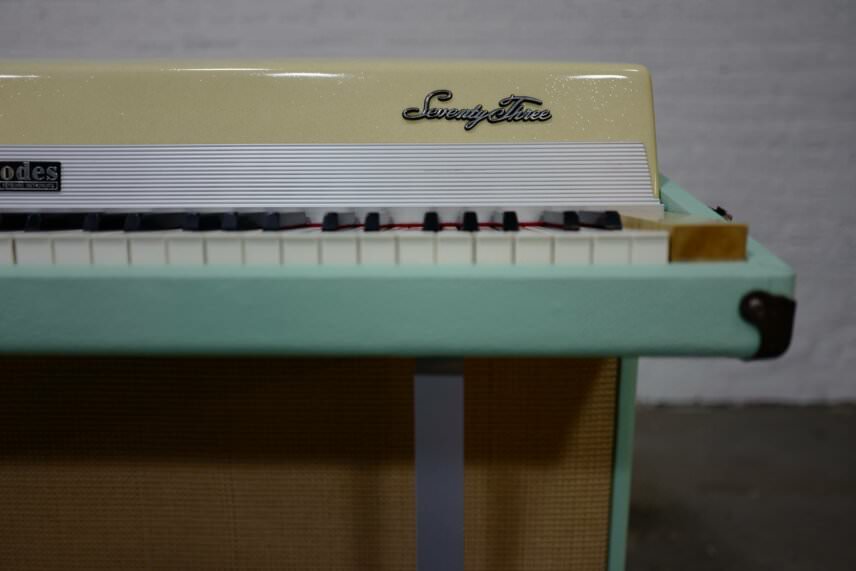 C'est Motif
This is a thematic idea about the feeling you might get walking down a dark alley after you just saw a ghost or an illusion. Scoring a dramatic scene from a non-existent movie with the idea of building tension with just strings—Spitfire's Bernard Herrmann Composer Toolkit—and field recordings from two different alleys near my Logan Square home at the time.
Languid Lament Feat. Adr Brazil
This was the first of many tracks that Adr Brazil aka Adrian Davis and I would go on to write together. This was a song inspired by our shared love of all things "Musical Noir" and it was created around a preset collection I had designed for the release of Eventide's SP2016 Reverb plugin. A fully recreated emulation of the very famous original hardware, I wrote about its history and used this song to demonstrate it's lush sensibilities in this release date content editorial. As a new Eventide Artist at that time, this reverb plugin was the first production release software I contributed preset designs for, and they cover a variety of use cases—from almost every instrument and sound that you would find wanting space around—including many options for vintage as well as contemporary spatial design aesthetics.


Opaque Intention
This was originally written as an etude around sonic painting with colors and adjectives. This was also a production I made in which to better understand a few new processors I had just gotten at the time.
I found a good deal on the classic Eventide H3000 hardware effects processor—I eventually traded up for the plugin version of this—as well as a Strymon BigSky pedal. I used a variety of strings from Sonuscore's The Orchestra, the poly-layered multitimbral synth patches from Slate + Ash's MPE-enabled AURAS, and instruments from Arturia's V-Collection, including the Synclavier V—the synth made in partnership with original synth creator, Cameron Jones—and the Buchla Easel V.



Crime In The City (All You See Is)
This piece I composed for a small ensemble of Flute, Clarinet, Cello, Piano, Vibraphone, Radio Scanner, Effects Pedals, and Percussion.
It was written and premiered in 2006 when I was still in undergrad by the International Contemporary Ensemble. Inspired by the variation works of Frederic Rzewski and the modern extended instrument techniques of George Crumb, I wanted to tell the story of the city through the sounds of this grouping of instruments and devices.
With the score calling for microphones to be placed outside and sending the signals to the stage, as well as the idea of the radio scanner, I was also inspired for this kind of indetermination via the work of Morton Feldman. I want to tell the story of the city and the multitude of things going on at any given time by exploring this type of random approach to the piece. As this is illustrated in the score linked here, Crime In The City (All You See Is) (Full Score), you will never get exactly the same result every time it's performed.
I Surrender Dear (Cityscape)
This is a recording of me playing the Thelonious Monk arrangement of the standard, "I Surrender Dear", contrasted against field recordings done in the Loop (Chicago's downtown).
This was composed by Harry Barris with lyrics by Gordon Clifford and Bing Crosby made the song kinda famous with his 1931 performance. I just love Jazz ballads for solo piano and I have a special place in my heart for the great interpreters of this style, like Bill Evans, Monk, and more recently Robert Glasper. The piano was recorded in 2005 at Columbia College Chicago's recording studio on a Yamaha G1 Grand Piano.
Verberant Noir Feat. Adr Brazil
Another meeting of myself and Adrian Davis for our second song together, this time with a more defined approach to sonic painting. We worked on this together as a piece of content for a preset collection I made for an all time personal favorite spatial processor, Eventide's Blackhole Reverb—they now make a hardware Blackhole Pedal. This was made with his Gibson SG, running through the Blackhole plugin, my Suitcase 73 Rhodes, and the Waves H-Delay Hybrid Delay.

Momentary Lapse
I wrote this as a breakaway track to paint with sound via filtering a synth loop over a string arrangement. Inspired by a daydream, this sort of momentary space of wonder, that's what I wanted this to sound like. I wanted to create a break in one's mental thought, like the moment when you wake up or fly off into an afternoon gaze, and liken this sonic painting towards a cadence of ambivalence. This was created with one of the greatest emulations of a personal beloved classic from Oberheim, the DiscoDSP OB-Xd, and the sequenced filtering of Waves MetaFilter.

Show Me Feat. Audio Angel
This is a song I wrote with a frequent musical collaborator, the Bay Area's very own, Ms. Rashida Clendening aka Audio Angel.
From a vision she had in an Oakland beauty salon, where she noticed the vibe of all the Black women around her, style-wise, which felt very much the same. She considered this uniformity—which has been programmed by society and then internalized—to meet some standard of, not only beauty, but also of worthiness to be seen as lovable and valuable. Rashida seeks to encourage all of us, and Black women especially, that it is indeed our self-acceptance of our uniqueness that can make us distinctly beautiful.
I made this by programming performance samples for the drums in Logic, using Waves Grand Rhapsody Piano, u-he's Repro-5, and we tracked it in San Francisco. I mixed it using the Waves Abbey Road Chambers for the drums and Eventide's T-Verb for the natural wide stereo room sound on the vocals.

Outer Limitations Feat. Adr Brazil
The third project together with Adr Brazil, this work is a further dive into us exploring collaborative songwriting and sound design.
This was created to be used as a demonstrative work highlighting the wonderful effects processing tool, AudioThing's Outer Space Tape Echo, for another content article I wrote early on in my editorial career.

Le Mouvement De Marvin
This is a eulogy to my biological father, Marvin Emil Gustafson, Jr, who was a major artistic chaperone for my entire creative saga.
I wrote this on the day that I got the call from the Santa Barbara County Sheriff's Office informing me that he was pronounced deceased earlier that day. A reactionary piece of music trying to capture the feelings of this moment in time and translating them into a permanent sonic painting.
I produced this by combining EP patches from the Yamaha DX7/TX7 and the KORG NR1 rack module, using tremolo from Soundtoys PanMan, and the lush reverb from Softube's TSAR-1 Reverb. Then, I layered a Roland Juno-106 pad—I owned the hardware synth for fifteen years before I traded it in for this great software version—under string and brass sections from The Orchestra by Sonuscore.

Right Here Feat. Adr Brazil & Penelope Antena
I wrote this one in collaboration with a cross-continental pairing of two of my homebase writing partners, Mr. Adr Brazil and the Belgian songstress, Ms. Penelope Antena.
Penelope eschews her harrowing reminder of self-reliance and empowerment seamlessly over her harmonic vocal layering, lacing the spacious tapestry of this somber synth-laden aria with a reactive response to Adr Brazil's main vocals, delivering this track with the Arturia Matrix-12, and reverb from the Eventide UltraReverb.

Feldman's Fantasy
This is a concerted celebration of a mid-century modern master of abstraction and a direct nod to the New York School composer, Morton Feldman.
Feldman was a pioneer and purveyor of indeterminate experimental music and an innovator of new techniques in written music notation. He utilized and developed many methods and techniques to intentionally blur the restraints of standardized musical notation. A sizable amount of his music veers into iterative works of chance, with many pieces left up to the interpretation of the performers to choose dynamics, length, and pitch.
I created the soundscape with the Repro-5 synth, and the ProjectSAM Orchestral Essentials 1 Kontakt library. The speech excerpt featured in this piece are sections from a 1986 Darmstadt lecture he gave on technique and style. The audio captures the very playful and large opinions of a very delicate composer of sound and texture.
Pleine Lune
This track features a segment of a string quartet I wrote set against the backdrop of a haunted landscape of sound design.
A subtle nod to the abstract lyrical dissonance of Olivier Messiaen and the Musique Concrète of French American master, Edgar Varèse. Inspired by the dance of dusk, I wanted to create a collage work of sound design from this performance recording of the first movement of a string quartet I wrote in undergrad.
Originally called String Boutique, I changed the name of this work as illustrated in the score, Pleine Lune (Full Score), for this released updated version.
Strutture Por L'Orchestra
This is a fifteen min compositional etude in contemporary orchestral colors, in which I blended a large variety of compositional techniques and tonality approaches. I wrote this work while in undergrad for an advanced academic course, so it reflects my music-theoretical tastes at that time.
Inspired by the sonic layering of Vincent Persichetti, the textural coloring of György Ligeti, the serialism of Anton Webern, the extended playing techniques of George Crumb, the chance compositions of John Cage, and the lyrical dissonance of Toru Takemitsu, I wanted to create this piece as a collage and tribute to these influential favorites.
What you hear on the record is a live recording of the International Contemporary Ensemble performing this work at the conservatory I attended in 2006. This is the actual concert score, Strutture Por L'Orchestra (Full Score), which is scored for an ensemble consisting of a woodwind quartet, a string orchestra, french horn, vibraphone, and percussion ensemble.
Debussy Deception Feat. Penelope Antena
Transiting back to synthetic textural offerings, I had the native French speaker, Penelope Antena, expound fragments of quotes from the Impressionist innovator, Claude Debussy, layered vocal harmonies support repetitive themes surrounding the greatest lie of all, one filled with deceit.
Debussy's music personified abstraction and used forms of ambiguous diversion to play with the expectations of form and harmony is such a vivid way, that music was never the same after his reactive works against the classical traditions. I used the Eventide Blackhole to space the vocals and sound scapes out.
Tangerine Quest Feat. Adr Brazil
This last track is homage and musical statement to the synthesis pioneers, Tangerine Dream.
Incidental dramatic music for an imaginary film, "Tangerine Quest", takes the synth pads and harmonies into an arpeggiated beat-driven resolution of courage and resilience.
My final ode to the persistence of the human spirit, this ultimate statement of humility reminds of the feeling that ensues once you have gotten through the Eye Of The Storm. I wrote this with my guitar friend, Adrian, using the synth sounds from u-he Diva and the TAL U-No-LX, running through Soundtoys EchoBoy, and Unfiltered Audio Sandman Pro.

Change Request's 'Theoretical Certainty' LP is available now.