With a new bumper album out – 'Accidents' – with music dating from 1994 to 2023, Transparent Sound shows us around where it gets made.
Transparent Sound are the original dons of UK electro. With so many under-repped classics it's a surprise they are not household dance music names.
Formed by Orson Bramley and Martin Brown in Bognor Regis in 1994, Transparent Sound have managed to create 30 years' worth of much-loved electro despite claiming to "not know what they were doing nor how their instruments work".
To celebrate the milestone, Tresor has put together a compilation of their most well-known accidents on a three-disc set including the dancefloor hits Punk Mother Fucker (a mainstay of Villalobos sets at the time of release), and No Call From New York (as heard on Helena Hauff's 2017 Essential Mix).
We asked Orson Bramley, the remaining member to show us where the magic happens.

Transparent Sound Studio
Hi Attack. I'm Orson Bramley from Transparent Sound. I'm the founder and only remaining member.
Welcome to My Studio!

Event 2030 Monitors
I've been using the Event 2030 3-way monitors for the last 8 years and I love the clarity and detail you can pull out in a busy mix with the mids on these,  especially when working on vocals.
I'm thinking of swapping them out for the ADAM A8H 3-way monitors but might keep these as well. It's hard to let them go.

Korg EA1 Electribe
A box of fun and joy. It was one of the first drum machines I bought back in the day and its never left my side.
Its so lovey to get creative with and always adds bright and unique sound and dimension to a track when ever it's used.  Great dynamics and low end. An underrated groove box …

Korg Minilogue
This is one of my main writing tools.
I use this in almost every track and it is a writing foundation alongside the TR-8S. I have the TR-8S to my right and the Korg Minilogue to my left.
I write my beats a and riffs with these two sequencers first to get the basic foundation of my track and groove and then extract the mini notes in Ableton and layer up sounds or just jam and record long audio files and splice them up into useable snippets. It's so lovely, simple and hands-on. You can feel it come alive in your fingers….
I also use this in my live set as well… the perfect machine for creating some electronic accidents …

Sharp VZ 2000 Boom Box
I always wanted one of these when I was growing up, break dancing and into graffiti in a big way. It's a beast, I could never afford one as a kid and could only dream of owning one.
I picked it up at a car boot sale in Brighton about 7 years ago, as soon as I saw it I had to buy it! A childhood dream comes true.
It has a few knobs and sliders missing but apart from that it all works fine, I was thinking of getting it pimped up with new speakers, modern ones… and getting it graffitied as well. Love it/

Moog Voyager
I fell in love with this synth while listening to the group AIR on their Moon Safari album. But didn't think I'd ever get around to getting one because of the cost of them! But it came up one Christmas on eBay at a really cheap starting bid and I guess nobody was interested just before Christmas so I won the bid!
The MIDI has stopped working on it but it's made me play and record the audio live…I'm rubbish as a keyboard player but I get some crazy and strange results when I quantise my terrible out-of-time recordings in Ableton Live. Sometimes they sound great… i
I need to use this more often, maybe on the next album I'm working to celebrate 30 years of Transparent Sound. It deserves to be used more….

Syncussion SY 1M
Game changer for me! I've not had it that long really, around a year, another essential part of the studio I can't live without and fantastic at getting little grooves and jams going.
It really adds some spice and variety to studio work and live sets. a really simplistic piece of kit that just does whats required…
I use one of the MIDI channels with MIDI and sync the other. I paid too much for it and was happy either way until I heard Behringer were coming with a clone…

Moog Mother 32 and Moog DFAM
Took me a while to get my head around the Mother 32 and remember what buttons do what function etc.
To be honest I've probably forgotten again! I'm always having to jump onto YouTube for some visual assistance about these things but these two together are wonderful machines and you can really come up with some solid riffs and patterns with them. I like using the TR-8 to trigger the Mother 32. It has such a warm punchy bass and brilliant filters, obviously.

Crazy Cat Woman
My non one musical studio item is – the crazy cat women figure. I grew up with cats and would love a cat but I'm on the top floor and its not practical of for for the cat/kitten. I saw this somewhere on my travels and had to grab it… so stupid! I think we all know a crazy cat women…
'Accidents 1994​-​2023′ is out now on Tresor. Find Transparent Sound on Instagram.
Follow Attack Magazine
While you're here you may enjoy these posters...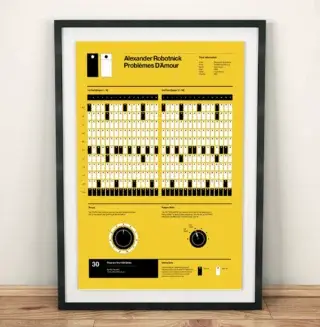 Alexander Robotonick: Problèmes d'Amour Poster
A criminally overlooked bonafide classic! Happy programming!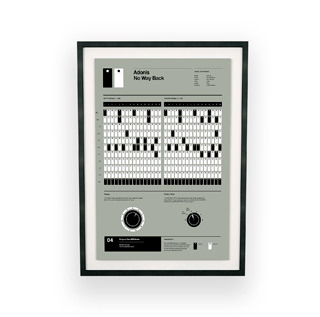 ADONIS – NO WAY BACK
From Chicago to the world, Adonis was just 19 years old when he crafted this huge Trax label hit "No Way Back" in. In this poster, artist Rob Ricketts has designed the famous pattern to "No Way Back" so you can now get the claps, clav and cowbell just right!